*This post may contain affiliate links. The earnings go back to supporting the content created on this site.
Make your own version of these delicious Chocolate Sea Salt RxBars at home. They're vegan, paleo, no-bake and require only a few ingredients.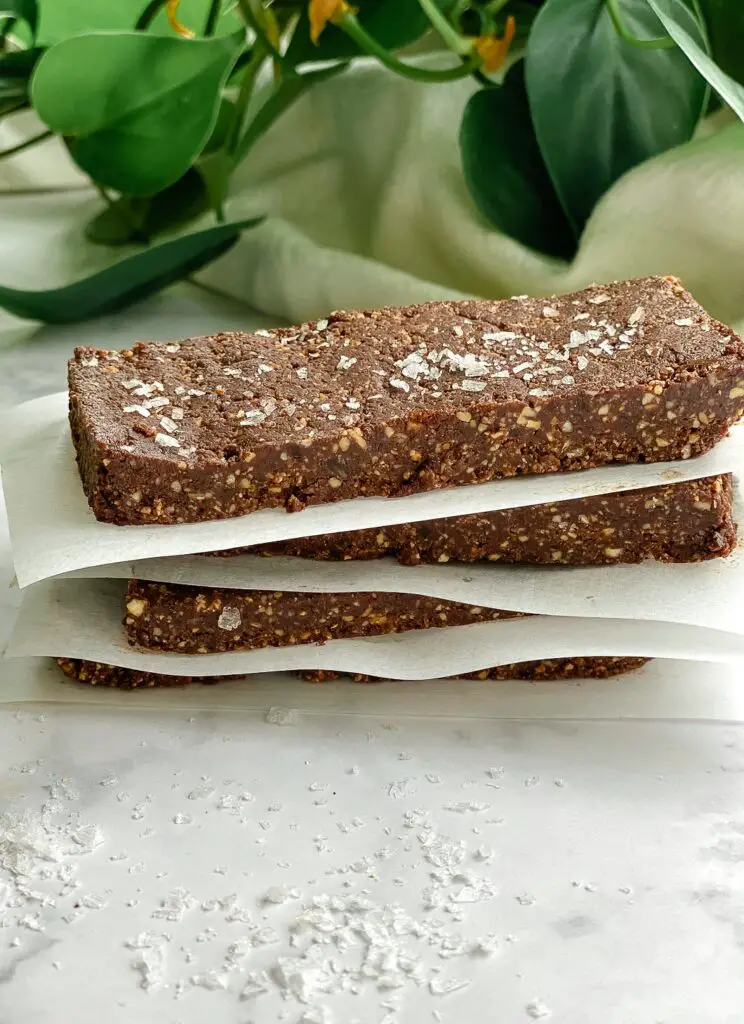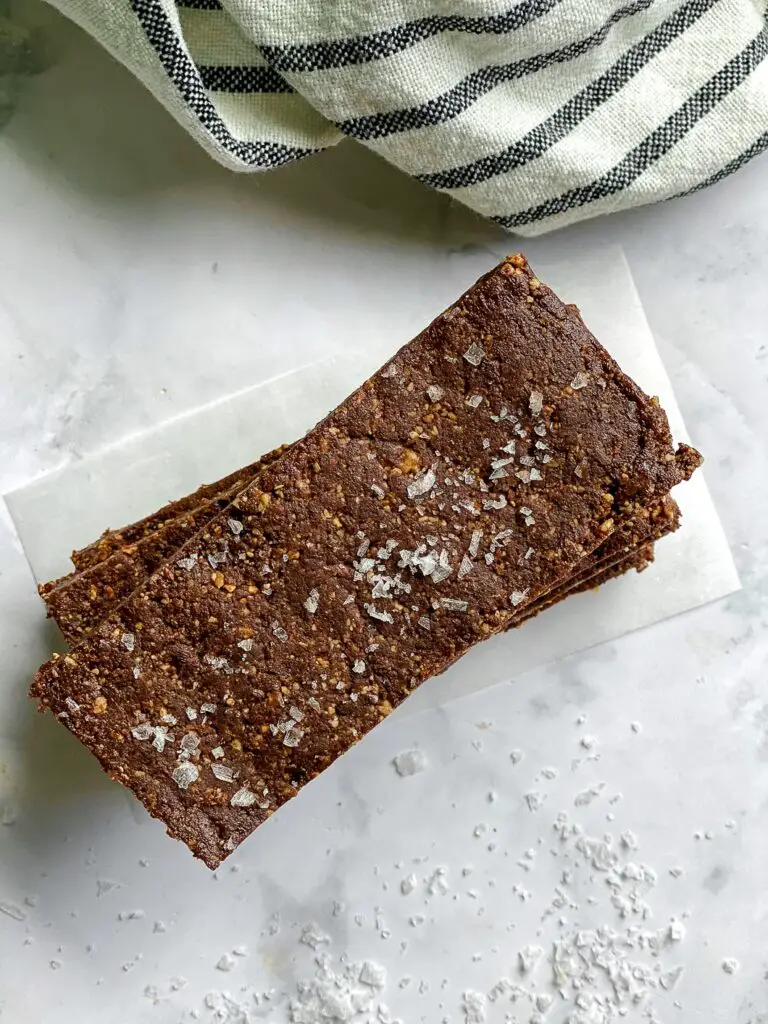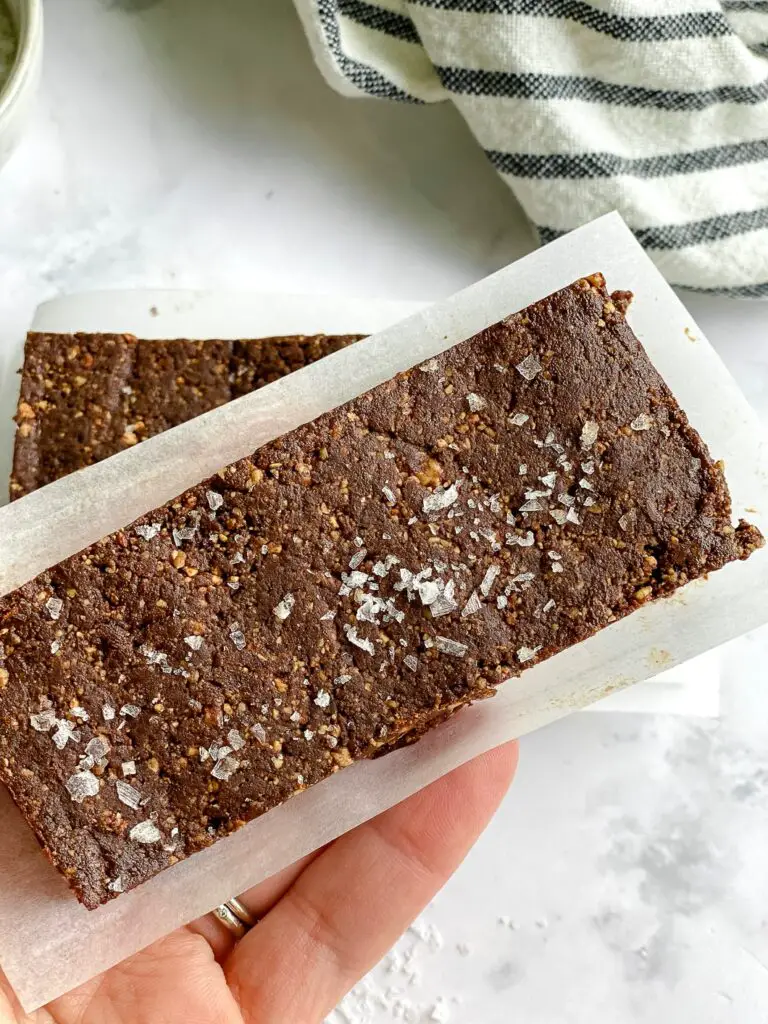 It's 72 and sunny. The house is quiet, windows open. As I sit at my little desk, the wind is blowing fall air. It's mixing ever so slightly with the lavender bunch perched on the window sill. A subtle rustling of leaves and the ding of wind chimes give me pause. Can I just make this moment last? No, of course not. Everything must change.
When it comes to change, I'm certainly no stranger to it. I've moved around my entire life, lived in 3 different countries and been exposed to more than I probably even remember. But nonetheless, I'm resistant to change. I find it difficult. I feel it in my bones…the discomfort, the resistance. 
The same was true for the decision to finally stop eating the foods that hurt me. I was in denial for years about what was really going on but when I finally made the decision, I realized just how much better life can be despite the adjustments I had to make.
But just because it was the best decision, doesn't mean it's always easy being 100%. I know if you're just starting out and making a change, it's tough. There's no way around it. Change is difficult. But once you make that decision, the change becomes a habit and that habit becomes a lifestyle and it's no longer a struggle. 
Making dietary, permanent changes has its drawbacks only if you look at it that way. For me, it's been an extremely eye-opening experience that forces me to re-think the way I cook and how I can re-invent certain things my family loves. It's about getting creative with ingredients and not being afraid to think outside the box. 
When it comes to making new foods, one or two ingredients generally inspire me and from there the process naturally unfolds. As I'm continuously working on improving my gut health, I try to find ways to incorporate gut-friendly foods into some of my favorite foods as well. I have a serious sweet tooth and once in a while (okay often), I like to have something sweet on hand. This recipe is actually inspired by the Rx bars I've been gorging on for a few weeks. So I decided to make my own version of it with simple ingredients.
These Homemade Chocolate Sea Salt RxBar are: 
Vegan
Paleo 
Dairy-free
Gluten and Grain-free
Require no baking
Are easy to make
Satisfying and delicious
Equipment needed for Homemade Chocolate Sea Salt RxBar:
Food processor
Small mixing bowl
Parchment Paper
Loaf pan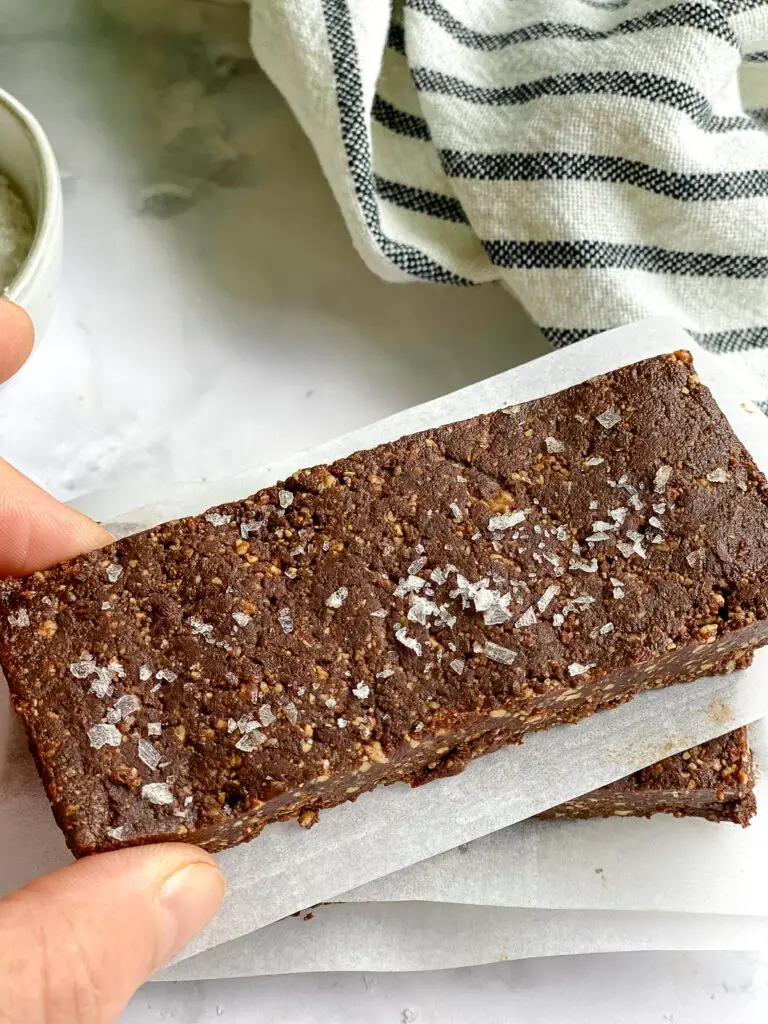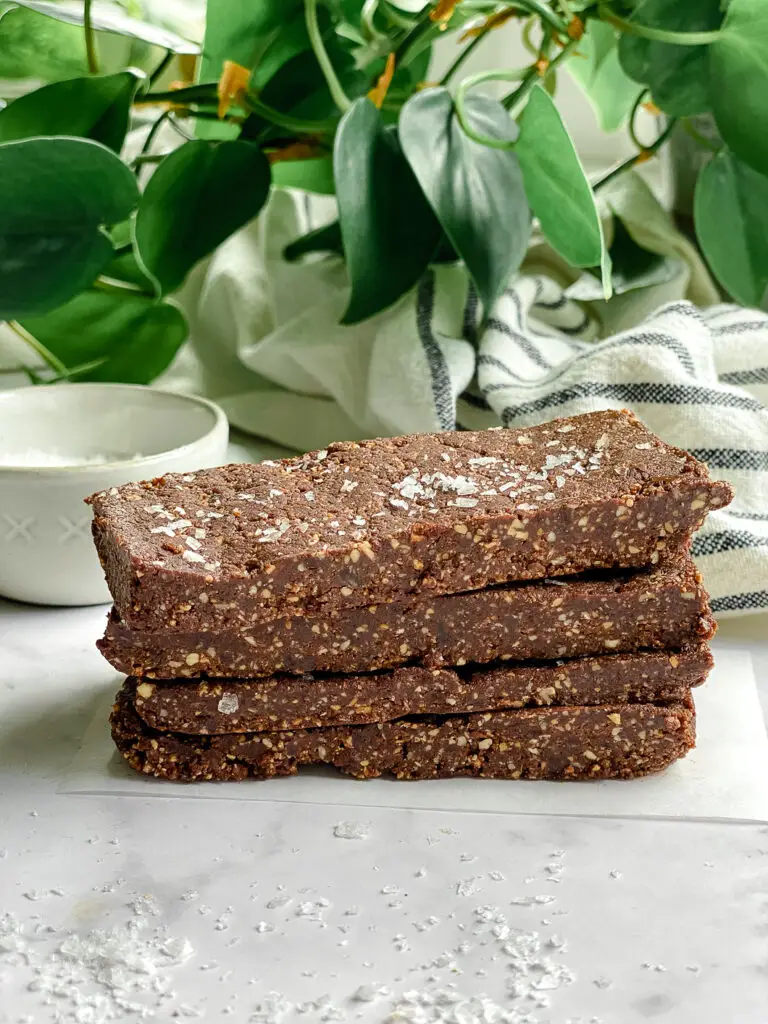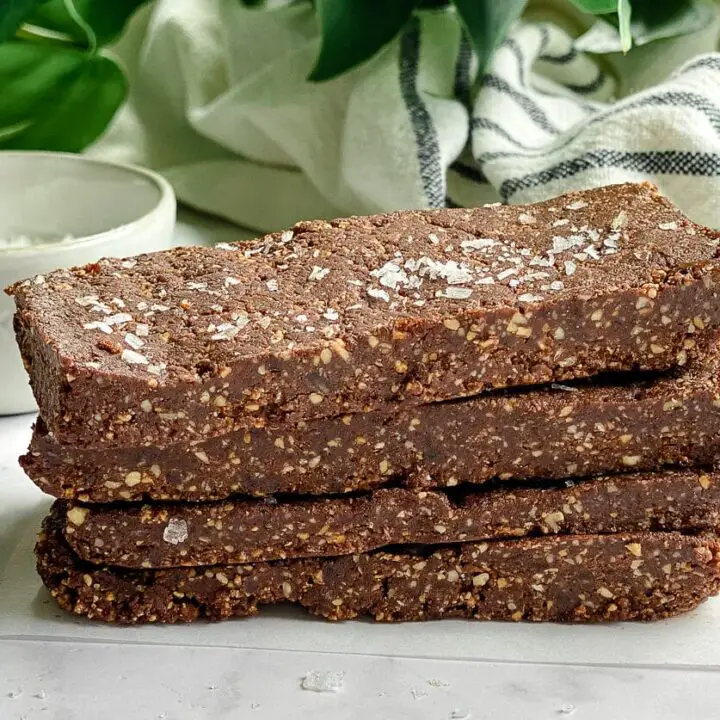 Homemade Chocolate Sea Salt RxBars (Vegan, Paleo)
Total Time:
1 hour
5 minutes
Make your own version of Chocoalte Sea Salt RxBars at home. Thet're vean, paleo and no-bake.
Ingredients
1/3 cup unsalted roasted cashews
11/3 cup unsalted roasted almonds
1 tsp cacao nibs or finely chopped 100% dark chocolate (optional)
2 tbsp cocoa powder
12 deglet noor dates or 10 medjool
1/4 cup tbsp melted coconut butter or oil
pinch of salt
optional: 2 tbsp collagen (if not vegan)
Instructions
1. Line your loaf pan with 2 overlapping sheets of parchment paper. Set aside.

2. In small mixing bowl, combine coconut butter, cocoa powder and microwave for 30 seconds. Stir thoroughly until you get a chocolate paste.

3. Add the rest of the ingredients along with the paste in the food processor and combine well for about one minute.

4. When ingredients are fully incorporated, scoop the mixture into the pan. Press firmly with a spatula or your hand to get an even layer. Add a piece of parchment paper on top and press down again making sure it's even. Refrigerate for at least an hour.

5. When mixture is set, carefully pull it out by the parchemnt paper, cut bars into 4 or 6 or whatever shape you wish and store in an airtight container in the refrigerator.