This Citrus Salad with Cashew Cheese and Toasted Pistachios is a light and refreshing alternative to a classic first course. It's also vegan, paleo and delightful.
Jump To
What to say about March? It makes me a little crazy, toys with my emotions making me feel much like I'm on a seesaw. One one hand, there's more light, signs of spring popping up everywhere but on the other, winter's relentless cold and snow still linger on. But the citrus. The citrus is still bright, sweet and bursting with flavor.
Every year around this time, I suddenly remember how much I like citrus; feeling the need to gorge on Tangelos, Mandarins and Blood Oranges and the occasional succulent but very pricey Sumo Mandarin. Perhaps it has to do with citrus season being nearly over and the basic desire to hold on to it for just a little bit longer. Or maybe it simply has to do with the fruit being in its prime. Either way, I'm finding myself with an abundance of it.
Citrus hasn't always been part of my life. Growing up, there were a handful of times I recall having it as it wasn't widely available. And for those times, I'm certain my parents had to jump through hoops to get their hands on them. So despite the year long availability here, to this day I regard citrus as special. So a nice, juicy citrus salad is in order, to celebrate the season. I wanted brightness, salt and sweetness to come through in every bite.
While salty cheese may be an ideal candidate for this salad, cashew cheese is a suitable and quite delicious alternative for the food sensitive crowd or even as a vegan option. A handful of toasted pistachios and sweet and salty dressing bring out the best in the citrus. You can use whatever oranges you want but I opted for Navel, Tangelo and Mandarins. It's a delicious way to elevate an average orange and bring out its aroma and zest.
This Citrus Salad with Cashew Cheese and Toasted Pistachios is: 
vegan 
paleo
dairy-free
grain-free
gluten-free
easy to make
flavorful 
a change from the traditional salad
healthy and delicious
What is cashew cheese?
If you're reading about cashew cheese for the first time, you will be pleasantly surprised. Does it taste like real cheese? No of course it does not, but it has a similar texture and flavor due to the cashews and nutritional yeast. 
Cashew cheese is nothing more than soaked cashews, Dijon mustard, nutritional yeast, garlic powder, salt, lemon and a little water. 
Do you need a food processor for the cashew cheese? 
A food processor is ideal for making cashew cheese, but if you have a high speed blender, that will work as well. The important part is to get the cashews as creamy as possible and to incprporate with the rest of the ingredients. 
Can you swap cheese for cashew cheese?
Most certainly. If you're not following a dairy-free lifestyle, then it's perfectly fine to use any hard, salty cheese of your choice. 
What's the best citrus for this salad? 
This is where you can really customize your citrus. You can use the same kind of oranges or mix and match with blood oranges, tanegelos, navel etc.
Alternatives if you don't like pistachios 
While I think pistachios work very well in this salad, sliced almonds, crushed cashews or toasted walnuts will too as an alternative. Or you can skip them all together, but I find the crunch gives the citrus salad a nice balance. 
📖 Recipe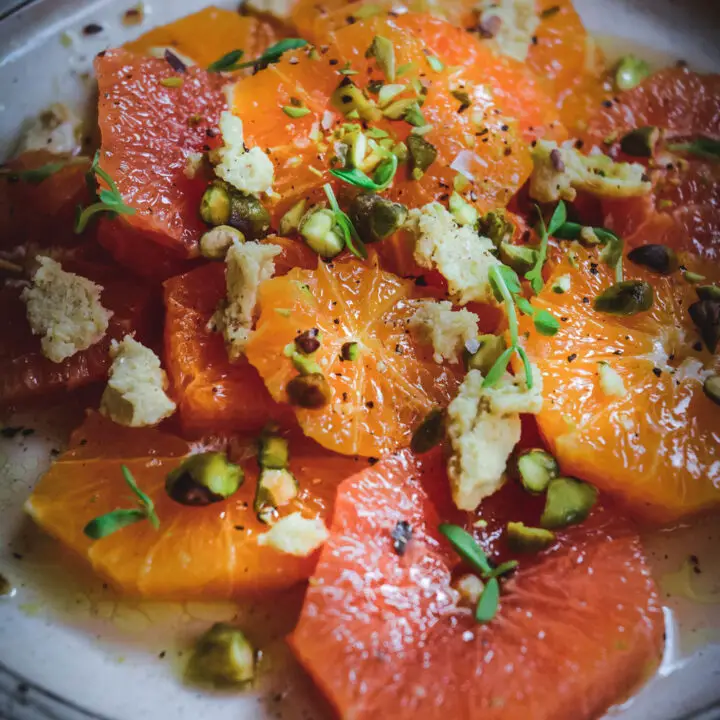 Citrus Salad with Cashew Cheese and Toasted Pistachios
Total Time:
2 hours
15 minutes
This Citrus Salad with Cashew Cheese and Toasted Pistachios is a light and refreshing alternative to a classic first course. It's also vegan, paleo and delightful.
Ingredients
1 teaspoon red wine vinegar
1 teaspoon lemon juice
2 tablespoon extra virgin olive oil
¼ teaspoon salt, divided
1 teaspoon honey
¼ teaspoon pepper
3 oranges of your choice (I used Navel, Tangelo and Mandarins)
1 tablespoon crushed toasted pistachios
½ cup raw cashews
6 teaspoon nutritional yeast
1 teaspoon lemon
small pinch garlic powder
½ teaspoon Dijon mustard
2 tablespoon water
Instructions
Combine cashews with water and let soak for 2 hours.

Add soaked cashews along with nutritional yeast, 1 teaspoon lemon, garlic powder, Dijon mustard, 2 tablespoon water and ⅛ teaspoon pepper to food processors. Puree until smooth. Set aside.

Preheat oven to 350 and toast pistachios for 10 minutes.

Using a pairing knife, remove orange skin. Slice oranges and place them on plate.

Combine red wine vinegar, lemon juice, olive oil, salt, honey and pepper and whisk well.

To plate, drizzle dressing over oranges, top with toasted pistachios and add as much cashew cheese as you'd like.

You can store the cashew cheese in an air tight container for one week.


Notes
Cashews need to soak for 2 hours to make the cashew cheese.