This Mediterranean cucumber salad is a refreshing and delicious way to enjoy the flavors of summer. It's made with fresh cucumbers, tomatoes, onions, and herbs, and it's tossed in a simple vinaigrette.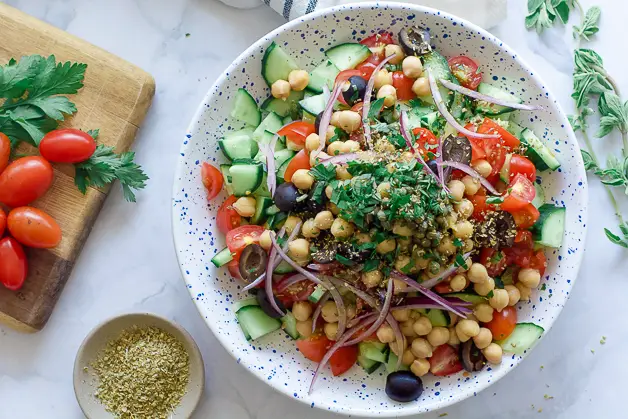 Jump To
Growing up I don't remember eating salads...as in leafy salads, which by the way I love. But in Romania green leafy salads just weren't a thing in my family. But cucumber and tomato salads were a thing. A big thing. When my family would say, "salata" (salad), everyone knew what that meant. Nearly every summer lunch or dinner was accompanied by a large bowl of cucumber and tomato salad. Sometimes with olives, if my family could find them but otherwise it was cucumbers, tomatoes, red onions, loads of herbs, and inevitably crumbled feta.
Since I don't eat dairy and never particularly fancied feta anyway, I added some creaminess to this Mediterranean cucumber and tomato salad with chickpeas. If you're a lover of feta and eat dairy, feel free to add it. If you're vegan and would like feta, there are vegan feta options available as well.
The idea behind this salad is to use the freshest ingredients you possibly can as well as good fruity extra virgin olive oil. This salad is all about letting the ingredients speak for themselves. What I also love about this salad is that it's a perfect gluten and dairy-free side for bbqs, picnics or a summer dinner.
Jump To
More Mediterranean Recipes
20 Simple Gluten and Dairy-Free Mediterranean Diet Recipes
Best Mediterranean Grilled Vegetables with Balsamic and Basil
Easy Mediterranean Lemon Tahini Dressing (Keto, Vegan, Low-FODMAP)
Weeknight Tarragon Pasta With Canned Tuna
Best Cannellini Bean Salad with Tuna and Artichoke Hearts
Simple Ladolemono Dressing (Greek Lemon Sauce)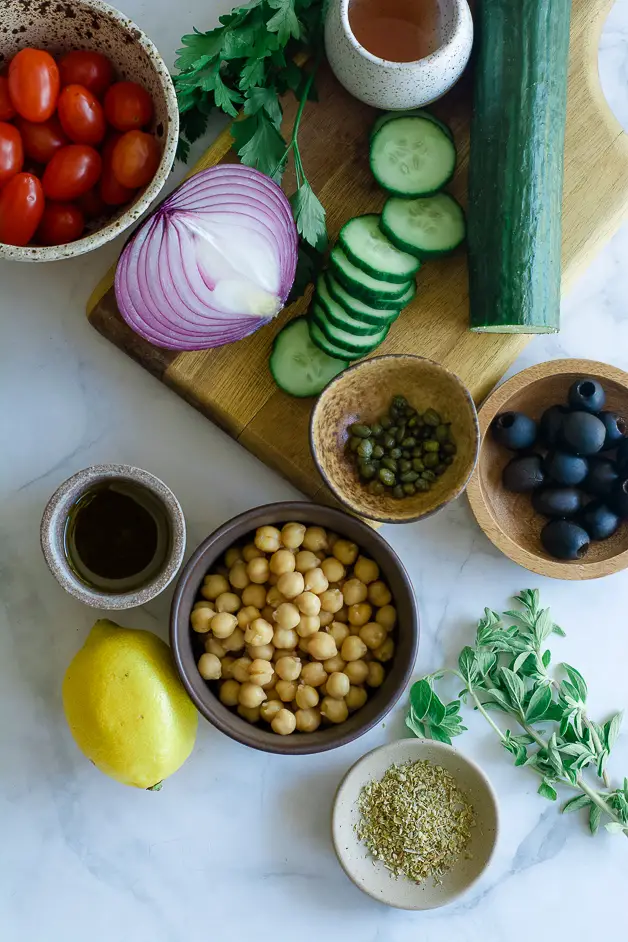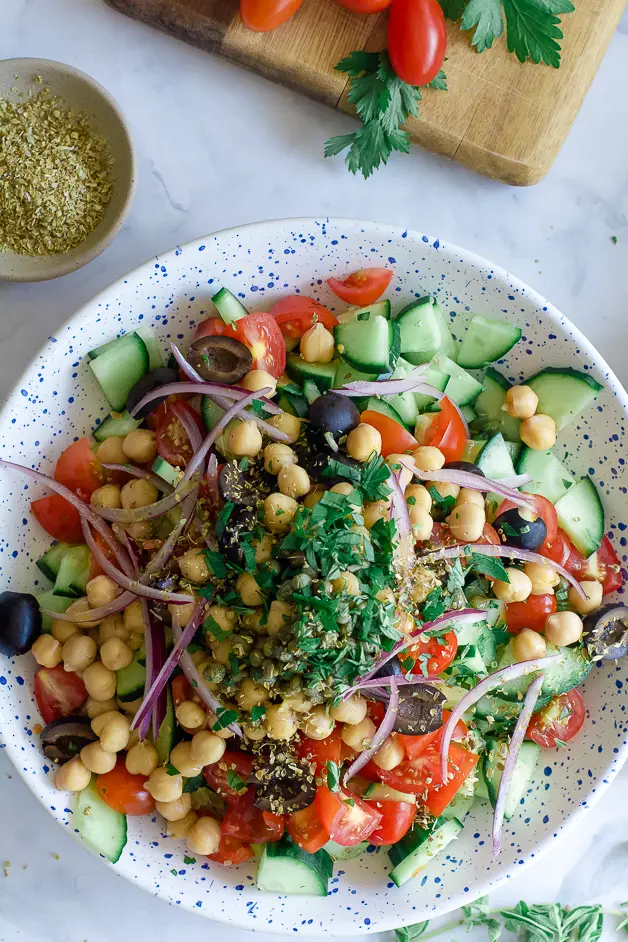 Why You'll Love This Mediterranean Cucumber Salad
It's refreshing and light
Healthy and delicious
It's vegan, paleo, whole 30, low-carb, and keto
Takes minutes to make
It's perfect for bbs, picnics and can be made ahead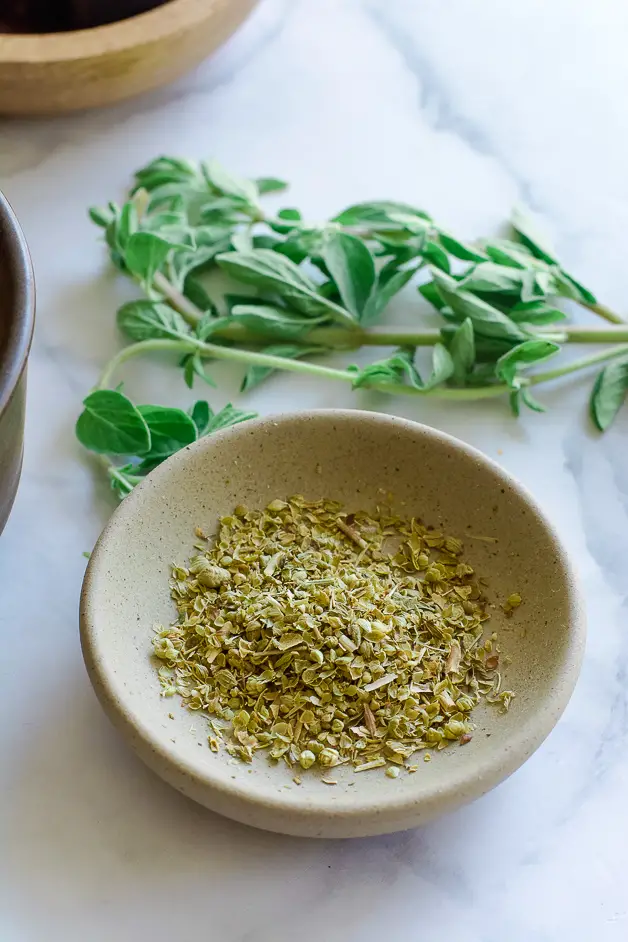 For Your Shopping List
English cucumber
Grape tomatoes
Black olives
Chickpeas
Red onion
Capers
Italian parsley
Dried oregano
Extra virgin olive oil
Red wine vinegar
Lemon juice
Salt + Pepper
How To Make It
Wash and dry your produce.
Simply cut the cucumbers, tomatoes, and onion in whatever shapes you wish and toss them in a bowl.
Mix the extra virgin olive oil, lemon juice, red wine vinegar, capers, salt, and pepper and whisk until combined. Drizzle dressing over cut-up vegetables.
Toss the cucumbers, tomatoes, onions, and olives together with the dressing, and chopped parsley, and mix well. Add more salt and pepper as needed.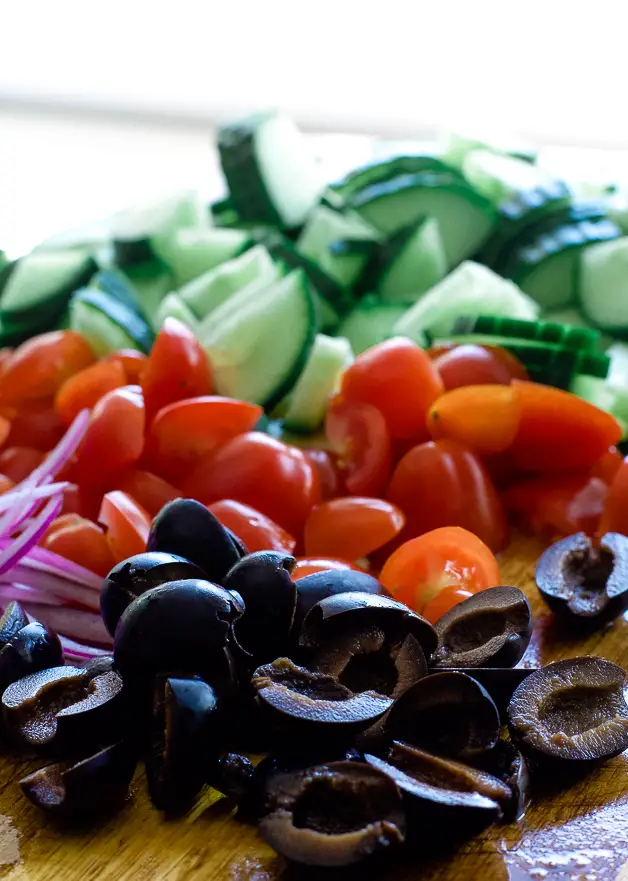 Top Tips + Substitutions
For a more flavorful salad, use heirloom tomatoes or cherry tomatoes.
For a more colorful salad, add some chopped bell pepper or zucchini.
English cucumbers are a better option than regular ones because they have thinner skin and are less seedy.
The chopped red onion will provide a more distributed flavor while the sliced onion will be subtle for those who don't want a lot of onion.
For a more filling salad, feel free to add some grilled chicken or tofu.
Mediterranean cucumber salad can be stored in the refrigerator for up to 3 days.
If you plan on making it ahead of time, reserve the dressing and add it last minute.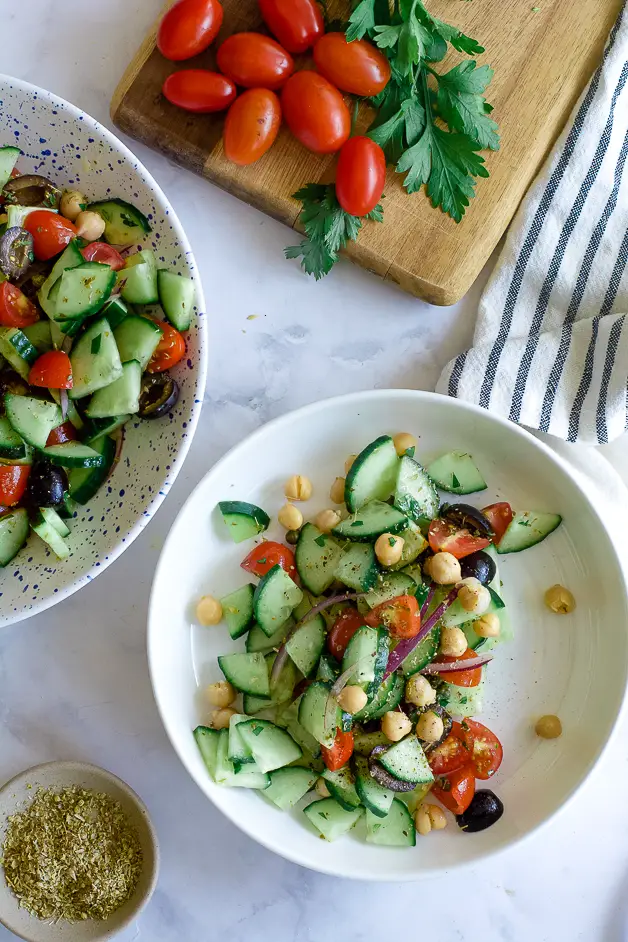 More Recipes You Might Like
Arugula Salad with Strawberries and Spicy Vinaigrette
Healthy Low-FODMAP Salad Nicoise
Asian Brussels Sprouts Salad with Sweet Chili Sauce (Vegan)
Best Cannellini Bean Salad with Tuna and Artichoke Hearts
Grilled Radicchio Salad with Fennel and Soft Boiled Egg
Mexican Tomato Salad with Black Beans, Corn, and Avocado
📖 Recipe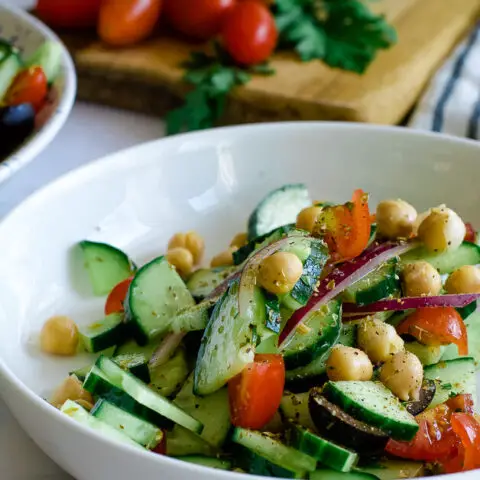 Herby Mediterranean Cucumber Salad With Tomatoes and Chickpeas
Ingredients
1 large English cucumber, diced or thinly sliced
1 cup cherry tomatoes, quartered
¼ cup sliced or diced red onion
¼ cup chopped fresh Italian parsley
1 tablespoon drained and rinsed capers
½ cup cooked chickpeas
2 teaspoon dried oregano
¼ cup good extra virgin olive oil
2 tablespoon red wine vinegar
1 teaspoon lemon juice
2 teaspoon dried oregano plus extra
¼ teaspoon salt plus extra to taste
¼ teaspoon pepper
Instructions
In a large bowl, combine the cucumbers, tomatoes, onions, chickpeas, and parsley.
In a small bowl, whisk together the olive oil, red wine vinegar, oregano, capers, lemon juice, salt, and pepper.
Pour the dressing over the vegetables and toss to coat. Sprinkle with additional salt and oregano.
Serve immediately or refrigerate for later.
Notes
1. If you're not dairy free, feel free to use feta or alternatively vegan feta if you'd like.
2. English cucumbers have thinner skin and fewer seeds and are better in this salad than standard cucumbers.
3. Feel free to add more salt to taste.
4. The salad can be made in advance but save the dressing for right before you're going to serve it.