Crispy Roasted Chickpeas are rich in nutrients, and spices, and full of flavor. They're a perfect snack that's easy to make and delicious.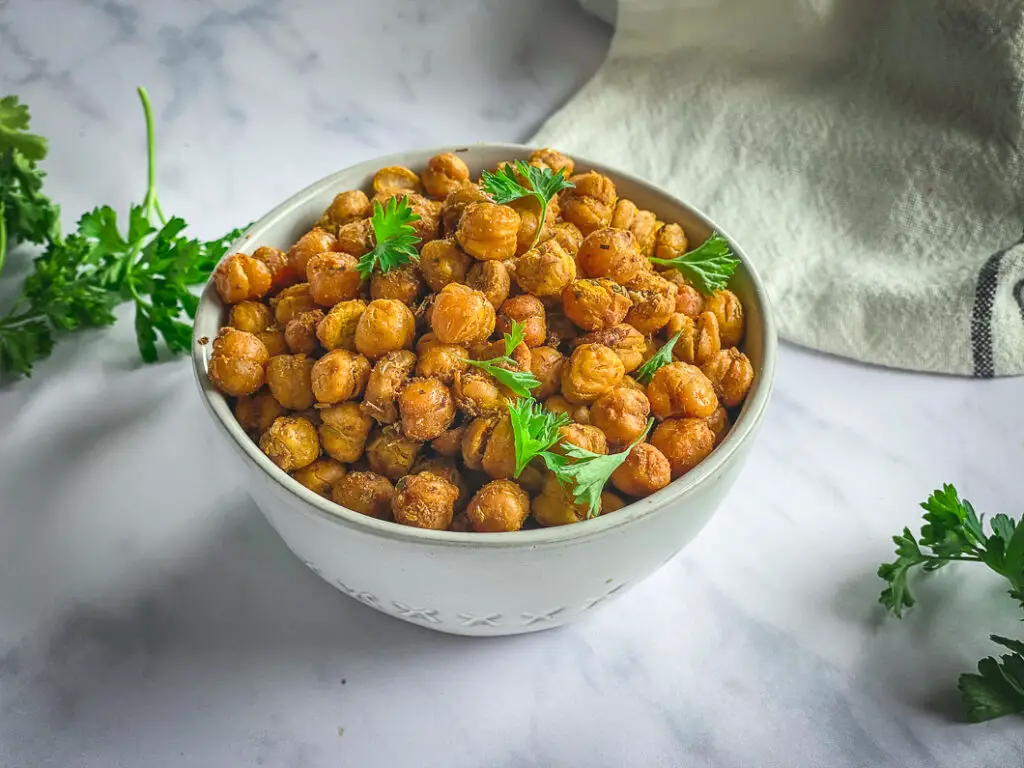 Jump To
I read an article recently that due to our current situation there has been a boom in the bean industry. I don't doubt it one bit. The first thing I thought to pick up when we were told we have to stay home, was beans. Dried and canned were the items first to fly off the shelves. I guess like most people, I thought of items to have available that are shelf-stable, nutritious and delicious.
Chickpeas have always been my favorite bean but I must say that at no point in time have I eaten as many chickpeas as I have in the last 2-3 weeks. I've made curries, hummus and my absolute latest obsession, crispy chickpeas.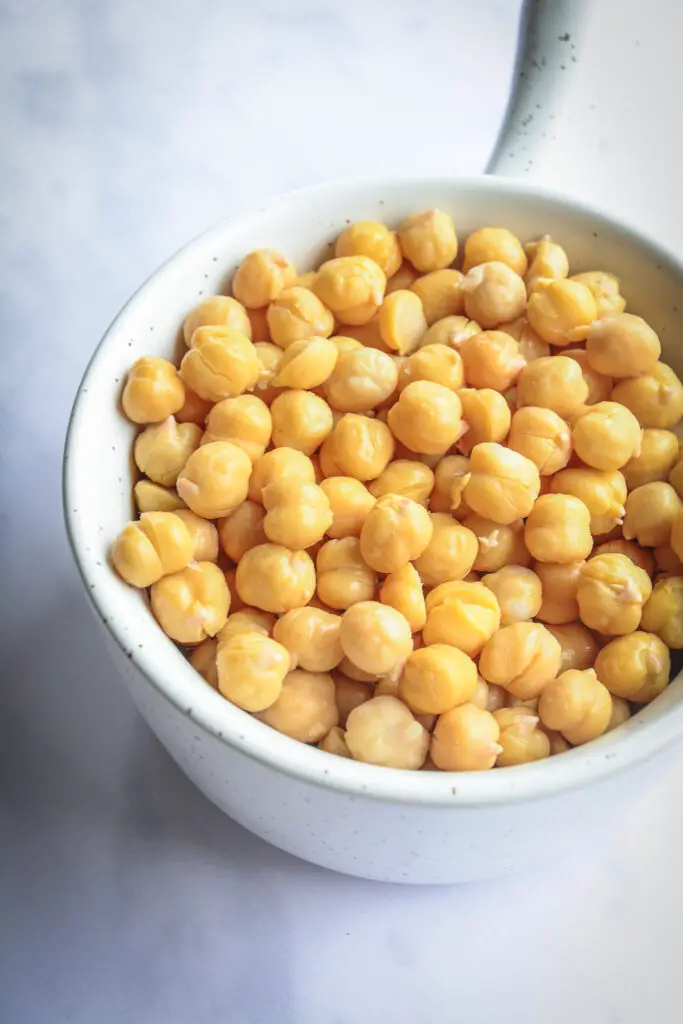 I admit I may be a little bit late to the crispy chickpea game but for the longest time chickpeas, we're not agreeing with me. That is until I tried something radical. Okay, radical may not the best term, but something different. I decided to peel my chickpeas prior to roasting them, which allowed me to bring easy chickpea recipes back into my life.
Yes, it takes time and is a commitment but I actually find it to be calming and meditative. A time to disconnect and focus on one task and one task only. Fingers too busy and too dirty to go anywhere near the phone. Try it, you may be surprised just how relaxing it can be.
But if the idea of peeling chickpeas for 25-30 minutes puts you on the brink of anxiety, don't worry about it. You don't have to peel. The reason I decide to peel chickpeas in the first place is because of their effect on digestion. And if you're sensitive like me you know exactly what I'm talking about. I'm going to be covering the health benefits of peeling chickpeas and why that's easier on digestion.
Crispy, delicious, nutritious, and easy to make. Crispy roasted chickpeas are a perfect snack if you're looking for a nutritious snack.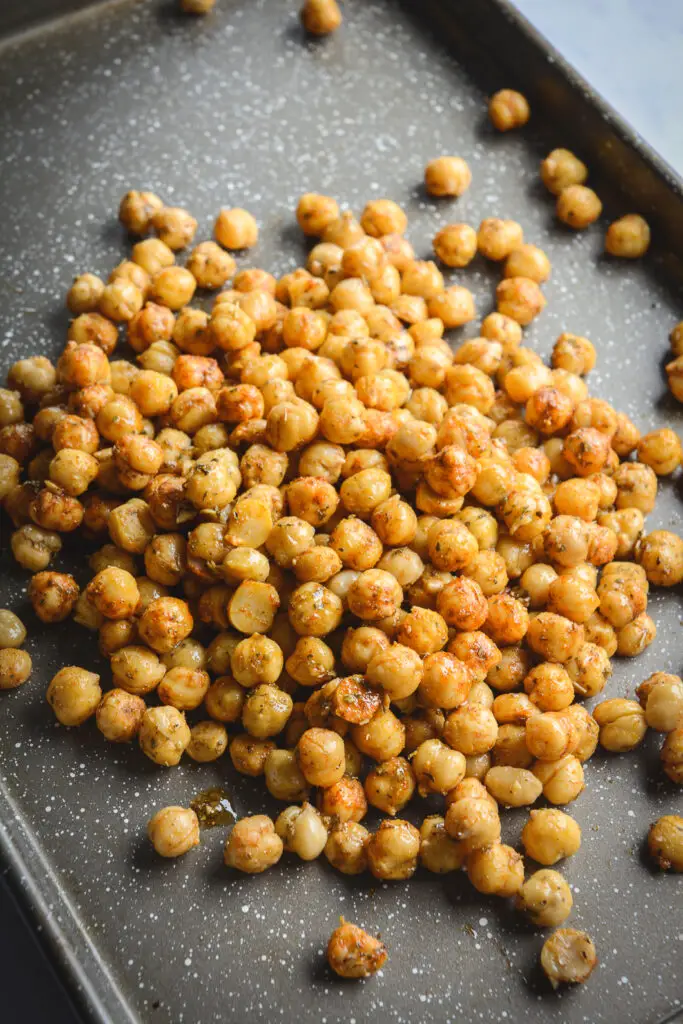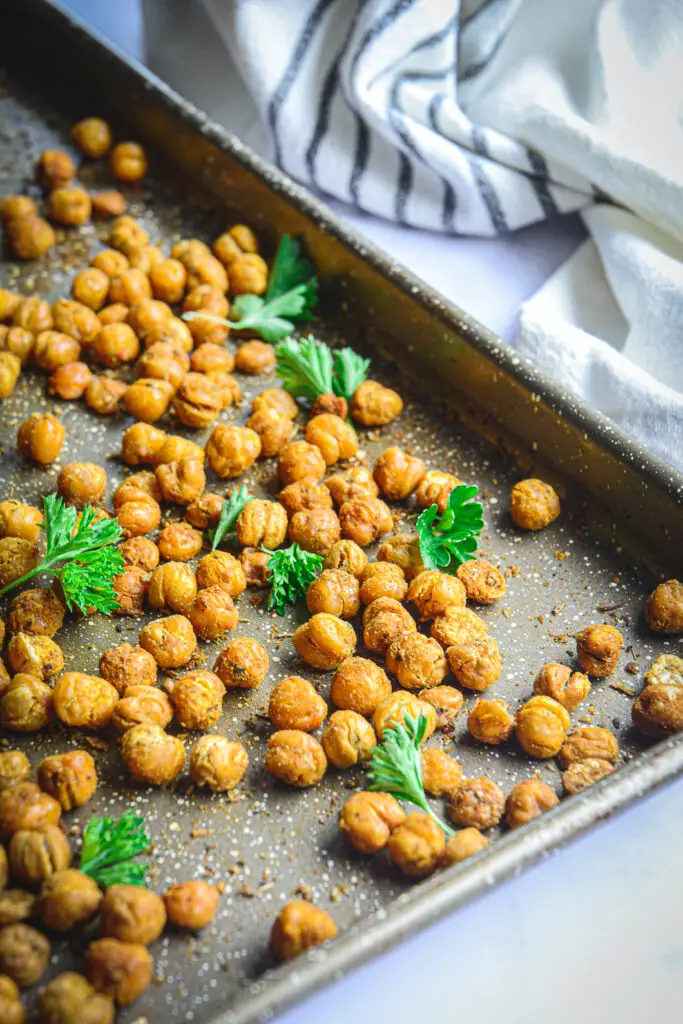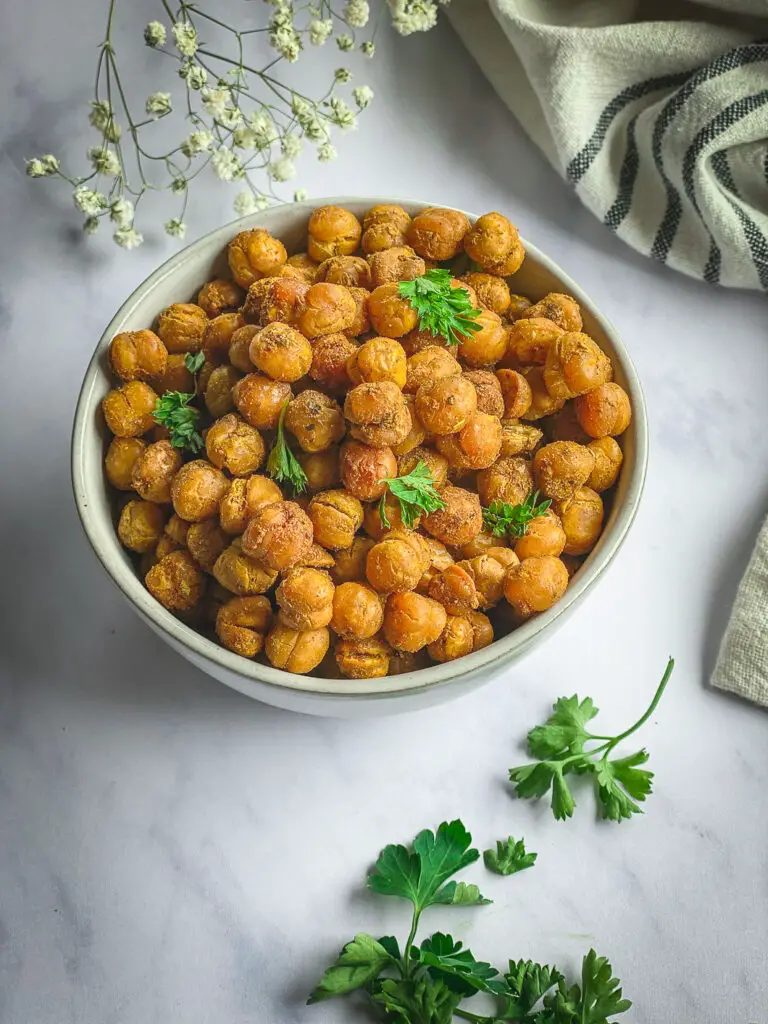 These Crispy Roasted Chickpeas are:
vegan
gluten-free
grain-free
flavorful
nutritious
easy to make
a perfect snack
What are Crispy Roasted Chickpeas?
Crispy Roasted Chickpeas are nothing more than cooked chickpeas (peeled or not), mixed with extra virgin olive oil, salt, and spices and roasted until crispy.
They're a satisfying, crunchy snack that provides plenty of nutrients, antioxidants from spices and protein as well.
Ingredients Needed
Crispy chickpeas are easy to make, versatile and nutritious. It's also a wonderful way to receive a dose of antioxidants from spices. What you'll need to make them is:
Cooked chickpeas
Cumin
Paprika
Turmeric
Oregano
Extra Virgin Olive Oil
Salt
Should you peel your chickpeas first?
That is a personal preference. But if you're someone who struggles with digestive issues or are a little sensitive to legumes, I do recommend peeling them. To me the skin has always been an issue and whenever I peel it, I seem to have less issues overall.
Additionally, once chickpeas have been peeled, spices cling to them better and you won't lose all the flavor when skin falls off.
Can you use canned chickpeas or dried?
Both options will work fine. I've used both for this recipe though I find canned to hold their shape much better. But soaked and cooked are going to be infinitely easier on digestion as phytic acid is broken down in the soaking process.
If you're going to go with dried beans, soak 1 cup chickpeas overnight in 6 cups water. When you're ready to cook the chickpeas, give them a good rinse and cover with 2 inches of fresh water in a large pot. Bring the chickpeas to a boil, then reduce heat to a simmer and cook for 1 hour and 25 minutes. You want your chickpeas to still have a little firmness to them. Check them at about the hour mark.
Tips and substitutions for crispy chickpeas
When it comes to making crispy chickpeas the rules are pretty flexible. If you don't like turmeric or oregano, or any other spice in the recipe, you can easily substitute with your favorite ones. The important part is to have salt and olive oil as your main favor and cooking agents.
Other chickpea recipes you might like: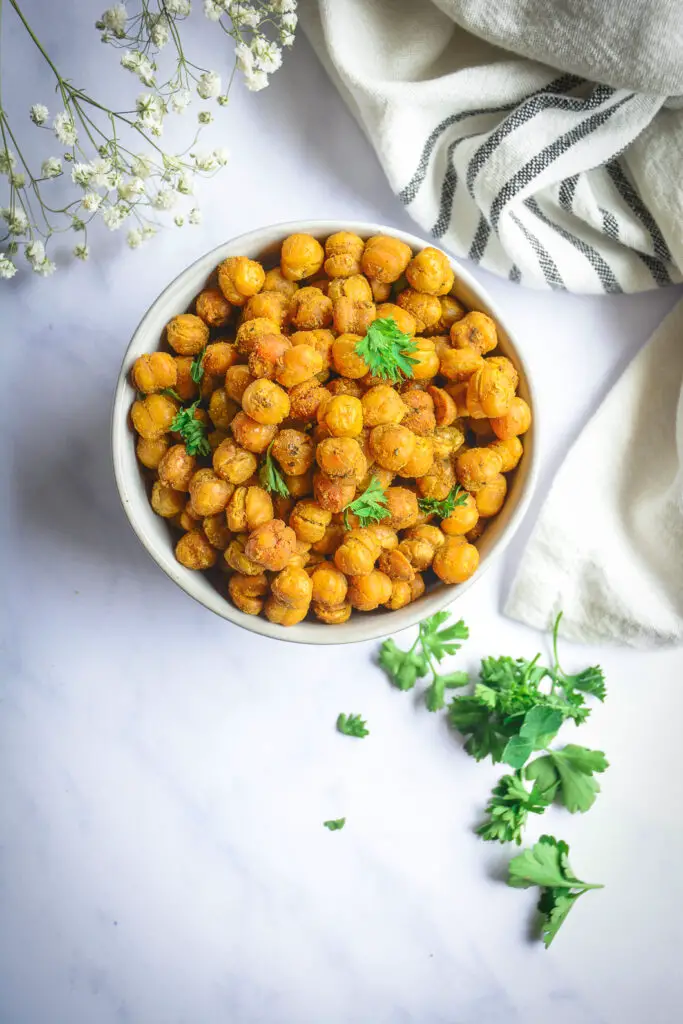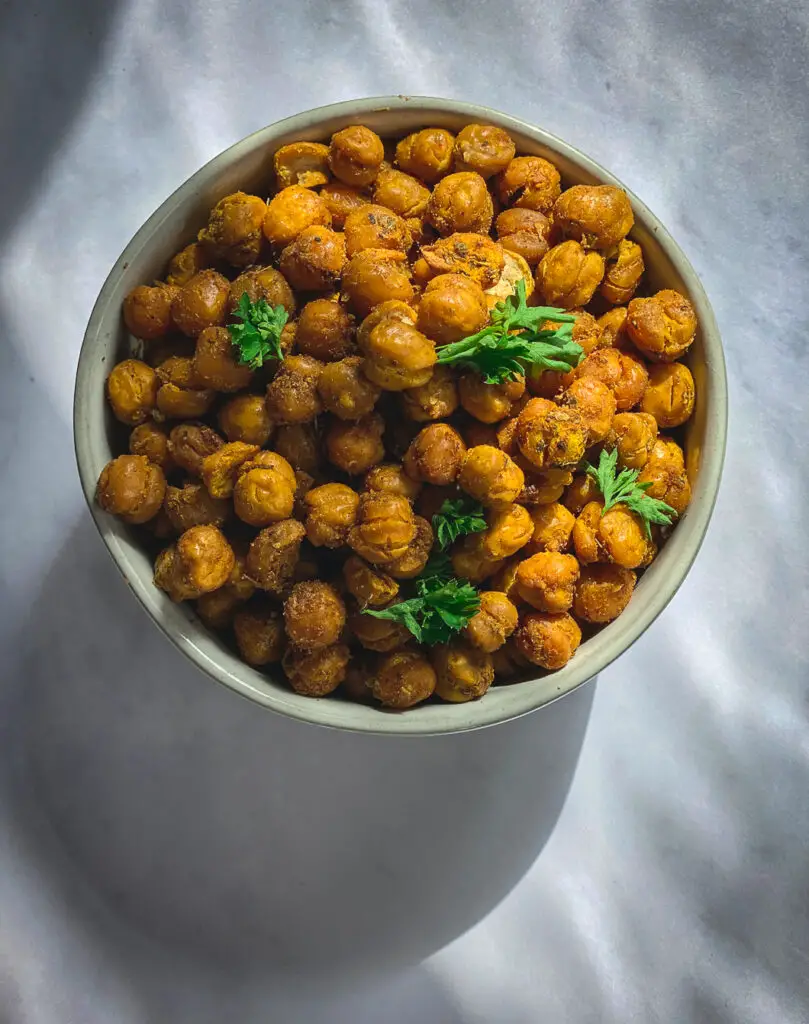 📖 Recipe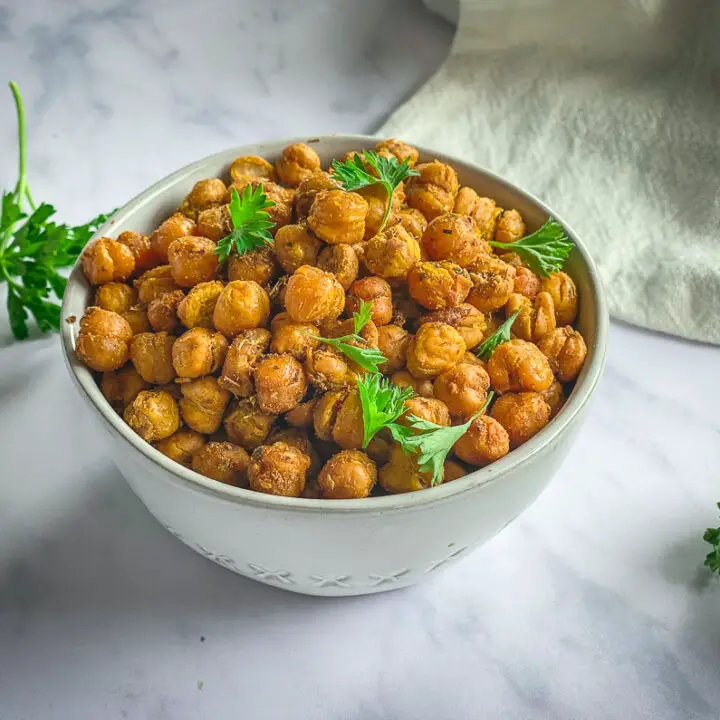 Crispy Roasted Chickpeas
Additional Time:
25 minutes
Total Time:
1 hour
15 minutes
Crispy Roasted Chickpeas are rich in nutrients, full of flavor, easy to make and make a perfect snack.
Ingredients
2 cans chickpeas
1 teaspoon cumin
1 teaspoon oregano
½ teaspoon paprika
¼ teaspoon turmeric
½-3/4 teaspoon salt
2 tablespoon olive oil
Instructions
1. If using canned, drain and rinse chickpeas.
2. Preheat oven to 350 degrees.
3. Peel chickpeas and dry well on a towel removing excess moisture
4. In a medium bowl, comine remaining ingredients and toss chickpeas well.
5. Lay chickpeas on a roasting tray and roast for 45 minutes tossing every 15 minutes. I cooked them on middle rack.
6. Let cook and serve.
7. Once completely cooled, store in airtight container for up to a week.
Nutrition Information:
Yield:

6
Serving Size:

1
Amount Per Serving:
Calories:

132
Total Fat:

6g
Saturated Fat:

1g
Trans Fat:

0g
Unsaturated Fat:

5g
Cholesterol:

0mg
Sodium:

489mg
Carbohydrates:

15g
Fiber:

4g
Sugar:

3g
Protein:

5g