Beet hummus is a beautiful, fresh take on the classic hummus recipe. It's easy to make and is perfect for entertaining, or for every day.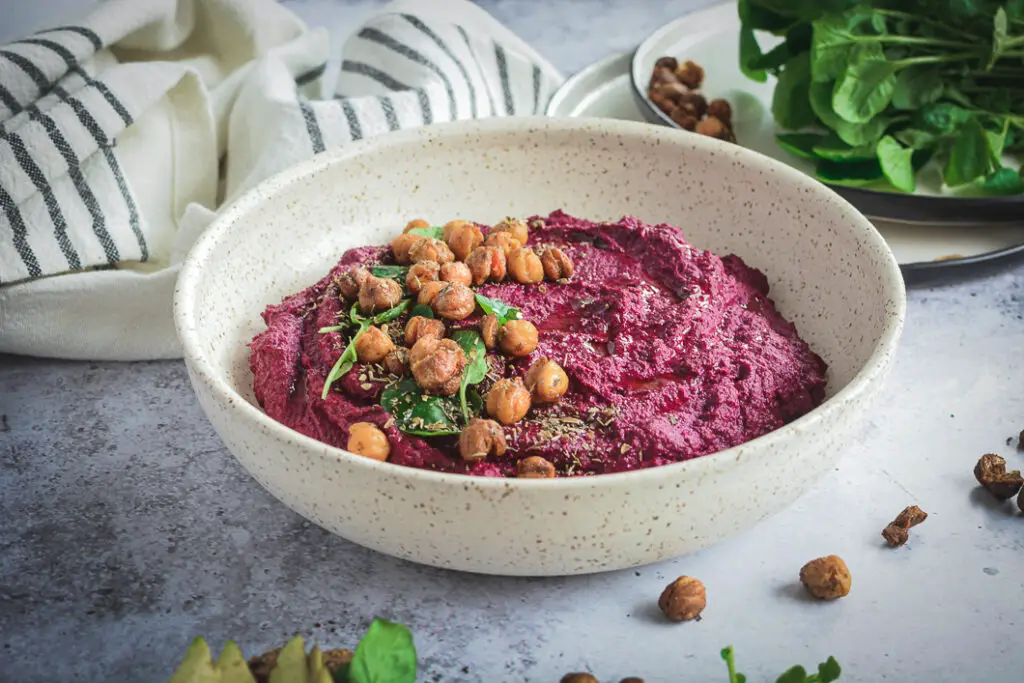 Jump To
It feels rather trivial talking about anything other than the most significant concern that is affecting us as a global population. 
And more complicated still, is trying to function in a "normal" fashion, when very few things are normal right now. But I'm taking away some things from these early days of adjusting to a new way of living. I'm learning the we rely on one another more than we ever realized. I'm also filled with a sense of gratitude towards the millions of people coming together and helping in their own way. But I'm also finding that I have to maintain some sort of order in my emotional and physical states in order to get through these very difficult and trying times. 
Frankly, I'm having a challenging time even creating this post because everything feels is quite uncertain. But I'm trying to reframe my thinking a little and focus on the positives in this situation. 
To me it feels like a very small price to pay for nearly everything shutting down, if it means trying to protect people from getting sick. There is always a sacrifice and trade-off for the greater good. And there is something reassuring knowing that we're all in this together. 
I'm trying to reframe my thinking and believe that eventually, we will get through this. One way or another, we will. So for now, focusing on the simple things, little moments and of course on food. When the noise of the news and internet gets too loud, I turn it off, go in the kitchen and lose myself for a while in cooking.
This is exactly what I've done with this when creating this Beet Hummus. I wanted a recipe that is as delicious as it is beautiful. Because right now, more than ever, our eyes could use a little color. And let's face it, anytime beets are involved, you're going to get the most alluring shade of deep purple/magenta. Nothing else comes close. So get your food processor ready, and let's get distracted together in the kitchen.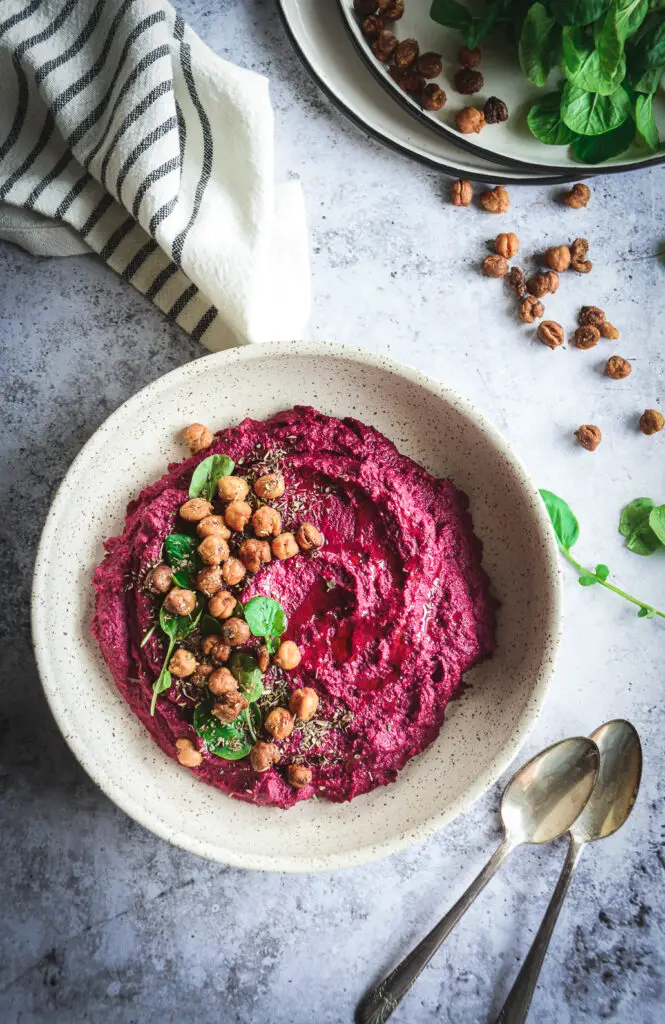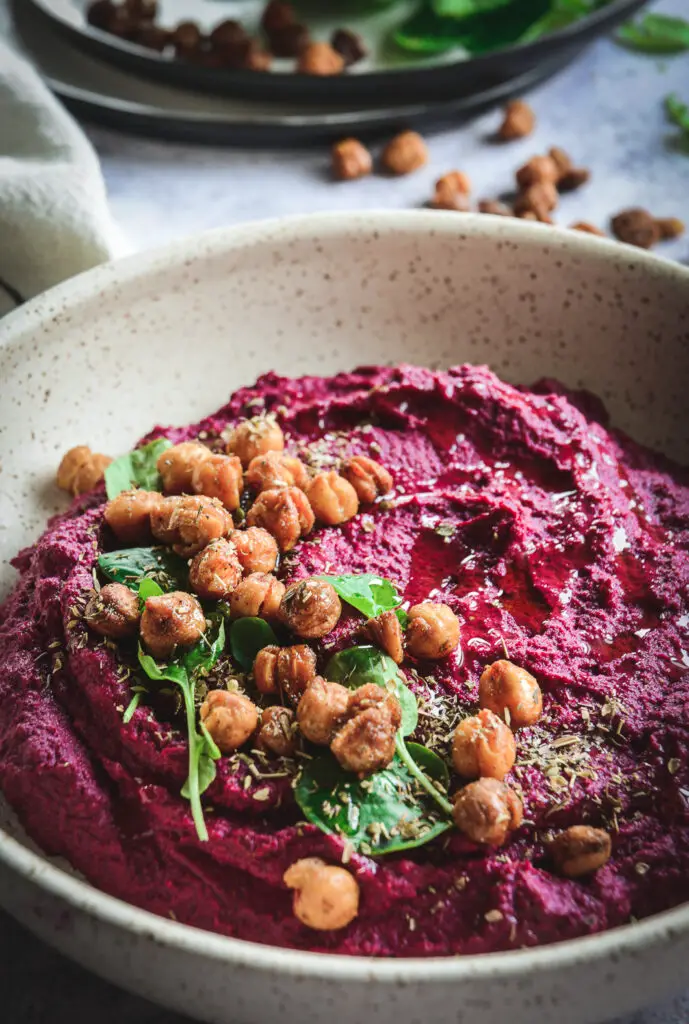 This Beetroot Hummus is: 
Vegan
Easy to make
Delicious
Beautiful
Perfect for entertaining
Vegetarian
Gluten-free
Dairy-free
Grain-free
Ingredients For Beetroot Hummus 
Beets
Extra virgin olive oil
Garlic powder
Lemon juice
Chickpeas (either cooked or canned)
Tahini
Ground cumin
Pinch of salt
Optional: crispy chickpeas
Optional: oregano
What Equipment Do You Need To Make Beetroot Hummus? 
What you'll need to make beet hummus is either a food processor or a powerful blender that can puree the mixture. You'll also need foil for roasting the beets. 
Why Should You Peel Chickpeas For Hummus?
Whether to peel or not to peel, that's always the question. I'm partial to peeling. It takes a little bit longer but to me, it's always worth it. I find it meditative, relaxing and find it makes a difference in my gut health. Additionally, peeling chickpeas results in creamy and delicious chickpeas. But if you're strapped for time or don't have gut issues, you can forgo the peeling but just give the chickpeas a good rinse with warm water. 
What To Eat With Beetroot Hummus?
Beet hummus can be eaten in the same way you would regular hummus. You can use it as a spread on sandwiches and wraps, for dipping your favorite crackers or vegetables. Top veggie burgers or regular burgers with them, as a side for falafel and more. You can also top the beet hummus with crispy chickpeas. 
More Hummus Recipes You Might Like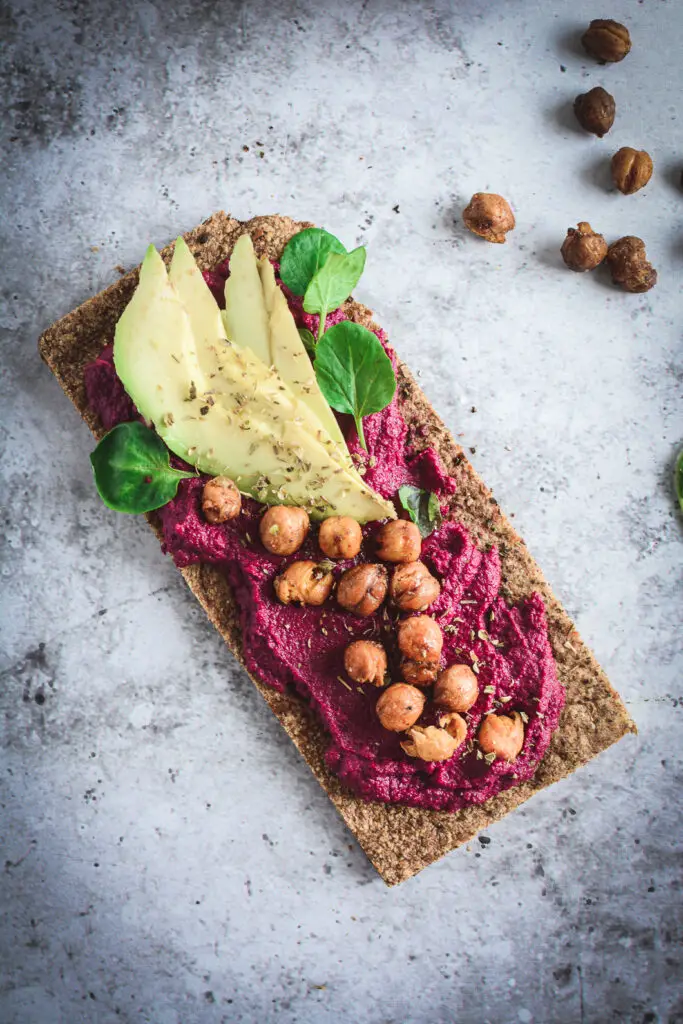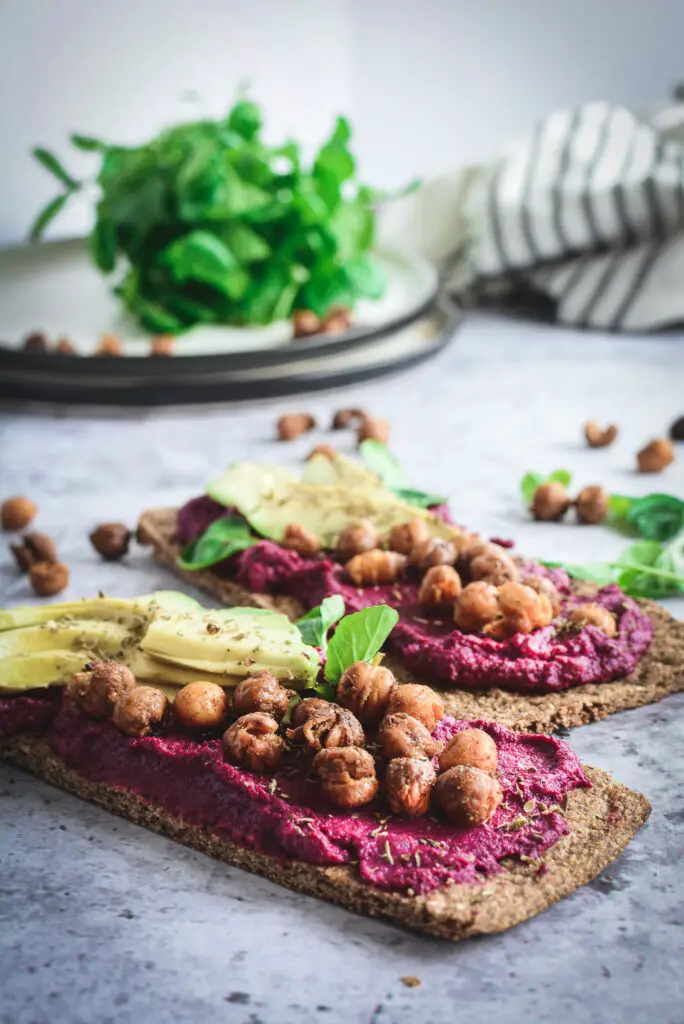 📖 Recipe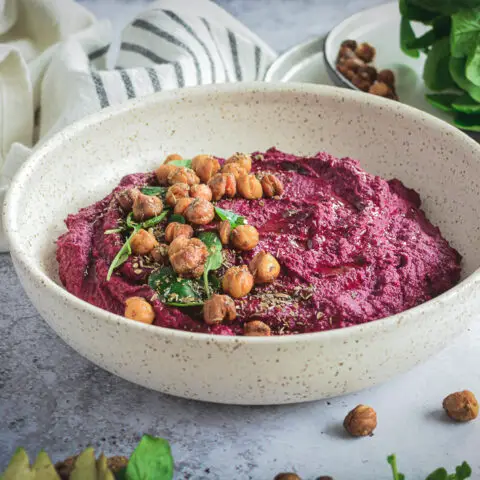 Beetroot Hummus
Additional Time:
15 minutes
Total Time:
1 hour
20 minutes
Beetroot hummus is a beautiful, fresh take on the classic hummus recipe. It's easy to make and is perfect for entertaining or every day.
Ingredients
1 bunch beets
4 tablespoon olive oil divided
⅛ teaspoon garlic powder
2 tablespoon lemon juice
2 cups chickpeas (either cooked or canned)
3 tablespoon tahini
½ teaspoon cumin
pinch of salt
optional: crispy chickpeas
optional: oregano
Instructions
1. Preheat oven to 400 degrees.

2. Cut off stems and wash beets well. No need to peel. Rub beets with 1 tablespoon extra virgin olive oil and wrap them in foil. Stick them on the bottom rack and roast for about 1 to 1.5 hours or until soft. You want them to be soft enough to blend well.

3. When beets have finished roasting, unwrap them carefully and set aside for 5 minutes.

4. Using either kitchen gloves or paper towels (or both), you can wipe the skin off beets and toss them right in the food processor.

5. Add the rest of the ingredients aside from the optional ones and puree until smooth. If you want to make the beet hummus runnier, feel free and add an additional tablespoon of olive oil.

6. Serve right away or store in an airtight container for up to a week.
Notes
* Tip - place a piece of foil right under the beets as they do leak as their liquid is released.
Recommended Products
As an Amazon Associate and member of other affiliate programs, I earn from qualifying purchases.
Nutrition Information:
Yield:

8
Serving Size:

1
Amount Per Serving:
Calories:

199
Total Fat:

11g
Saturated Fat:

1g
Trans Fat:

0g
Unsaturated Fat:

9g
Cholesterol:

0mg
Sodium:

29mg
Carbohydrates:

19g
Fiber:

5g
Sugar:

4g
Protein:

7g