Here is an easy Citrus Avocado and Shrimp Salad with Roasted Fennel. It's light yet full of flavor and perfect for entertaining or just as an everyday lunch.
Jump To
Confession. I didn't try shrimp until my early 20s - in fact, I didn't eat seafood at all until then. I know, I must have been out of my mind. The thing is, we didn't have much seafood growing up. I shouldn't even use the word much - we didn't have any. 
In order to purchase even meat, often times my parents and grandparents had to wait hours in line at some shoddy warehouse in order to get it. I recall losing my very first tooth while keeping my grandfather company trying to purchase chicken. A wobbly tooth, a bite of an apple, gone. But yes, that's how things were done if you wanted the luxury of eating meat. I don't often think about that part of my life when going to the supermarket and picking up chicken thighs. But I digress...
So seafood. It intimidated me and was unfamiliar so I kept my distance. My mother, who still to this day refuses to touch it, never cooked any. After all, we ate how we learned to in Romania and Germany. And the diet I adopted in my teens once we moved here included an ample amount of pizza, cereal, whatever my mom cooked, more junk, and then then I eventually turned to a quasi-vegan lifestyle. In a nutshell, a disaster but never included any seafood.
But things changed drastically once I started college. In addition to meeting new people, I was also introduced to new food and started eating differently. No, wings from Domino's at 1 am were not one of them, but there was shrimp. The first time I tried it was when friends put together a dinner. Out of respect, I decided to try one. Embarrassingly enough I had to ask for instructions. The rest is history.
Today I eat seafood more than any other food. Shrimp, salmon, sardines, scallops, tuna - I love it all! And particularly like the versatility of shrimp as it takes minutes to cook and is fairly inexpensive. 
Probably one of my favorite ways of eating shrimp is with avocado and citrus. For this salad, I used orange, avocado and fennel. If you're not a big fan of licorice, roasting it for a few minutes will cut down on the sometimes overpowering taste. I happen to love fennel and like it raw or roasted. For this dish, roasting it for 10 minutes provides a nice balance to the other ingredients. It's quick to make and is the ideal lunch if you're looking for something refreshing and light. 
Citrus Avocado and Shrimp Salad with Roasted Fennel
gluten-free
dairy-free
grain-free
easy to make
delicious 
healthy 
Making Citrus Avocado and Shrimp Salad with Roasted Fennel
This salad requires nothing more than fresh shrimp, a bulb of fennel, oranges and avocado. The dressing is made simply from leftover juice from the oranges. 
If you don't like fennel
Fennel has a very distinct taste. If you're a fan of licorice, you're in luck as fennel has a nice subtle licorice taste. Roasting it cuts down some on the taste though. But in case you absolutely do not like it, you have the option to use a Bok Choi bulb as a substitute and roast it the way you would the fennel. Or you can just leave it out entirely.
Do you have to grill the shrimp?
You most certainly don't have to grill the shrimp. If you have a grill pan, that will work perfectly fine or alternatively just sautee the shrimp in a skillet. 
📖 Recipe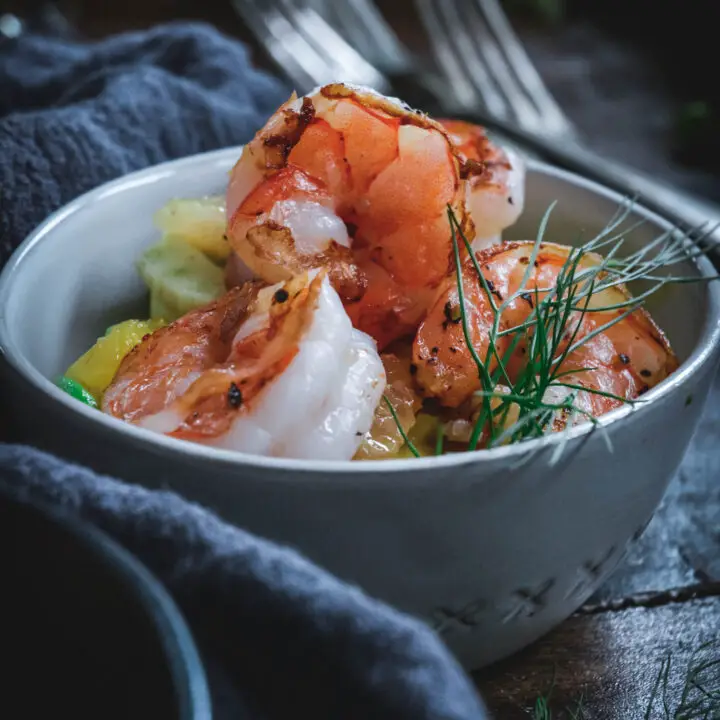 Shrimp Salad with Fennel, Citrus and Avocado
An easy and delicious Shrimp Salad with Fennel, Citrus and Avocado. It's light yet full of flavor and perfect for entertaining or just as an every day lunch.
Ingredients
1 fennel bulb
¼ cup olive oil divided
2 oranges, segmented
1 avocado, cut into slices
8-10 jumbo shrimp
¾ teaspoon salt, divided
¾ teaspoon pepper, divided
1 tablespoon freshly squeezed orange juice
1 teaspoon lemon juice
Instructions
1. Preheat oven to 350 degrees.

2. In small mixing bowl, combine shrimp, 1 tablespoon olive oil, ¼ teaspoon salt,¼ teaspoon pepper and toss to combine. Set aside.

3. Meanwhile, cut fennel in half and peel outside layer. Cut into thin slices and spread evenly on a parchment paper lined baking sheet. Sprinkle with ¼ teaspoon salt and ¼ teaspoon pepper and pour over 1 tablespoon olive oil. Toss to combine. Roast for 10 minutes stirring once half way.

4. Next, with a pairing knife, cut orange peel and segment all the orange slices. Reserve the remaining orange and squeeze 1 tablespoon orange juice into large bowl. Add ¼ teaspoon salt, ¼ teaspoon pepper and lemon along with 2 tablespoon olive oil and whisk well.

5. Add segmented orange, avocado and roasted fennel and combine with dressing.

6. Next grill shrimp for 2-3 minutes per side until fully cooked.

7. To plate, add avocado, fennel and citrus to plate or bowl and top with grilled shrimp. Serve right away.