This Adaptogenic Peanut Butter Chocolate Smoothie is the perfect breakfast that's rich in protein and balancing for the nervous system.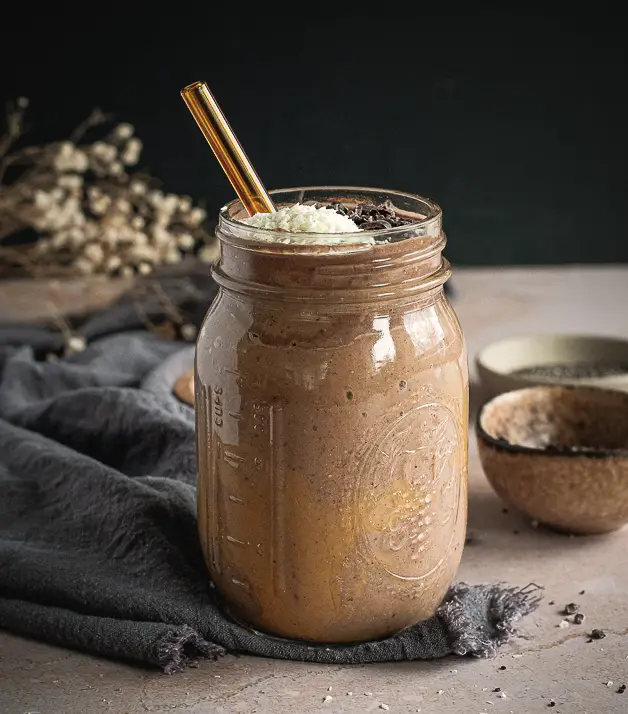 Jump To
Adaptogens have been blowing up lately. And that's probably because we're all stressed out to the max and are looking for ways to find some level of calm in our lives. That's pretty much all we want (or at least I want). But our bodies and minds are often disconnected. We might think we're relaxed, but our shoulders hover somewhere around our ears, and our thoughts race while our insides churn. Stress is just like that.
But adaptogenic herbs have the incredible power of helping the body and mind adapt to stress over time. Adaptogens are by no means a cure-all and are meant to be used long-term in order to efficiently work. But they're my absolute go-to for providing my brain and body some armor against the inevitable perceived stress that is part of life.
My favorite way of using adaptogens is by adding them to smoothies. And this adaptogenic peanut butter chocolate smoothie is packed with functional mushrooms, maca, and astragalus - my absolute favorite adaptogens for keeping the body and mind strong, energized, and alert. We'll dig into the details shortly, but for now, let's talk a little bit about adaptogens, what they are, how they can support your body, and where you can find them.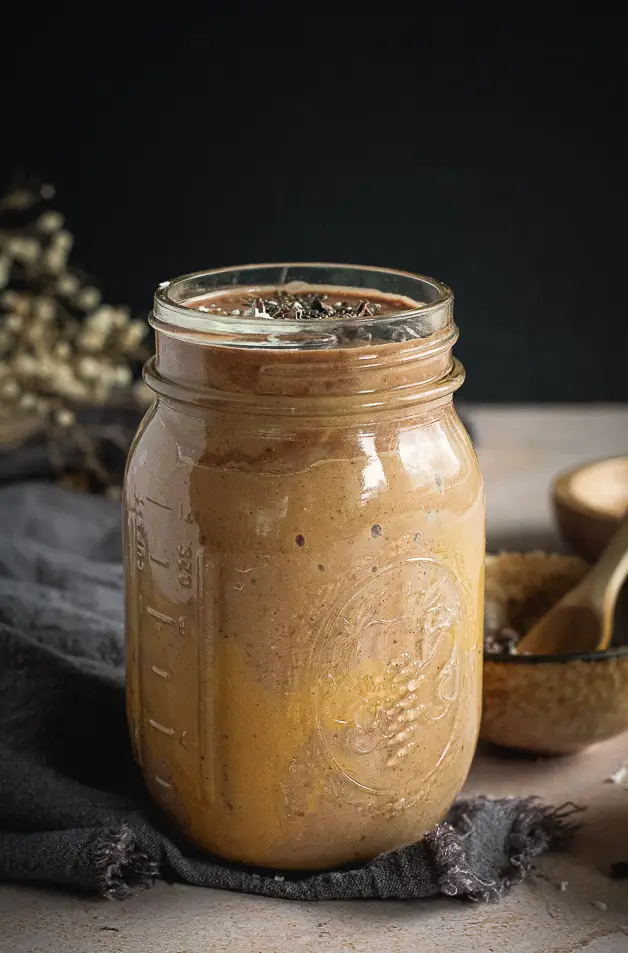 What Are Adaptogens?
I'm sure most of you are familiar with the term, but in case you are not, adaptogens are a category of herbs and roots that as the term describes, helps the body and mind adapt to everyday stress, reducing nervous tension and helping us cope with life stressors. Certain adaptogenic herbs are used for different conditions such as stress, high cortisol, depressed mood, anxiety, and so forth. Adaptogens also work well together when combined, creating a synergetic effect in the body.
The important thing to note about adaptogens as a whole is that when used correctly, they don't interfere with the body's normal function and improve our system over time.
List Of Common Adaptogenic Herbs, Botanicals And Benefits
Ashwagandha
This is probably the most popular adaptogen that everyone has heard about and one that I've been using for years and years and vouch for its incredible benefits on a burned-out nervous system. Ashwagandha has also been heavily researched with many studies backing its benefits. It is beneficial for lowering cortisol levels (my favorite at night), relieving anxiety symptoms, calming the nervous system, increasing muscle endurance, improving sexual health, focus and memory, and balancing out blood sugar among others.
Turmeric
Equally as potent and important, turmeric has proven to be the single best natural anti-inflammatory we know of. It is used in the treatment of depression, anxiety, Alzheimer's, gut health, and more. You can find a post here about the benefits of turmeric. And also some recipes here and here if you'd like to get more turmeric into your diet.
Astragalus
Astragalus has traditionally been used to support the immune system in preventing colds and upper respiratory infections. This powerful adaptogen also has antibacterial and anti-inflammatory properties. It's also great for supporting the liver and lowering blood pressure and is one of the adaptogens we'll be using in our adaptogenic peanut butter chocolate smoothie.
Holy Basil (Tulsi)
Holy basil is a staple in my house and I use it in tea form every single day. Holy basil or tulsi is a great adaptogen for helping the body cope with emotional, physical, infectious, and chemical stress - attacking it from all angles. Holy basil helps to lower blood sugar and cholesterol as well as anxiety and supports the health of the gut lining. The leaves of holy basil are also great for wound healing.
Panax Ginseng
Both American and Asian Ginseng have both been used for increased energy, reduced fatigue, improved focus, and cognition, improving immune function, and is also a powerful anti-inflammatory.
Siberian Ginseng (Eleuthero)
While also ginseng, Siberian ginseng actually comes from a plant while American and Asian ginseng comes from a root. Eleuthero as it's often referred to is helpful for increasing energy, used for reducing the duration of colds as well as the flu, and improving mental and physical performance. Eleuthero works really well when used in combination with other adaptogens such as Rhodiola, Schisandra, Holy Basil, Maca, and Ashwagandha.
Rhodiola
Rhodiola is a very powerful adaptogen that is used to decrease stress, improve energy levels, improve cognition, and reduce symptoms of depression and anxiety. Rhodiola is one to start very low with and work from there as it can be too much for some people and really overwhelm the system.
Mushroom Powder
Lion's Mane, Cordyceps, Reishi, Chaga, Turkey Tail, and Shiitake are among some of my all-time favorite functional mushrooms. Individually they're wonderful and each provides spectacular benefits that range from improved memory and focus, balancing the immune system, improving sleep, regulating the digestive system, and reducing inflammation. Mushrooms are spectacular I have them every single day in my smoothie or coffee. While you can get the individual mushroom powders, I find blends to work synergistically. This is the one I use and love.
Schisandra Berry
This plant has been used in Traditional Chinese Medicine for improving liver function and menopausal symptoms, potentially helping to lower depression symptoms, increase stamina and energy, and reduce inflammation, particularly in the brain.
Maca
Another one of my all-time favorite adaptogens, which we'll be using in this smoothie, is Maca. This wonderful adaptogen helps to improve energy levels and stamina, improves mood, helps the body manage stress, increases libido in both men and women and has been helpful in managing menopausal symptoms.
And now, on to the recipe!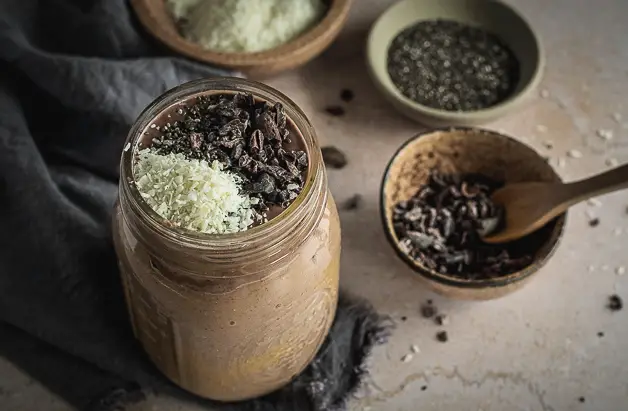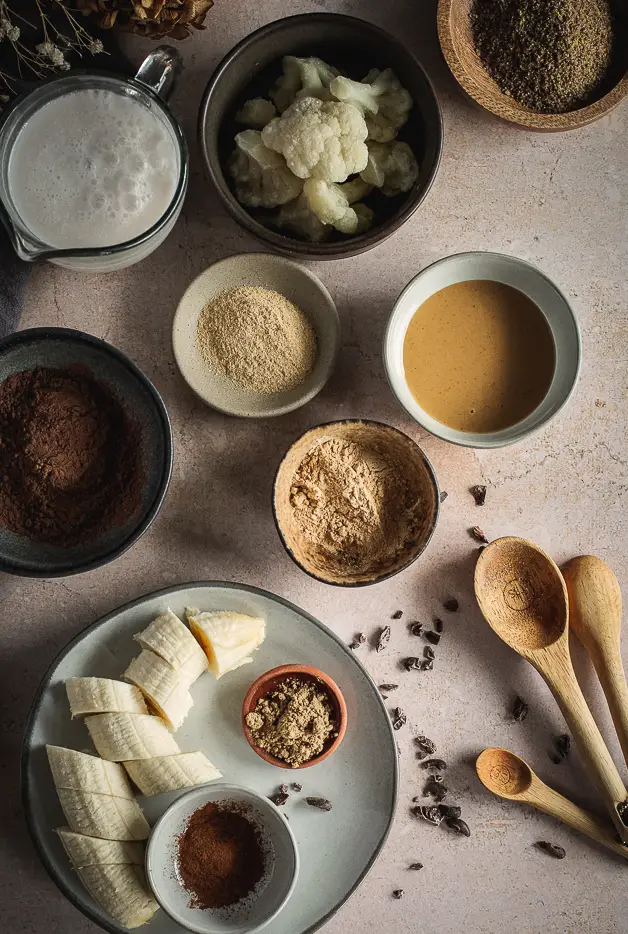 Why You'll Love This Adaptogen Smoothie
It's a perfect, filling, and nutritious breakfast
Takes minutes to make
Is vegan, gluten-free, and paleo-approved
It's healthy and nutritious
A great smoothie for breaking a fast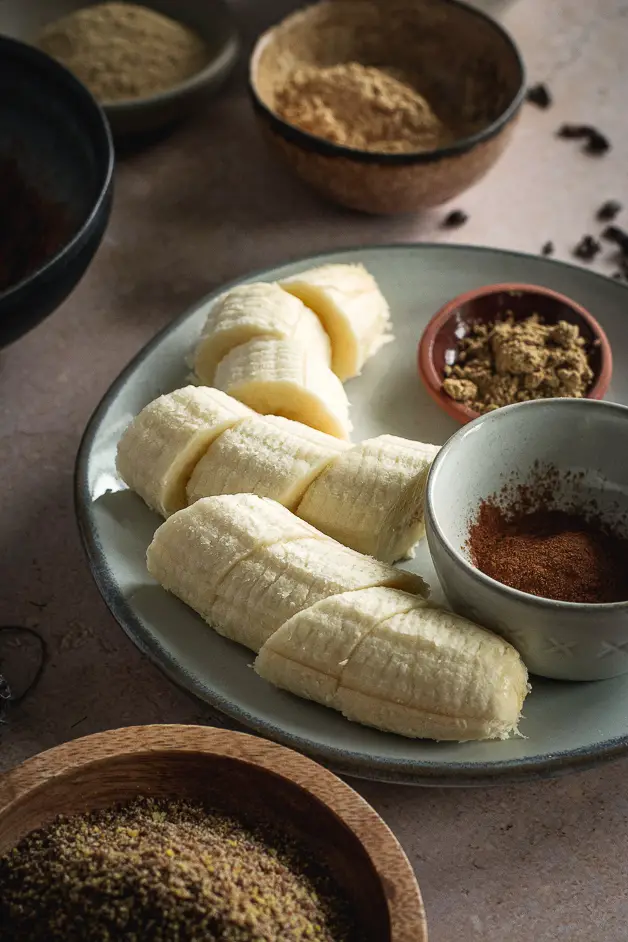 For Your Shopping List
Banana
Frozen cauliflower
Cacao or cocoa powder
Peanut butter
Cinnamon
Maca root powder
Astragalus powder
Mushroom powder
Flax seeds
Vanilla extract
Plant milk
Optional: cacao nibs, chia seeds, coconut flakes, hemp hearts
Let's Make It
Step 1. Combine all ingredients in a strong blender and blend on high for 30 seconds or until all ingredients are combined.
Step 2. Serve right away with any toppings you'd like.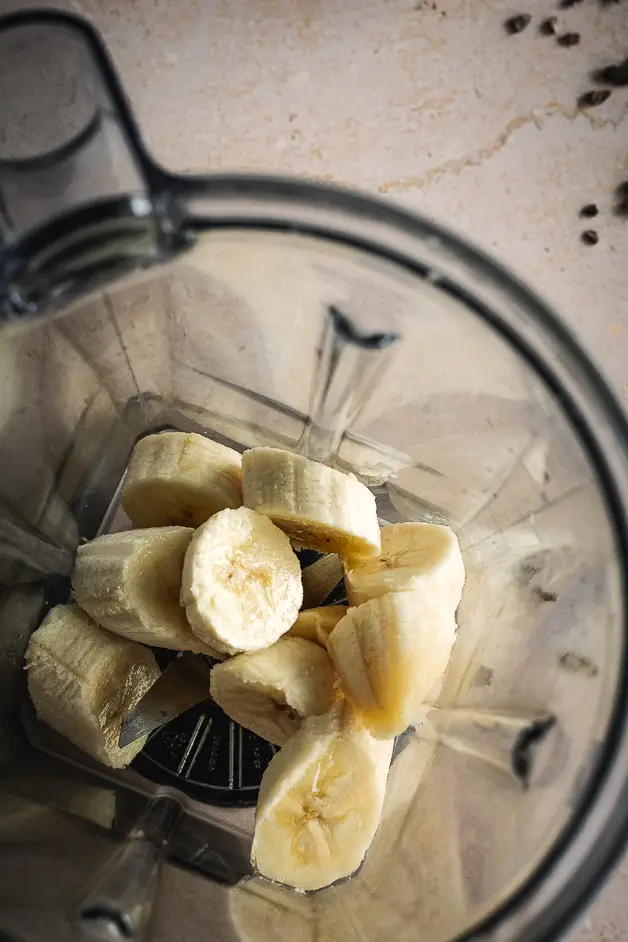 Top Tips + FAQs
Can You Substitute Almond Butter For Peanut Butter?
You most certainly can. If you want to make this smoothie paleo, switch to any nut butter you'd like. Of course, the flavor might be a little different than peanut butter but nonetheless, it will still be delicious.
Why Do You Need Frozen Cauliflower?
I like smoothies to be thick and substantial especially when I don't add frozen berries. Cauliflower gets the smoothie nice and thick but you won't taste it.
Can You Skip The Banana?
If you don't want to use frozen banana, you can use fresh, or alternatively, also 2 dates would do or however sweet you like it. But your smoothie may not be as smooth and thick. To troubleshoot that you can use ¼ avocado.
Can You Skip An Adaptogen?
You sure can, if you can't find an adaptogen or want to skip it altogether.
Where Can You Buy Mushroom Powder?
I get my mushroom powder at my local organic grocery store or Whole Foods but online is of course always an option. I've listed the rest of the adaptogens in the recipe card.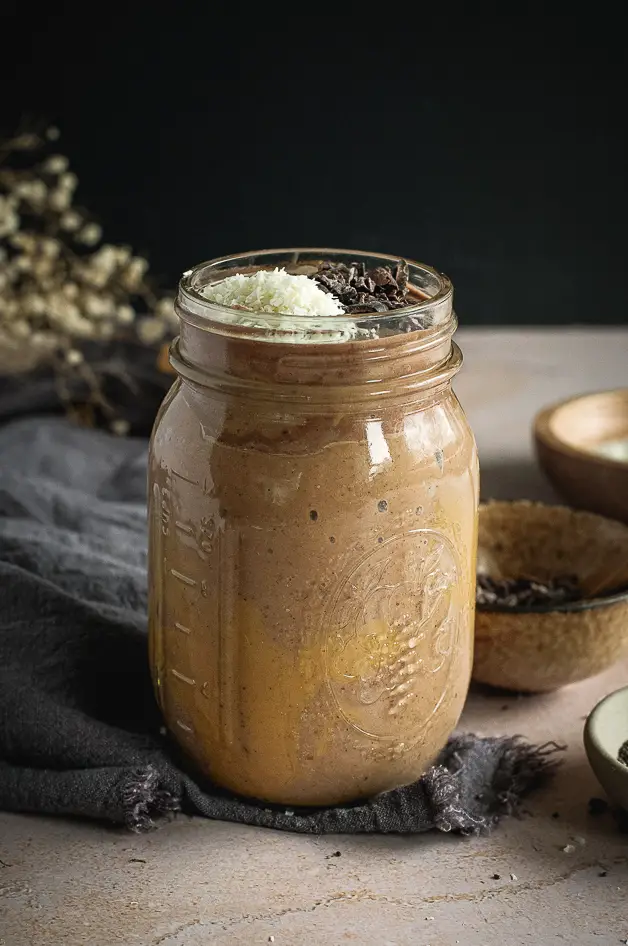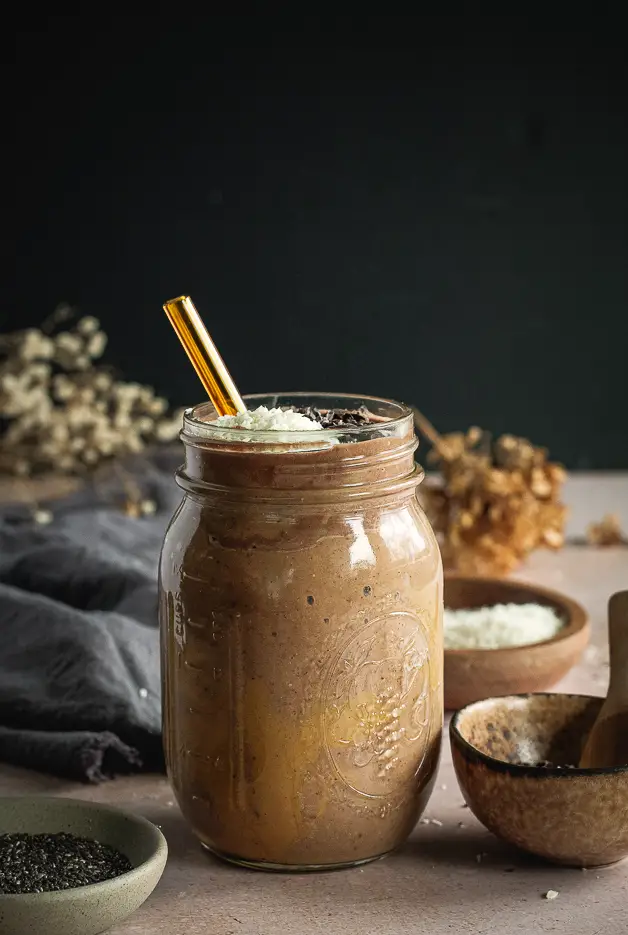 📖 Recipe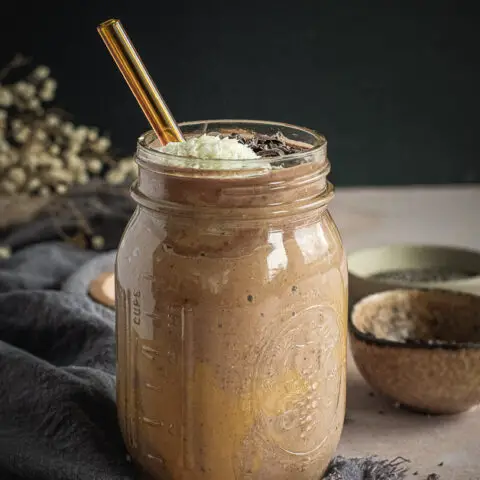 How To Make Adaptogenic Peanut Butter Chocolate Smoothie
This Adaptogenic Peanut Butter Chocolate Smoothie is the perfect breakfast that's rich in protein and balancing for the nervous system.
Ingredients
1 frozen banana
3-4 frozen cauliflower florettes
1 tablespoon cacao or cocoa powder
2 tbsps natural peanut butter
¼ teaspoon cinnamon
1 tablespoon ground flax seeds
½ teaspoon vanilla extract
1 cup plant milk of your choice
Optional: cacao nibs, chia seeds, coconut flakes, hemp hearts or collagen
Instructions
Combine all ingredients in a strong blender and blend on high for 30 seconds or until all ingredients are combined.
Serve right away with any toppings you'd like.
Notes
1. Drink right away.
2. Feel free to swap any adaptogens out.
3. Make it paleo by using almond, cashew butter, or seed butter.