This post is a paid partnership with Naturacentric. All opinions expressed are my own.
This Anti-Inflammatory Turmeric and Ginger Latte is infused with CBD honey and makes the perfect calming drink.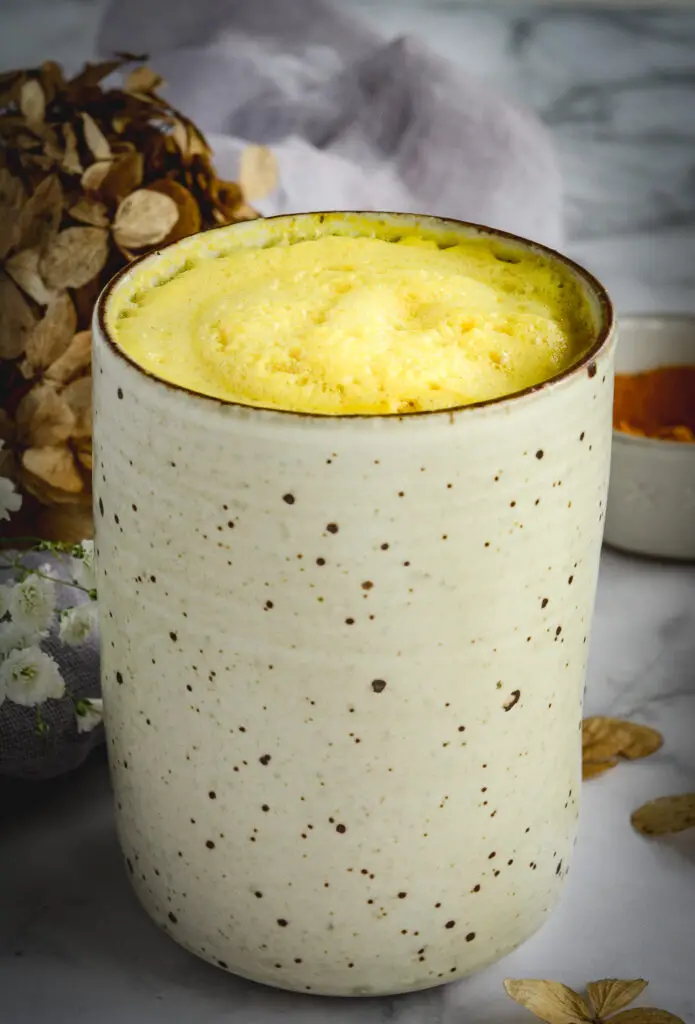 Jump To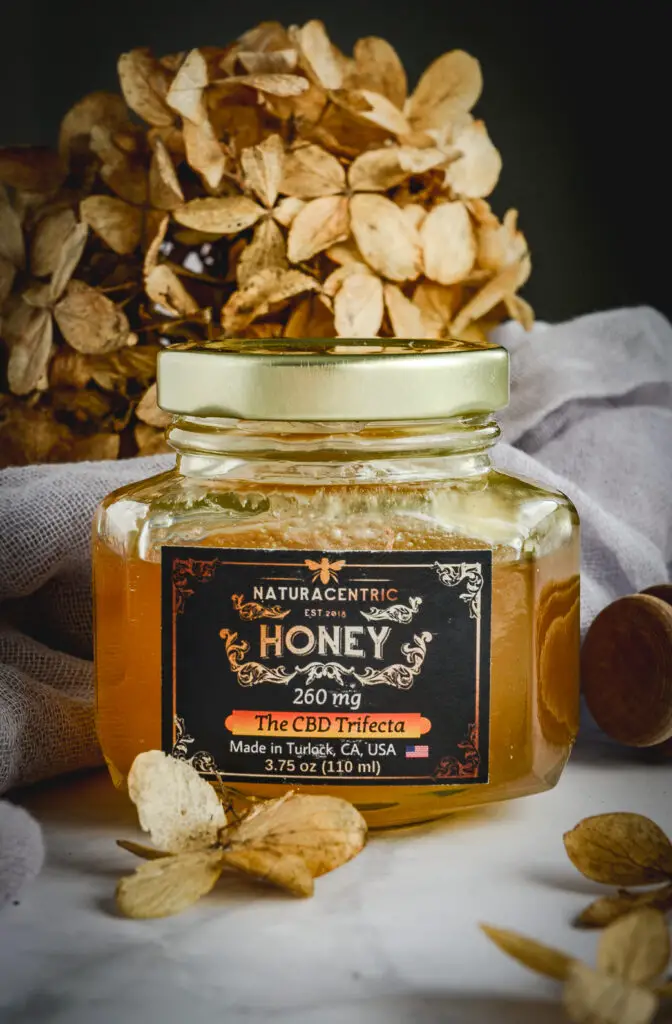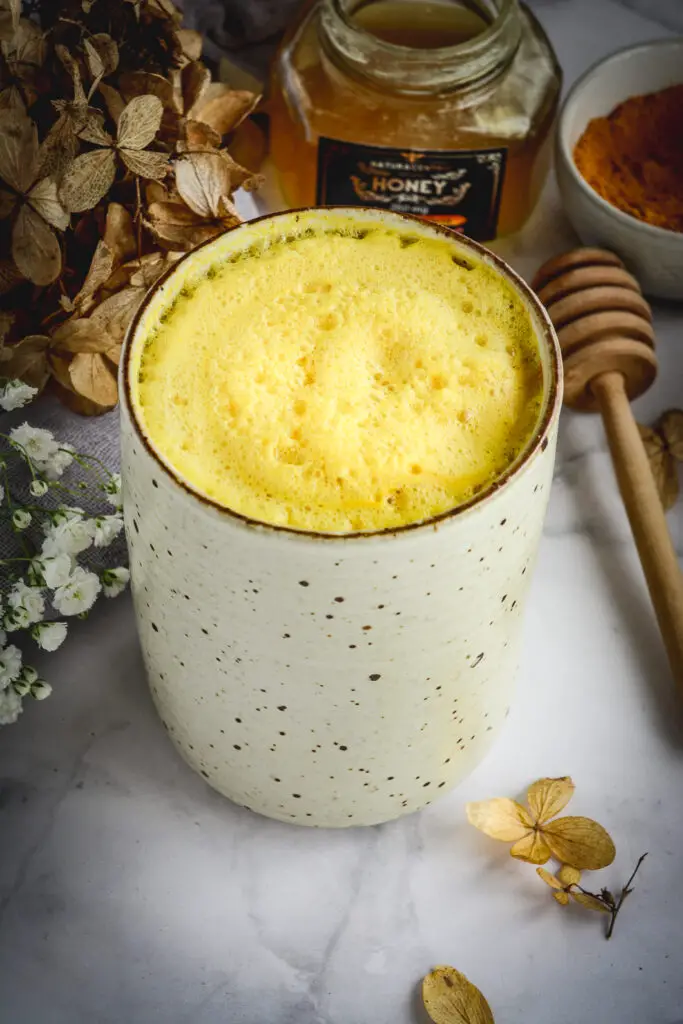 If there's one ingredient I use more than any other it is honey. My household goes through an absurd amount of it. I smother it on pancakes in the morning, sweeten my children's oatmeal with it, use it in baked goods, no-bake goods, drinks and more! Not a day goes by that honey doesn't touch my life in one form or another.
So I was ecstatic when the lovely owner of Naturacentric reached out to me about partnering. What immediately drew me to Naturacentric is their commitment to sustainability, their dedication to handcrafting products and their passion for restoring health through plant medicine. Additionally, they're a 0 Waste Company and 10% of their proceeds are donated to environmentally conscious non-profits. It was a no-brainer, this is the sort of company I want to partner with.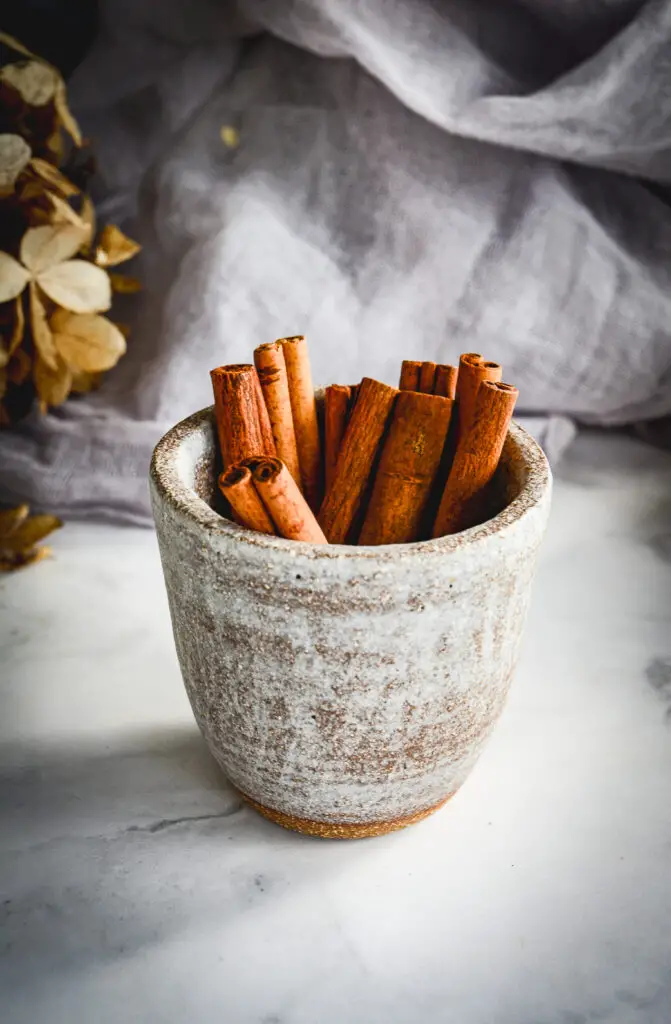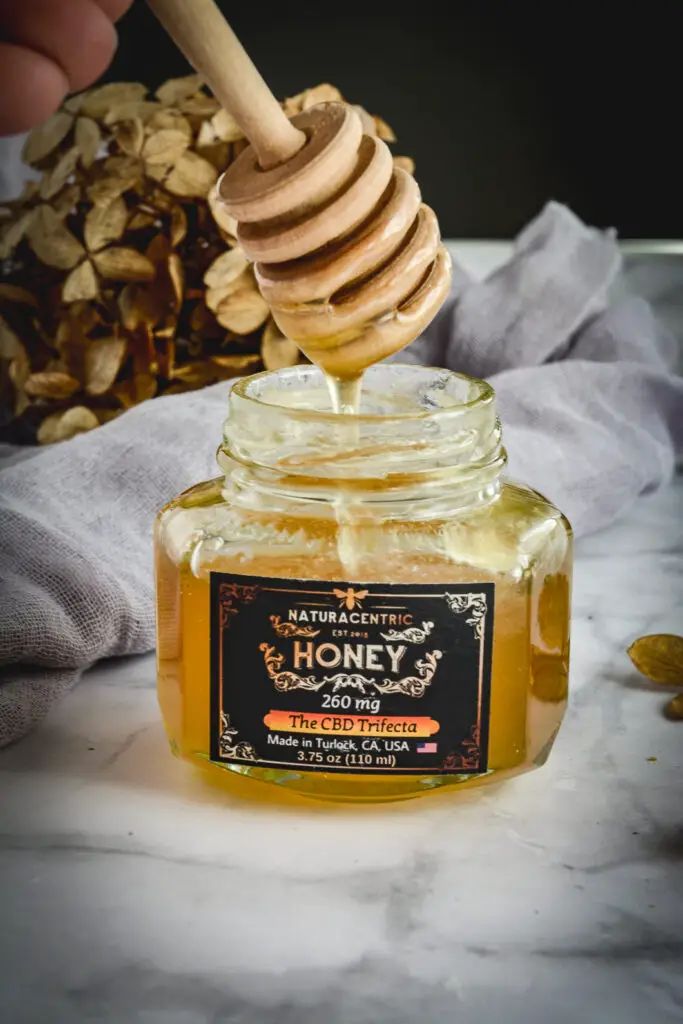 And when I opened the package to find the CBD infused turmeric and ginger honey, I was sort of blown away by all that a jar of honey can contain. It packs the benefits of CBD oil along with turmeric and ginger - all wrapped in a sticky, sweet and natural goodness. I don't get excited about products easily but this one was simply meant for me.
Therefore, I wanted a recipe with CBD Infused Turmeric and Ginger Honey that would be suited for daily consumption. Easy enough that you can make in just a few minutes. Enter this comforting, relaxing anti-inflammatory CBD infused turmeric and ginger honey latte. It's full of antioxidants, has anti-inflammatory properties and a mildly sweet and spicy taste.
This is the sort of drink I look forward to making and slowly savoring. Call it the perfect excuse to interrupt a busy day, hit the pause button and spend a few minutes unwinding.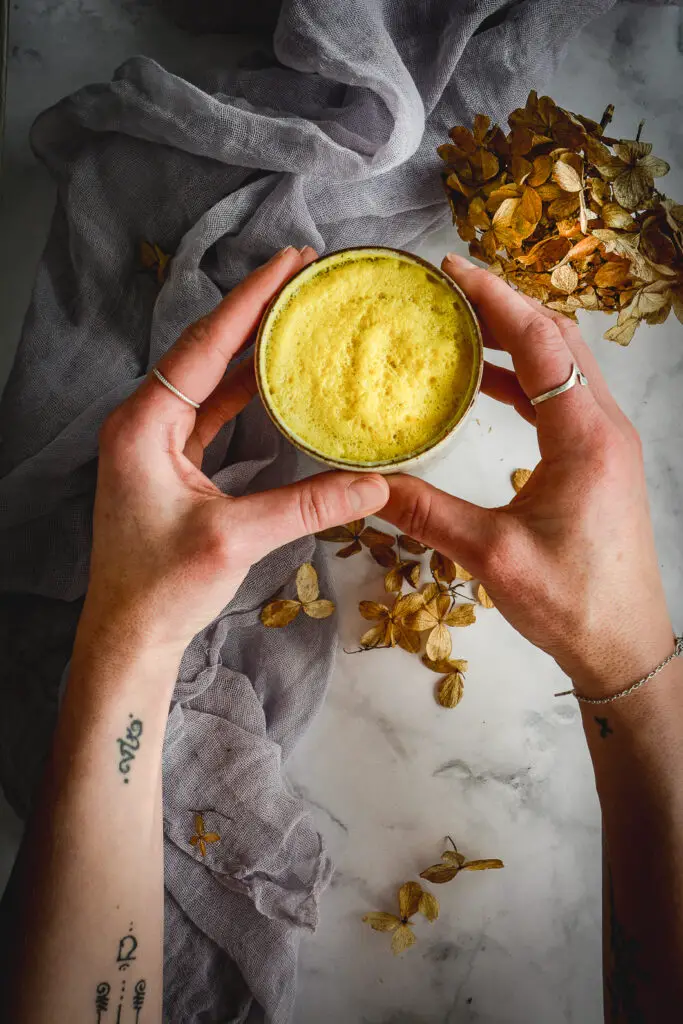 Anti-Inflammatory Turmeric Ginger Latte
paleo
dairy-free
anti-inflammatory
antioxidant-rich
calming
gut healthy
FAQs + Tips
What is an anti-inflammatory CBD-infused turmeric and ginger honey latte?
Traditional Turmeric Milk or Golden Milk originated in India as part of Ayurvedic medicine (or simply Ayurveda) and has been around for centuries. Most commonly Turmeric milk was used to aid with sleep, relaxation, coughs, and colds.
Luckily this wonderful beverage has made its way to our part of the world and we now get to enjoy its benefits. While there are many variations of Turmeric Milk, this one is my take on this powerful, healing drink.
What are benefits of this turmeric and ginger latte?
First and foremost, let's talk about the CBD Trifecta Honey. Naturacentric uses Full Spectrum CBD Distillate in their honey, meaning, it contains the benefits of the entire plant without the THC. Full-spectrum CBD contains "compounds that work synergistically to produce a more potent and longer-lasting effect than a single compound isolate can achieve on its own".
CBD oil has been vetted quite rigorously and has shown to be impressive for:
inflammation
helping to combat anxiety
relieving insomnia
having neuroprotective properties
helping combat acne
managing pain
The CBD Trifecta honey is also infused with Turmeric and Ginger; both packed with anti-oxidant and anti-inflammatory benefits. Turmeric and ginger help to reduce inflammation, boost immune function, decrease nausea and more.
In addition, I've added a bit more ground turmeric, ground ginger, ground cardamom, cinnamon sticks, coconut oil and a dash of pepper to the latte.
Why you should combine turmeric with pepper?
Very good question! Turmeric on its own can be difficult to absorb so adding Bioperine, makes it bio-available, in essence, helping to absorb the nutrients in turmeric. And the simplest way to get Bioperine is through good old ground pepper!
Why use coconut oil?
Yes! These days, I can't imagine making a latte and not adding a little bit of coconut oil. You may think this odd but once you've added the hot drink to the blender, it takes on a frothy, foam-like consistency that you would get with steamed milk.
Any special equipment needed?
You most likely already have everything you need to make this quick, calming and delicious latte. You will need a small saucepan and a blender. If you don't have a blender, you can always hand whisk all the ingredients together or leave the coconut oil out entirely as it tastes best when blended.
Once you've made the latte it is best consumed right away.
Other warm drinks you may like: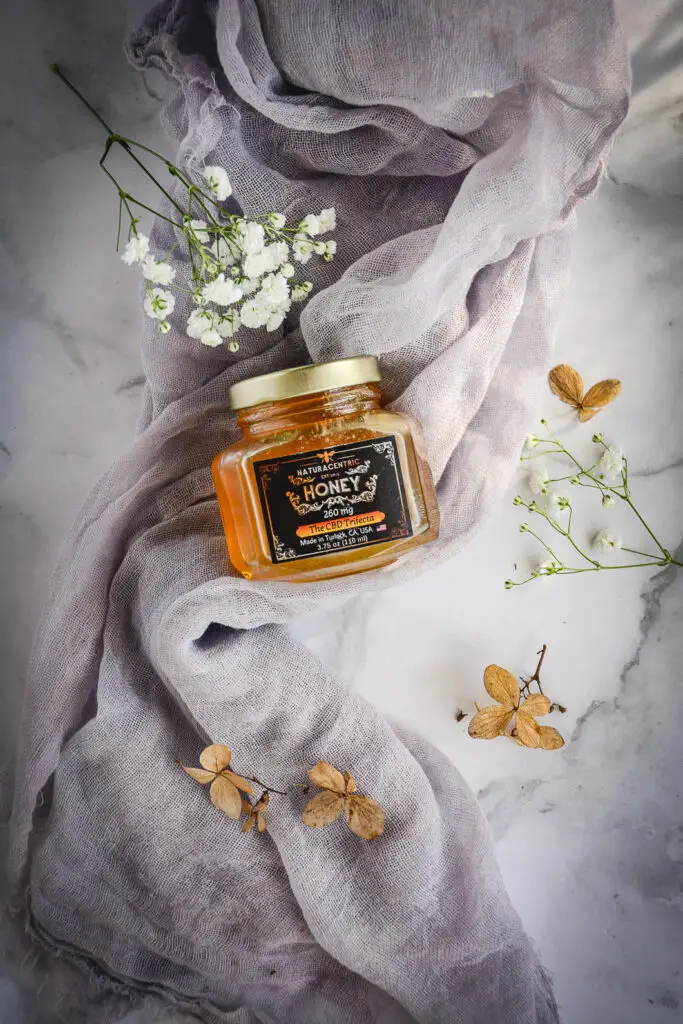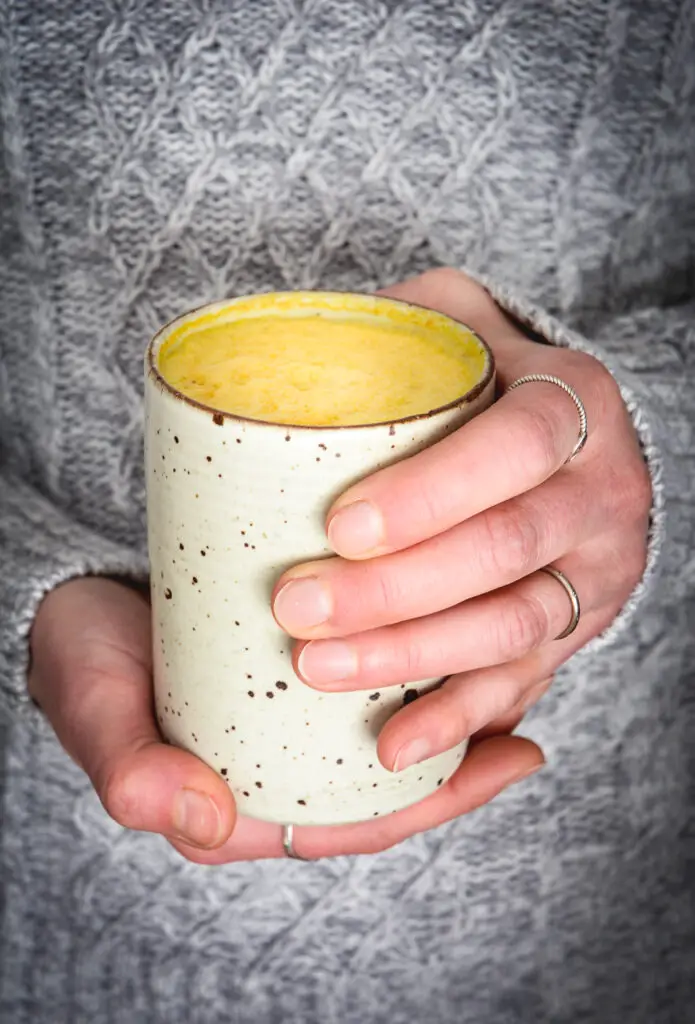 📖 Recipe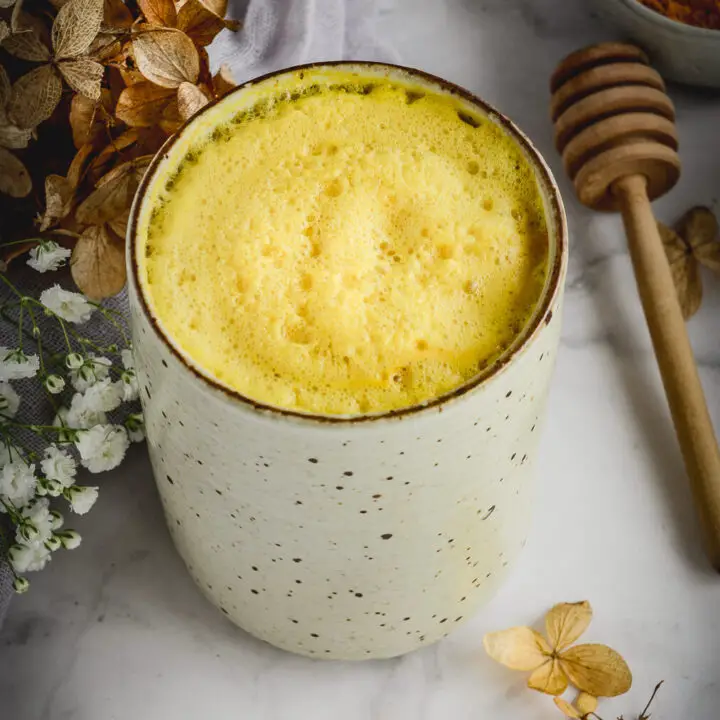 Anti-Inflammatory CBD Infused Turmeric & Ginger Honey Latte
This Anti-Inflammatory CBD Infused Turmeric and Ginger Honey Latte is a calming antioxidant-rich and nourishing drink.
Ingredients
1.5 cups vanilla almond, cashew or coconut milk
1 teaspoon The CBD Trifecta honey
¼ teaspoon ground turmeric
¼ teaspoon ground ginger
⅛ teaspoon cardamom
1 cinnamon stick or ⅛ teaspoon cinnamon
pinch ground pepper
1 teaspoon coconut oil
Instructions
Add all ingredients to a small pot and bring to a simmer.
Blend and enjoy right away.
Recommended Products
As an Amazon Associate and member of other affiliate programs, I earn from qualifying purchases.