Take the edge off your day with this naturally calming lavender tea that's infused with lemon peel and chamomile flowers.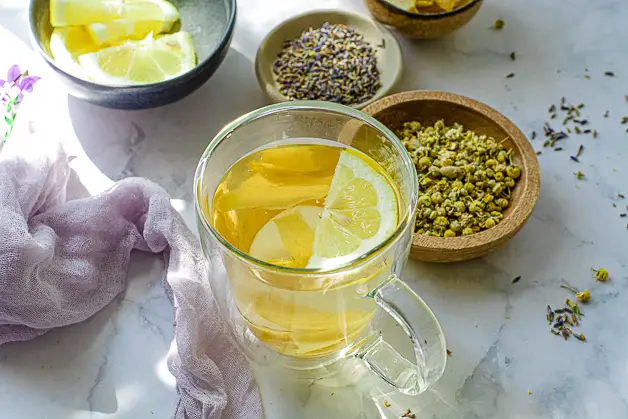 Lavender is one of those culinary flowers that I simply can't get enough of and is part of my every day. I use lavender in pancakes, my refreshing afternoon lavender iced latte, and this delicious London fog lavender latte. Then of course there's the lavender essential oil I like to diffuse, my lavender pillow mist - I could go on and on! You can read here why I love lavender so much.
But let's get back to this DYI lavender tea. It's really just so easy to make and wonderfully relaxing. Whether you're having a stressful day or just want to take it easy, the combination of chamomile and lavender is perfect for soothing nerves and calming the body. All you need is culinary lavender, chamomile flowers, and fresh or dried lemon peels.
Jump To
Why You'll Love This Lavender Tea
It requires 3 only ingredients
It's calming and relaxing
Perfect for taming anxiety
Great for digestion
Good for evening or anytime you need to calm down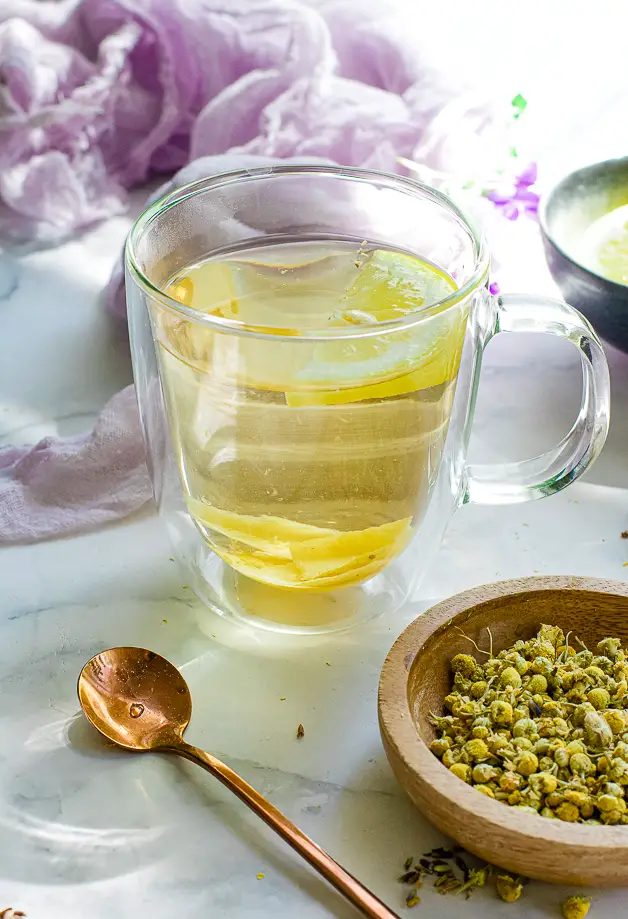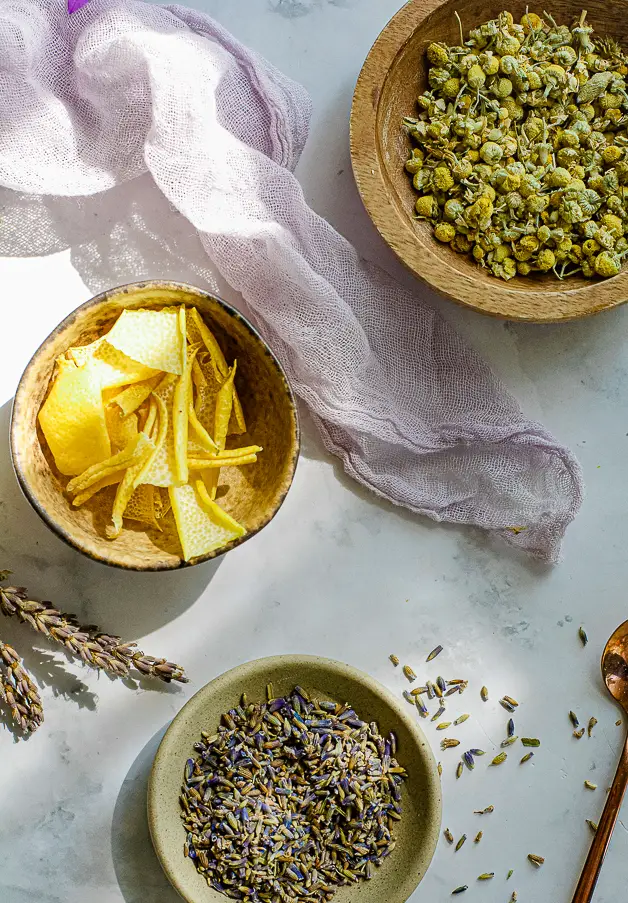 Ingredients
Lavender - for this recipe and really any edible recipe, make sure you use culinary lavender, which is perfectly suited for consumption. Lavender offers a plethora of benefits from calming anxiety to reducing inflammation, improving mood, and reducing blood pressure.
Chamomile - Chamomile likewise has calming properties without being sedating. Chamomile has commonly been known for reducing inflammation, as a powerful antioxidant, great for soothing digestion, and much more.
Lemon peel - Though you could definitely buy lemon peel, it's just as simple to peel a lemon and place the lemon peel in the sun, let it dry, and then place it in an airtight container. The shape of it doesn't really matte. Lemon peel adds beautiful flavor and taste to this lavender tea and is beneficial for digestion, antioxidant right, beneficial for the immune system and so much more.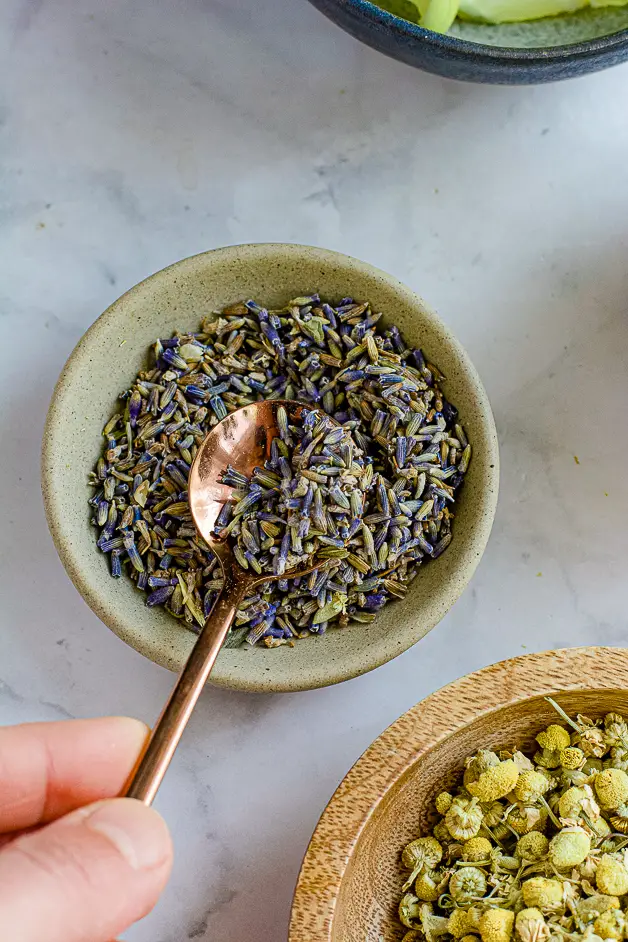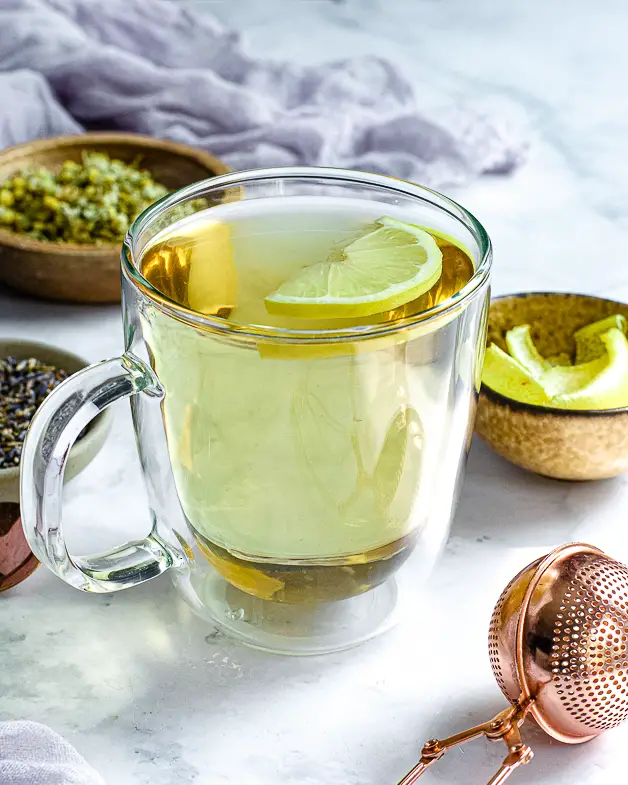 Instructions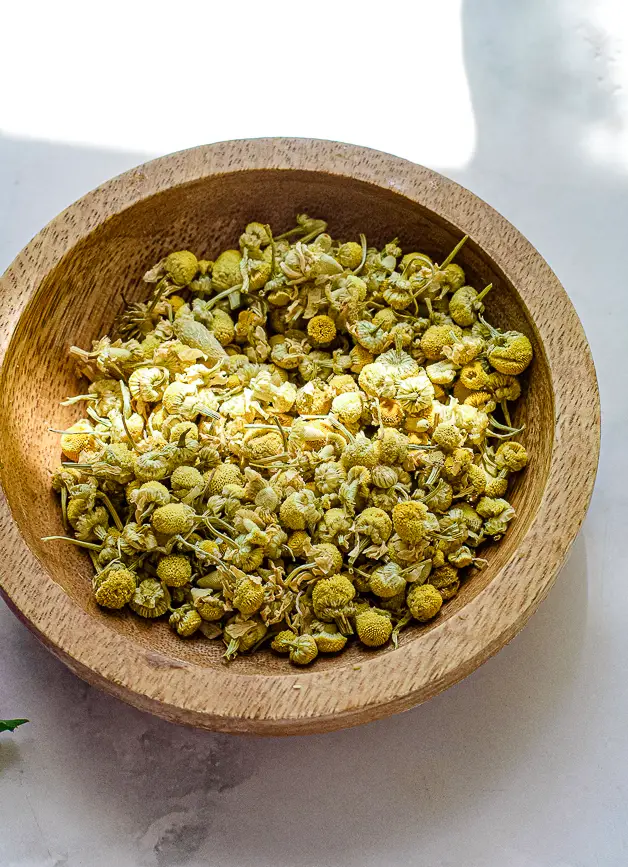 Add 2 teaspoon chamomile to a tea infuser.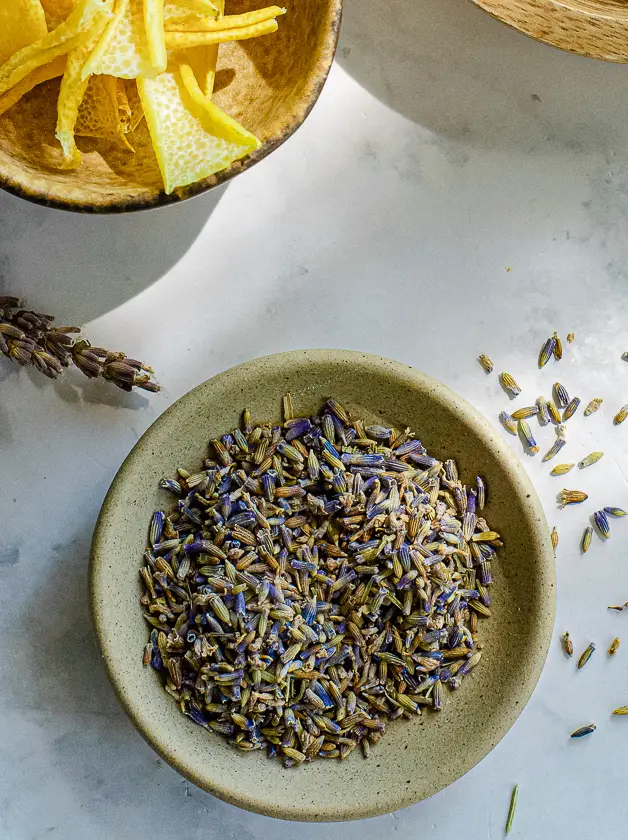 Add 1 teaspoon lavender.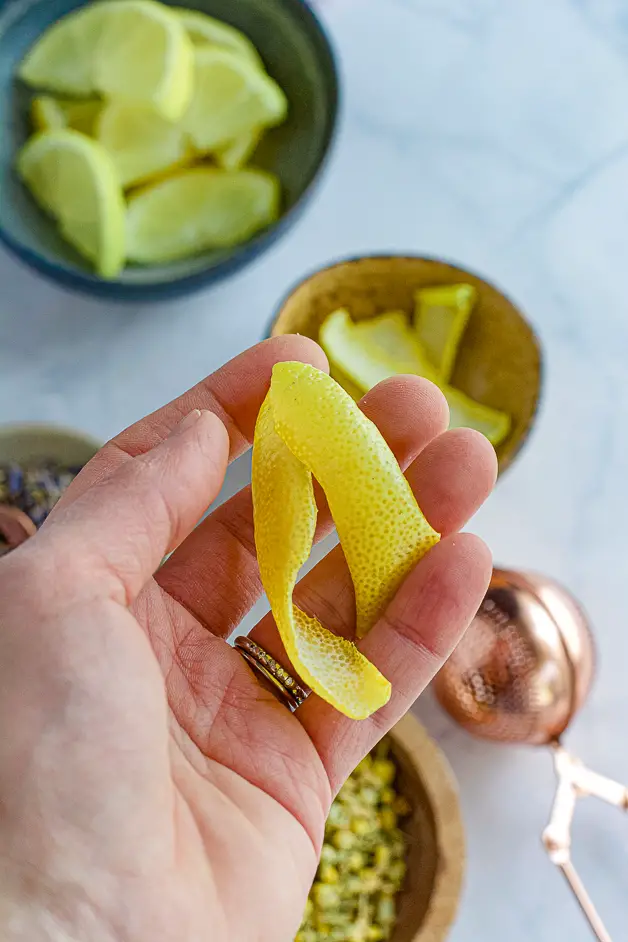 Add 3-4 pieces of dried or fresh lemon rind.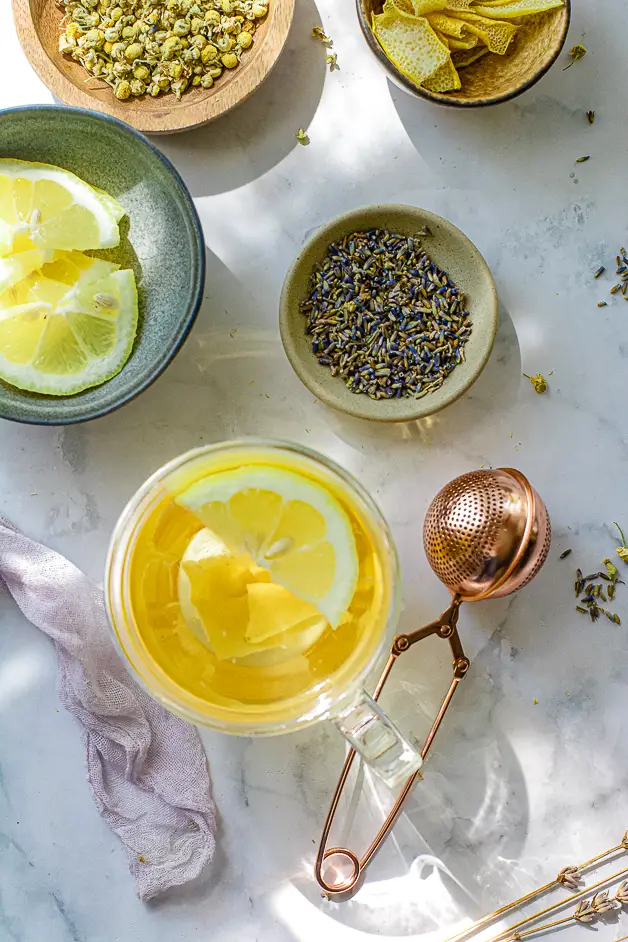 Pour hot water over top and let the tea infuse for 10 minutes.
See the recipe card for quantities.
Hint: If you don't have dried lemon peel, you can use fresh lemon peel.
Substitutions + Variations
If you want to add a little something and play around with your lavender tea, feel free to experiment.
Dried orange - instead of lemon peel, feel free to also use orange peel or combine lemon and orange peel.
Dandelion root - for an extra gut-healing boost, try adding dandelion root to your lavender tea.
Rose petals - you can add some floral flavor with rose petals, which are also very calming and soothing.
Check out my calming sweet dreams sleep tea if you're looking for an additional tea to add to your nighttime routine.
Equipment
I love a tea-infusing cup, which is my absolute favorite and in fact, I have several of them. This one is perfect for making your tea right in your cup. This one is ideal for steeping and adding it to your favorite mug and this mesh tea infuser is great for adding it to any tumbler.
Top tip
For the best-tasting lavender tea, let the lavender, chamomile, and lemon peel steep for at least 10 minutes, and add a slice of lemon for extra flavor and tang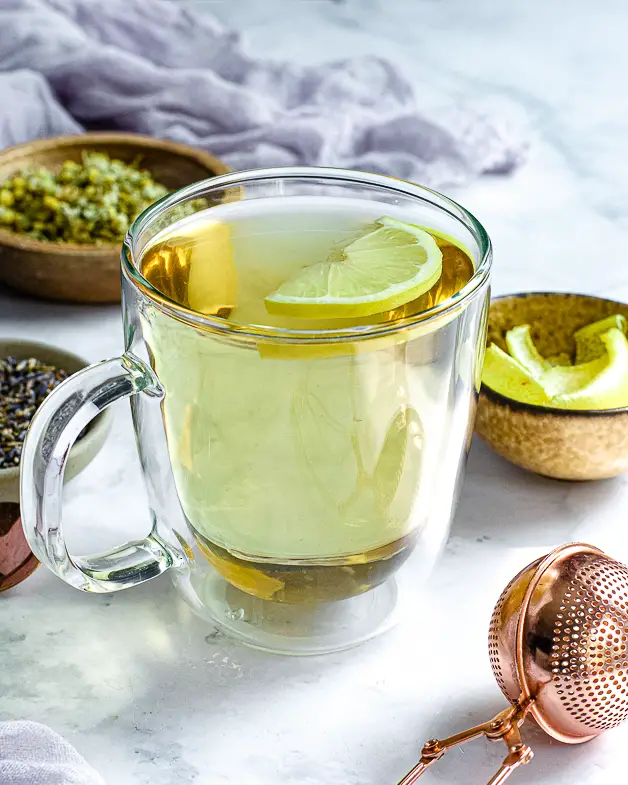 FAQ
What Is Lavender Tea Good For?
Lavender tea is used for a wide range of conditions such as digestive upset, calming anxiety, improving mood, helping to promote good sleep, relieving period pain and PMS as well as improving the immune system.
Is It Okay To Drink Lavender Tea Every Day?
It's perfectly okay to drink lavender tea every day.
Is Lavender Tea Safe For Children?
Lavender tea is absolutely safe for kids and perfect for mellowing out wild children, especially before bed.
Is Lavender Tea Good For Stress Relief?
Lavender contains compounds that mimic our brain's natural neurotransmitters, which help to lower stress levels and bring on a sense of calm. I need more of that in my life!
Does Lavender Tea Make You Sleepy?
Depending on when you drink it, among many of lavender's healing properties, the ability to relax the body is one of them. If you drink lavender tea before sleep, chances are it will help you sleep better. If you drink lavender tea in the middle of the day, it will just calm your nervous system but won't make you sleepy.
Related
Looking for other recipes like this? Try these:
📖 Recipe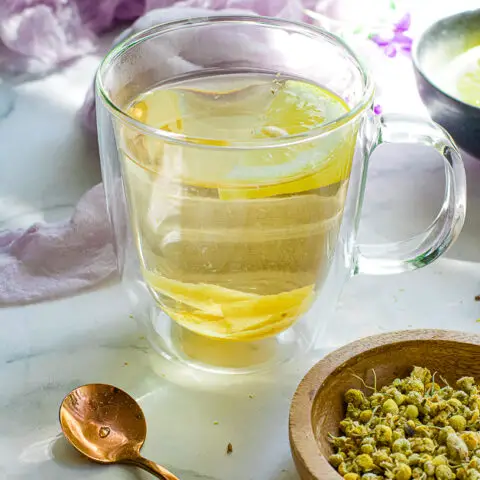 Lavender Tea With Lemon and Chamomile
Take the edge off your day with this naturally calming lavender tea that's infused with lemon peel and chamomile flowers.
Ingredients
1 teaspoon culinary lavender
2 teaspoons chamomile flowers
2-3 pieces of lemon rind
optional bur recommended: lemon slice
optional: honey
Instructions
Add lavender, chamomile, and lemon rind to a tea infuser and steep for 10 minutes.
Enjoy right away with a slice of lemon and if you'd like honey.
Notes
1. Be sure to always use culinary lavender.
Recommended Products
As an Amazon Associate and member of other affiliate programs, I earn from qualifying purchases.