These quick Paleo "Peanut" Noodles are made from rutabaga and are surprisingly similar to actual noodles. They work beautifully with a simple cashew and tahini sauce to create a creamy vegan and paleo recipe.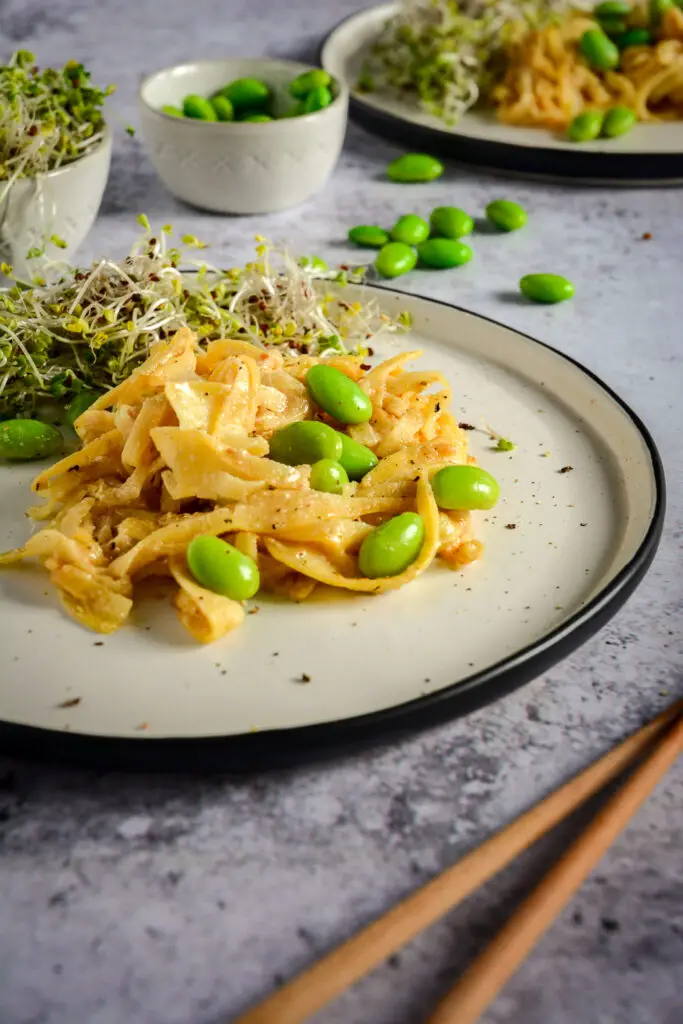 Jump To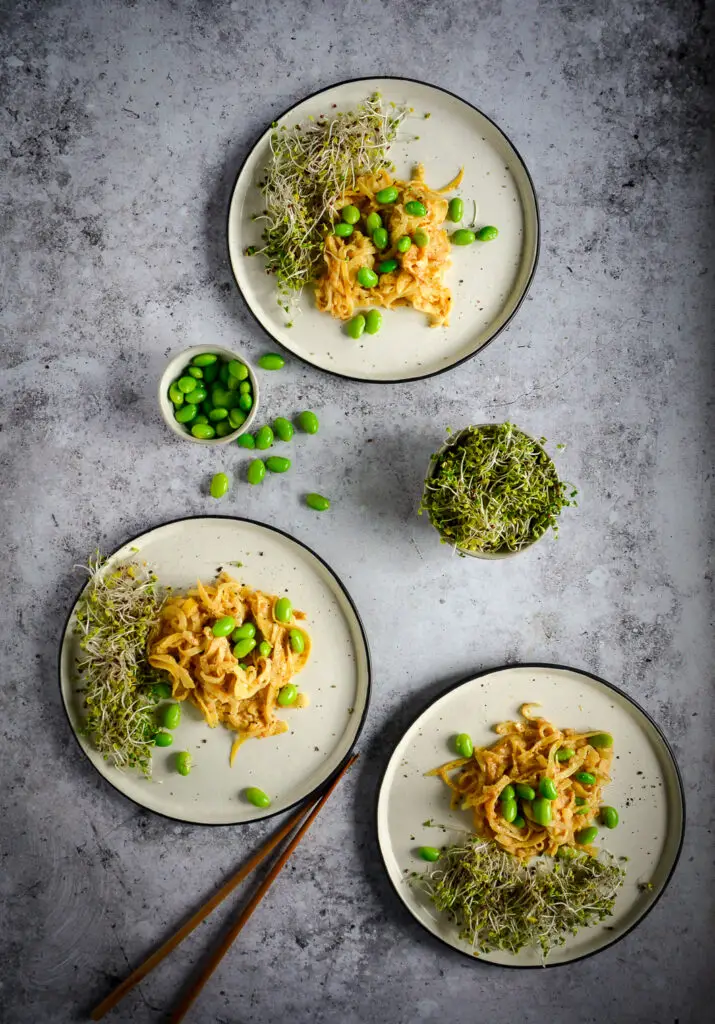 A few weeks ago, I found myself way past lunch with nothing prepped. Stomach grumbling and frustration growing. Hangry is a term I will liberally apply to myself if I come close to missing meals.
Sure eggs were a good option (because eggs are always a good option) but I was craving something else. I glanced around, uninspired, ready to give up when I caught sight of the unassuming rutabaga sitting on my counter. Coated in wax and looking rather lonely, I peeled it, spiralized it and stared at the noodles for a while, lifting them out of the dish and inspecting them closely. In the peering afternoon light, I watched them bounce slightly when releasing them back in the bowl. Meanwhile, my stomach was making it clear that this standing around wasn't going to work.
I opened cabinets in desperation when as inspiration usually does, hit me over the head. Some cashew butter, some tahini, lemon, liquid aminos, salt and water and I had a tangy, nutty sauce within minutes. The rutabaga noodles cooked within minutes and I had myself a delicious, filling lunch. Since I wanted something with a little crunch, I grabbed a handful of edamame, defrosted them and topped the "peanut" noodles with them.
There are few things that bring me as much satisfaction as simple recipes. They're the ones that make my heart beat just a little bit faster and bring me the greatest pleasure. It feels almost like I'm cheating the system when something tastes that good and requires so few ingredients - not to mention, is actually quite healthy.
These Paleo "Peanut" Noodles are:
quick and easy to make
vegan
low fodmap
a perfect peanut noodles alternative
gluten-free
dairy-free
grain-free
peanut-free
plant-based
creamy and delicious
filling
paleo and whole 30 (if you leave out the edamame)
What do you need to make paleo "peanut" noodles?
This recipe is absurdly simple to make and requires just a few simple ingredients. To make rutabaga "peanut" noodles you need, rutabaga, cashew butter, tahini, salt, lemon, sesame oil, water, liquid aminos and edamame.
How do you make rutabaga noodles?
Rutabaga noodles are simple to make, delicious and taste in my opinion very similar to pasta once they've been cooked. They have a wonderful consistency that makes any sauce stick to them beautifully.
Rutabaga most of the time comes in a wax coating so you need to peel it well and using a spiralizer, spiralize the noodles. If you don't have one, you could use a peeler and create strips, but your strips will likely be quite thick. I would recommend investing in a spiralizer. I currently use this one and it has been great. It's inexpensive and works very well on larger, rounder roots.
Once you've spiralized your rutabaga, you just need to toss them in a pan for 5 minutes with a little sesame oil and voila, your noodles are done!
Can you substitute peanut butter for cashew butter?
You certainly can. Just be sure to look for the least processed brand with minimal additives. Try and stick to peanut butter that contains just peanuts and salt. The same goes for cashew butter.
Where do you find tahini?
If you're not familiar with tahini, you'll find it in the same section as most nut butters and most grocery stores carry it. Tahini is a bit harder to stir so be sure to stir it as best as you can otherwise you'll end up with mostly the liquid part and that will affect your sauce.
Making the paleo "peanut" sauce
This sauce is so easy to make, you only need a handful of ingredients you most likely already have in your pantry. You'll need tahini, cashew butter, coconut aminos or liquid aminos, lemon juice, a pinch of garlic powder (optional), salt, sesame oil, and water. It's that easy! And the wonderful thing about this "peanut" sauce is that it's perfect for those following a paleo or whole 30 lifestyles.
What's the difference between liquid and coconut aminos?
Coconut aminos are generally used by those following a paleo and whole 30 lifestyle. It is the substitute for soy sauce. Liquid aminos are gluten-free but as it contains soy, should be avoided if following a strict paleo lifestyle.
But edamame isn't paleo, is it?
Edamame is not paleo but if you're adding just a few beans to your noodles, chances are you're going to be okay. I use soy sparingly but once in a while, it is perfectly fine. If you're strictly paleo or whole 30, avoid them altogether and use crushed cashews instead.
Do you need sprouts?
That's up to you. I like using broccoli sprouts for a boost of nutrition but you can use any kind of sprout you wish or skip the sprouts.
More vegetable noodle recipes: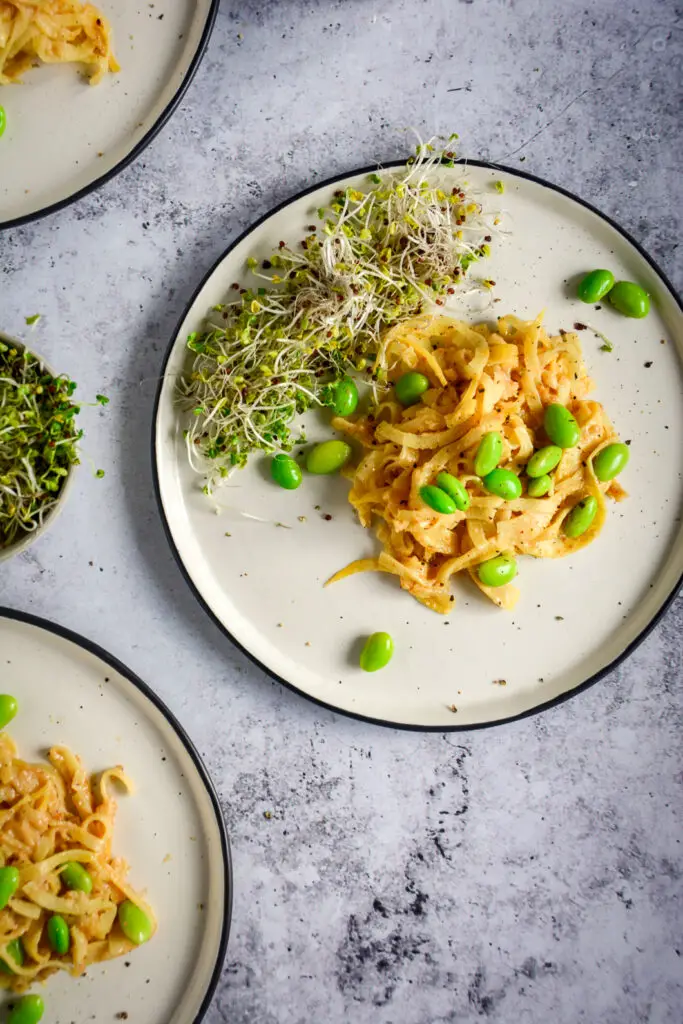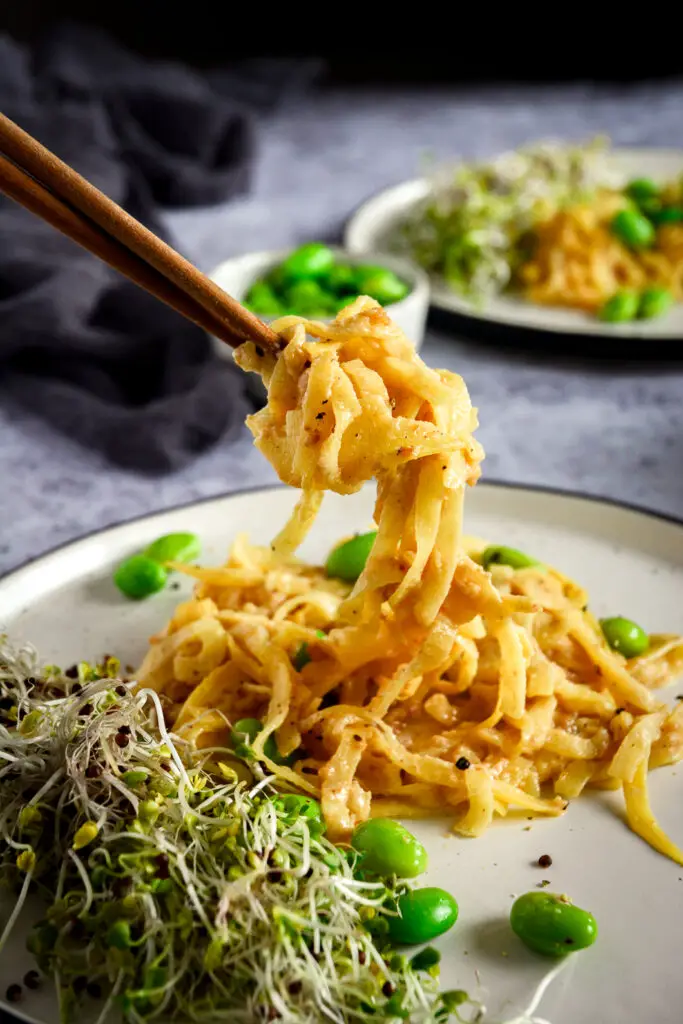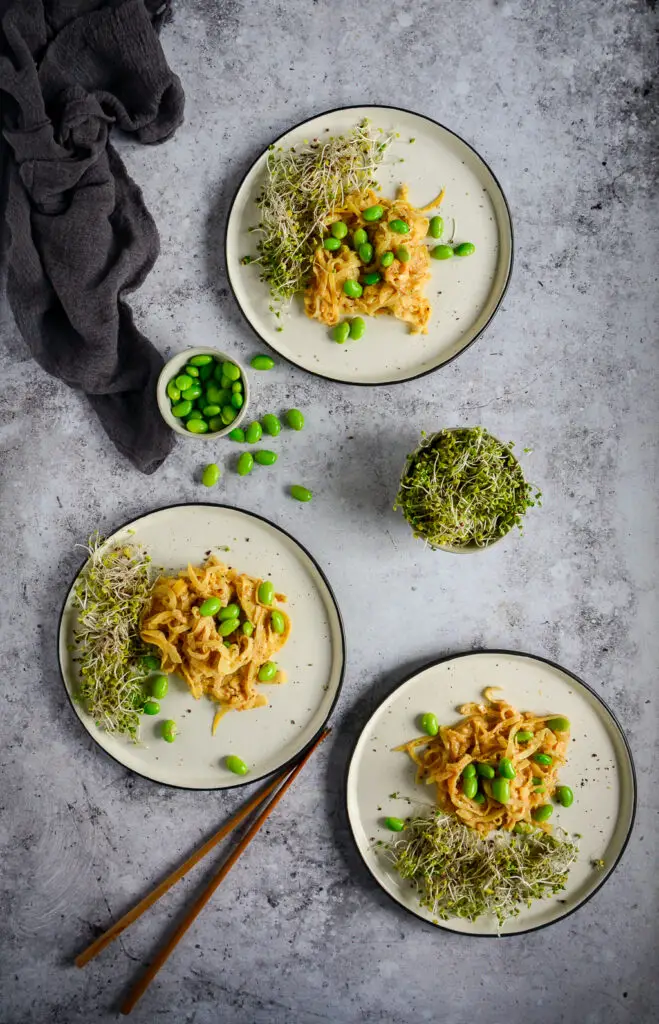 📖 Recipe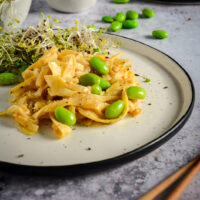 Paleo "Peanut" Noodles
These quick Paleo "Peanut" Noodles are made from rutabaga and are surprisingly similar to actual noodles. They work beautifully with the cashew and tahini sauce to create a creamy vegan and paleo recipe.
Ingredients
1 large rutabaga peeled and spiralized
2 tablespoon cashew butter
2 tablespoon tahini
1 teaspoon coconut aminos
2 tablespoon sesame oil divided
1 tablespoon water
⅛ teaspoon garlic powder
2 teaspoon fresh lemon juice
¼ teaspoon salt
optional: shelled edamame
optional: sprouts of your choice
Instructions
1. Peel and spiralize rutabaga. Set aside.
In a medium bowl, combine all ingredients aside from 1 tablespoon sesame oil and whisk until incorporated. Set aside.


2. Heat a medium saucepan over medium heat, add sesame oil and rutabaga noodles and cook until soft (about 5-7), stirring them regularly.


3. When rutabaga noodles are soft, add sauce and heat through.
Serve right away. And if you wish, add shelled edamame and sprouts.
Recommended Products
As an Amazon Associate and member of other affiliate programs, I earn from qualifying purchases.