This super simple Zoodles Recipe with Avocado Walnut Pesto and Egg is one of those dishes you can make when you're strapped for time but want something healthy and delicious. This recipe is also keto, paleo, and low-FODMAP.
Jump To
The good thing about eating a mostly paleo diet is that I feel pretty great these days. The trouble with eating a mostly paleo diet is the planning. I like to delude myself into believing I'm a relatively organized person. I try for the most part. But since there are so many moving parts in my day, from time to time I slip. (Okay often).
Onion. This among several other ingredients is what I had to get to make my vegan chili on this snowy Friday night. Daughter in tow, I picked up all that I needed and came home with a bunch of random items only to find myself standing in my kitchen yelling the word: "Oniooooon!" Yes, I had forgotten a vital ingredient. 
The snow was coming down hard and I was in no way going back to the store. Pizza sounded like a good idea for everyone but then I'd be starving. What to do? 
I've been here before. Standing in my kitchen, panic setting in as the clock draws nearer to dinner time, desperately searching the fridge for something I could assemble and call it dinner. And there they were! Eggs - so obvious. They always come through for me. I cannot imagine a day without them. I used to think avocado was the one food I couldn't live without but I'm thinking it may have just slipped into second place. 
For a moment I toyed around with perhaps making breakfast for dinner, which can be fun and all but it just didn't quite do it for me. And all of a sudden it all became clear, zucchini noodles with avocado sauce and an egg on top. Problem solved! 
Here's the thing about this dish. You can use regular pasta, though I find it works remarkably better when made with zoodles. It's better for your gut health, but since zoodles tend to be a bit on the wet side, which is not always a good thing, this sauce absorbs some of the moisture balancing them perfectly. Oh, and did I mention it takes about 10 minutes to make this whole thing? Yeah, it's a win in my book.
Why You'll Love This Easy Zoodles Recipe With Avocado Walnut Pesto and Egg
It takes just 15 minutes to make
It's paleo, whole 30, grain-free, dairy-free, vegetarian
A healthy and quick dinner on busy weeknights
Low Carb, paleo, and keto
Zoodles can easily be substituted with chickpea pasta
So What Are Zoodles Exactly?
If you've never heard the term, zoodles are simply spiralized zucchini noodles. And while there are fancy attachments and various spiralizers out there, simple ones can do the trick easily. I like this one as it's perfect for a variety of vegetables.
Cooking Perfect Zoodles Every Time
Cooking zoodles perfectly every time takes just 1-2 minutes. The trick is to keep them on the flame just long enough to heat through and soften them just slightly. Once they start to fully cook, they release too much water. But the good thing about this recipe is that the avocado and walnut mixture quickly absorbs any leftover liquid creating a creamy sauce.
Do You Need A Food Processor For This Recipe?
A food processor is what I find easiest to use, but a good blender will do the trick too. The trouble with blenders is that I find, often if you don't have enough liquid, it won't mix as well, but a good blender will have no problem doing so.
Tips + Tricks
Do You Have To Use Zoodes?
If you want to keep the recipe low carb and keto, I would recommend you do. If, you're looking for a variation, you can easily substitute for rutabaga noodles or try a pasta variation, such as chickpea or cauliflower. Both of those would work. If you do so, reserve a little of the cooking liquid and add to the sauce once it's mixed with the noodles, to ensure your noodles are not too sticky.
If You Don't Like Cilantro
I know there are many among you who just can't do cilantro. I'm not one of them as I adore the stuff, but for those who don't like it or can't eat it, Italian parsley is a good alternative.
Moore Vegetable Noodle Recipes You Might Enjoy
📖 Recipe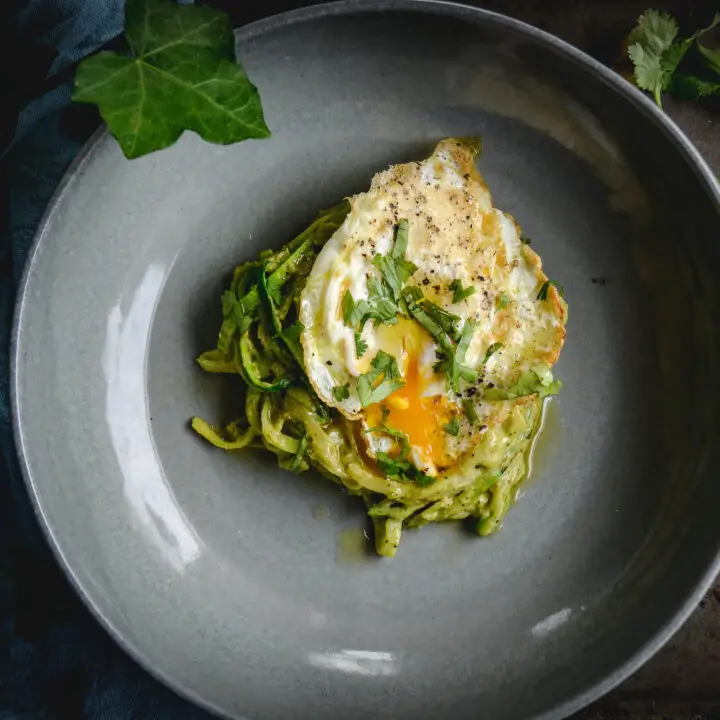 Easy Zoodles Recipe with Avocado Walnut Pesto and Egg
This super simple Zoodles Recipe with Avocado Walnut Pesto and Egg is one of those dishes you can make when you're strapped for time but want something healthy and delicious.
Ingredients
1 ripe avocado
¼ cup extra virgin olive oil divided
2 tablespoon chopped raw walnuts
1 garlic clove
½ teaspoon salt
¼ teaspoon pepper
2 tablespoon fresh chopped cilantro
3 tablespoon water
2 large zucchini
4 eggs
Instructions
1. For the pesto, combine 2 tablespoon extra virgin olive oil and all ingredients aside from zucchini and eggs in a food processor and puree until fully incorporated. Set aside. 
2. Use a spiralizer to spiral zoodles. Preheat a large skillet over medium heat and add 1 tablespoon olive oil along with zoodles and a pinch of salt. Cook for about 2 minutes stirring continuously until softened a little but still firm. 
3. Meanwhile in a separate pan over medium heat, add the remaining 1 tablespoon olive oil and fry eggs. I like my eggs slightly on the runny side but this is up to you. 
4. Once zoodles are cooked, add pesto to the pan and combine well. 
5. To plate, add zoodles with pesto and top with a fried egg. You can add extra olive oil if you wish. 
Notes
Also, don't feel limited to only one egg!
Nutrition Information:
Yield:

4
Serving Size:

1
Amount Per Serving:
Calories:

304
Total Fat:

28g
Saturated Fat:

5g
Trans Fat:

0g
Unsaturated Fat:

22g
Cholesterol:

186mg
Sodium:

368mg
Carbohydrates:

7g
Fiber:

4g
Sugar:

2g
Protein:

9g