*This post may contain affiliate links. The earnings go back to supporting the content created on this site.
Pea and Walnut Pesto is a quick and easy spread or side that works with pretty much any entree or appetizer.
Perched on a chair in the tiny kitchen of her 7th floor Bucharest apartment, my grandmother Lina showed me how to carefully remove peas out of their pods. It was a tiny kitchen, barely big enough to fit a table and still have walking room between it and the counter. But there we were, my apron-wearing grandmother and me having an average day peeling peas and making stew.
My grandmother was a beautiful woman. High cheekbones, dark hair and intense brown eyes, which she most often hid behind big sunglasses. She was stylish and put together even when at home. A woman of few words, she held a certain mystery that as a young girl, I wouldn't know to appreciate.
When spending days with her, most of the time I would be roaming around snooping through her cosmetics, smothering my face in various creams and getting myself into the usual kid trouble. But on this day she felt it was better if I just assisted her in the kitchen and stayed put. So there I was, dropping one pea after another into a large yellow bowl, contemplating making my escape so I could go back to playing. But she insisted I help her make stew. She taught me how to properly hold a knife, how to chop fresh herbs and carrots. A seemingly insignificant day is one that's stayed with me.
Though I have many pea recipes under my belt, several years ago I made pea pesto for the first time. It was delicious and surprising as I never thought of making pesto out of peas. But it was also loaded with parmesan cheese so I wanted to find an alternative. My version uses walnuts instead, providing the creaminess you'd expect from pesto but with none of the dairy. It's versatile and quick to make and can easily transform any dish.
This Pea and Walnut Pesto is:
Simple to make
Vegan
Dairy-Free
Gluten-Free
Grain-Free
Versatile
Creamy and delicious
Perfect for spring or summer
What do you need to make Pea and Walnut Pesto?
Frozen Peas
You could certainly use fresh but I like using frozen as they're always available and easy to find. I just throw them in boiling water for a few minutes and done. Alternatively, you could even run them under hot water until they're full thawed out.
Fresh Basil
Basil gives this recipe all it's flavor and adds a bright and light fragrance to it as well.
Raw walnuts
Make sure you're using raw and not toasted as you really want the creaminess from the walnuts to incorporate with the peas. Toasted would work as well, but I find the pesto to be creamer when raw as we're not using any cheese.
Garlic
If you don't have garlic, you don't have flavor. Truly this recipe needs fresh garlic. Try not to use any jarred minced garlic, as you're going to get a different flavor. If possible, stick with raw!
Olive Oil
A fruity nice Extra Virgin Olive Oil that you would use in salads will be ideal for this pesto as it will add nice richness and body.
Salt
And of course, let's not forget the salt! Any salt works, but I prefer fine sea salt.
Equipment for making Pea and Walnut Pesto
The only equipment needed for this pesto is just a food processor. Alternatively you could use a high power blender to achieve the same results.
Yield: 6
Pea and Walnut Pesto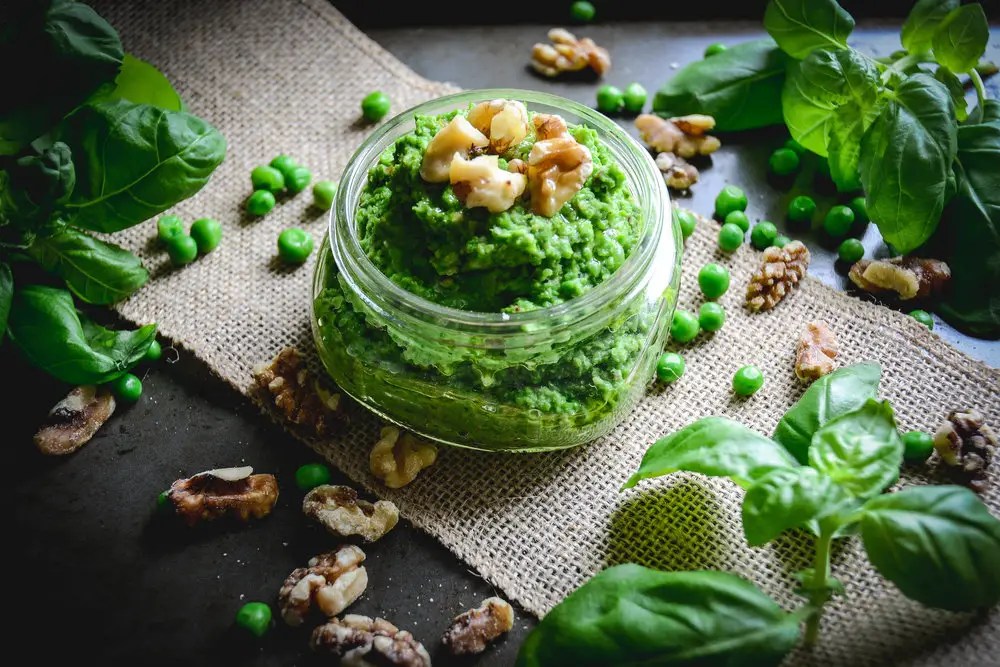 Pea and Walnut Pesto is a quick and easy spread or side that works with pretty much any entree or appetizer.
Ingredients
1 bag frozen peas
2 rounded tbsp chopped basil 
3 tbsp rounded walnuts 
1 peeled clove garlic
3 tbsp olive oil
1/2 tsp salt
Instructions
1. Combine peas with 2 cups water and bring to a boil. Strain the peas and add to the food processor along with other ingredients and puree until all ingredients are combined.

2. Serve right away or store in the refrigerator in air tight container for up to a week.
Nutrition Information:
Yield:
6
Serving Size:
1
Amount Per Serving:
Calories:

93
Total Fat:

9g
Saturated Fat:

1g
Trans Fat:

0g
Unsaturated Fat:

8g
Cholesterol:

0mg
Sodium:

205mg
Carbohydrates:

3g
Fiber:

1g
Sugar:

1g
Protein:

1g