A super simple creamy polenta recipe with a tasty mushroom, kale, and red onion sauce, along with Dijon brushed roasted carrots. It's vegan, gluten and dairy free.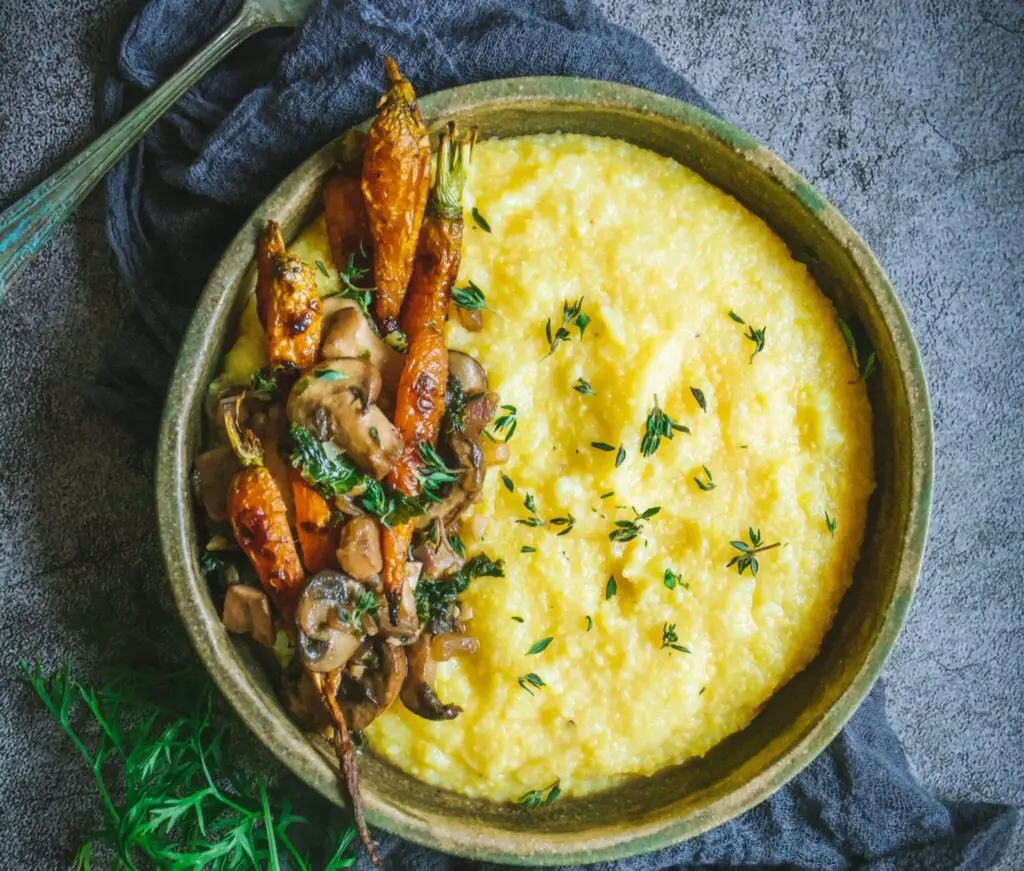 Jump To
I like routine - it can be cathartic, even necessary. But at times can feel oppressive and restrictive. When I become particularly aware of the daily repetition, a slightly suffocating feeling emerges from the depths of my being, gripping, like two imaginary hands forcibly choking me. Breath doesn't flow in and out the way it ought to, energy feeling trapped.
There's an urging to depart from repetitive thoughts, actions and ways. And perhaps not in a grand fashion, like picking up and moving to a new country but by simply changing something in my routine. Even the slightest shift can suddenly redirect my focus, rearrange my thinking and open up new ideas. That's when I feel an ease, a release, a lessening in the grip around my throat. Breath flows steadily. In and out.
I believe these smothering feelings are necessary for growth and change. It's our body and mind's way of sending us signals that we need to refocus and rearrange, if only energetically. I often think it's in those moments that the universe is trying to tell us something and all we have to do is listen. It can be something substantial or merely changing up the routine in the kitchen.
Feeling stagnant comes in many forms and I realized that no matter how much I love fresh tomatoes, zucchini and strawberries, there comes a point in the season when I just want to move on, and experience something new and fresh. And sure, there's still over a month of summer left, but I'm finding a certain shift happening every August. I'm ready to experiment with fall produce.
Luckily I need not look too far for inspiration as my little garden is the perfect muse. A few kale leaves and a bunch of carrots set the tone for the recipe. I had leftover red onion along with some sliced mushrooms in the fridge and pulled it all together in no time. But there was one thing missing. A base for what would be a mushroom ragout and roasted carrots.
While neither paleo nor whole 30, but certainly gluten-free, today's recipe base holds a certain sweetness for me and was a staple growing up. And it is a 180 from what I normally cook but I wanted to go with it. I'm talking about polenta. I felt it was the ideal companion for the flavorful mushrooms, kale, and roasted carrots.
It's become one of my favorite dishes not just because it's incredibly easy to make but tasted really freaking delicious! You won't miss the meat as the mushrooms create a rich and hearty sauce that's rich yet healthy and nutritious. But you could always experiment with a protein if you wanted to. Check out the below suggestion.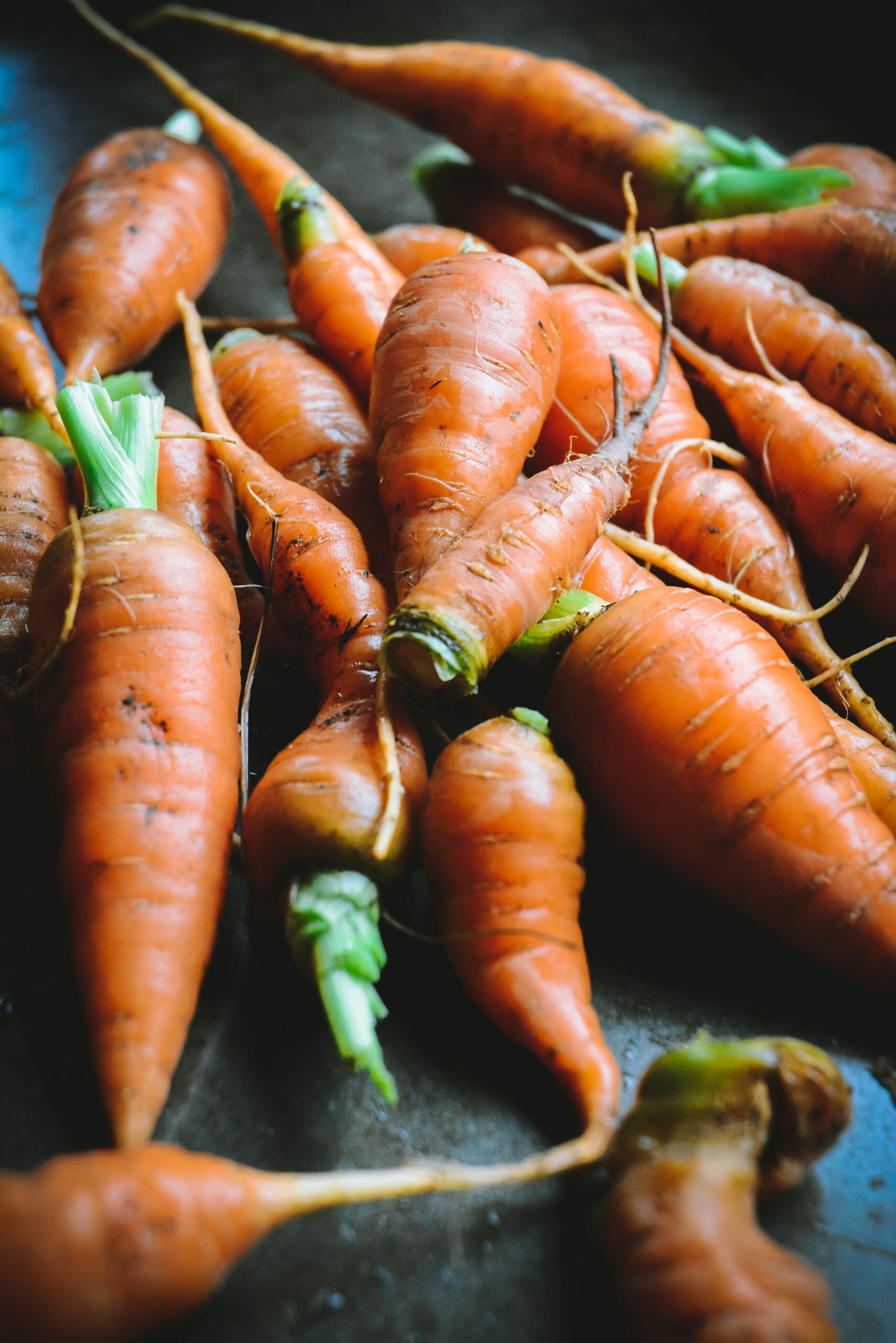 Why You'll Love This Polenta Recipe
It's gluten-free, and dairy-free, with a vegan option
An easy weeknight dinner
It's healthy and delicious
A hearty dish without weighing you down
It's ready in 20 minutes
Ingredients For Your Shopping List
Dry polenta
Broth of your choice
Vegan Butter, coconut oil, or ghee
Olive Oil
Baby portabella mushrooms
Red onion
Garlic
Kale
Fresh thyme
Carrots
Dijon mustard
White wine (or broth)
Fresh lemon juice
Italian parsley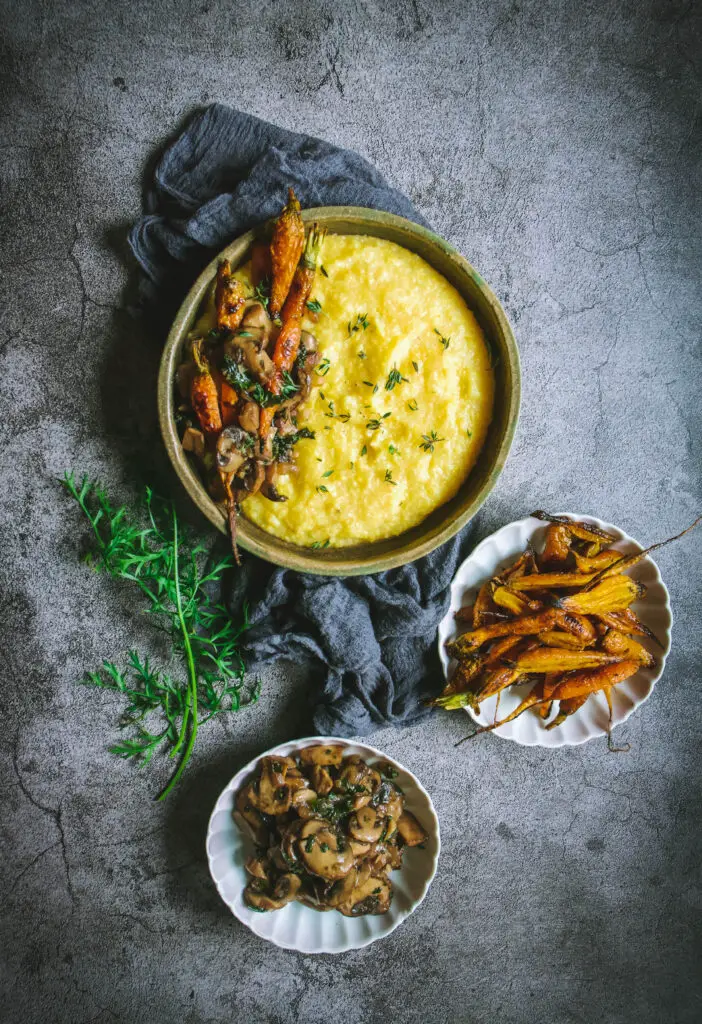 Top Tips + FAQs
Should you soak the polenta first?
While not necessary if you're in a hurry, I highly recommend it. I do eat some gluten-free grains from time to time, and when I do, they usually have to be soaked first. That makes a big impact on digestion and can cut down on the anti-nutrients often found in grains.
Can you use a paleo substitute for polenta?
Absolutely! You can find a recipe for homemade cauliflower rice here and what you'll want to do is just give the cauliflower rice some additional pulses until it reaches the desired polenta size.
Can you add a protein?
Yes, you can. I've tried several variations of this recipe and it works particularly well with a quality sausage. Before you start cooking the onion, you could simply cook the sausage first, remove and set aside and then add in the onions and continue with the recipe. Before serving, just slice the sausage and toss it in with the mushroom mix.
Can you make the polenta vegan?
Absolutely! Instead of using ghee, go for coconut oil or olive oil, or quality vegan butter to add some creamy texture to the polenta.
Whichever variation you make, you'll find this to be a perfect comfort food for any time of year, but it works especially well once the season turns a little cooler.
More Recipes You Might Like
Maple Roasted Root Vegetables With Dijon And Thyme Dressing
Sweet Potatoes with Kale and Caramelized Onions
Vegan Roasted Vegetable Tacos
Roasted Brussels Sprouts with Balsamic and Crispy Chickpeas
📖 Recipe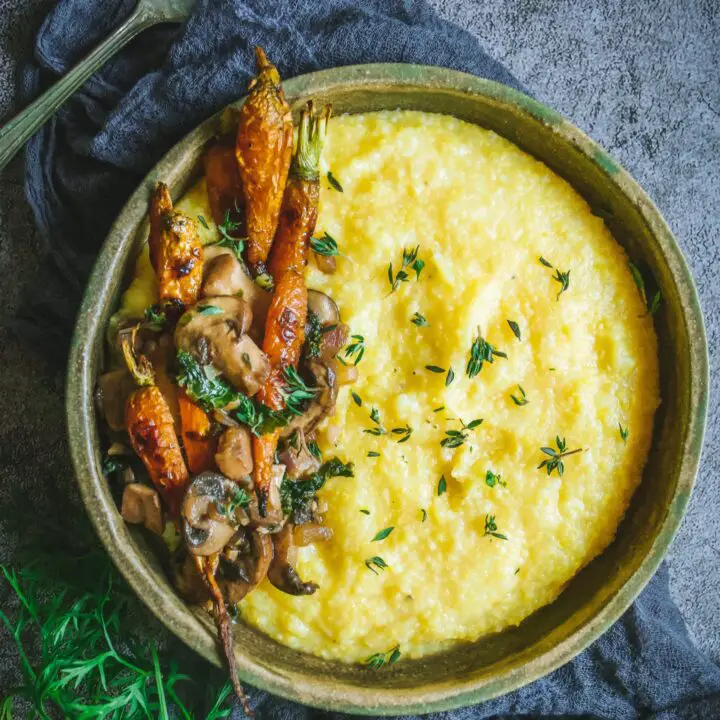 Polenta with Mushrooms, Kale and Roasted Carrots
A super simple creamy polenta recipe with a tasty mushroom, kale and red onion sauce, along with dijon brushed roasted carrots. It's vegan, gluten and dairy-free.
Ingredients
1 cup dry polenta
3 cups water
½ cup broth of your choice
2 tablespoon vegan butter
5 tablespoon olive oil divided
1 lb portabella mushrooms
½ red onion, chopped
2 cloves garlic, minced
2 cups chopped kale
1 teaspoon chopped fresh thyme
1 lb carrots with stem
1 ½ teaspoon salt divided
½ teaspoon ground pepper, divided
1 teaspoon dijon mustard
1 teaspoon lemon juice
½ cup dry white wine or broth
optional: chopped Italian parsley
Instructions
In large soup pot, add polenta along with 3 cups water, ½ teaspoon salt, cover and let soak overnight
The next day, start simmering polenta for 10 minutes stirring continuously. Add broth and continue simmering, while stirring regularly for another 10-15 minutes. Add vegan butter and any additional salt and turn heat to the lowest setting and continue simmering. * If you don't want to pre-soak the polenta, just follow package instructions.
Meanwhile, preheat oven to 400 degrees.
Trim greens off carrots and slice them in half. Add carrots to parchment paper-lined sheet and add 1 tablespoon olive oil, ½ teaspoon salt and ¼ teaspoon freshly ground pepper and combine. Roast carrots for 25 minutes or until tender but with a slight bite.
In small mixing bowl combine dijon mustard, 3 tablespoon olive oil, and 1 teaspoon lemon juice and whisk well. Set aside.
Meanwhile, preheat cast iron skillet on medium heat, add 1 tablespoon olive oil and chopped red onion and a pinch of salt. Cook until translucent, about 10 minutes. Next, add garlic and cook for 30 seconds. Turn up the heat, add wine or broth and deglaze pan for 2 minutes.
Reduce heat back to medium and add sliced, mushrooms, thyme and kale. Cook for 10 minutes until mushrooms are soft and the kale has wilted.
Remove carrots from the oven and immediately brush with ⅓ of the dijon lemon and oil mixture.
Add the remaining mixture to the mushrooms and stir well.
To plate, add polenta, roasted carrots, mushroom mixture and if you want, sprinkle with chopped parsley or additional thyme.
Notes
If you wish, you can soak the polenta first overnight but it's not required.
Recommended Products
As an Amazon Associate and member of other affiliate programs, I earn from qualifying purchases.