These Vegan Roasted Vegetable Tacos are the perfect weeknight dish, full of flavor and loved by all!
Jump To
At last, spring is here. I feel safe writing it now; even certain that we might be safely past the bi-polar days of early spring.
This season I fell in love with nature more than at perhaps any point in my life. I can't get enough of it. I crave walking barefoot on dewey morning grass, watching petals glide through the air making their descent while listening to the symphony of birds.
Spring leaves me breathless; maddening beauty all around…colors, vibrancy, crisp air. There is a feeling of aliveness in my body every time I step outside and I simultaneous curse myself for not having noticed this breathtaking beauty in springs past. Or at least not on such a fervent level.
So in honor of all things alive and colorful, I wanted to make a simple recipe that's fresh, full of vegetables and rich in flavor; a dish that would do to taste buds what spring does to the senses. After all, when the weather warms up, I think most of us naturally gravitate towards lighter food and a good amount of vegetables.
And one of my favorite ways of eating loads of vegetables is in the form of tacos. While I do like raw vegetables just fine, frankly I prefer them roasted and/or sautéed. I find they're far better on digestion too despite potentially losing some of their nutrients. And the best part? You get to wrap them in a delicious tortilla and pile on your favorite toppings which will hopefully include a plethora of chipotle lime mayo.
These vegan tacos are staples in my house and never disappoint. The combination of sweet potatoes, zucchini, bell pepper sweet corn and black beans tossed with spices, garlic, honey and lime hit just the right spot for me. I don't eat beans and corn often but I make an exception for these tacos. If you're strict with whole 30 or paleo, no sweat - skip the corn and beans and they will still taste fantastic.
Now you can certainly skip the MYOT (make your own tortillas) but to me cassava tortillas truly round out this dish. Yes, it's a little extra work but oh so worth it. You can find the recipe for these easy to make tacos here.
Whether you're enthralled with spring or just enjoy vegan tacos, check out this simple weeknight or any night dinner.
These Vegan Roasted Vegetable Tacos are:
vegan
dairy-free
gluten-free
super simple to make
perfect for anytime of year
Favorite toppings for Vegan Roasted Vegetable Tacos:
It goes without saying that tacos are amazing, but the toppings define them! Here are some of my favorites! 
📖 Recipe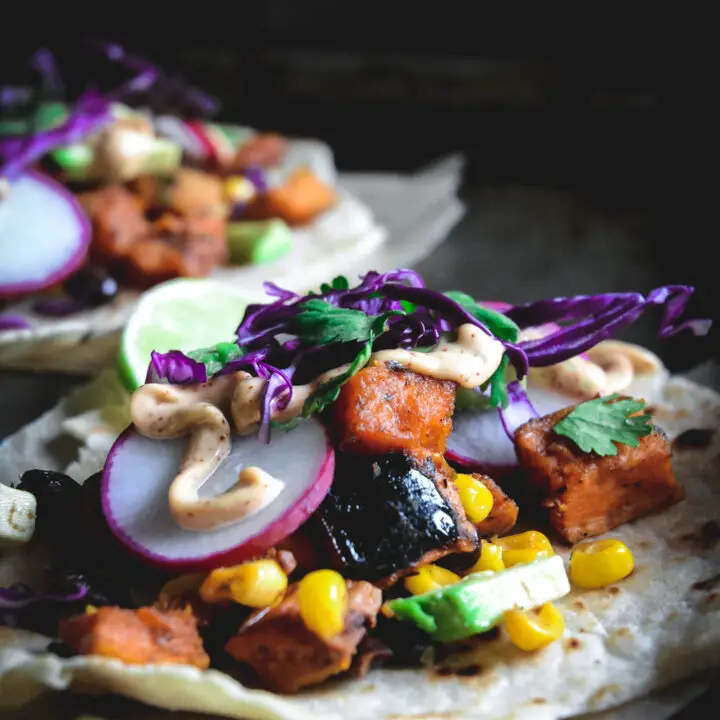 Vegan Roasted Vegetable Tacos
These Vegan Roasted Vegetable Tacos are the perfect weeknight dish, full of flavor and loved by all!
Ingredients
3 large sweet potatoes, peeled and cubed
1 zucchini cut into small pieces
1 bell pepper cut into ½ inch pieces 
½ cup black beans, rinsed
½ cup corn, defrosted
1 teaspoon ground paprika
1 teaspoon ground cumin
1 teaspoon oregano
½ teaspoon chili powder
zest of 1 lime
juice from ½ lime
1 teaspoon maple syrup (or honey if not vegan)
1 garlic clove
2-3 tablespoon olive oil divided 
½ teaspoon salt
¼ teaspoon pepper
1 tablespoon chopped cilantro
Instructions
1. Pre-heat oven to 375. Add sweet potatoes, red pepper and zucchini, 1-2 tablespoon olive oil, salt and all the spices and toss well. Roast for 25 minutes, or until soft. Toss once half way.
2. Meanwhile (roughly 10 minutes into vegetables roasting), in a large skillet, cook garlic on low heat for 30 seconds. Add beans and corn and heat through.
3. With heat off, add lime zest, lime juice and honey to beans and corn. Add roasted veggies to skillet and combine all ingredients.
4. Finish with cilantro.
5. To serve, spoon mixture in either a bowl or your favorite taco and serve with chipotle lime mayo, radish slices, avocado, red cabbage and extra cilantro.