This post is a paid partnership with Naturacentric. All opinions expressed are my own.
These Quick and Easy No-Bake Raspberry Cheesecake Bites are a decadent yet light no-bake dessert. They're also paleo, dairy-free, and grain-free.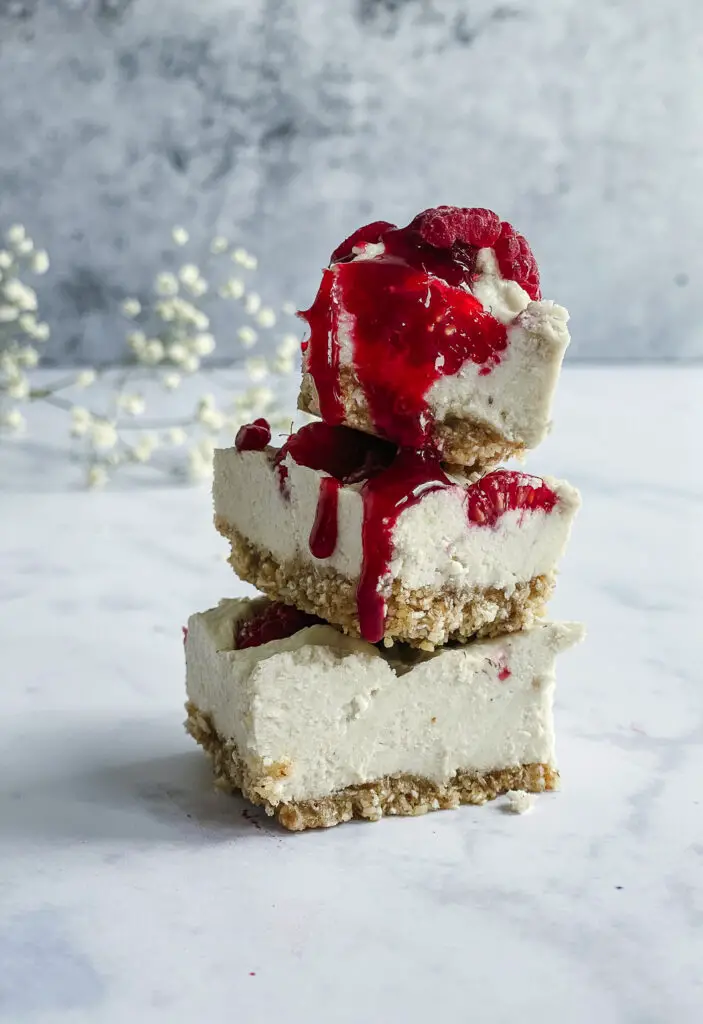 Jump To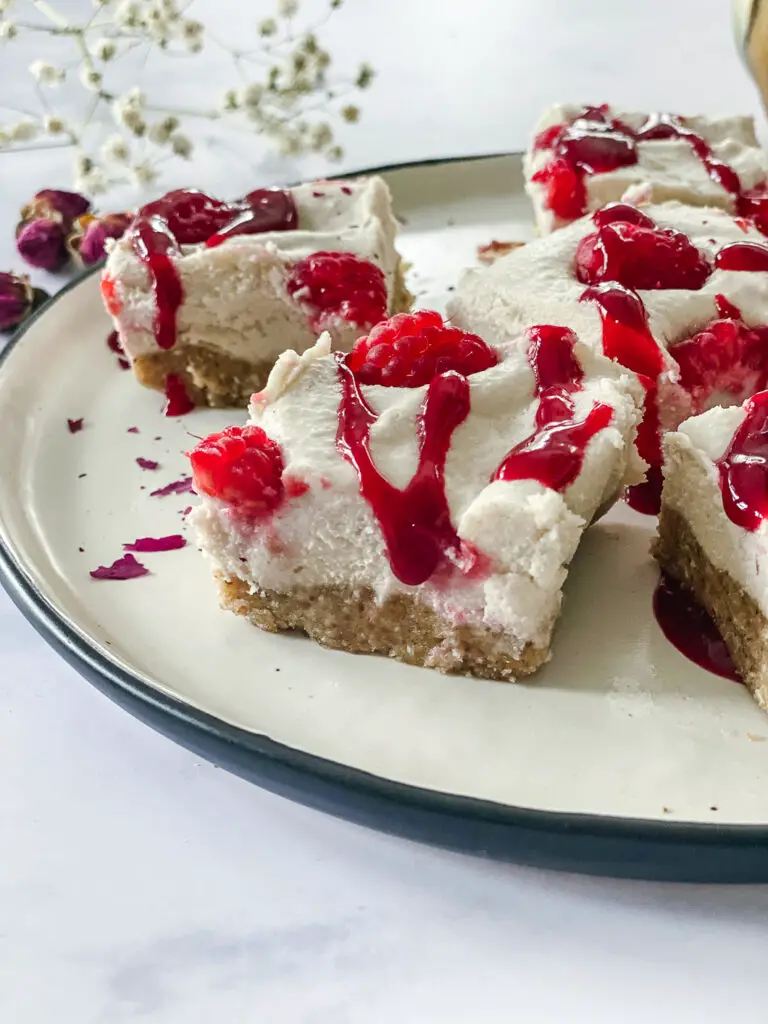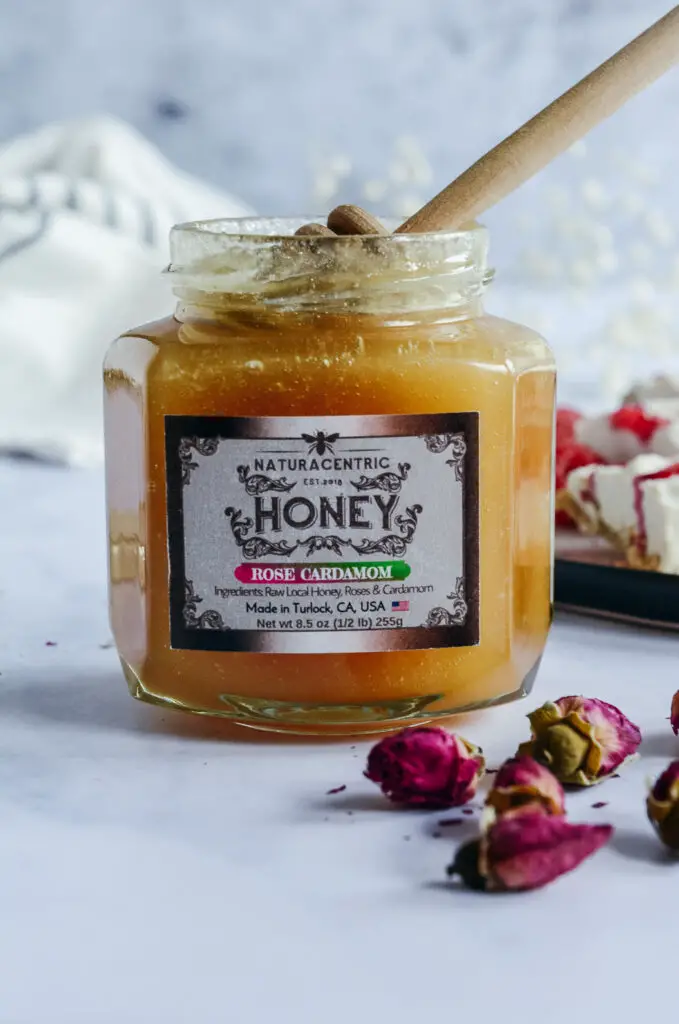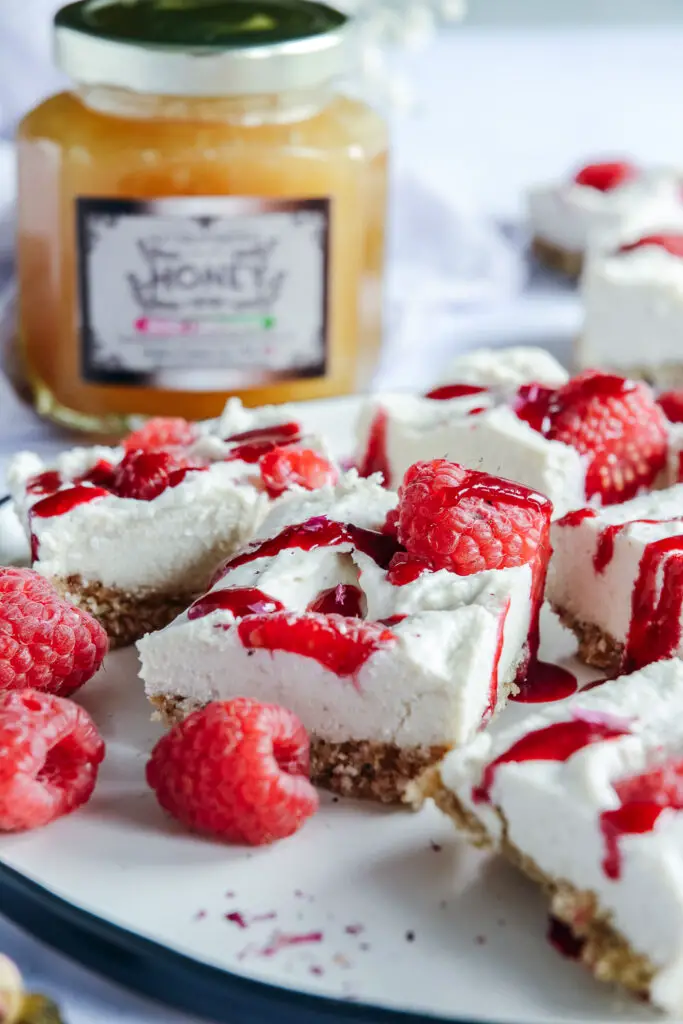 There are certain foods you make quickly, whip them up in no time at all, and there are those that require love, care, and attention. Not because they're particularly difficult to make, but because they require patience. They tease you at each step. This is particularly how I feel about these vegan raspberry cheesecakes bites with rose cardamom honey.
For this recipe, I've once again partnered with the master alchemists at Naturacentric. Their honey is unlike anything I've ever experienced. And I must say the moment I tasted their rose cardamom honey, I was awe-struck. I'm not sure I've tasted anything more flavorful and magical. It was like being in the center of a rose, experiencing it with all my senses. So I couldn't wait to start creating with their Rose Cardamom Honey!
These cheesecake bites are incredibly easy to make but do require a bit of patience. Equipment wise, you need nothing more than a food processor, a 9x9 nonstick baking pan and a few pantry staples. The longest part is letting the cashews soak overnight and allowing for the cheesecake bites to chill and set.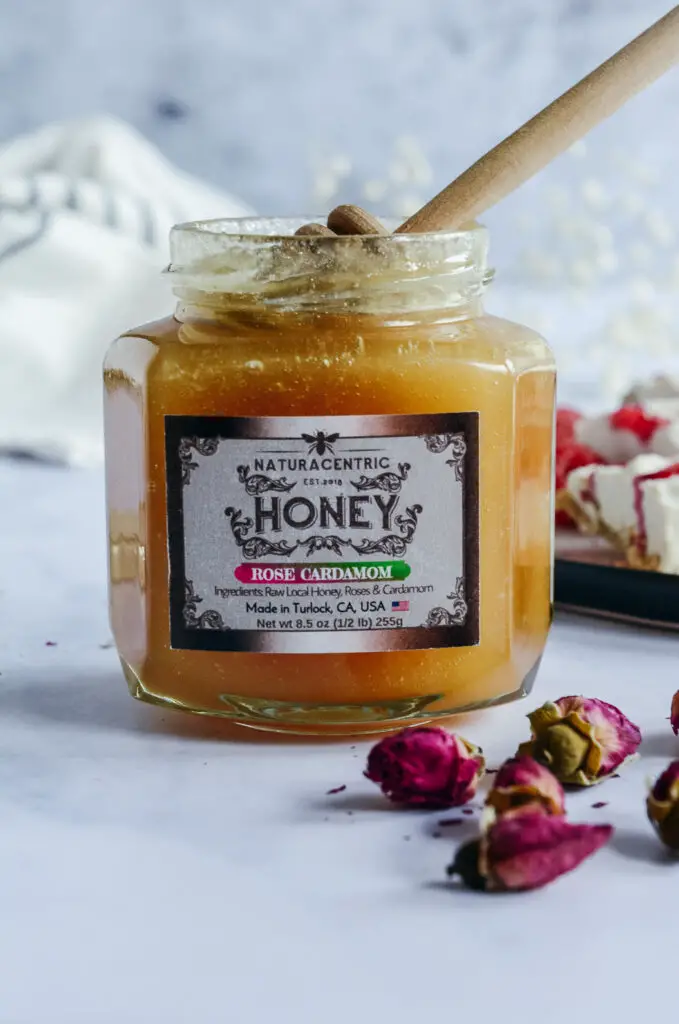 These No Bake Cheesecake Bites are:
Vegan
Paleo
Dairy-free
Grain-free
Gluten-free
Simple to make
Incredibly delicious
Ingredients for No Bake Raspberry Cheesecake
The great thing about this recipe is that everything is either shelf stable or frozen. Fresh raspberries are ideal for topping the cheesecake bites but if you want to use frozen, you certainly can.
Walnuts
Whether chopped, whole or diced, the important thing is that the walnuts are raw, not roasted or salted. The walnuts are an essential ingredient in the crust so you want them in raw form. They should not be soaked or sprouted either.
Coconut
The coconut I prefer using is shredded. I've tried flakes but I find that shredded blends best with the honey, walnuts and dates. It creates a smooth crust and a perfect base for the actual cheesecake bites.
Dates
Whether you're using Medjool dates or Deglet Noor (the most common date) is entirely up to you and whatever you can find. I use Deglet Noor for this recipe but if all you have is Medjool Instead of using 8 Deglet Noor, just use 6 Medjool.
Cashews
Cashews are probably the most important ingredient in this recipe. And the reason they're so important is because they're going to be our binding agent holding our cheesecake together. The key to getting a cheesecake like consistency is to soak the cashews. They need roughly 16 hours to soak in order to produce a creamy consistency.
Honey
Cardamom Rose Honey offers the perfect texture, consistency and flavor for these cheesecake bites. It's floral, bright and adds a certain smooth elegance to the recipe.
Coconut Milk
For this recipe you want to make sure you're purchasing full fat coconut milk. We will only be using the cream part of the coconut milk so the watery part can be saved for smoothies.
Coconut Oil
Another binding agent along with the cashews and coconut milk, is coconut oil. It will help to thicken the cheesecake without hardening it. It will provide the perfect consistency.
Raspberries
Raspberries will help to create the sauce for the cheesecake bites. You can use frozen or fresh. I used a combination of both. Frozen for the sauce and fresh for topping the cheesecake.
FAQs Tips + Substitutions
There are a few essential tips, that are not difficult but important when it comes to creating these simple and delicious raspberry cheesecake bites!
How To Prepare The Cashews?
Make sure you soak the raw cashews for at least 16 hours. Cover them with about 2 inches of water and let sit. The cashews will absorb the water and plump up. When you're ready to make your cheesecake bites, just discard the water and give them a pat with a towel.
What Type Of Coconut Milk Should You Use?
When picking out coconut milk, I recommend going for an organic, full-fat good brand. I have a recommendation but if you're picking it out in person, there's a simple test you can do. Shake the can. If you get a sloshy sound, pick different coconut milk. When you're unable to hear much when shaking it, that's the one for you. This way you'll get a nice creamy layer.
Alternatively, you can refrigerate the coconut milk and the creamy layer should settle at the top while the watery part will sink.
How To Get A Smooth Raspberry Sauce?
Because most frozen raspberries have seeds, I recommend straining your sauce once you've made it to create a smooth sticky consistency. Alternatively, you could leave the sauce out entirely if you don't want to make it but it adds a nice layer of brightness to the cheesecake bites.
Vegan Option
If you're following a strict vegan diet, feel free to use maple syrup.
Other no-bake recipes you may like: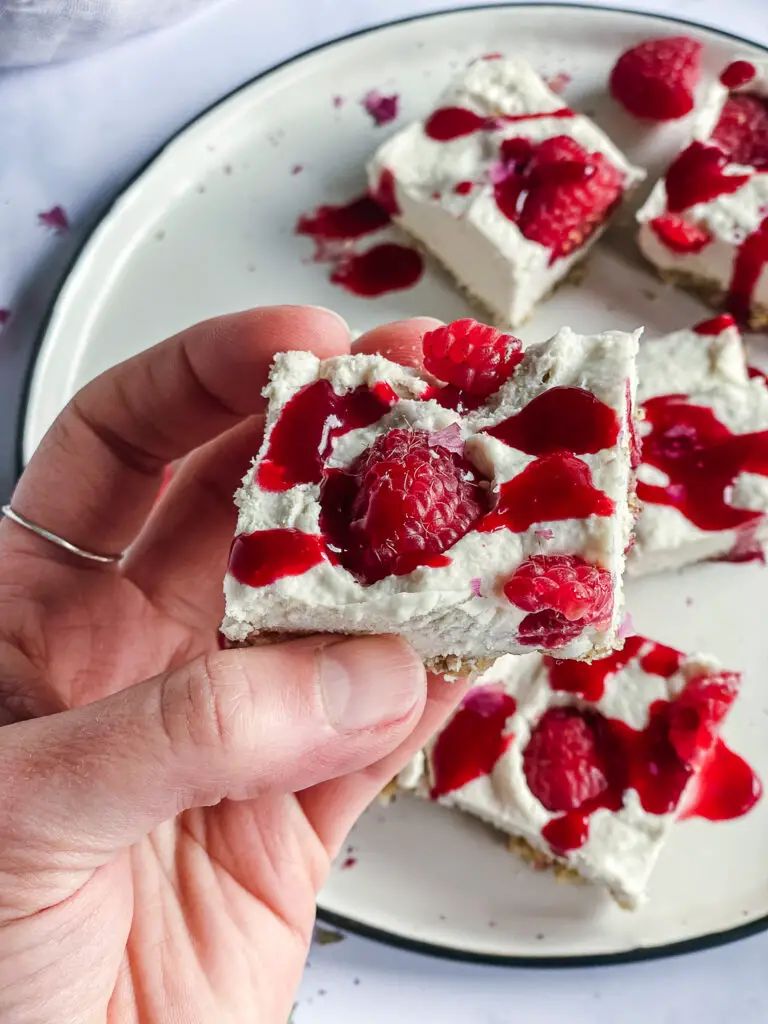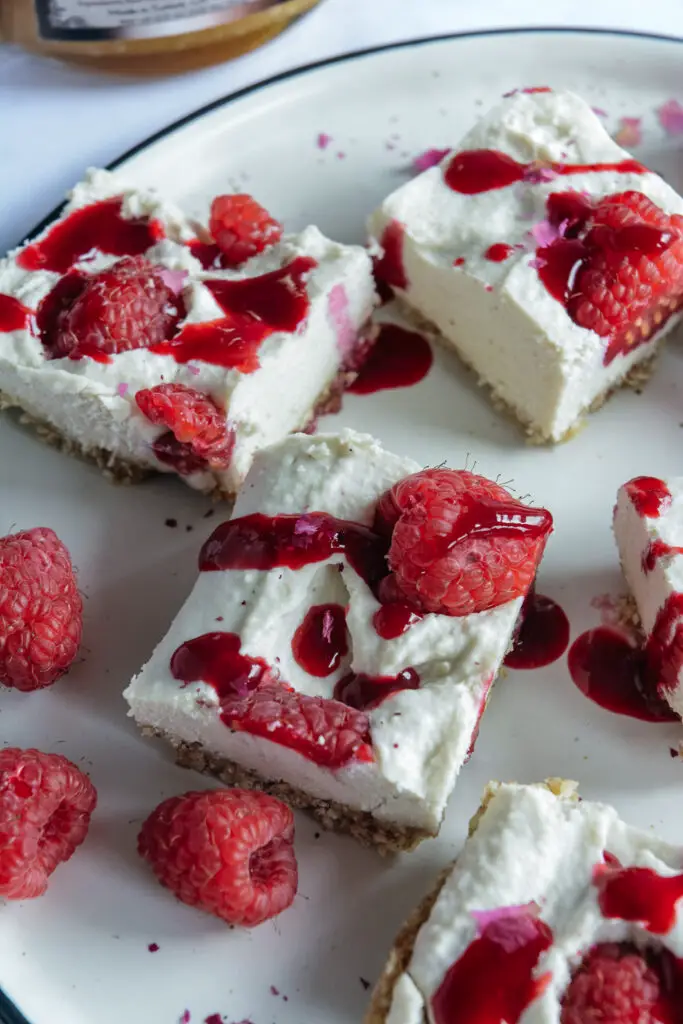 📖 Recipe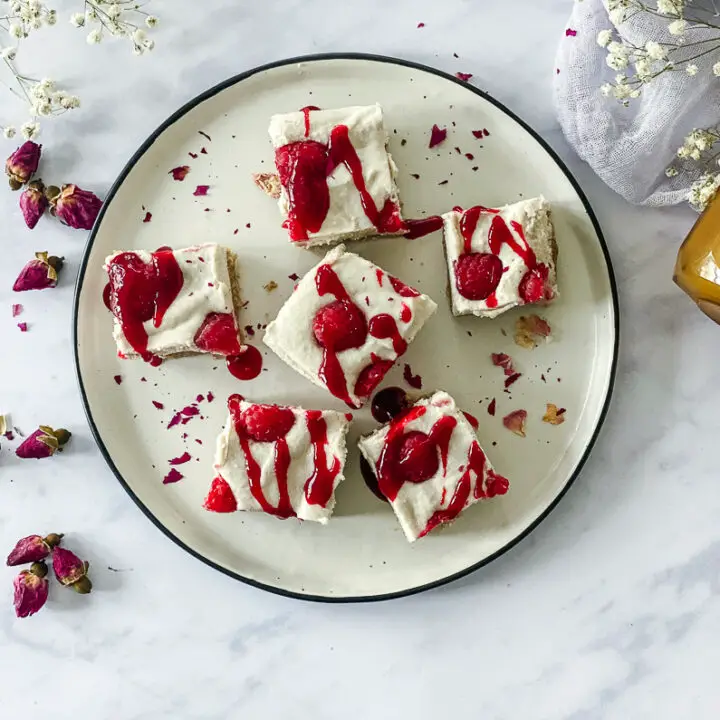 Raspberry Cheesecake Bites with Rose Cardamom Honey
Additional Time:
20 hours
Total Time:
20 hours
15 minutes
Vegan Raspberry Cheesecake Bites with Rose Cardamom Honey are decadent yet light and infused with flavors of Rose and Cardamom.
Ingredients
8 Deglet Noor (most common) Dates
1 cup walnuts
1 cup shredded coconut
1 cup cashews
1 can full fat coconut milk (cream only)
2 tablespoon coconut oil
½ cup frozen raspberries 
¼ cup fresh raspberries, halved
2 teaspoon vanilla extract
Instructions
Add cashews to a bowl and cover with 2" of water. Soak for at least 16 hours.
In a food processor combine walnuts, dates, shredded coconut and 2 tablespoon rose cardamom honey. Mix until you have a sticky mixture
Add the mixture to a 9X9 pan and press firmly until you have a flat layer. This will create the crust. Place pan in the freezer to set.
Clean the food processor well and dry the parts. Add just the cream part of the coconut milk, coconut oil, soaked cashews, vanilla, and 2 tablespoon rose cardamom honey. Puree until you achieve a smooth texture.
Add the mixture to the chilled pan and spread evenly.
Top with raspberries and refrigerate for 4 hours.
Meanwhile add frozen raspberries and 1 tablespoon rose cardamom honey to a small saucepan and bring to a simmer. Mix regularly until the mixture becomes smooth and is fully incorporated.
Strain mixture until you have a smooth puree.
Once raspberry cheesecake bites are set, slice them into 16 pieces or as big as you'd like and top with raspberry sauce before serving. Alternatively, you can pour the sauce once the cheesecake bites have set and store them in the refrigerator covered.
Notes
1. Ensure your cashews have had proper soaking otherwise you won't achieve a smooth consistency.
2. Look for full fat unsweetened coconut milk not the light.
Nutrition Information:
Yield:

16
Serving Size:

1
Amount Per Serving:
Calories:

203
Total Fat:

17g
Saturated Fat:

9g
Trans Fat:

0g
Unsaturated Fat:

7g
Cholesterol:

0mg
Sodium:

74mg
Carbohydrates:

12g
Fiber:

2g
Sugar:

6g
Protein:

3g