This Salad Nicoise may just be the most perfect salad ever invented! And this version is protein-rich, packed with vegetables, and low-FODMAP.
Jump To
Late summer has a certain quality to it I cannot pinpoint. The vibrancy of spring and early summer, a distant memory, insects at their loudest. Bird song is largely subdued now as there are fewer of them around. Trees have taken on a deep green color with some pops of yellow and brown throughout. There is a certain relief from the flurry and buzz of months past. It's always a little bitter-sweet, this cycling through seasons. But what good fortune to be able to live in a place with seasons.
So what to eat in late summer? My cooking is a little confused, admittedly. I oscillate between fall and summer food. On one hand, I crave diving right into comfort food (see the previous recipe), but on the other, I want to hold on to summer's sweetness. So I decided I would go with a Salad Nicoise recipe that can transition easily from summer to fall. And I would be using one of my all-time favorite ingredients as the star of this salad. Tuna! But not just any tuna - St. Jude Tuna!
When it comes to making Salad Nicoise, the quality of each ingredient is essential. And this is particularly why I wanted to use none other than my favorite olive oil-packed tuna from St. Jude Tuna. In my opinion, it is the best tuna as the quality is simply unmatched.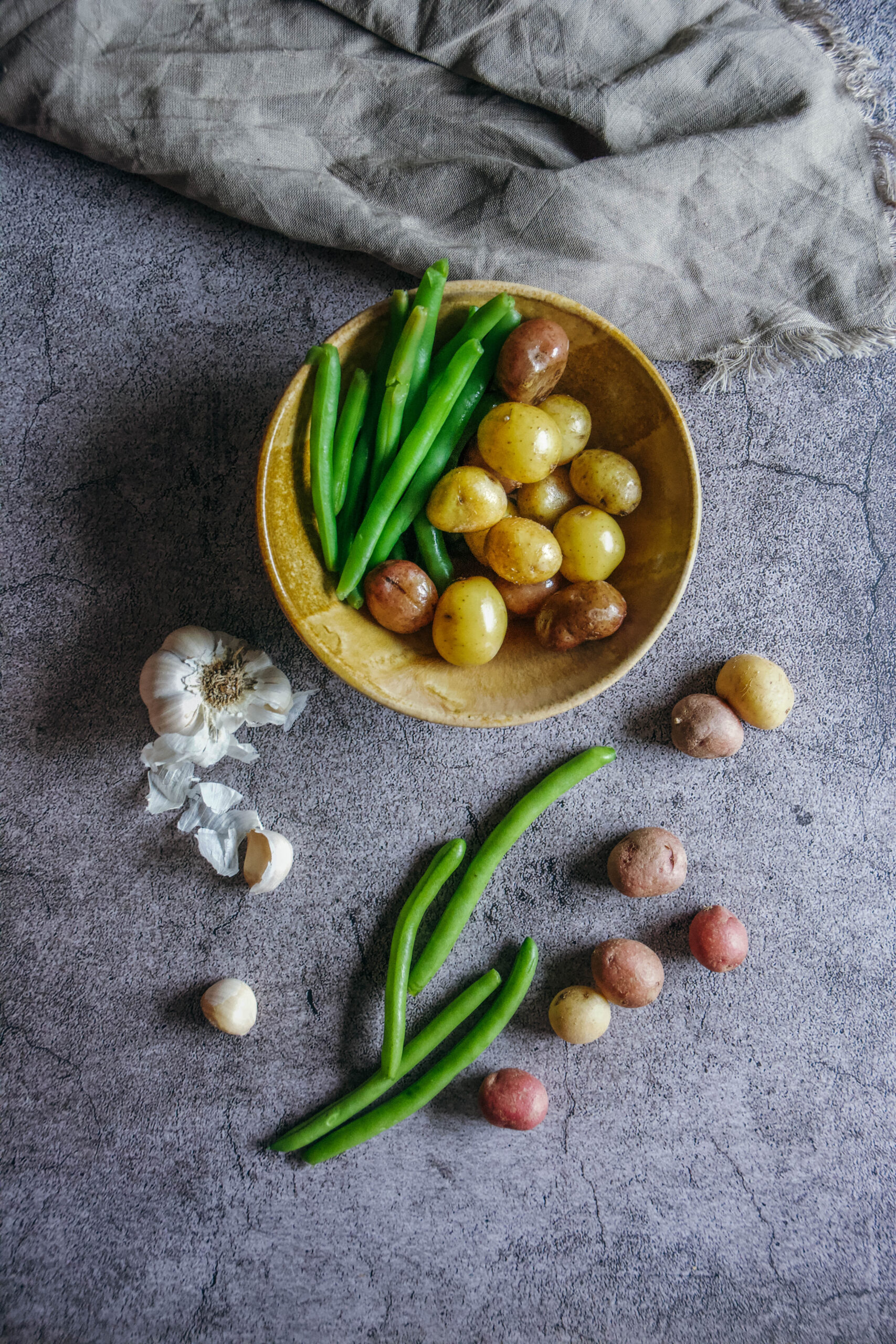 So what is Salad Nicoise?
Salad Nicoise is a traditional French salad that originated in Niece. It gets its name from Nicoise olives, which are only grown in that particular region. Early purists had a very specific way of making Salad Nicoise, which included artichokes, anchovies, red peppers, tomatoes, and olive oil. But purity isn't in my vocabulary and I enjoy breaking cooking rules as often as possible. So I have my own version of it. That's the beauty of playing with food after all.
One of the best Salad Nicoise I ever had was at a tiny cafe in Montauk many, many years ago and I've never forgotten how well the ingredients worked together. So I set out to re-create my own version with some of my personal favorites.
Sourcing the best tuna for Salad Nicoise
There are times when I'm forgiving with ingredients in a recipe. I'll happily use vegetables that have sat in the crisper for some time to whip up a quick soup. I'll use herbs that have surpassed their peak, etc. But when it comes to Salad Nicoise, the quality of the tuna makes all the difference. First, it does have to be wild-caught, good tuna, it also has to be packed in olive oil. Anything else will simply just taste mediocre. This is why I love using St Jude Tuma, Mediterranean Solid Albacore for this Salad Nicoise. It adds the perfect texture and flavor and balances out all other ingredients.
Can you vary the vegetables in the Salad Nicoise?
You certainly can. I like sticking with a newer version of Salad Nicoise which includes potatoes and green beans. But you can change the vegetables out as you see fit. If you're a tomato lover, go for tomatoes, if you prefer green olives to black olives, do that. If you're not a fan of artichokes or red pepper, you can leave them out or switch them out.
I encourage you to try sourcing organic if possible and the freshest ingredients you can. While all ingredients are served together, each stands on its own marinating in the tangy dressing. So having the freshest possible ingredients will take a Salad Nicoise from ordinary to extraordinary.
What to use in this version of Salad Nicoise
Naturally, my first favorite, tuna, soft-boiled eggs, boiled potatoes, blanched green beans, marinated artichokes, roasted red peppers, and olives, and to spruce up the classic olive oil (which I love by the way), I've decided to go with garlic infused dijon dressing, which in my opinion works beautifully with every single ingredient. Dijon to me is French essence.
Can you make this Salad Nicoise low carb/paleo?
Absolutely! If you're strictly paleo, you can skip the step of boiling potatoes and just go for the green beans. You could certainly use sweet potatoes if you really wanted but I don't think you'd end up with the same overall taste and feel. If you're paleo, you may just want to leave the potatoes out.
If you want to double up
If you're looking to serve a bigger crowd just double up on the quantities. You can use a larger pot for boiling the eggs, potatoes, and green beans.
I hope you will love this Salad Nicoise as much as I do!
📖 Recipe
Salad Nicoise
This Salad Nicoise may just be the most perfect salad ever invented! And this version is protein-rich, packed with vegetables, and low-FODMAP.
Ingredients
1 cans St. Jude Tuna
½ lb small potatoes
¼ lb green beans
⅓ cup canned artichoke hearts (or skip)
¼ cup pitted olives of your choice
1 cup roasted red pepper
2 eggs
¼ cup garlic infused extra virgin olive oil (or regular)
¼ teaspoon salt
¼ teaspoon pepper
2 teaspoon lemon juice
2 teaspoon Dijon mustard
2 teaspoon rice wine vinegar
Instructions
In medium pot, bring 4 cups of water to boil. Slowly add eggs and cook for 7 minutes (set a timer). Carefully remove eggs and drop in large bowl of ice water for 1 minutes. Remove and set aside.

Add potatoes and beans to boiling water. Set timer for 4 minutes. Remove beans and add to ice water. Set timer for another 7 minutes for the potatoes. Remove potatoes and add to ice water as well.
Meanwhile whisk all ingredients under dressing.

To plate. Peel eggs and cut in half, remove tuna from can and break up with your hand arranging it on plate. Arrange all other ingredients on plate and drizzle with dressing.

Sprinkle with extra salt and plenty of freshly ground black pepper.
Recommended Products
As an Amazon Associate and member of other affiliate programs, I earn from qualifying purchases.