If you miss the taste of caramel while following a dairy-free, vegan, or paleo lifestyle, no worries, this simple 4 ingredient vegan salted caramel, has got you covered.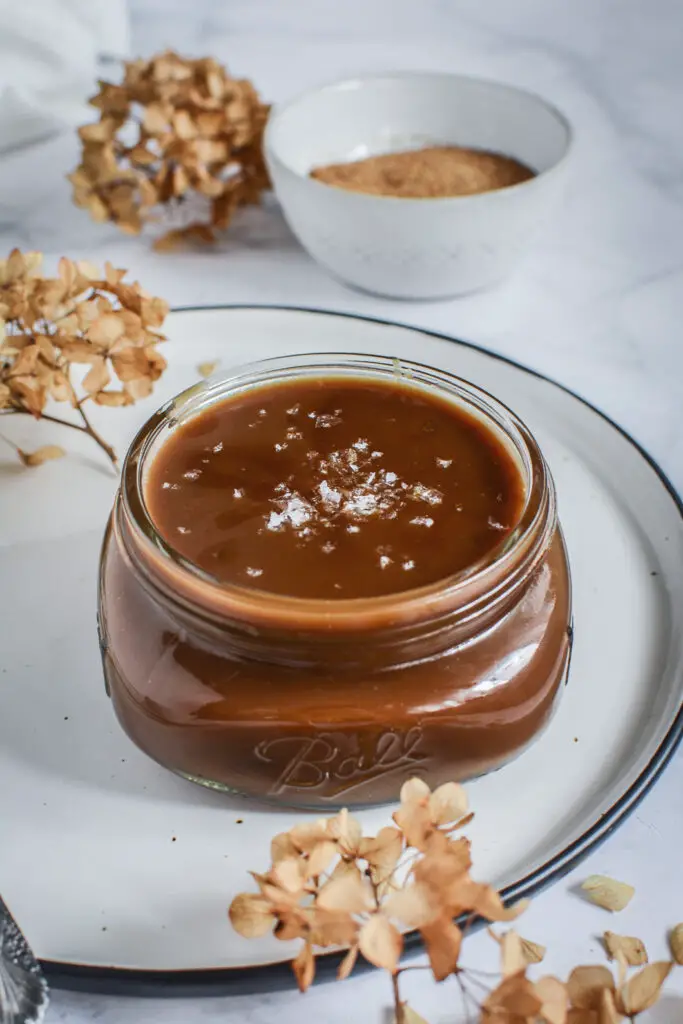 Jump To
Where have you been finding solace these days? Here in Pennsylvania, we've been pretty much in isolation for over 3 weeks. Frankly, it's just become the norm around here. Yes, I'm scared, yes, I wish I had an answer to how and when it will end but I don't.
I've been trying my hardest to focus on the things I can control. Appreciating simple, beautiful moments like the sun shining through a fresh green leaf, tiny flowers growing in my yard, birds singing and my children happily laughing, immune to the world's problems. It's in these moments where I can reconnect to the things that matter and let go of some of the incessant discomfort that's buried itself inside me.
And of course, there is cooking. It's my reprieve, my escape - whatever you want to call it.
So today I wanted to give you a little sweet and salty distraction in the form of a paleo vegan salted caramel. It's a versatile sauce you can pretty much use with any dessert you wish, from pies to cakes, dairy-free ice cream, fruit slices, and more. And let's face it, right now we could all use a little sweetness in our lives.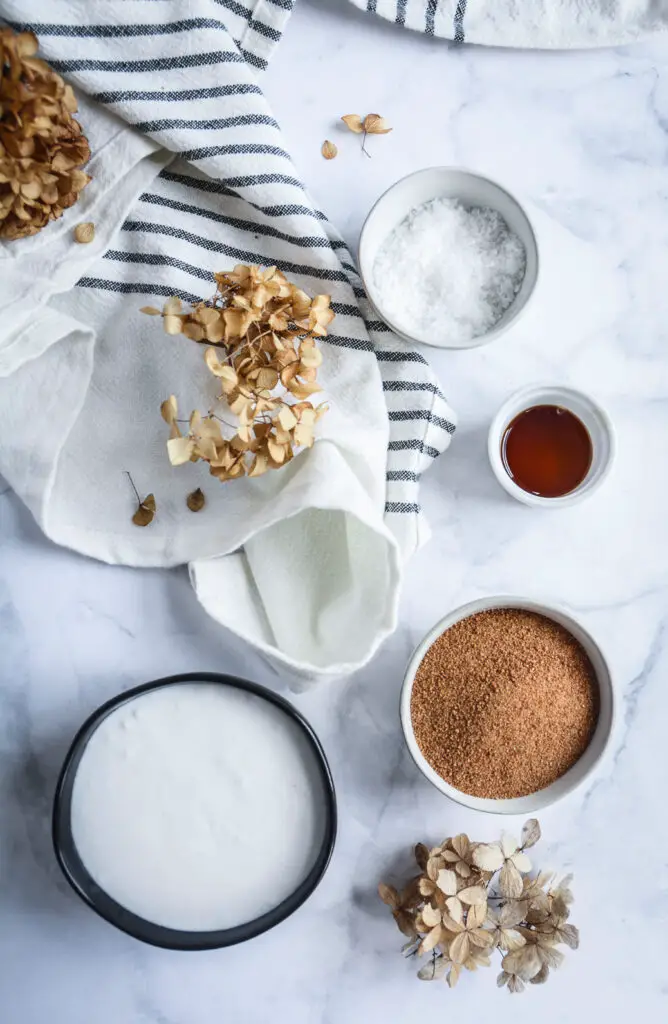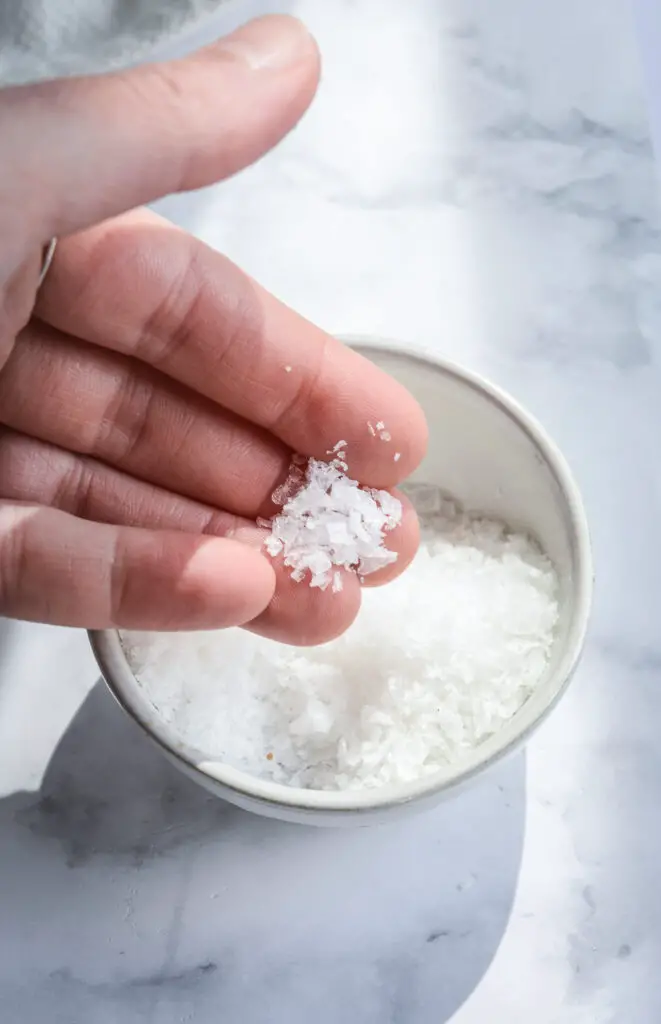 This Vegan Salted Caramel is:
vegan
paleo
refined sugar free
dairy-free
simple to make with just 4 ingredients
sweet and salty
rich and creamy
Ingredients for Vegan Salted Caramel
This is the easy part. Everything you'll need for making this caramel sauce you likely already have in your pantry. Especially if you're following a vegan, dairy-free, or paleo diet.
What you'll need is:
coconut cream
coconut sugar
vanilla extract
sea salt
Yes, that's all you need to whip up this delicious, sticky-sweet, and salty caramel sauce.
Equipment needed for Vegan Salted Caramel
The only equipment you need is a small saucepan and a storage container, such as a small glass jar. I recommend one with an airtight lid.
This is completely optional, but I did blend the coconut cream prior to adding it to the saucepan.
Tips and Substitutions
Coconut cream - If you're unable to find coconut cream in your local store or online, you can use evaporated coconut milk. It's thick like coconut cream and will yield similar results. Coconut cream typically comes in a 13.6 oz can while evaporated coconut milk comes in a 12.2 oz can. So adjust sugar to be slightly below ⅔ cup. Unless you don't mind the extra sweetness.
Vanilla extract - if you don't have vanilla extract handy but have vanilla pods, just use one pod and discard it once caramel sauce has thickened. Alternatively, you could leave it out entirely if you're unable to find vanilla.
Sea salt - I recommend using a flaked salt such as Maldon, but if you don't have any flaked salt, sea salt will be just fine. Start with a pinch and work from there, depending on how salty you like your caramel.
Should You Continuously Stir the Caramel?
When simmering the caramel sauce, be sure to stay close to the stove and stir regularly to ensure even cooking. After about 20-25 minutes, you will start to notice the caramel sauce thickening. You can either add salt then or wait until the caramel has cooled completely.
How Should You Store The Caramel?
As mentioned before, the best way to store the caramel sauce is in a small mason jar with an air-tight lid. A little goes a long way, so you'll likely have leftovers. The caramel sauce will keep in the refrigerator for 2 weeks.
Ways to serve Vegan Salted Caramel
You can pair salted caramel sauce with pretty much anything you like, but these are some of my favorite options.
dairy-free ice cream
paleo crepes
fruit slices
pies
cakes
coffee
dark chocolate
And here are some recipes you may enjoy: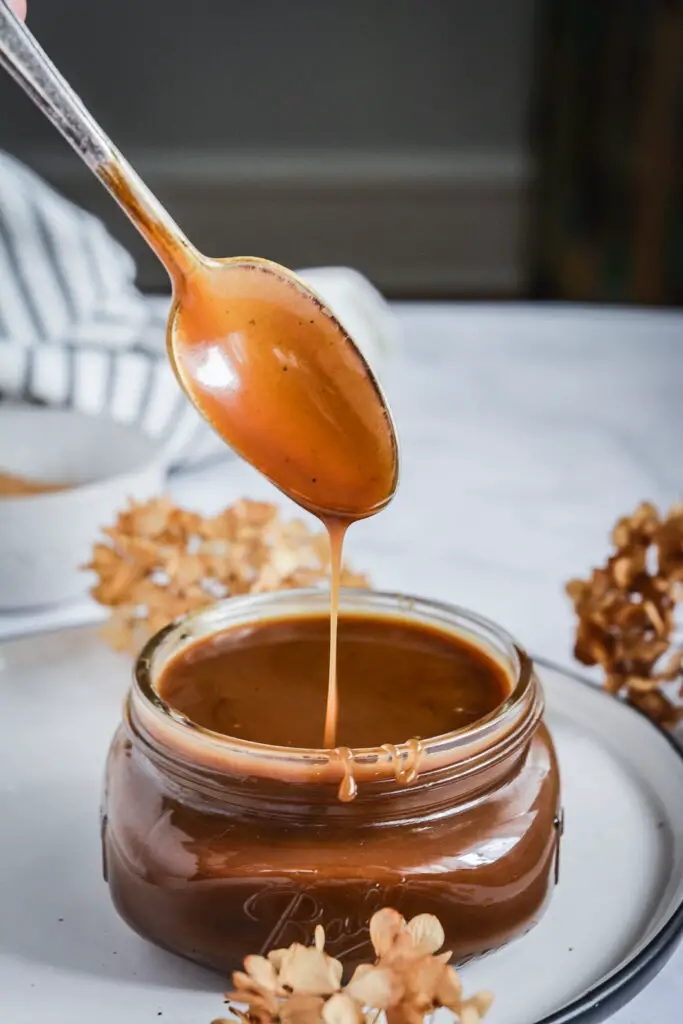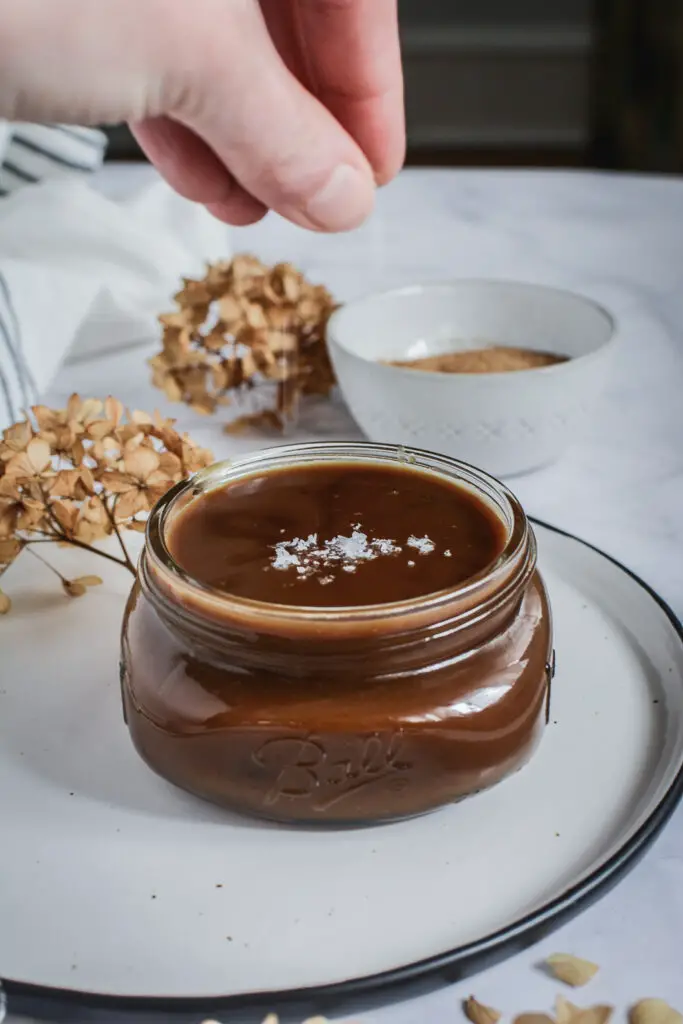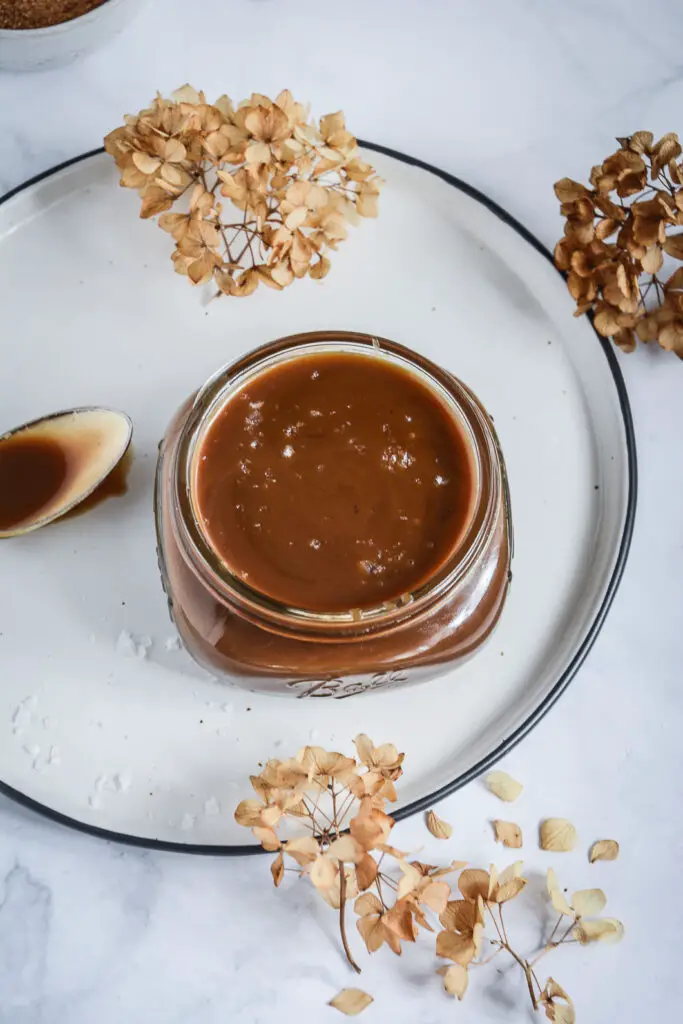 📖 Recipe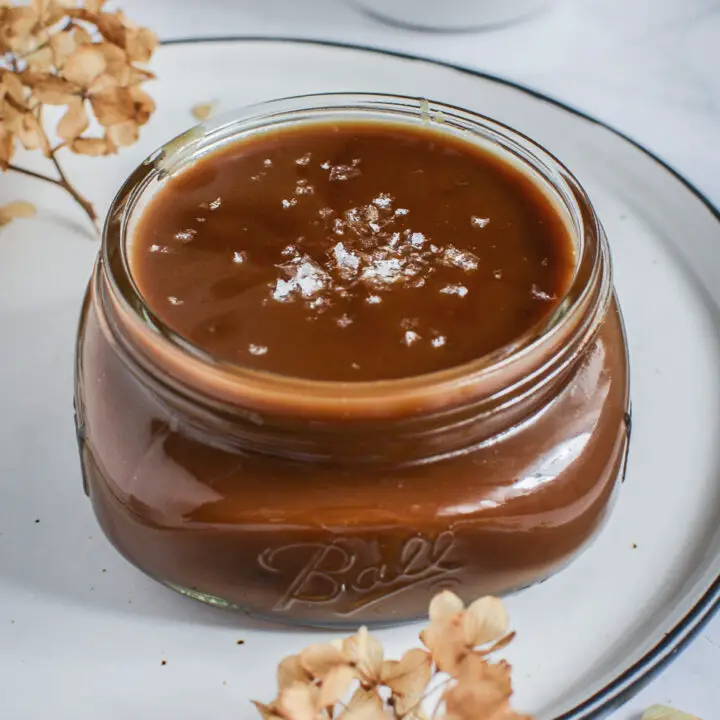 Vegan Salted Caramel
If you miss the taste of caramel while following a dairy-free, vegan or paleo lifestyle, no worries, this simple 4 ingredient vegan salted caramel, has got you covered.
Instructions
Combine coconut cream, coconut sugar, and vanilla in a small saucepan and bring to a simmer on low heat.
Continue simmering the caramel for 25 minutes stirring regularly.
Let caramel cool in the saucepan and add a pinch of sea salt.
Once cooled, transfer the sauce to an air-tight container and store in the refrigerator for up to 2 weeks.
Notes
Evaporated coconut milk will work in place of coconut cream. Adjust sugar to slightly below ⅔ cup as it is as the evaporated coconut milk is already sweet.
Recommended Products
As an Amazon Associate and member of other affiliate programs, I earn from qualifying purchases.