Here is a creamy, low-carb, grain-free, and vegan Vegetable Shirataki Noodles In Thai Peanut Sauce weeknight recipe. Add chicken, shrimp, or tempeh if you want to make it heartier.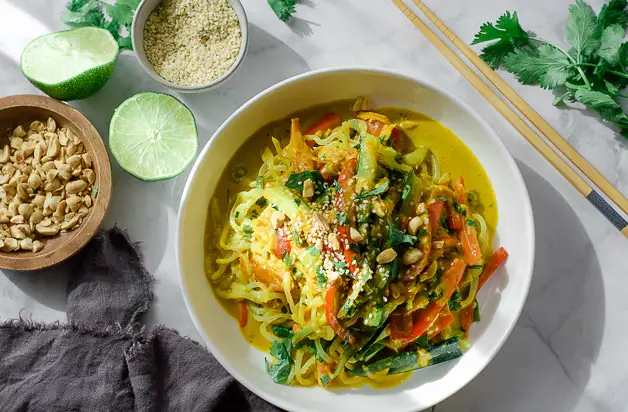 This is a perfect, light, Spring or Summer recipe that's ready in under 20 minutes. It uses shirataki noodles, which are a type of noodle that is made from the konjac plant. They are a great choice for people who are looking for a low-carb, low-calorie noodle option.
And after ignoring their existence on the shelf for years, I finally took the plunge and started using them. It's like a whole new world of possibilities, so stay tuned for more shirataki noodle recipes!
Shirataki Noodles are also a great alternative to rice and noodles, especially for people who are looking to keep their blood sugar steady or have gluten and grain intolerances.
This vegetable shirataki recipe also pairs very well with grilled shrimp, chicken, tempeh, or tofu. So feel free to get as creative as you want!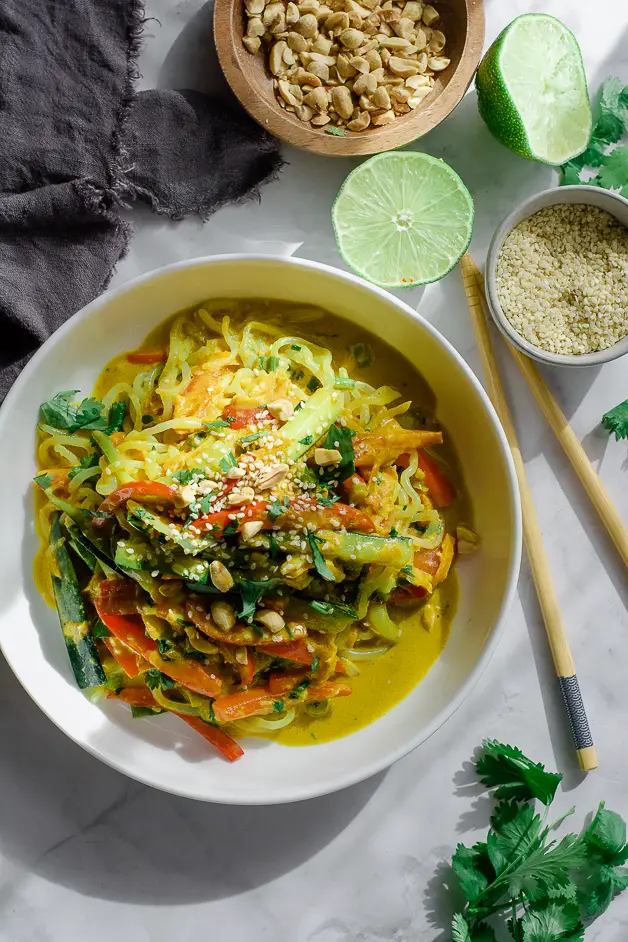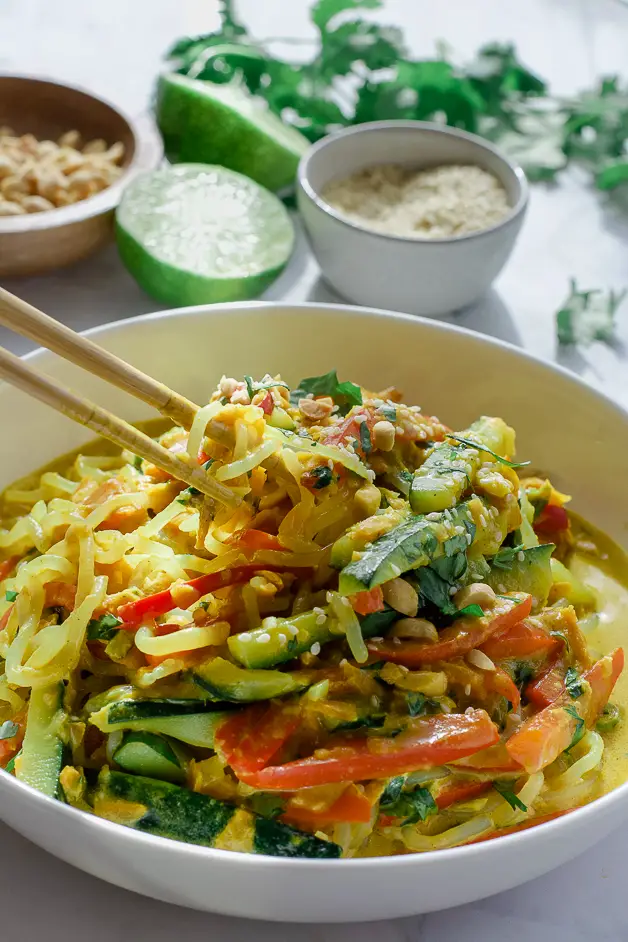 Why You'll Love This Recipe
It's low-carb, keto, vegan, paleo, gluten and grain-free
Super easy to prepare and customizable
A perfect weeknight dinner
It's rich in antioxidants
A blood sugar-stabilizing meal
Ingredients Needed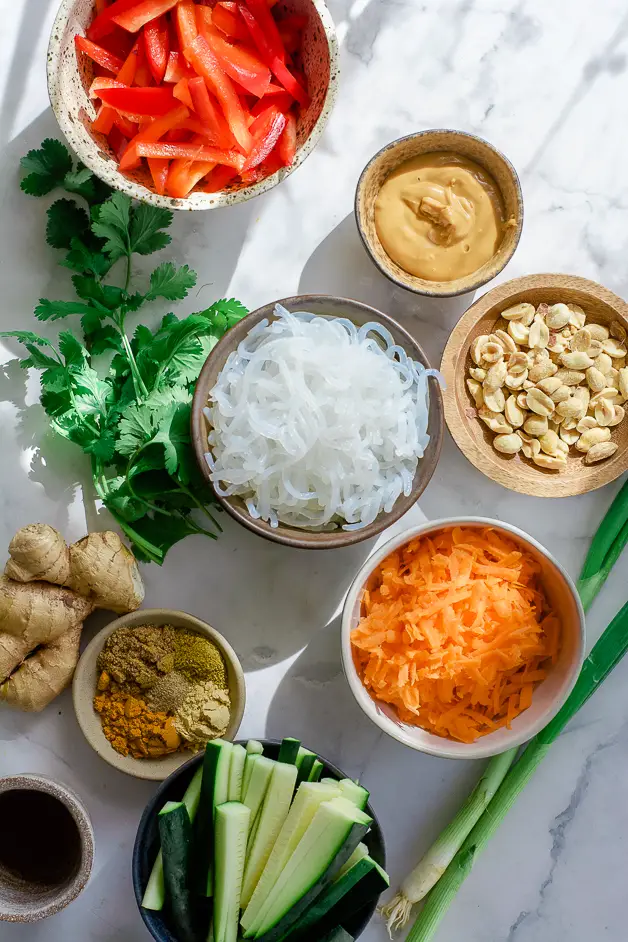 Shirataki noodles: These noodles are sometimes called miracle noodles and are made from konjac flour. They're a perfect alternative to rice and rice noodles as they're very gentle on the digestive system, grain-free, and high in fiber but very low in calories.
Zucchini shredded carrots and red peppers: are going to be the main vegetables in this curry and complement each other beautifully.
Sesame oil: Not to be confused with toasted sesame oil, will provide the base and flavor for this Thai curry.
Peanut butter: Unsweetened peanut butter will add creaminess and flavor and will create a lovely and creamy peanut sauce.
Coconut milk: Full-fat coconut milk is recommended for this recipe.
Ginger, garlic, and green onion: These 3 will add all the flavor to the curry.
Spices: Thai red curry paste, ground turmeric, ginger, cumin, coriander, and cardamom will be our spices for this peanut sauce to create beautiful flavor, and add lots of brightness to the Thai peanut sauce.
Maple syrup: To balance out all the flavors, a little sweetness from the maple syrup is perfect but if you're low-sugar, you can skip it or use keto maple syrup.
Lime juice: A squee of lime juice ties in all the flavors.
Fresh cilantro: Finish the sauce with a good handful of chopped cilantro for brightness.
Peanuts and sesame seeds: Add crunch and texture with crushed peanuts and toasted sesame seeds.
See the recipe card for quantities.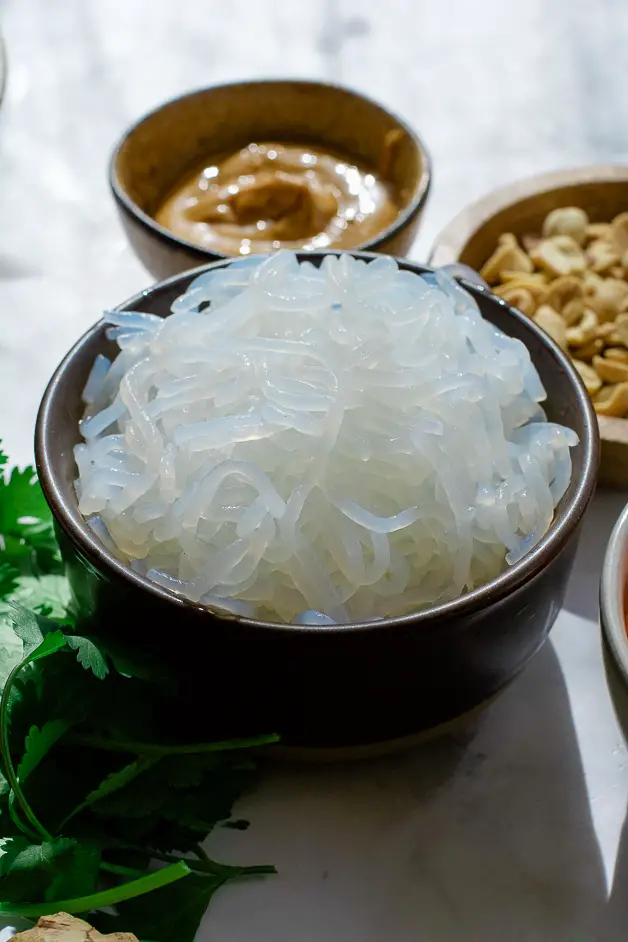 Instructions
Sautee all vegetables until soft.
Add green onion, garlic, and ginger, and cook for 30 seconds followed by spices.
Pour in coconut milk, peanut butter, and maple syrup and cook for 15 minutes.
Add cooked shirataki noodles to the peanut sauce.
Finish with chopped cilantro, lime, chopped peanuts, and sesame seeds.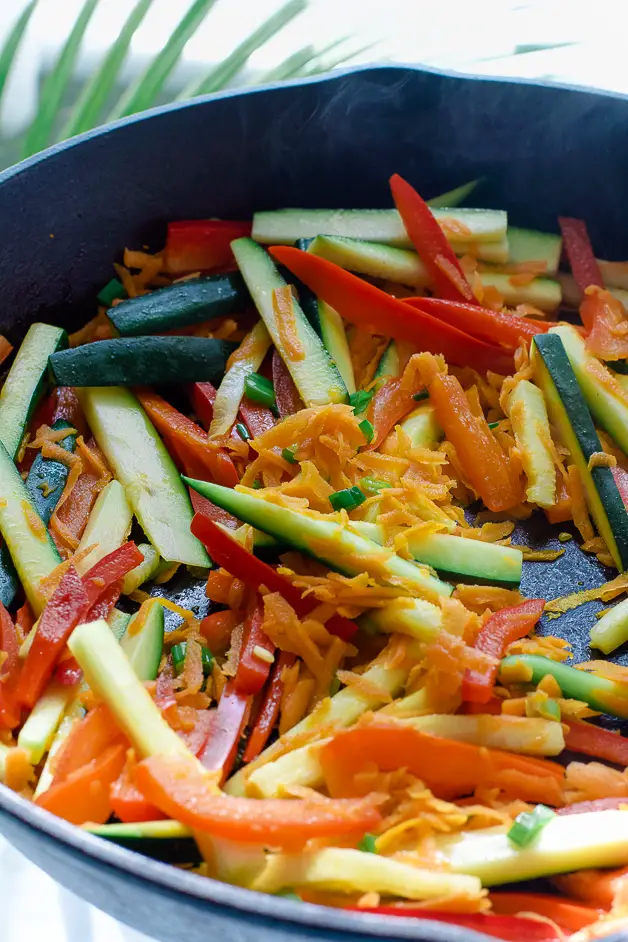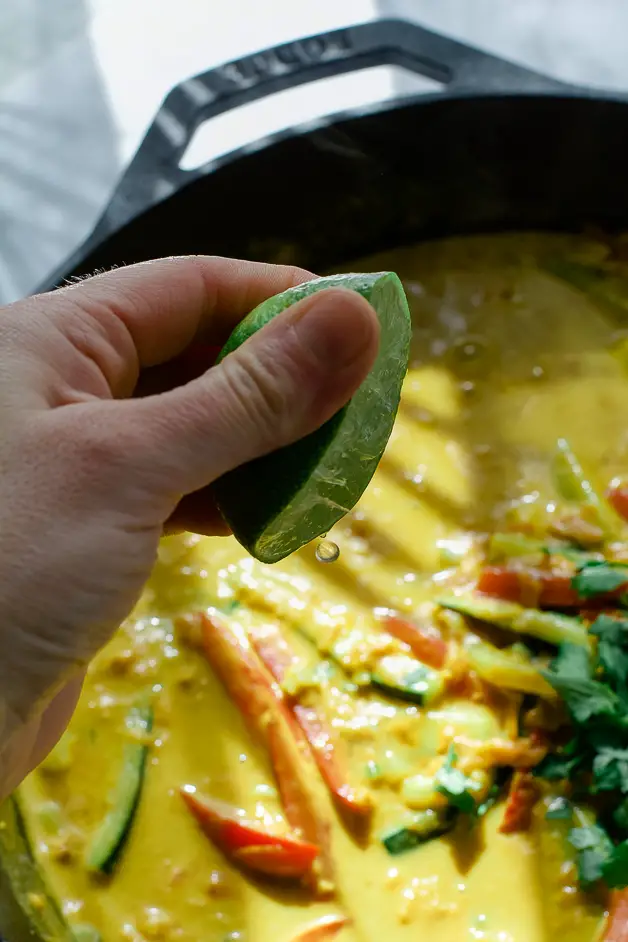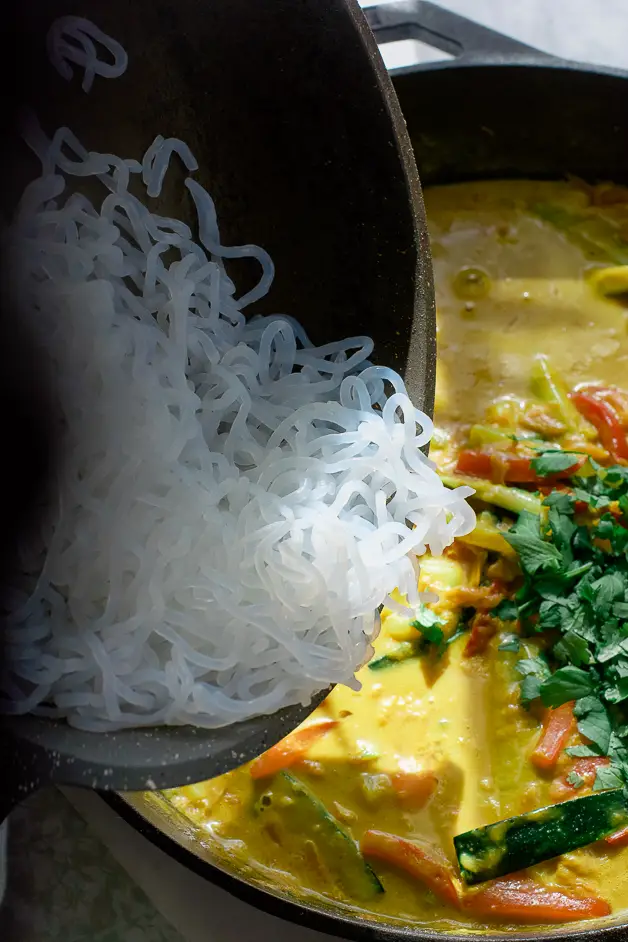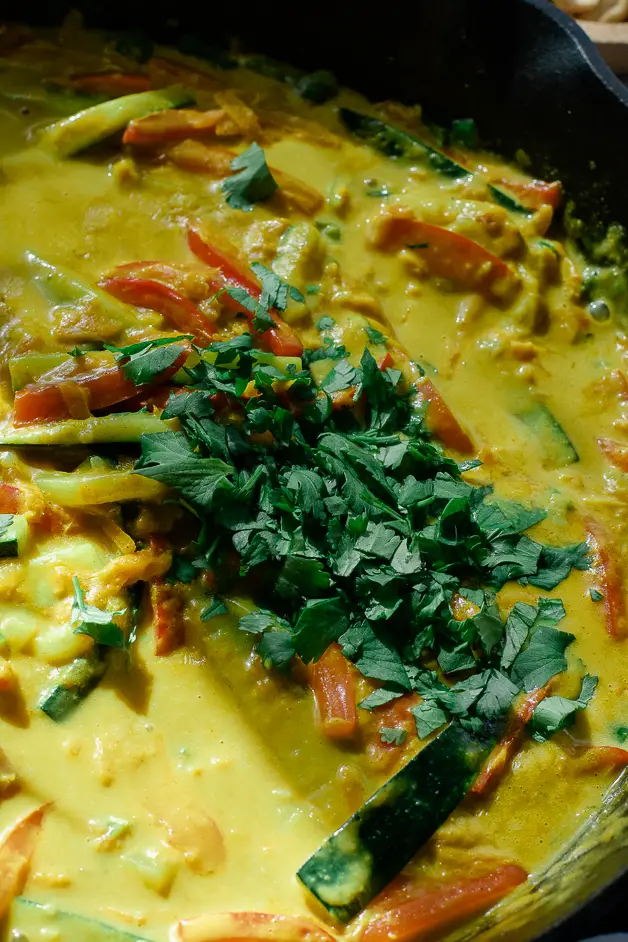 Hint: Don't overcook the vegetables so they still keep their shape and are slightly firm to the bite.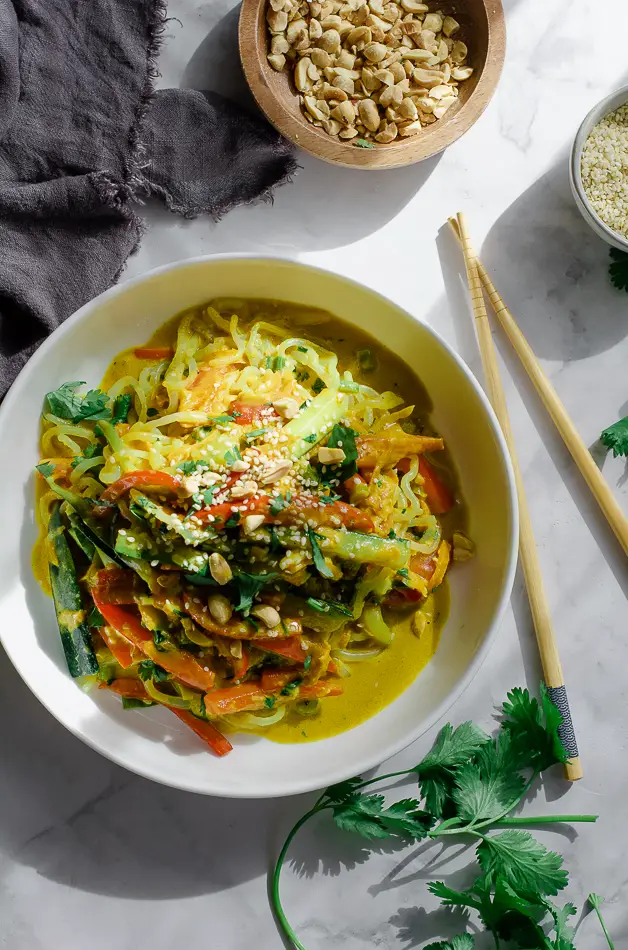 Substitutions
If you're not following a paleo diet, you can make a few substitutions.
Rice noodles- instead of shirataki noodles you can use rice noodles or even rice.
Almond butter - feel free to use a different type of nut butter that works with your specific diet.
Thai red curry paste - for a shortcut, you can also skip the spices and use only Thai red curry paste and add whatever spices you have available from the list.
Cilantro - you can use Thai basil or regular basil if you don't like cilantro.
Variations
Try some of these variations if you'd like to experiment with the recipe.
Protein addition - you can add shrimp, chicken, tempeh, or tofu to the peanut sauce.
Make it spicy - add siracha sauce for a special kick.
Vegetables - feel free to skip any of the vegetables. Green beans and snow peas also work really nicely in this too if you want to substitute.
Love curry? Try this easy Cauliflower Mung Bean Curry, Vegan Sweet Potato Chickpea Curry, Thai Peanut Lentil Curry, or Chicken Tikka Masala.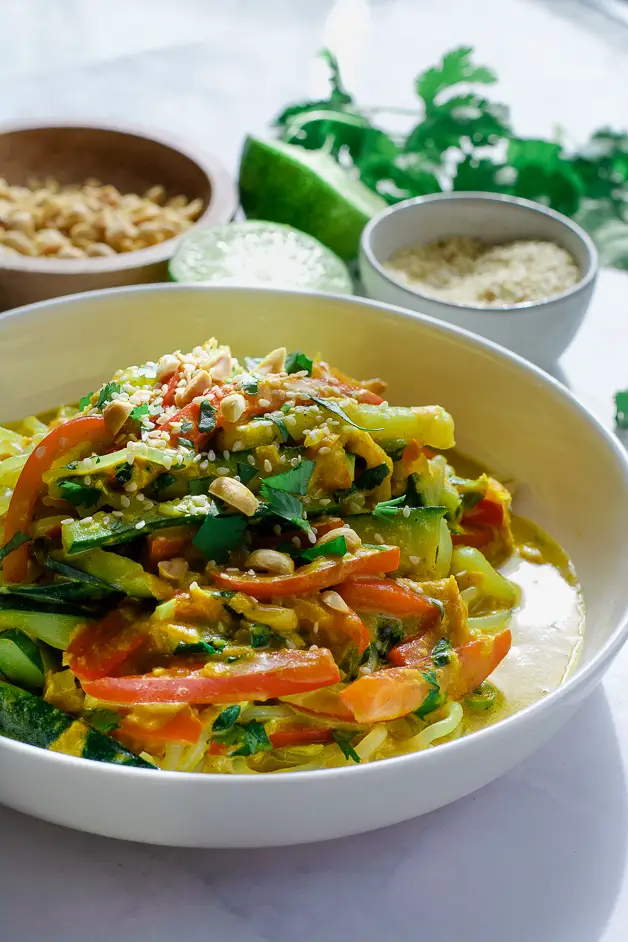 Equipment
A Dutch oven or cast iron skillet works really well for this recipe. You also need a small non-stick skillet to dry cook your shirataki noodles.
Storage
You can store the vegetable Thai peanut sauce and noodles separately, especially if making them in advance.
Ideally, once shirataki noodles are opened, they can be stored in their liquid until ready to use.
The Thai Vegetable Peanut Sauce will last in the refrigerator for up to 3 days.
Top tip
Don't skip the peanuts, as they really add that extra something special.
📖 Recipe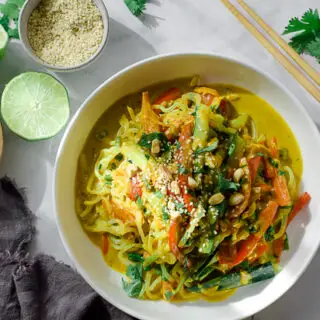 Vegetable Shirataki Noodles In Thai Peanut Sauce
Here is a creamy, low-carb, grain-free, and vegan Vegetable Shirataki Noodles In Thai Peanut Sauce weeknight recipe. Add chicken, shrimp, or tempeh if you want to make it heartier.
Ingredients
1 red pepper, sliced
1 zucchini, cut into 1" strips
1 large carrot, shredded
2 green onions, sliced
2 garlic cloves, smashed
2 teaspoon minced ginger
1 can full-fat coconut milk
2 rounded tablespoon natural peanut butter
½ teaspoon salt
¼ teaspoon ground pepper
1 teaspoon lime juice
1 tablespoon maple syrup or keto maple syrup
1 teaspoon ground turmeric
1 teaspoon ground coriander
½ teaspoon ground ginger
½ teaspoon ground cumin
¼ teaspoon cardamom (skip if you can't find it)
1-2 tablespoons toasted sesame seeds
2 tablespoons chopped peanuts (or more to taste)
Instructions
Rinse and drain the shirataki noodles and set them aside.
To a cast iron skillet or Dutch oven, add sesame oil, red pepper, green onions, and shredded carrot along with ¼ teaspoon salt and cook until vegetables have softened - about 5-8 minutes.
Add minced garlic and ginger and cook for 30 seconds. Add the spices and ground pepper and cook for an additional 2 minutes to let the spices release their flavor.
Add coconut milk, peanut butter, maple syrup, and ¼ teaspoon salt. Cook for 15 minutes stirring regularly.
Add cilantro and lime juice.
Meanwhile, heat a medium non-stick skillet over medium heat and add the shirataki noodles. Cook the noodles, stirring frequently, for about 5 minutes, until all liquid has evaporated.
Add the noodles to the peanut sauce and top with sesame seeds and peanuts. Adjust salt if needed.
Notes
1. If you can't find cardamom, you can skip it.
2. Alternatively, in place of spices, you can use 2-3 tsps Thai red curry paste.
3. Be sure to dry cook the shirataki noodles until they are completely dry and will stick to the sauce.
Recommended Products
As an Amazon Associate and member of other affiliate programs, I earn from qualifying purchases.