These Dairy-Free Keto Recipes are perfect for anyone following a dairy-free Keto lifestyle. You can find everything from salads to appetizers, mains, and delightful desserts.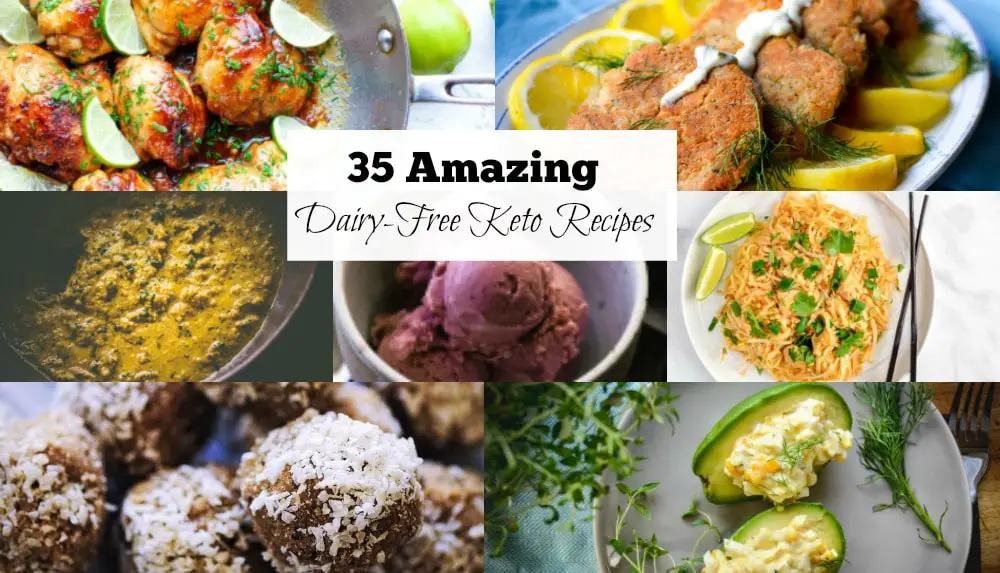 If you're following a dairy-free lifestyle and are brand new to Keto, welcome! I hope this resource will help add some new recipes to your meal-plan and inspire you to get creative in the kitchen. So let's jump right in.
What foods can you eat on a Dairy-free Keto Diet?
Protein:
Meat
Seafood
Poultry
Eggs
Tofu
Tempeh
Non-starchy vegetables:
Asparagus
Bell peppers
Bok Choi
Broccoli
Brussels sprouts
Cauliflower
Cabbage
Celery
Cucumber
Edamame - in moderation
Eggplant
Green beans
Kale
Lettuce
Mushrooms
Okra
Radishes
Rutabaga in moderation
Spinach
Zucchini
Good fats:
Coconut, olive and almond, avocado, flax seed, hazelnut oils
Coconut butter
Almond butter
Peanut butter
Macadamia nut butter
Tahini
Sun butter
Pumpkin, chia, hemp, and sunflower seeds
What foods should you avoid on a Dairy-free Keto diet?
Dairy can sneak in a lot of packaged foods, so it's important to read all labels carefully. Here are the most common ones to look for:
Milk
Butter
Cream
Whipped cream
Yogurt
Sour cream
Ricotta cheese
Cheese
Cream cheese
Kefir milk (not quite 100% dairy-free)
So now that you know what you can and cannot eat on Dairy-free Keto, let's get to these delicious 35 Dairy-free Keto Recipes. Here you'll find everything from delicious appetizers, wonderful breads, curries, main dishes as well as delightful deserts. Enjoy!