A delicious collection of 12 simple Gluten and Dairy-Free Recipes to warm up the Fall Season.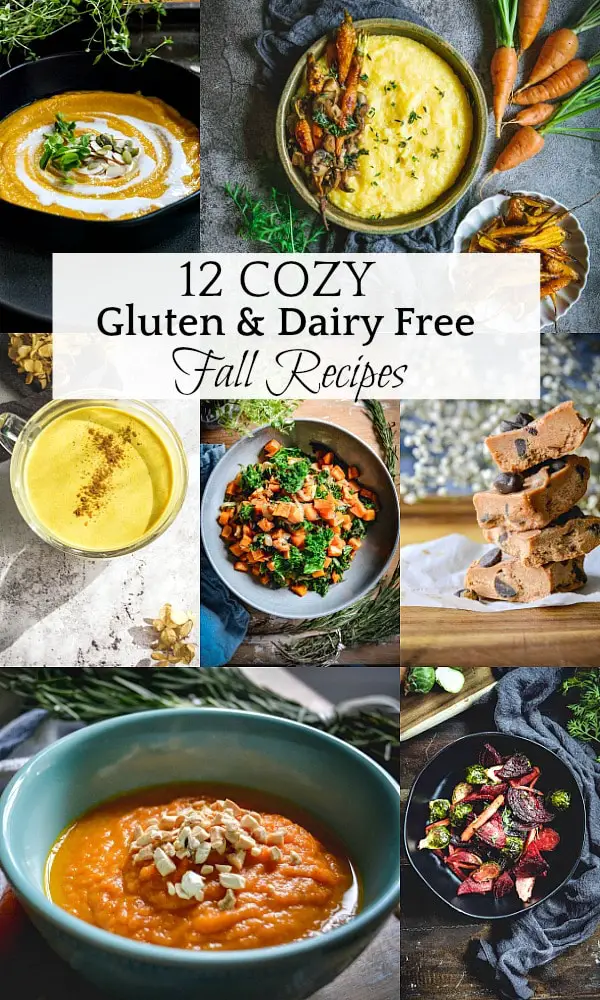 Fall frequently takes me by surprise. One day it's 87 and sticky, the next 67 and comfortable. And yes, I know it's not technically "Fall" but once September arrives, it is inevitable...the season is basically upon us. And truthfully I feel a sense of relief because there's something about the summer that makes me moody and restless. But that's the beauty of living in a place with seasons...they change..you get a fresh start with each.
And with a fresh start comes fresh food; as in Fall inspired food. I don't know if you can relate but once the season changes, I crave warm, soothing food to balance the sudden coolness. So for a proper start to Fall, I've gathered my top 12 cozy gluten and dairy-free fall recipes to share with you!
Paleo, Vegan and Whole 30 Options
The great thing about these recipes is that most are paleo, vegan, and whole 30. If you're following either lifestyle, these recipes will work for you. To make it easier, I've labeled them so you know exactly what to expect.
Polenta with Mushrooms, Kale and Roasted Carrots - Vegan
Apple and Beet Salad with Candied Walnuts and Cashew Cheese - Paleo, Vegan
Warm Brussels Sprouts Salad with Bacon and Dried Cherries - Paleo, Whole 30
Carrot Ginger Soup - Paleo, Vegan, Whole 30
Coconut Cilantro Sweet Potato Soup - Vegan, Paleo, Whole 30
Sweet Potatoes with Kale and Caramelized Onions - Paleo, Vegan, Whole 30
Maple Roasted Vegetables - Paleo, Vegan
Chickpea Sweet Potato Curry - Vegan
Curried Butternut Squash Soup - Vegan, Paleo, Whole 30
Sausage and Apple Stuffed Acorn Squash - Paleo, Whole 30
Pumpkin Spice Moon Milk Latte - Paleo, Whole 30
Vegan Pumpkin Fudge - Vegan, Paleo

I hope you'll enjoy making these as much as I do.
12 Cozy Gluten and Dairy-Free Fall Recipes