If you're looking for a 10-minute dish that's full of flavor and simple to make, these zoodles with Thai peanut sauce and tofu have got you covered.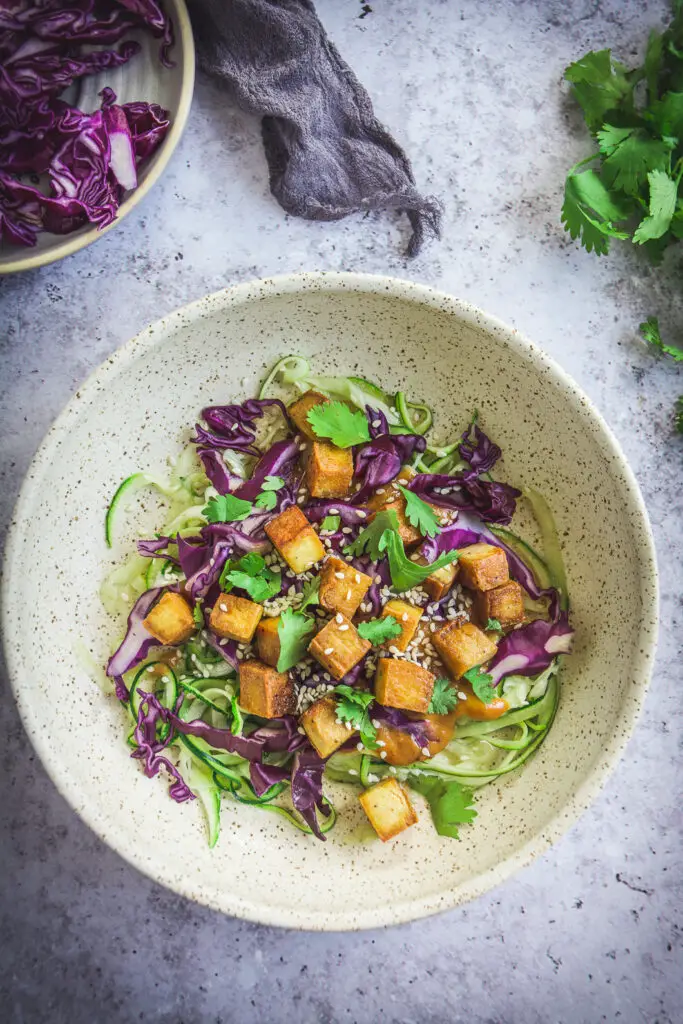 Jump To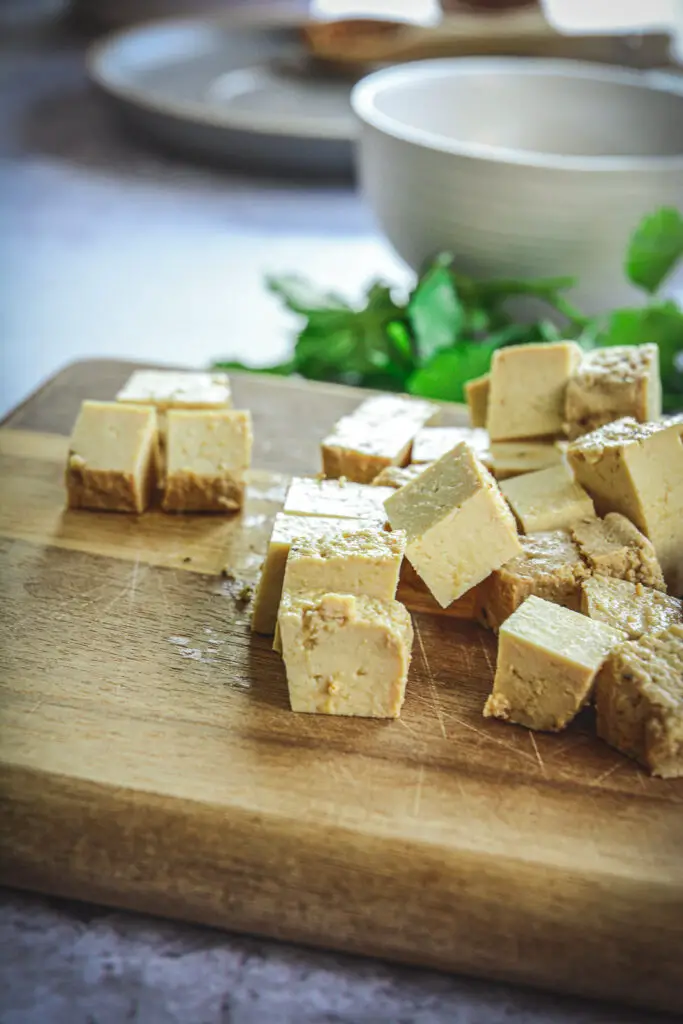 I've come to realize that possibly every mistake or seeming mistake, leads you down a path you were perhaps supposed to take. A path you couldn't have seen clearly at the time, because everything seemed wrong, frustrating, and turbulent.
Okay maybe I should not be using philosophical language when talking about accidentally buying the wrong ingredient and realizing it after I'd started dinner, but food will do that sometimes...
I came to these Zoodles with Thai Peanut Sauce and Tofu by accident, with a jar of roasted red chili paste I mistakenly purchased in place of Thai red curry paste, which is a permanent staple in my house.
This little jar sat in the fridge opened for longer than I care to admit because I didn't have eyes for it. All my energy and love was always poured into Thai red curry paste. Seriously, the stuff is incredible. But one day as I struggled to come up with something to make for lunch, I reached for the little jar, quietly sitting next to the other condiments on the refrigerator door. I opened it and was kind of taken back. The smell wasn't bad, wasn't particularly great either, but interesting...really interesting and made me want to explore.
To make a long story short, a few heaping tablespoons of peanut butter, roasted red chili paste and a few other ingredients later, I was swooning over the freshly created and very addicting Thai peanut sauce. So in other words, damn, that was a good mistake. And since then, I've been on a mission to purchase a jar nearly every time I'm at the grocery store, just in case there is a shortage.
I shamelessly end up having to make two batches of the sauce. One for me to eat with a spatula and/or finger while I'm waiting for the other parts of the recipe to cook and one for the actual recipe. You'll see what I mean when you taste it!
So let's get right to this delicious dish!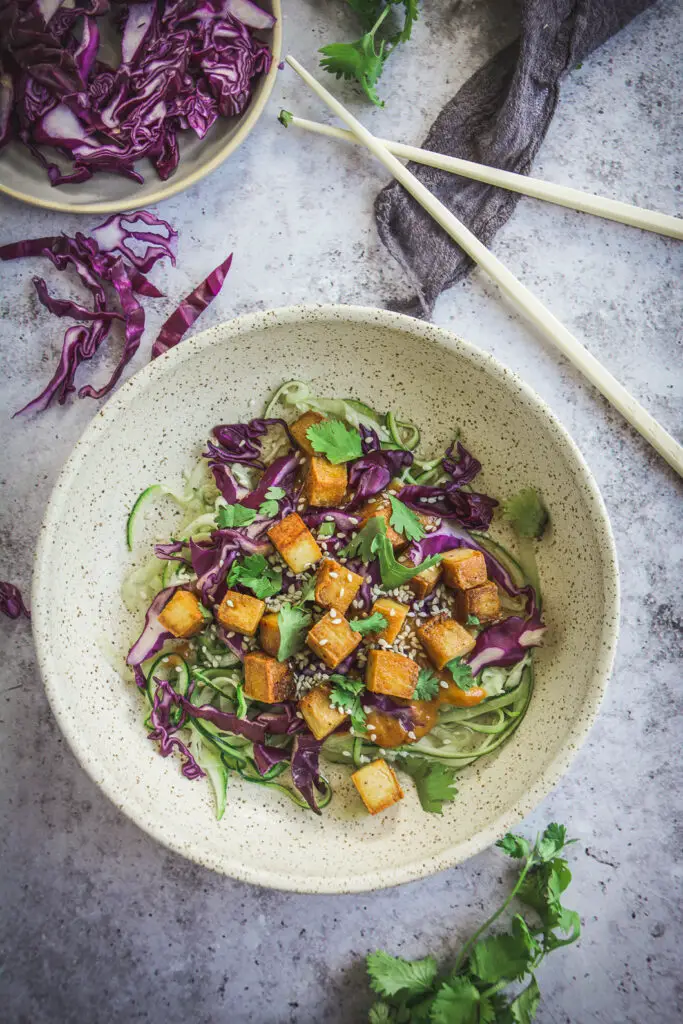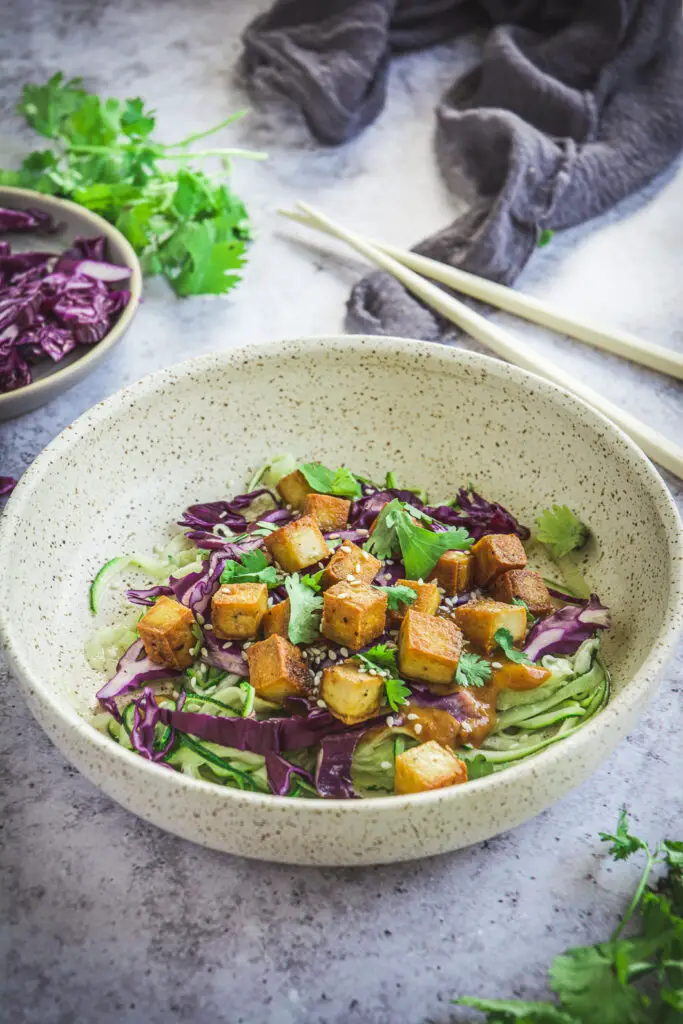 These Zoodles with Thai Peanut Sauce and Tofu are:
vegan
grain-free
gluten-free
dairy-free
ready in less 10 minutes
a perfect lunch or dinner
absolutely delicious
What do you need to make Zoodles with Thai Peanut Sauce and Tofu?
Zoodles
If you're not familiar with zoodles, no problem. Zoodles are simply spiralized zucchini that look like noodles. They're low in carbohydrates, fat and calories and generally preferred by those following a low carb diet or those who are looking to simply get in more vegetables in their diet.
Peanut Butter
All peanut butter is not created equal. I find runny very smooth peanut butter to create the perfect base for this sauce. I prefer the stir kind because it's generally smoother and is made simply out of peanuts and salt or just peanuts. Organic also tends to be of higher quality
Roasted Red Chili Paste
As I mentioned above, this paste has the power to transform a recipe. It's packed full of flavor, sweet, salty, sticky and mixes perfectly with peanut butter.
Coconut Aminos or Soy Sauce
Coconut aminos are a staple in my house so I often use it in place of soy sauce (because soy sauce contains gluten). But if you can find liquid aminos or gluten free soy sauce, that's a perfect option as well.
Toasted sesame oil
Toasted sesame oil works in this sauce as it add a nice deep richness to the sauce. You want to take it easy and not add too much as it can definitely overpower.
Tofu
I've been obsessed with Nasoya Tofu Baked brand. It is my go to tofu for this recipe as it doesn't hold a lot of water, but you can use whatever tofu you prefer as long as you get the outside nice and crips.
Additional toppings for These Zoodles with Thai Peanut Sauce and Tofu:
You can have this dish with just the zoodles, peanut sauce and tofu and it's perfectly delicious, but I like adding a little extra. So if you like some flavorful additions that will tie the whole dish together, try:
Red cabbage
Cilantro
Sesame seeds (toasted or raw)
Equipment for Zoodles with Thai Peanut Sauce and Tofu
The only equipment you need for this recipe is simply one or two medium non stick skillets and a good spiralizer. While there are many different ones available on the market, this one has been highly rated.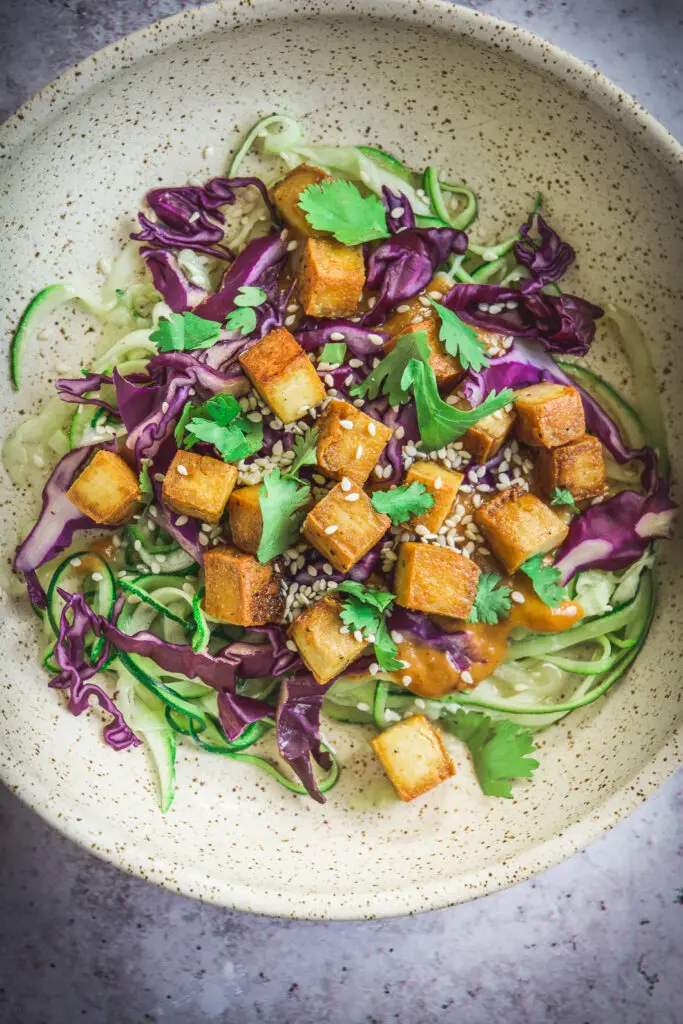 Tips and substitutions
So let's talk about tips and substitutions.
Zoodles
If zoodles are not your thing, you can substitute any noodles you like. I've tried this with rice noodles as well as chickpea spaghetti and it works beautifully! If you're using chickpea spaghetti, make sure your sauce is runny enough as the noodles to quickly absorb liquid.
Cooking the zoodles
The trick to getting perfect zoodles every time is to make sure you get rid of as much water as possible. Once you've finished spiralizing the zoodles, place them on a paper towel until you've heated your pan and added oil. Then quickly add the zoodles, and cook for only 1-2 minutes until they begin to slightly soften. Cook them on low-medium heat and don't add any salt. You want them to maintain a certain firmness.
But again, if you want to skip the zoodles all together and go for rice noodles or chickpea spaghetti, that will work wonderfully too!
Tofu
This dish calls for extra firm tofu, if you're able to find it. The brand I like that requires no draining is Nasoya Tofu Baked - they have a few different flavors but I find the ginger one to be ideal in this. If this brand is not available where you are, opt for extra firm tofu, take it out of the package and wrap it in a kitchen towel. Place it on a plate and add something weighted on top (i.e. small cutting board with something heavy) of the wrapped tofu to drain out excess water. This way your tofu will crisp nicely.
Cooking the tofu
I've tried a few different oils for the tofu. Regular sesame oil is my ideal choice but you can also use extra virgin olive oil, if that's all you have available or a light tasting oil.
Coconut Aminos
You don't have to use coconut aminos if you're not struggling with food sensitivity. You could use soy sauce, gluten-free soy sauce, or liquid aminos. I happen to like the flavor that liquid aminos adds to the sauce.
Other recipes you might like: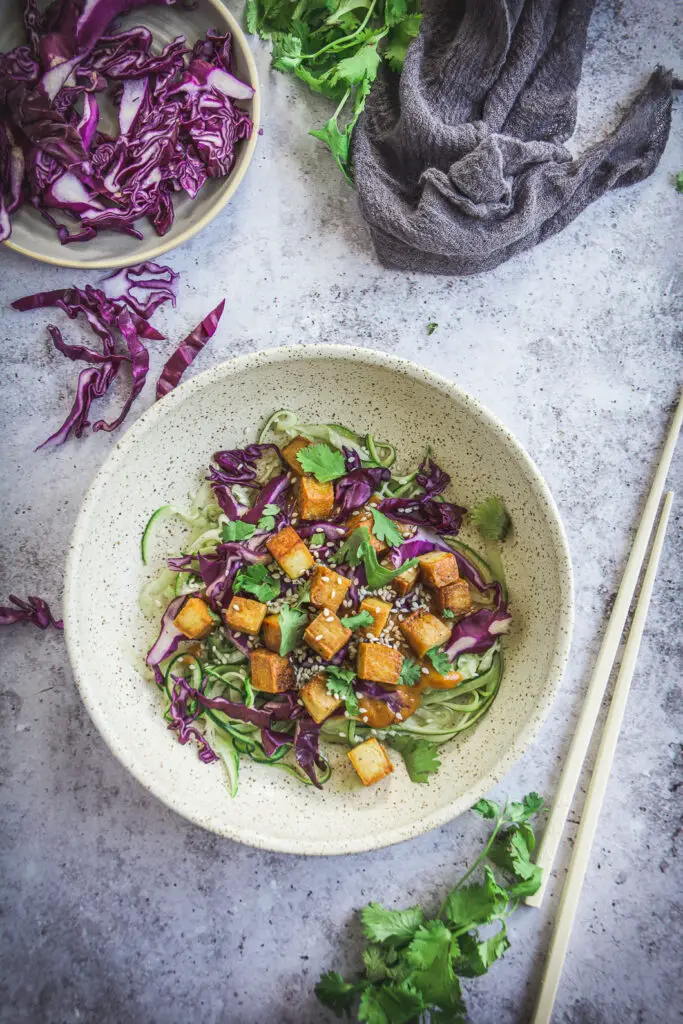 📖 Recipe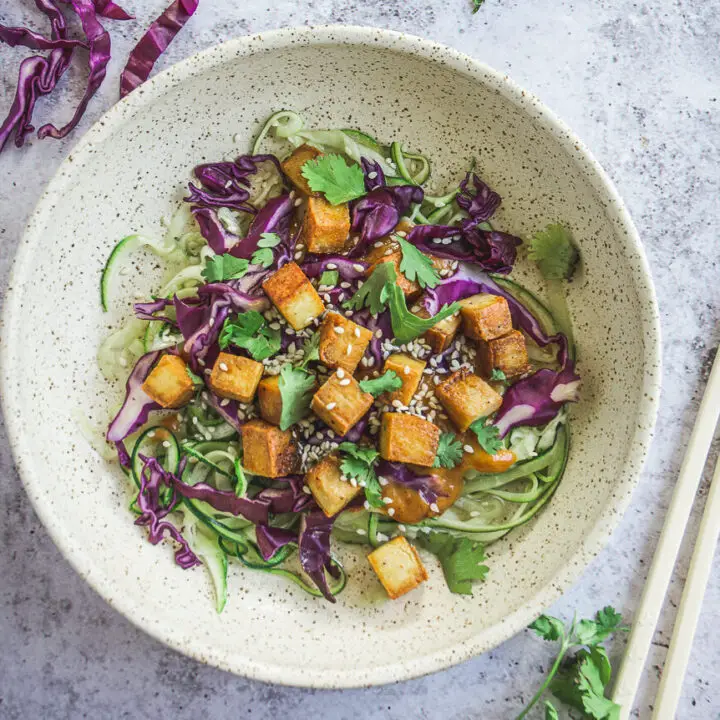 Zoodles with Thai Peanut Sauce and Tofu
If you're looking for a 10 minute dish that's full of flavor and simple to make, these zoodles with Thai peanut sauce and tofu have got you covered.
Ingredients
2 teaspoon olive, sesame or avocado oil for cooking 
2 Large zucchini, spiralized
4 tablespoon lukewarm water
1 package extra firm tofu, cubed
pinch of teaspoon salt
optional: ½ cup sliced red cabbage 
optional: 1 tablespoon chopped cilantro
optional: 1 tablespoon toasted sesame seeds
1 teaspoon olive oil
optional: ¼ teaspoon red chili flakes
Instructions
Before the start of the recipe, remove tofu from package and wrap in kitchen towel. Place on a plate and add a cutting board or another plate with something heavy on top of the tofu to draw out the excess water.
Preheat medium pan and cut tofu into ½" cubes. Add tofu to pan sprinkling with salt. Let cook undisturbed for 2 minutes per side, or until crispy.
Meanwhile, in a medium bowl mix together peanut butter, water, chili paste, (optional red chili flakes), coconut aminos, toasted sesame oil, salt and whisk until smooth and fully incorporated. Set aside.
Preheat a medium pan on medium-low heat, add olive oil or sesame oil to the pan with zoodles and heat for 2-3 minutes stirring continuously.
Once zoodles are cooked, divide between plates and add peanut sauce, tofu, and top with cabbage, cilantro, and sesame seeds.
Nutrition Information:
Yield:

4
Serving Size:

1
Amount Per Serving:
Calories:

238
Total Fat:

19g
Saturated Fat:

3g
Trans Fat:

0g
Unsaturated Fat:

14g
Cholesterol:

0mg
Sodium:

913mg
Carbohydrates:

13g
Fiber:

4g
Sugar:

6g
Protein:

8g