This grain-free Moroccan couscous is made with cauliflower rice, cherries, apricots, and crunchy almonds and is a delicious alternative to traditional couscous.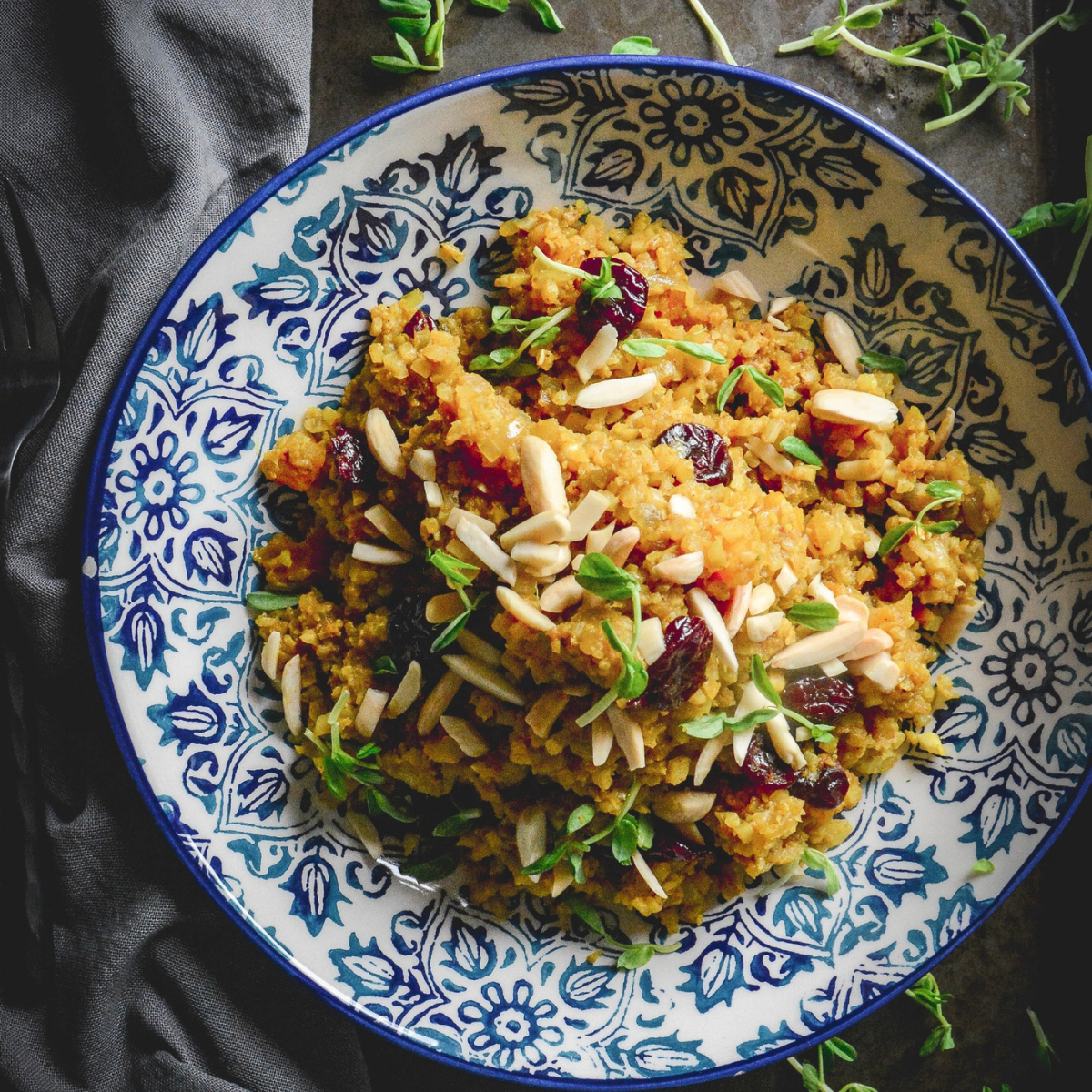 Jump To
Cauliflower rice truly is one of the best things that ever happened to the low-carb, grain-free, and paleo community. It allows for the creation of so many favorites and is an excellent substitute for couscous or rice.
This recipe is inspired by some of the favorite Moroccan recipes like Chicken Tagine with Lemon, Dates and Apricots, Chickpea Tagine, and Shrimp Tagine With Preserved Lemon Puree and can make a wonderful side dish to any of them.
Traditional cauliflower rice uses raisins but I wanted to get a little creative with dried cherries but you can feel free to substitute raisins in its place.
I love making my own cauliflower rice, which takes just a few pulses of the food processor.
Why You'll Love This Recipe
It's grain-free, gluten-free, vegan, and paleo
Can be made keto and low-carb as well
It's a great Moroccan couscous substitute
What Is Couscous?
Couscous or kusksi or kseksu as it is sometimes referred to is a North American dish that is made from crushed durum wheat semolina. But since it is made from wheat it is not suitable for gluten-free diets. This is why finely chopped cauliflower is such a substitute in this recipe creating a delicious paleo couscous.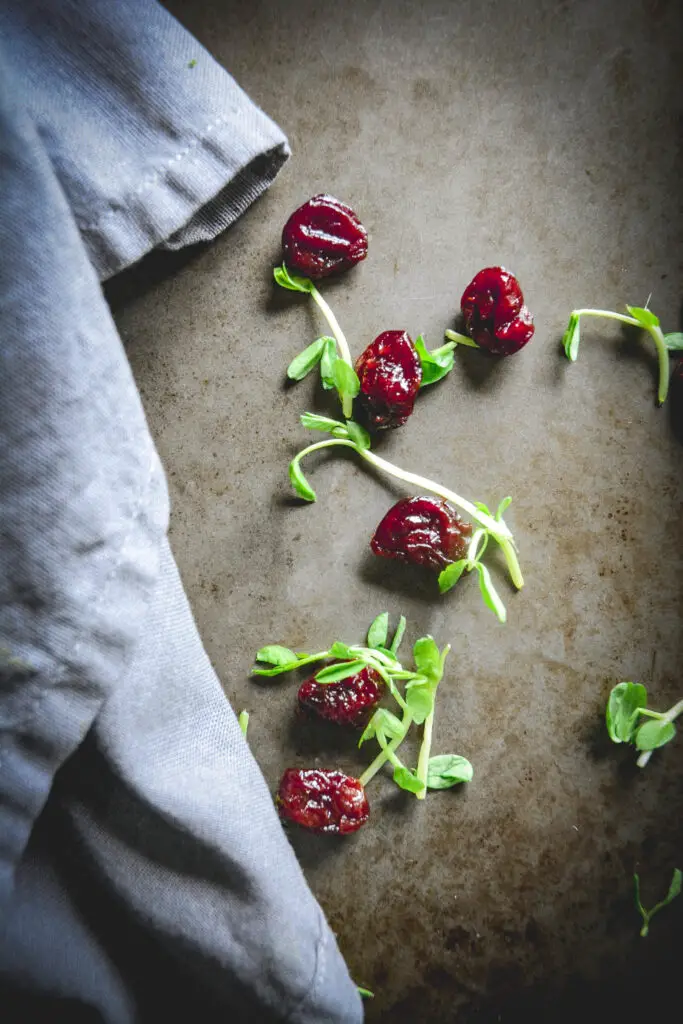 Ingredients For Your Shopping List
Cauliflower rice: You can make your own, or simply buy frozen or fresh cauliflower rice.
Low-sodium broth: Both chicken broth (or chicken bone broth), and vegetable broth will work in this recipe. If you're gluten-free vegan, then stick with vegetable broth.
Sweet onion: Alternatively you could use red onion or yellow onion also.
Extra virgin olive oil: Use good, fruity olive oil for this recipe as it will make a difference.
Spices: Ground cumin, ground turmeric, ground ginger, ground coriander, and ground cinnamon will add all the flavor to this grain-free Moroccan couscous.
Toppings: Dried cherries (or raisins), dried apricots, and slivered almonds will add sweetness and crunch to the couscous.
How To Make It
Heat a large frying pan over medium heat. Add the olive oil and onion, along with salt.
Add the cauliflower rice and spices, broth, cherries, and apricots, and cook until the liquid has been absorbed.

For full recipe see the recipe card.
Top Tips + FAQs
Can You Use Raisins Instead of Cherries?
Absolutely. Regular raisins work well as well as golden raisins. If you don't have them, finely chopped dates would also work, or even dried figs.
Sweetened Or Unsweetened Dried Apricots?
If you can find them, look for unsweetened apricots as they add a lot of unnecessary sugar to the recipe.
Slivered Or Sliced Almonds?
That's entirely up to you. Either will work in this recipe and a substitute for almonds could really be any nut you'd like. Chopped cashews, pistachios, pecans or walnuts would also work as long as it gives it that nice crunch.
📖 Recipe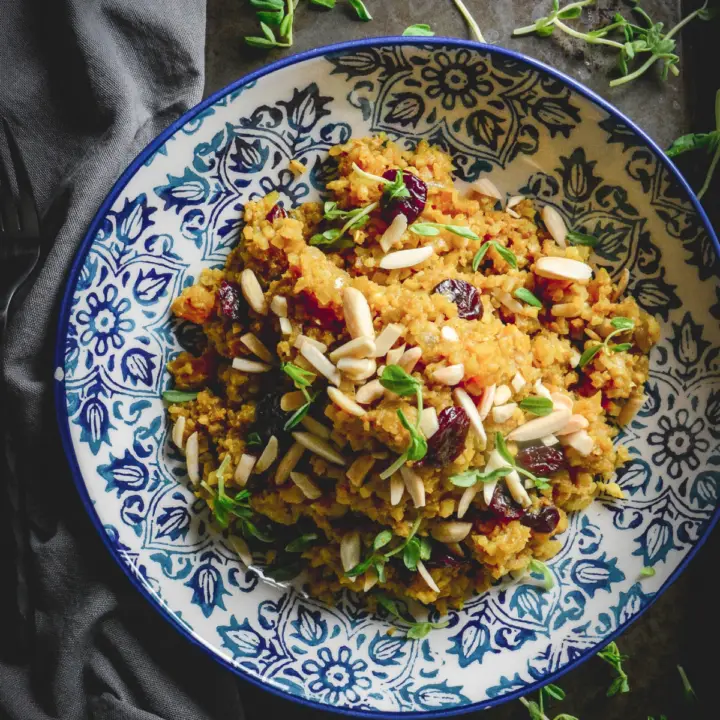 Grain Free Moroccan Couscous With Cherries and Apricots
This grain-free Moroccan couscous with cherries and apricots is a delicious alternative to traditional couscous made simply with cauliflower rice.
Ingredients
2 cups cauliflower rice
½ cup low sodium broth of your choice
½ sweet onion finely chopped
1 tablespoon extra virgin olive oil
½ teaspoon ground cumin
½ teaspoon ground turmeric
½ teaspoon ground cinnamon
¼ teaspoon ground coriander
½ teaspoon ground ginger
3 tablespoons chopped dried apricots
2 tablespoons dried cherries (alternatively use golden raisins or regular)
2 tablespoons sliced almonds
½ teaspoon salt
¼ teaspoon ground pepper
Instructions
Heat a large frying pan over medium heat. Add olive oil onion and a pinch of salt and cook for 5 minutes until translucent.
Add the riced cauliflower and cook for another 5 minutes, stirring regularly.
Add the spices, salt, pepper, apricots, cherries, and broth, and cook for another 5 minutes until the liquid has been absorbed.
Top the slivered almonds and serve right away.
Notes
1. You can use fresh or frozen cauliflower
2. You can substitute the dried cherries for raisins or golden raisins. Chopped dates would also work in this recipe.