Here are 30 delicious and simple gluten and dairy-free muffin recipes, perfect for breakfast or a snack! You can find vegan, keto, paleo, and low-carb recipes as well.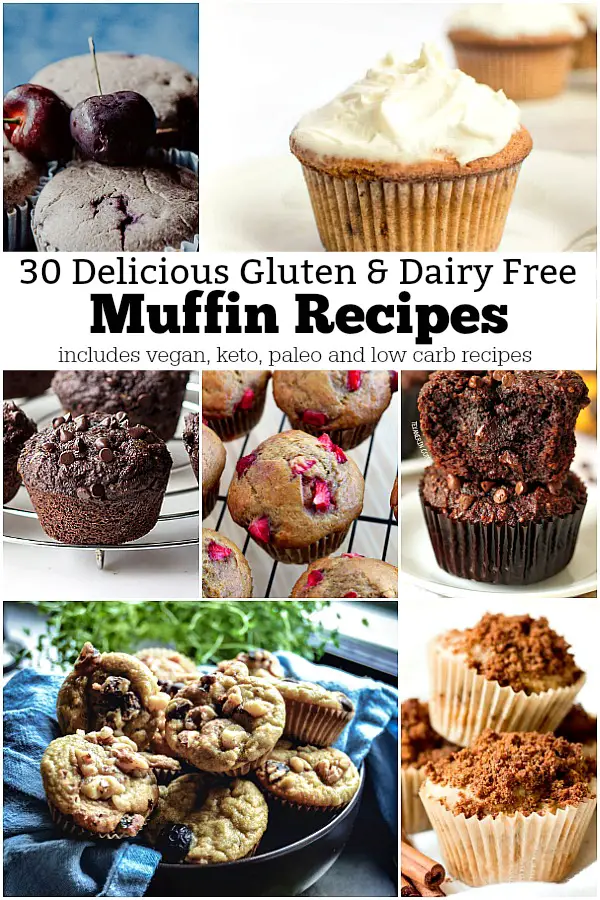 Times are strange. Becoming stranger by the day. We're experiencing a new normal that's in a continuous state of flux. We've had to adjust the way we work, interact, grocery shop and pretty much every other aspect of societal living.
Most of us don't know how to maneuver all the information that's coming at us. We're experiencing fear, uncertainty, a mourning of our everyday lives and so many other emotions that constantly shift and change. It's a strange feeling that we can't really escape. We can't exactly up and leave because times are hard. Everyone on this planet, to one extent or another is going through the exact same thing. So that's the only comfort we have. Alone but together. Strange, isn't it? Sometimes I wonder what history will say about these times.
But despite all the uncertainty we're experiencing, I feel there are some positives. We're all forced to appreciate living a simpler, less frazzled life and focus on the things that truly matter. Appreciate the food we have, waste less, use fewer resources and oddly enough, give the earth a moment to breathe. Yes, it's at the expense of all our comforts, but I'm trying to at least find some optimism.
One grounding outlet for me is making and sharing food. And because like the rest of us, I'm staying home until I'm told otherwise, I try to make recipes that not only feed my forever hungry children but also last a little while. Enter muffins. They make a perfect snack or breakfast. So if you're following a gluten and dairy-free lifestyle, I give you 30 Gluten and Dairy Free Muffin Recipes. These muffins are delicious, easy to make and may offer a perfectly fine distraction from the chaos around us.
Let's jump right into it then and talk about making gluten and dairy-free muffins.
These gluten and dairy-free muffins recipes are:
Gluten-free
Dairy-free
Easy to make
Allergy-friendly
Celiac friendly
Kid-friendly
Best flour for gluten and dairy-free muffins
Baking gluten and dairy-free are quite different than standard baking. It takes a little bit to get used to the measurements but you'll be surprised just how delicious these alternative flours are for baking. My favorites are coconut and almond but here is a list you can choose from!
Coconut Flour
Almond Flour
Oat Flour (if you're not grain-free)
Rice Flour (if you're not grain-free)
Sorghum Flour
Ready-made gluten-free baking flour (if you're grain-free, pay attention to the label)
Best dairy-free alternatives for gluten and dairy-free muffins
And here is a list of dairy alternatives you can use that provide the same richness you would get from milk, butter or cream.
Nut milk (almond, coconut, cashew)
Oat milk
Soy milk
Hemp milk
Apple sauce
Shortening
Mashed sweet potatoes
Mashed butternut squash
Coconut cream
Coconut butter
Coconut oil
So without further ado, here is a list of 30 wonderful gluten and dairy-free muffins.
30 Gluten and Dairy-Free Muffin Recipes
Here is a wonderful list of 30 gluten and dairy-free muffin recipes your whole family will love.