Enjoy a mug of hot chocolate while doing something good for yourself. This keto hot chocolate with maca and cinnamon is low carb, tasty, full of antioxidants, boosts energy levels, and improves mood.
Jump To
This is the time of year when I trade cold salads for warm ones, light food for comfort food, and smoothies for warm and soothing drinks. Don't get me wrong, it's always a good time to have a smoothie, but lately, I find myself heavily gravitating towards warm and comforting drinks.
I think the body intuitively knows what it wants. Balance. Yin and yang, night and day, hot and cold…you get the idea.
Hot chocolate takes me back to being a child, as so many things do. The distinct memory of my mother warming up milk on the stove comes to mind. Frigid temperatures, short days. She would have me gently stir the pot to prevent the skin from forming on the surface while preparing the sugar and cacao. Without fail, I would lick my finger and dip it in the sugar bowl while she poured the hot chocolate in a mug.
Hot chocolate in hand, I'd slump on the couch in our little living room and daydream. A favorite pastime of mine.
The hot chocolate tradition continues in my family and little faces light up at the mention of it. Only these days, my children like to sneak marshmallows and whipped cream instead of sugar.
So, I've decided to go for a more grown-up version for the adults, trading the whipped cream and marshmallows for keto maca, cardamom, cinnamon, coconut oil, and keto sweetener. The combination makes for an indulgent yet healthy and beneficial hot chocolate you're going to want to have all season long.
So let's talk a little bit about this healthy hot chocolate, because not only is it delicious, but offers a wide array of benefits.
Keto Hot Chocolate With Maca and Cinnamon
Quick to make
Makes for a perfect snack
Is hormone balancing
warming
gut healthy
antioxidant-rich
stress relieving
What is Maca?
Maca is a Peruvian root grown in the Andes mountains. It has a deep, earthy and nutty taste that pairs extremely well with chocolate.
Health Benefits of Maca
Maca offers a wide array of health benefits. Among them are:
Increased energy and endurance
Improved mood
Hormone balancing in both men and women
Increased fertility
Improved memory and focus
Reduced symptoms of menopause
Raw Cacao vs. Cocoa Powder
Sure, you could use cocoa powder for this recipe but you would be missing out on the real benefits of this superfood. Raw cacao can:
Provide a high does of antioxidants
Can improve mood
Can balance hormones
Is heart-healthy
Has been shown to aid in weight loss
While your typical all-purpose cocoa powder has been highly processed and often contains additives. So when possible stick to real cacao.
How To Make This Keto Hot Chocolate?
What you'll need for this warming drink is raw cacao, the plant milk of your choice, maca powder, ground cinnamon, ground cardamom, coconut oil, and an optional keto sweetener of your choice. Add all ingredients to a pot and heat on medium-low for 5 minutes. Add the mixture to a blender and blend until frothy.
Is A Blender Required?
I highly recommend it. You can't get the frothy texture any other way besides using a blender. You could certainly mix all ingredients by hand but I would leave out the coconut oil if you don't have a blender available.
Variations For Keto Hot Chocolate With Maca And Cinnamon
If you don't have cardamom, no stress, you can easily leave it out. The same goes for maca, though I highly recommend it for all the above-mentioned reasons! If you don't like the taste of coconut, use just a little bit of coconut oil just for the froth. You won't be able to taste much of the coconut anyway as this drink is very chocolate forward. Again, if you don't have raw cacao, you can still enjoy this with cocoa powder.
And if you want to take this drink to another level, you can add an adaptogen to it. My favorite one is Ashwagandha powder. I hope you enjoy this adult very of hot chocolate as much as I do!
More Warm Drinks You May Like: 
📖 Recipe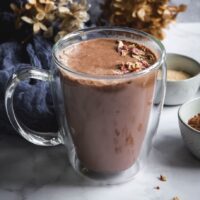 Keto Hot Chocolate with Maca and Cinnamon
Enjoy a mug of hot chocolate while doing something good for yourself. This keto hot chocolate with maca and cinnamon is low-carb, full of antioxidants, boosts energy levels, and improves mood.
Ingredients
1.5 cups almond, cashew or coconut milk
1 tablespoon raw cacao
1 teaspoon maca powder
¼ teaspoon ground cinnamon
⅛ teaspoon ground cardamom
1 teaspoon coconut oil
keto sweetener of your choice (optional)
¼ teaspoon ashwagandha powder (optional)
Instructions
1. Add all ingredients to small sauce pan.


2. Heat for 5 minutes on medium heat.


3. Add mixture to blender and blend for 20 seconds.


4. Serve right away with a sprinkle of cinnamon if you wish.