Cardamom moon milk is a delightfully fragrant warm milk you can drink anytime but is particularly beneficial before bed. Cardamom, ashwagandha, butterfly pea flower powder, coconut oil, and honey, added to the milk of your choice, make this drink delightful. It is the perfect way to ease into sleep.
Jump To
I struggle with anxiety often, depression too. I've noticed them to be particularly prevalent about 7-10 days before my period starts. Suddenly I don't sleep well, my energy tanks, my moods are that of a 3-year-old toddler's, and my tolerance level for even the most mundane things, significantly lessened.
I find myself enjoying life fully about 2.5 weeks out of the month. Anyone else here with me? Men, if you're reading this, you may not be experiencing these symptoms but possibly witnessed them.
So I've turned to some adaptogenic herbs, particularly ashwagandha for some support. Thousands of years of use in Ayurvedic medicine and double-blind placebo-controlled studies in pub med convinced me that maybe there's something there I need to pay attention to.
Thus, in steps ashwagandha. But frankly, ashwagandha on its own does not impress my taste buds. It's decent in smoothies, but an ice-cold drink late at night doesn't do it. Now warm drinks are a different story. You see, I have a pretty serious obsession with decaf Lady Grey tea, so after I've indulged in my obligatory glass of wine (or two) with dinner, I usually like to retreat to a cozy cup of tea.
But recently I've also brought in moon milk to join the warm drink party. So whether it's during the day or in the evenings, I've regularly been enjoying a warm cup of cardamom moon milk.
There's something ethereal and enchanting about moon milk. From the moment I first heard of moon milk, I knew I wanted to create a recipe for myself. I've had my fair share of spiced milk in recent years but I have to say, this one is rivaling my all-time favorites - golden milk.
Though truthfully there's a place for both of them because this one has a distinct and different taste; all because of the cardamom, ashwagandha, and butterfly pea flower powder.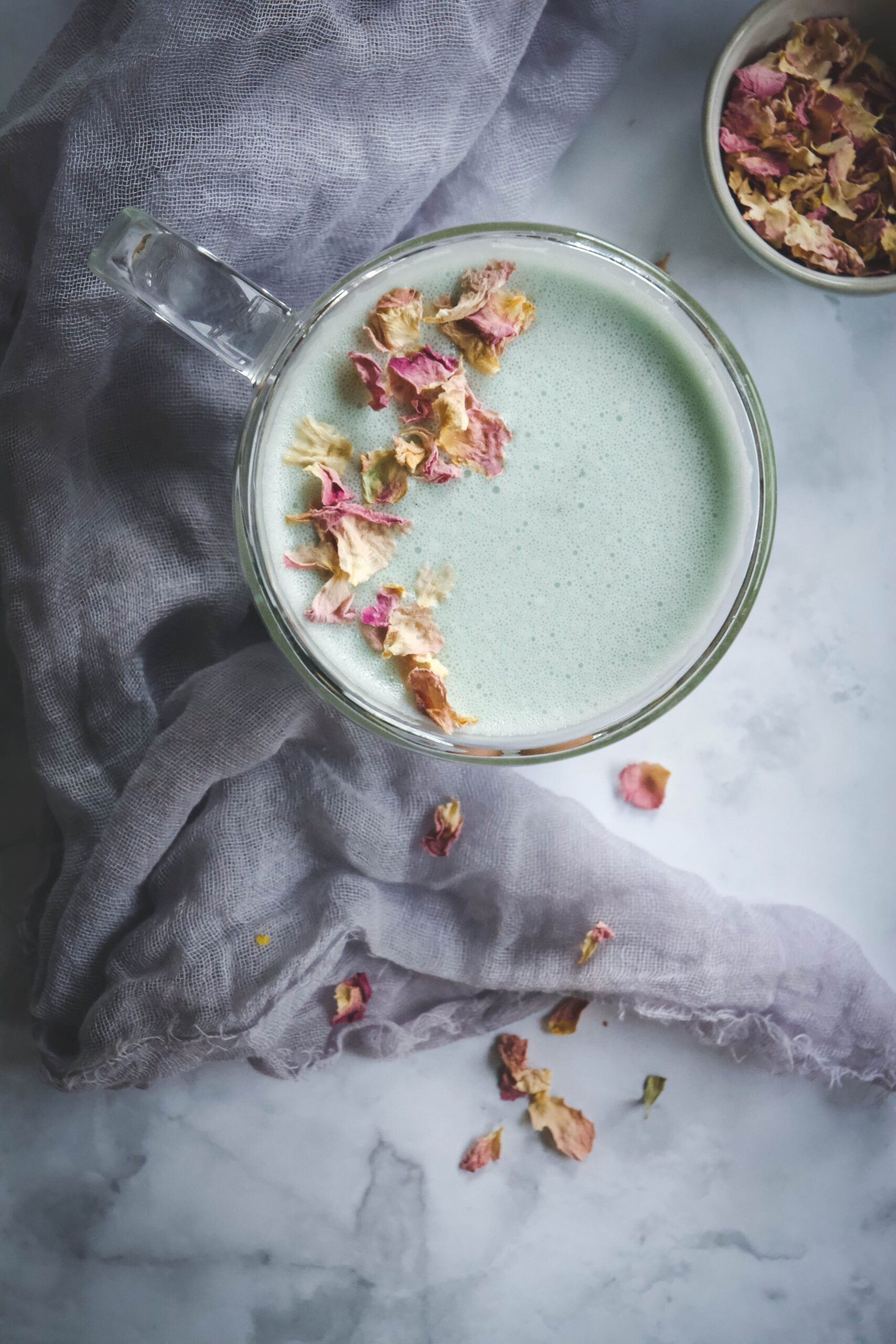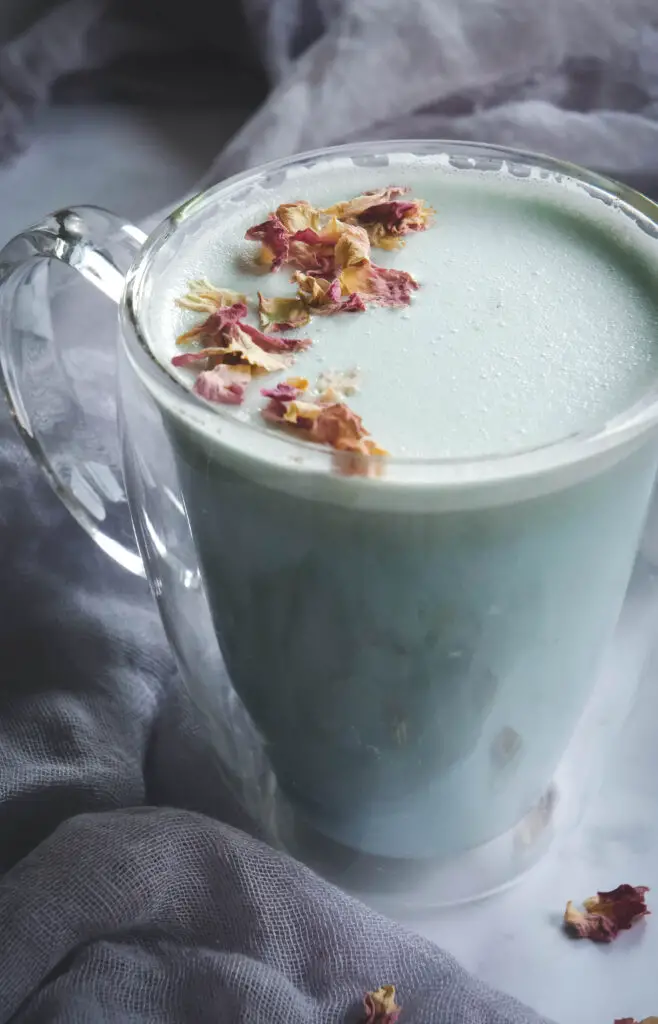 So what is moon milk anyway?
Moon milk is a whimsical term used for what is known in Ayurvedic medicine simply as warm milk with spices and honey. And it is most commonly consumed before bedtime to aid with sleep.
Moon milk can be made with any milk you'd like and basically any combination of spices. Most of the time, moon milk also tends to have a beautiful color, all because of the spices and adaptogenic herbs.
What is in cardamom moon milk?
One of my all-time favorite spices has got to be cardamom. I've realized just how many recipes I've made that contain cardamom and this made me quite happy because it's truly one of the most exotic and fragrant spices. It is also rich in antioxidants and helps improve digestive symptoms.
Aside from cardamom, I've already mentioned ashwagandha, which has naturally calming properties, reduces cortisol, helps to regulate hormones, and mitigates inflammation.
Butterfly pea flower powder (Clitoria Ternatea) has the dreamiest color blue and works sublimely with cardamom and ashwagandha. It is said that butterfly pea flower helps to reduce anxiety, helps lower stress levels, aids with sleep, provides a good dose of antioxidants, and acts as a natural aphrodisiac.
I also like using coconut oil as it adds a rich texture and also helps to promote sleep along with raw honey. And as far as milk, you could use almond, coconut, or cashew milk as the base. I've tried it with all 3 and they all taste delightful!
One extra step I take is to add the mixture to a blender and give it an extra frothy consistency. Think of your favorite latte but in cardamom moon milk form.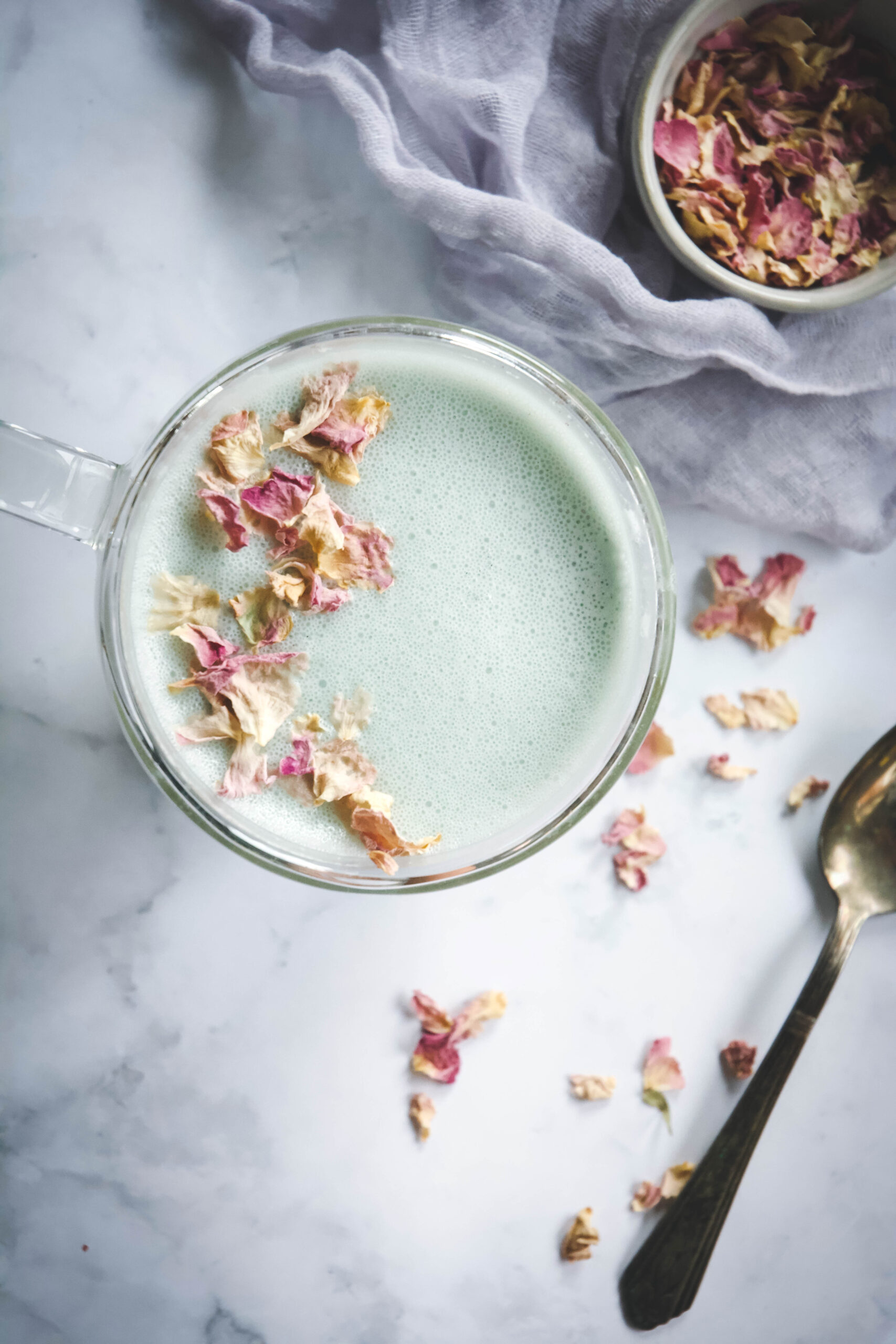 Why drink cardamom milk?
Sleep and hormones. That's pretty much all I need and I'm sold! As mentioned before, cardamom moon milk is especially beneficial if you're struggling with hormone imbalance and/or sleep. It's a relaxing way to end the evening and provide your body with a dose of antioxidants.
Is cardamom moon milk only for women?
Absolutely not! Ashwagandha is an adaptogenic herb with no side effects and anyone can take it safely. The only thing I would advise against is taking ashwagandha and butterfly flower powder without first speaking to your doctor if you're pregnant or nursing.
Tips for making great cardamom milk
Everything in the food and drink world has its little quirks, things that make it mediocre or great. So let's get to some tips that can make this milk frothy and delicious!
About cardamom
Cardamom can go from wonderful to way overpowering easily so be sure to measure out exactly ¼ teaspoon and if you find it too strong, you can use a little less.
Blend your cardamom moon milk
The thing with moon milk is you really want to have a blender handy. A small one works just fine. I use my NutriBullet, which has been serving me well for years, nearly every day. When you're adding ashwagandha, butterfly pea flower powder, and cardamom directly to the pot, you're not going to get them to mix very well with just a spoon so I opt for blending the milk once it has warmed through.
If you don't have a blender, that's no problem, you could take a large jar and add all the moon milk ingredients (aside from honey) to it, shake it up really well, then heat it.
But for the frothiest cardamom moon milk, a blender will do the trick.
To sweeten or not sweeten moon milk
This is your call. I find that I like it both ways and have actually been skipping out on the honey quite frequently, especially if you're looking to keep it low carb. The coconut oil provides a nutty natural sweetness that you may not need to add any honey at all, but this is something you can experiment with.
Also, if you do choose to sweeten your cardamom milk with honey, add it at the very end, right before you're about to blend.
Do you have to add coconut oil to your moon milk?
That's a hard one. Of course, you do not, but if you want that froth and rich taste, this can really only come from adding the coconut oil. But if you're not a fan of coconut oil, feel free to make it without. It's still going to be delicious!
So whichever way you choose to make your cardamom moon milk, I hope you will enjoy it as much as I do! I'd love to hear your thoughts…
Additional drinks you may like: 
📖 Recipe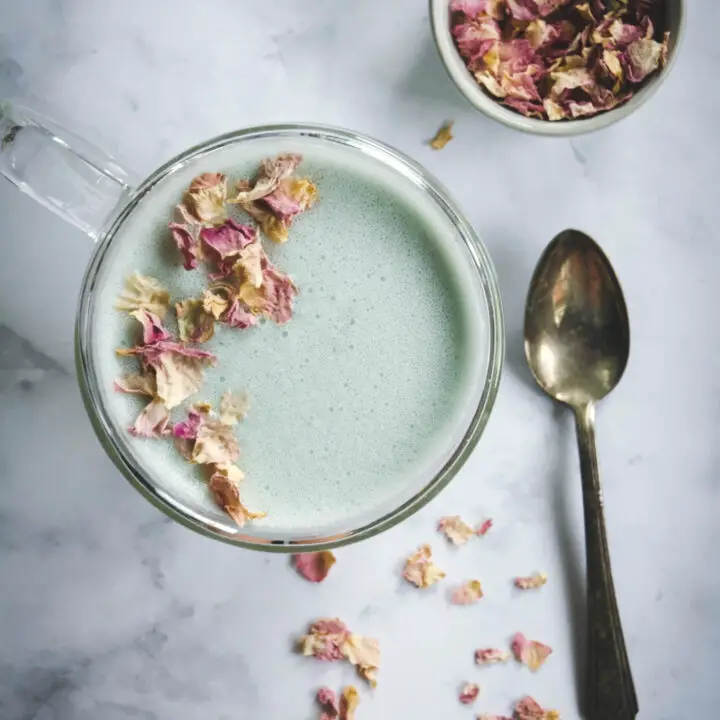 Cardamom Moon Milk
Cardamom moon milk is a delightfully fragrant warm milk you can drink anytime but is particularly beneficial before bed. Cardamom, ashwagandha, butterfly pea flower powder, coconut oil, and honey, added to the milk of your choice, make this drink delightful.
Ingredients
1.5 cups vanilla coconut, almond or cashew milk
⅛-1/4 teaspoon cardamom
¼ teaspoon ashwagandha
⅛-1/4 teaspoon butterfly pea flower powder (or more if you'd like)
1 teaspoon coconut oil
1 teaspoon honey (optional)
* vanilla-flavored almond milk tastes best or add ⅛ teaspoon vanilla extract
Instructions
Combine all ingredients aside from honey in saucepan. Simmer for 5 minutes. Pour in blender carefully and add honey if you'd like.
Blend for 20 seconds and serve right away.