This post is a paid partnership with Naturacentric. All opinions expressed are my own.
Grilled Corn with Spicy Habanero Honey Mayo is a quick summertime side that's perfect for any cook-out. And can be made on a grill or grill pan.
Jump To
I can bet that if I set a piece of corn and a piece of cake in front of my children, at least one of them would go for the corn first and the other may contemplate the choices given. Corn in this house is revered. My children's day is made by simply buying a few ears of corn. Okay not really, the excitement lasts from the time they see the corn to when the time they turn around and move on to something else. But still, corn just does that to them. And I can relate...
To me, corn tastes like summer, like roaming through cornfields with my cousins in my younger years, like late sunsets and easy days. So to celebrate summer and my love of corn, I decided to take a childhood favorite and give it a bit of an adult makeover. Now if your kids are down with spice, that's fantastic, but if not, I recommend you keep this for the adult tastebuds only.
For this recipe, I've partnered once more with the amazing people over at Nautracentic. This time using an intensely flavorful, spicy habanero-infused honey to bring you a savory recipe of grilled corn with spicy habanero honey mayo. It's one of those explode-in-your-mouth moments when you take the first bite. A little char from the grill, the crunch from the corn, and the sweet, salty, and spicy mayo. The combination is simply mouthwatering.
So let's get right to this super simple recipe that's become a staple in my house!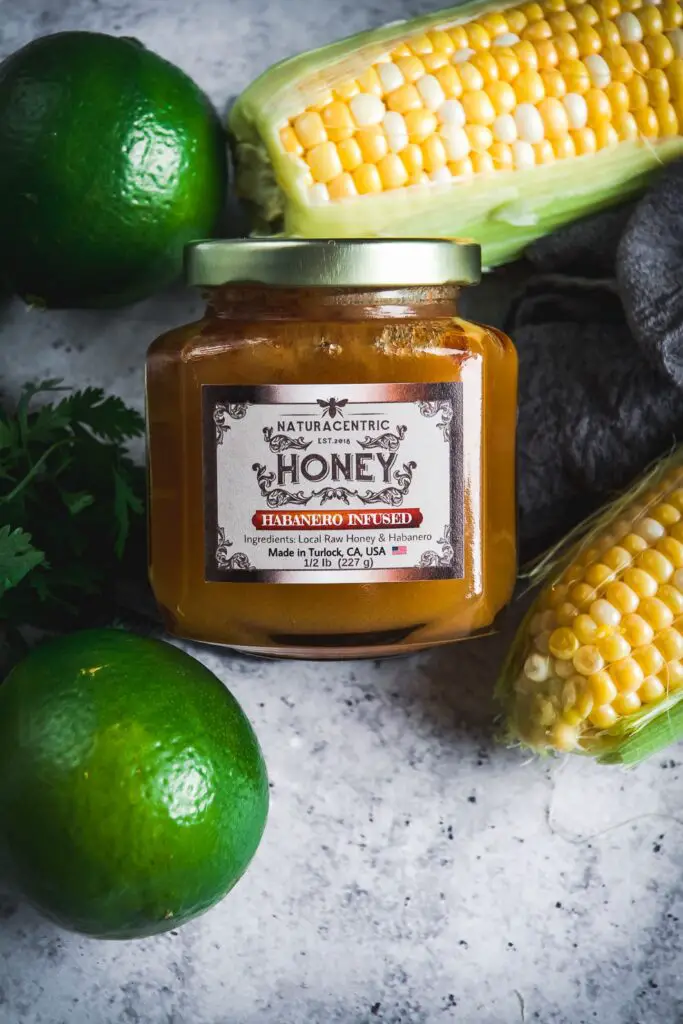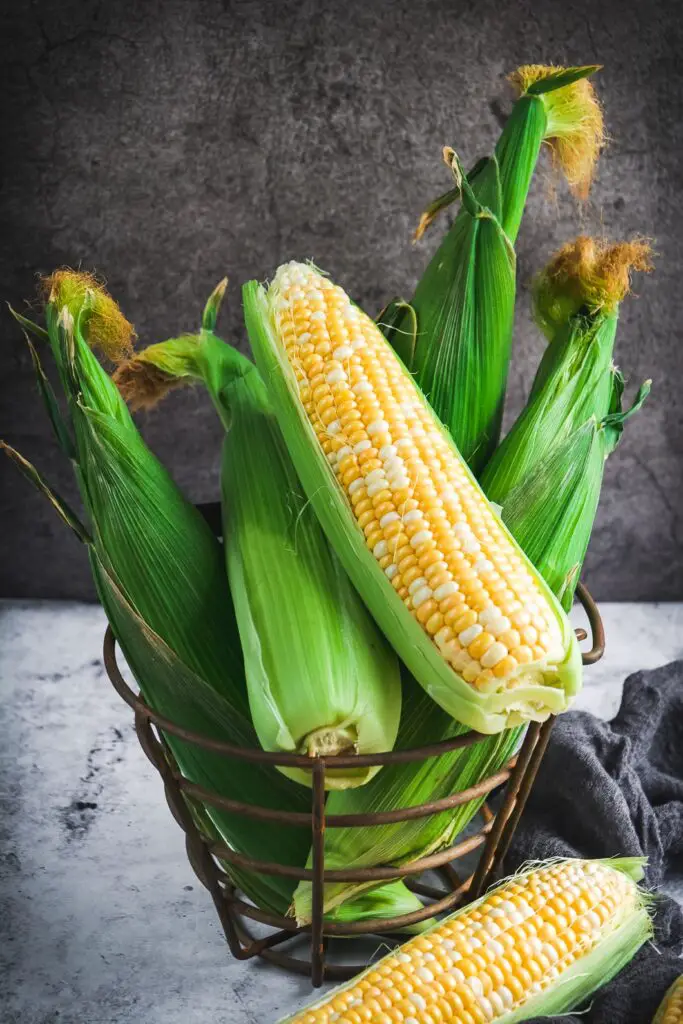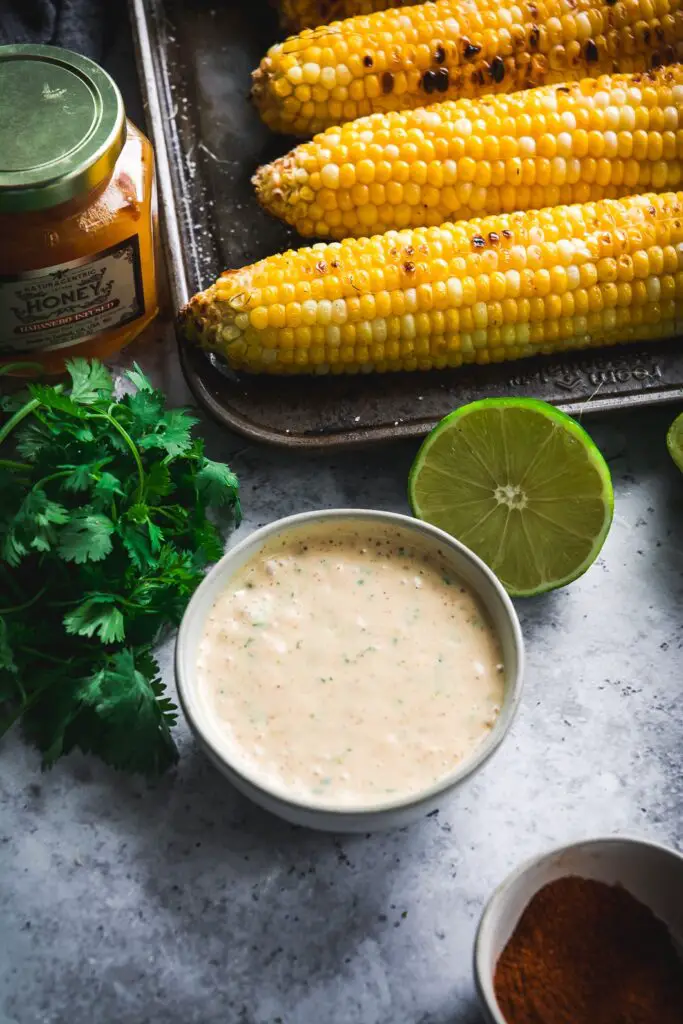 Grilled Corn with Spicy Habanero Honey Mayo is:
vegan
gluten-free
dairy-free
super simple to make
perfect for cookouts
an easy summer side dish
What do you need to make Spicy Grilled Corn with Spicy Habanero Honey Mayo?
Habanero Infused Honey
If you think honey is for sweet treats only, think again. This honey is versatile and perfect for sweet and savory dishes alike. And it's what gives this habanero mayo its kick.
Good Mayo
I recommend homemade mayo always but if you don't want to make your own, just look for a quality brand. And if you're following a vegan lifestyle or paleo, those are of course options on the shelves too.
Chili powder
For an authentic Mexican street corn flare, I've added chili powder for intensity, depth and, flavor. It's essential in this sauce.
Lime zest and juice
Fresh lime and zest give the sauce a tang and the acidity balances out the sweetness nicely. If you're looking to replace it with lemon, that simply won't give you the flavor lime can.
Corn on the cob
Fresh corn can be made on the grill or grill pan, but in my opinion, it always tastes better on a grill if one is available.
Can you refrigerate leftover mayo?
Definitely. If you don't use all of it, you can store leftover habanero honey mayo in the refrigerator for several weeks. When you're ready to use it again, just give it a good stir.
Tips and suggestions
Make sure you season your corn with olive oil and salt prior to grilling to infuse it with flavor
If you like your mayo spicy, feel free to use extra honey to give it some extra heat
Use a grill pan if you don't have a grill available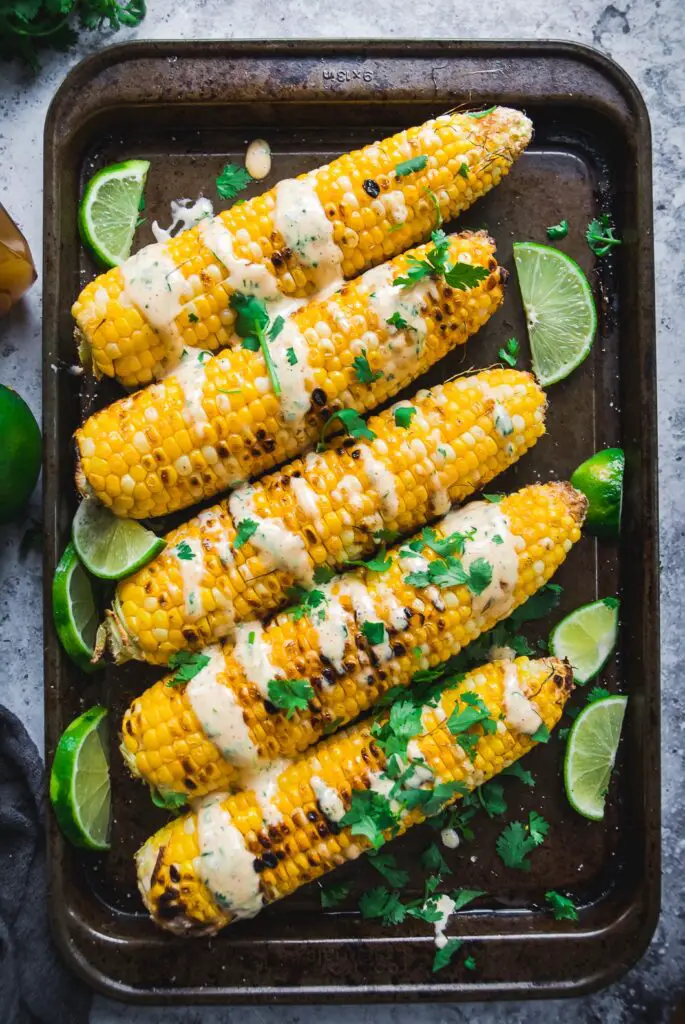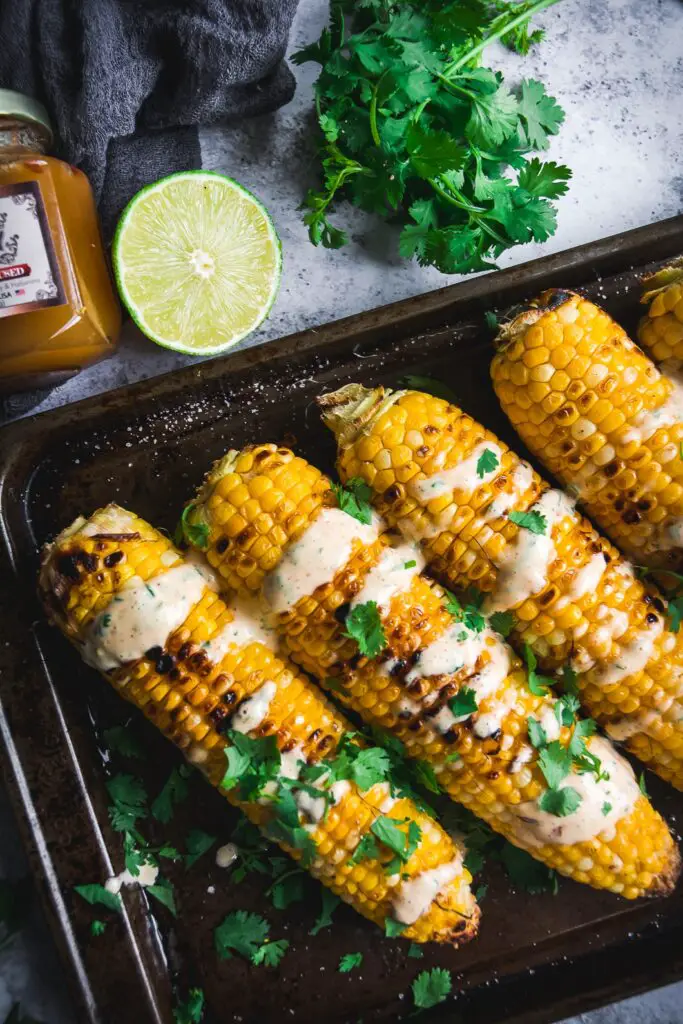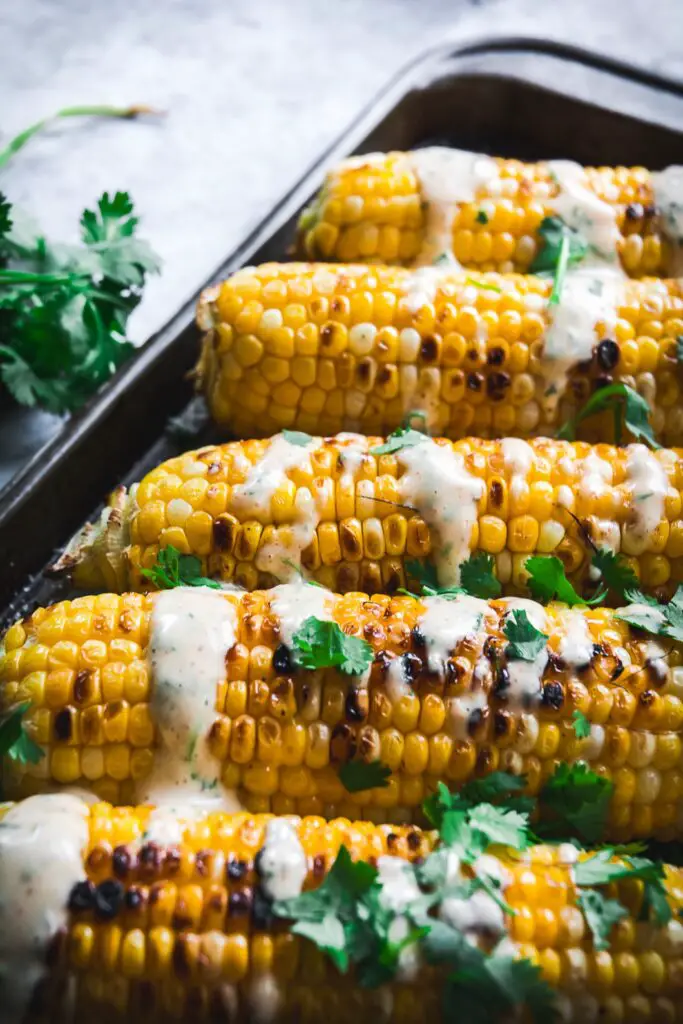 More recipes you may enjoy
📖 Recipe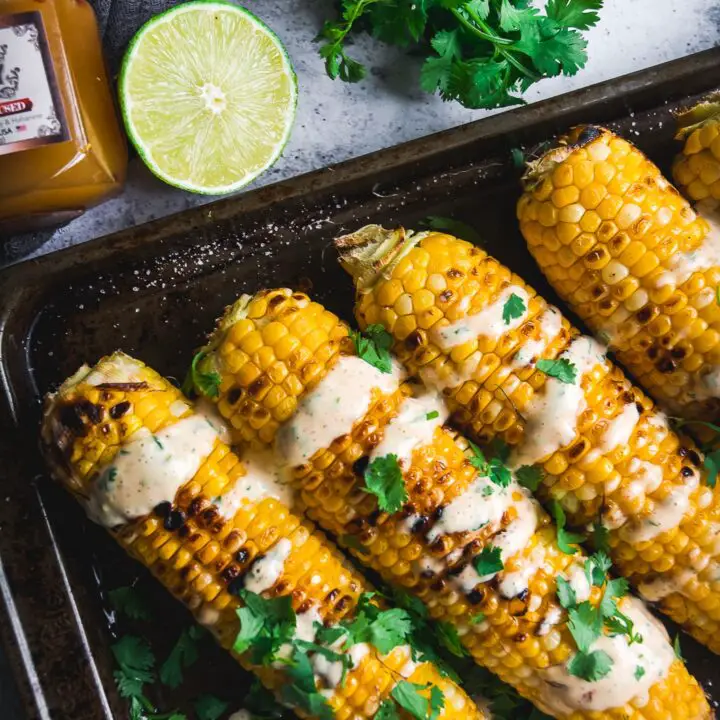 Grilled Corn with Spicy Habanero Honey Mayo
Grilled Corn with Spicy Habanero Honey Mayo is a quick summertime side that's perfect for any cook-out. It can be made on a grill or grill pan.
Ingredients
8 ears of corn (or however many you choose to make)
1-2 tablespoon olive oil for brushing corn
½ cup mayo
½ teaspoon chili powder
zest of one lime
juice of ½ lime
¼ teaspoon salt + extra
2 tablespoon cilantro, chopped
Instructions
Preheat grill to medium.
Brush or rub shucked corn with olive oil and sprinkle with a little salt to season.
Grill corn for 20-25 minutes, turning it every 5 minutes, until slightly charred.
Meanwhile combine mayo, habanero honey, chili powder, cilantro, honey, lime zest, juice, and ¼ teaspoon salt and add to a blender. You could mix it all by hand, but I find a blender to do the job better.
Finish by drizzling spicy habanero mayo over grilled corn. And if you wish, additional cilantro and lime.