This naturally energizing detoxifying super green parsley and cilantro smoothie is full of nutrients, vitamins, and antioxidants.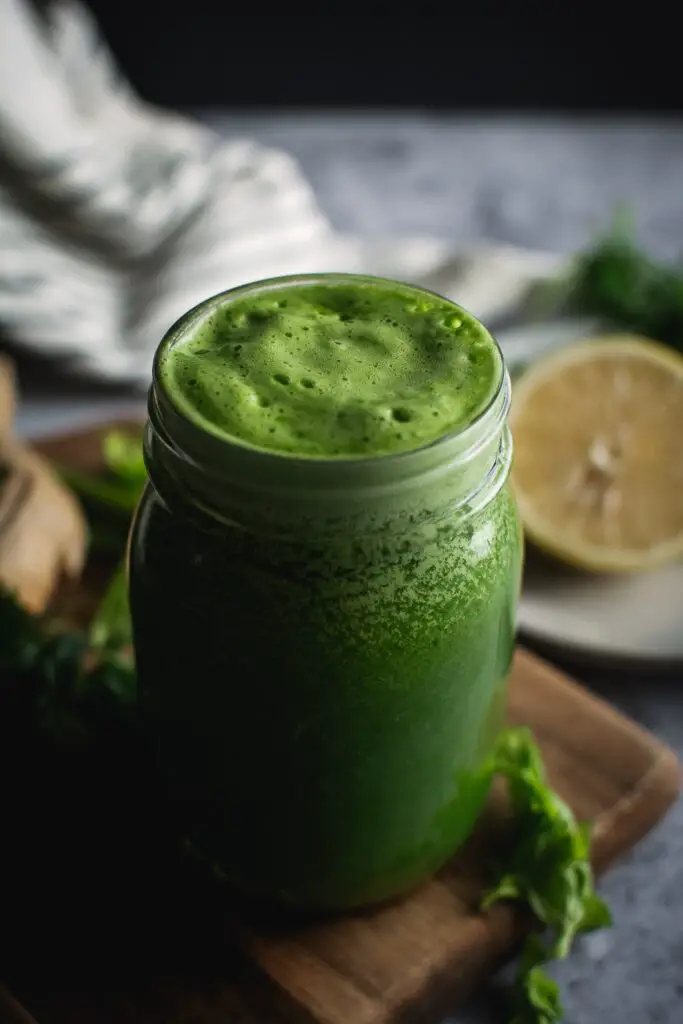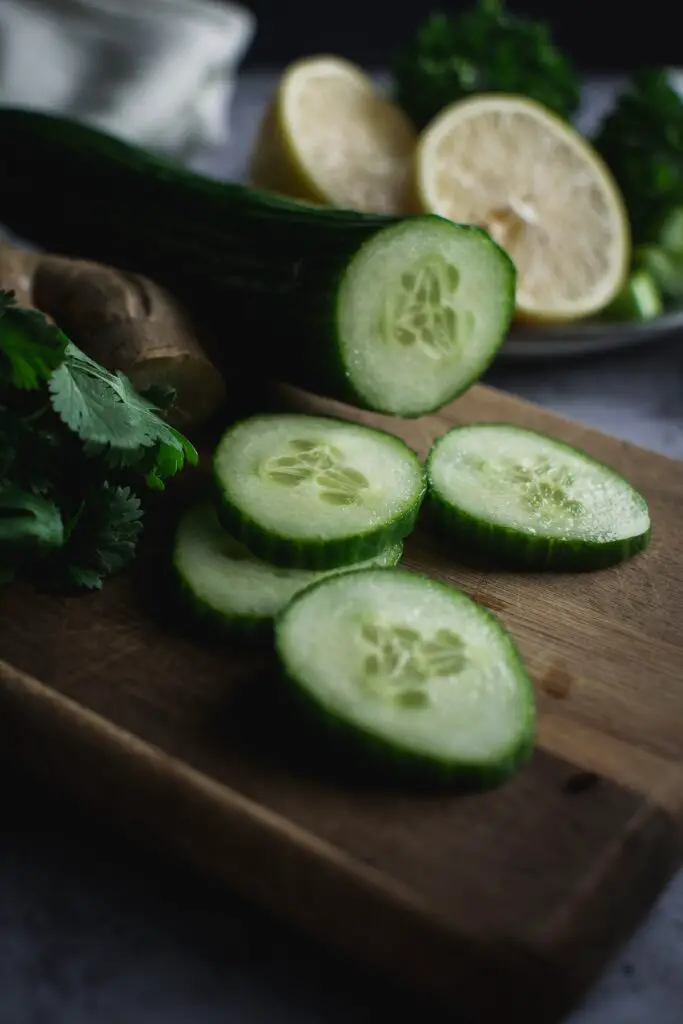 Jump To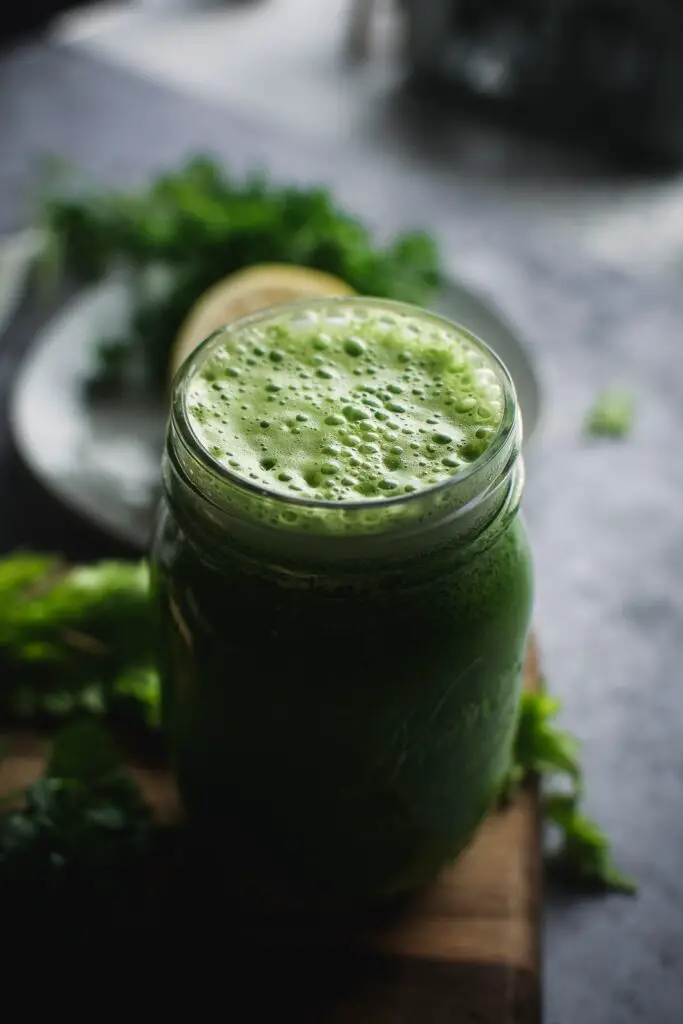 Those of us who hear the word smoothie, generally think of bright colorful fruit and some sort of yogurt, milk, or maybe water. For some courageous types, maybe a little spinach may make it green. This smoothie is a bit different. It provides a jolt of energy that not even coffee can match. I find it's an amazing pick me up any time of the day. No caffeine of any kind, just all of nature's goodness. 
This Smoothie is: 
Vegan
Paleo 
Keto
Whole 30
Gut healthy
Sugar-free
Gluten, dairy and grain-free
Energizing 
Why use parsley in a smoothie
Parsley has been making its way into the main stream as being more than just plate decor. It has an incredible nutrient profile and I'm using it as a base for my smoothie along with cilantro.
Furthermore, it is one of the highest antioxidant plants, delivering an impressive amount of vitamin K, C and A. Several tablespoons of parsley can deliver over 500% of daily value of vitamin K, over 60% of vitamin C and close to 50% of vitamin A. It also delivers folate, iron and many other minerals and micro nutrients. Parsley has been widely used in traditional medicine for help with :
GI Issues
Diabetes
Hypertension
Cardiac Disease
Ear Infections and more
In addition to parsley, the other ingredients in this smoothie all have similar health benefits, with cilantro having an equally impressive array of nutrients and benefits. Just like parsley, cilantro is an antioxidant herb, high in vitamins and minerals. 
Benefits of cilantro:
Acts as a natural Detoxifier
Cilantro has long been used in traditional medicine but cilantro also acts as a natural detoxifier, helping the body get rid of heavy metals. Consuming cilantro on a regular basis binds to heavy metals eliminating them from the body. 
Supports Digestion
An impressive benefit of cilantro is that it helps to release digestive enzymes, which are necessary for proper breakdown and food absorption. Cilantro also helps with bloating and digestive issues, cramping and stomach aches. 
Helps with Anxiety
Cilantro helps promote natural relaxation in the body and is a powerful calming agent. While some foods are sprinkled or garnished with cilantro, this smoothie contains a significant amount.
Benefits of Turmeric and Ginger 
Ginger and Turmeric also have wonderful health benefits. Ginger has been shown to help with upset stomach and nausea while turmeric is great for bloating and gas. Together they are really powerful antioxidants and anti-inflammatory and in some studies have shown to have cancer-fighting properties.
FAQs + Top Tips
What's The Best Blender To Use?
For this green smoothie, you want to blend all the ingredients for at least 30 seconds so you get a smooth consistency. Natural separation of ingredients will occur. Also, a powerful blender is recommended. I use a NutriBullet and it works really well for this. If you don't have a powerful blender, you won't be able to extract all the nutrients from the ingredients.
Can You Make It Juice-Like?
I don't always strain this smoothie but if you're looking for a juice-like consistency, you can strain the smoothie through a strainer into a bowl and press with a silicone spatula into the strainer to separate.
Can You Sweeten This Smoothie?
If you're in the mood for a little sweetness, you can add pineapple or apple to this smoothie. ½ cup of pineapple or a small apple (cored), will add just a hint of sweetness without taking it overboard. If you follow a keto lifestyle, keep the fruit out or use minimal amounts.
Can You Skip The Turmeric?
Absolutely, I frequently make it without but if I want a little extra boost, I add the turmeric in.
More drink recipes you may like: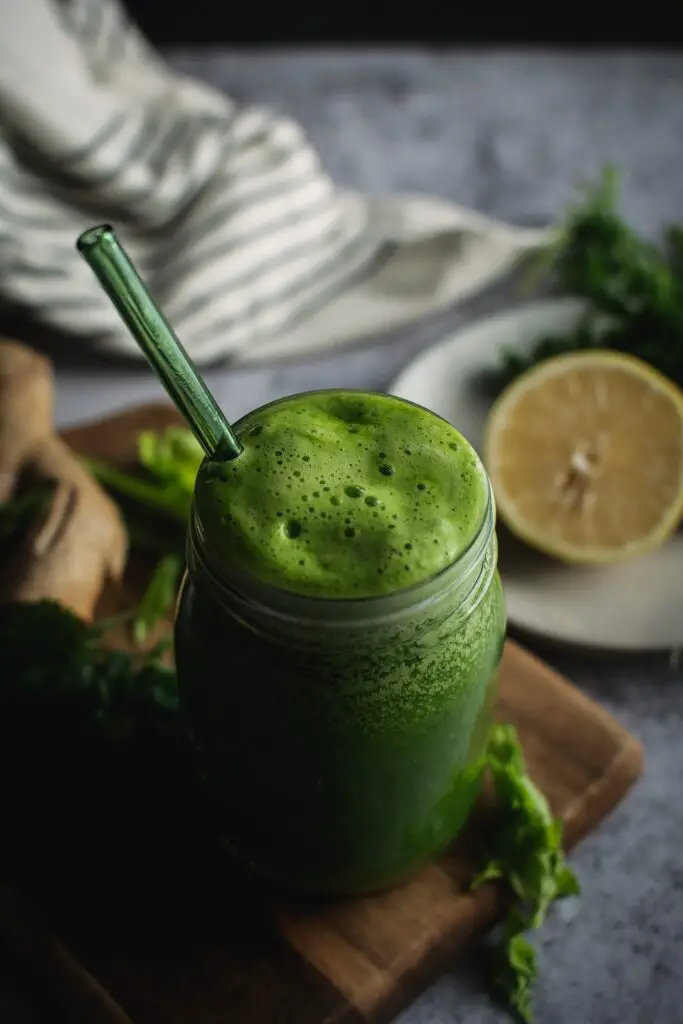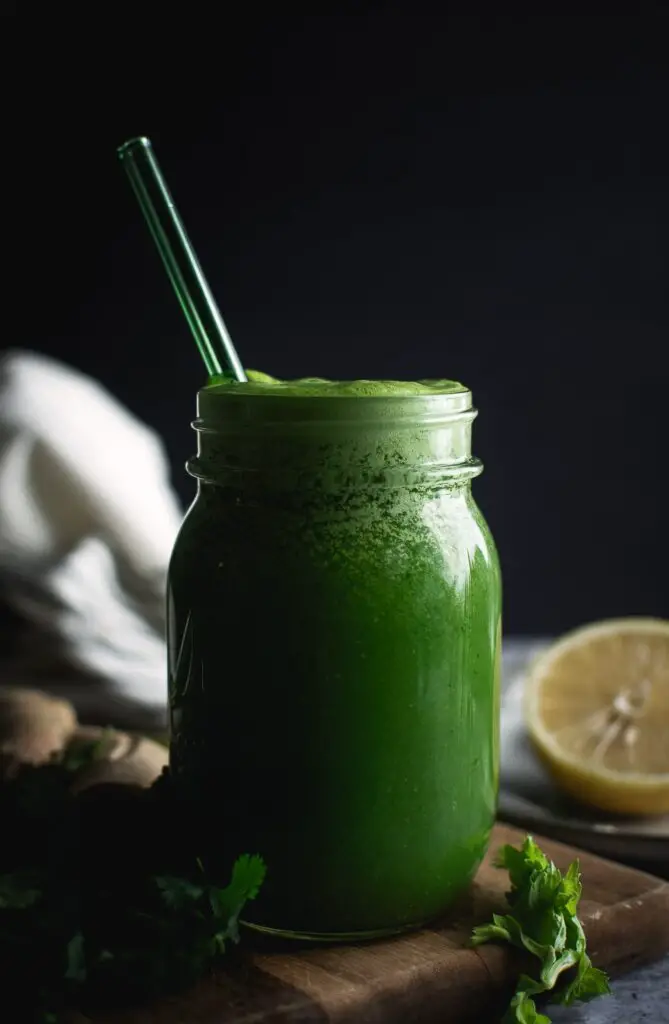 📖 Recipe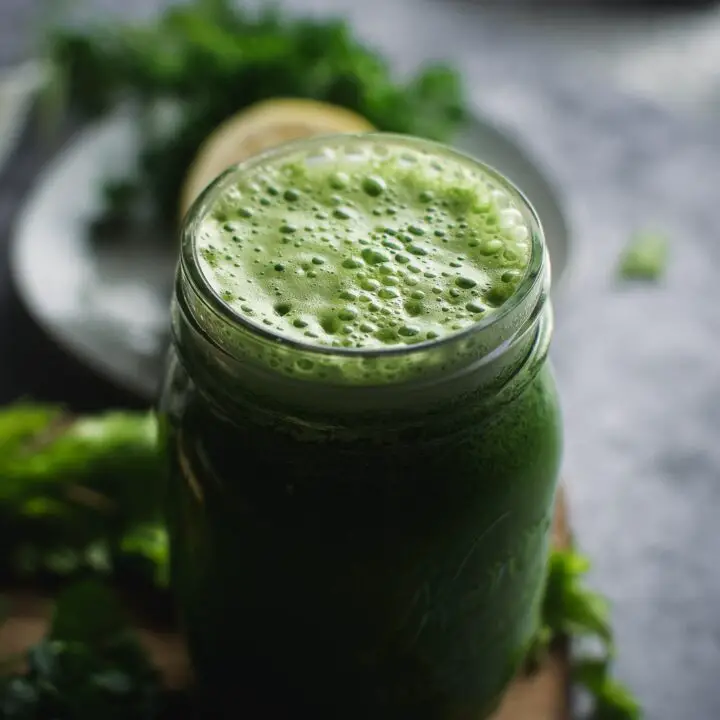 Super Green Detoxifying Parsley and Cilantro Smoothie
This naturally energizing detoxifying super green parsley and cilantro smoothie is full of nutrients, vitamins, and antioxidants.
Ingredients
1 handful of organic parsley
1 handful of organic cilantro
⅓ of organic English cucumber or 1 regular size cucumber
½ teaspoon fresh ginger minced (I use a lemon zester to make it fine)
¼ teaspoon fresh turmeric or ¼ teaspoon dry (optional)
2 organic celery stalks
juice from ½ lemon
2 cups water
optional: if you want some sweetness, add one chopped pear, apple, or ½ cup pineapple
Instructions
1. Blend all ingredients in a high-speed blender and enjoy right away.

2. If you don't want the pulp, feel free to take it through a strainer for more of a juice like consistency.
Notes
Separation of pulp and juice is naturally occuring.