This post is a paid partnership with St. Jude Tuna. All opinions expressed are my own.
Here is an easy Cannellini Bean Salad with Tuna and Artichoke Hearts recipe that requires mostly pantry items. It's quick, delicious, nutritious, and filling.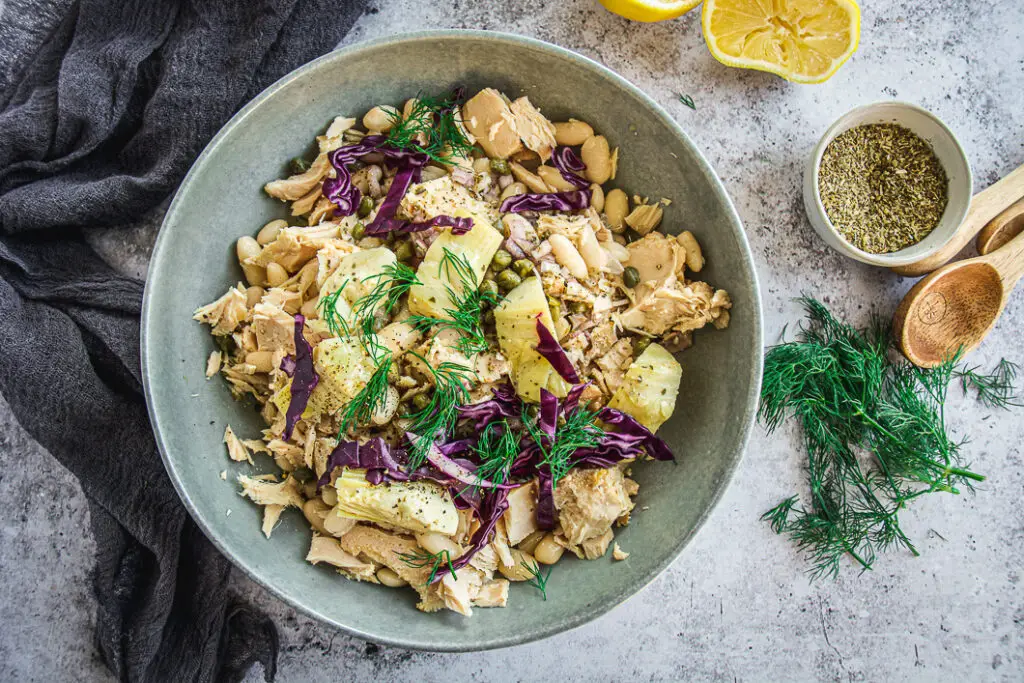 Jump To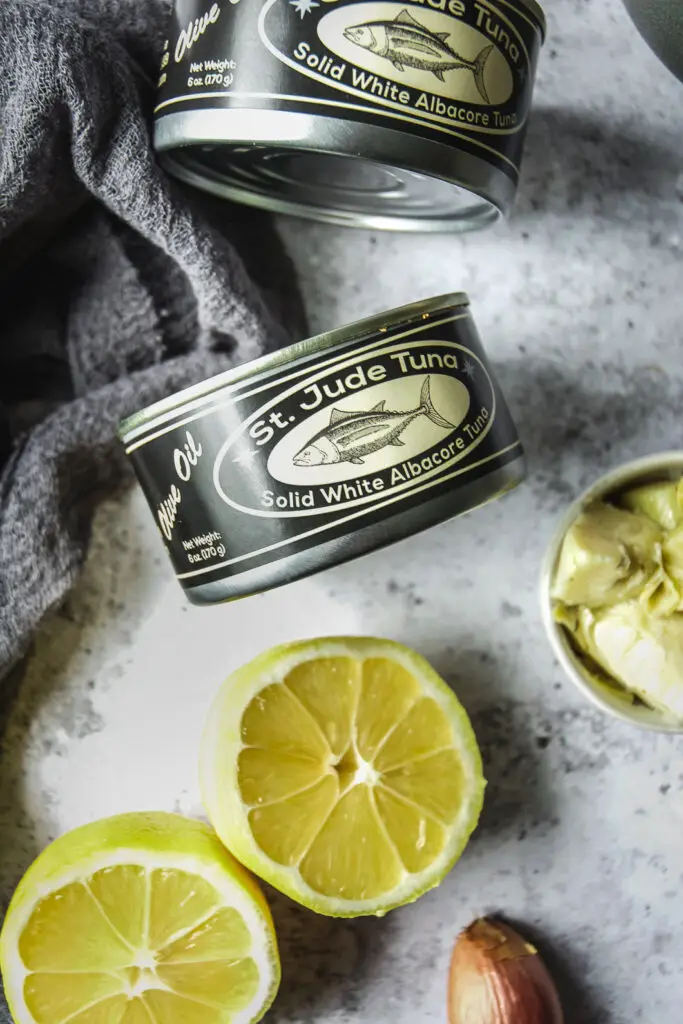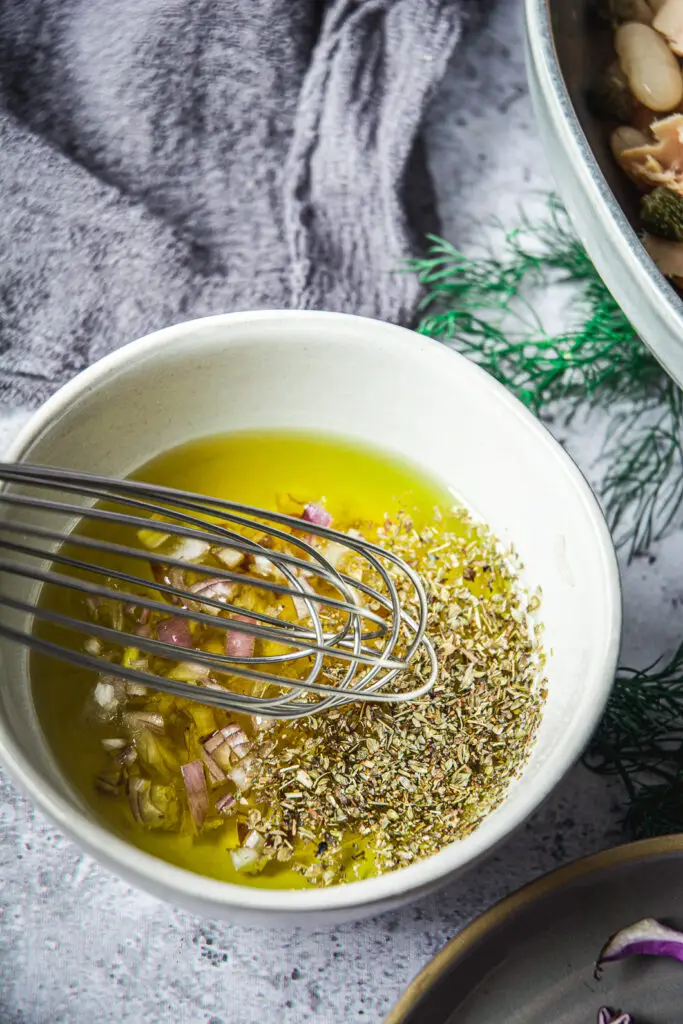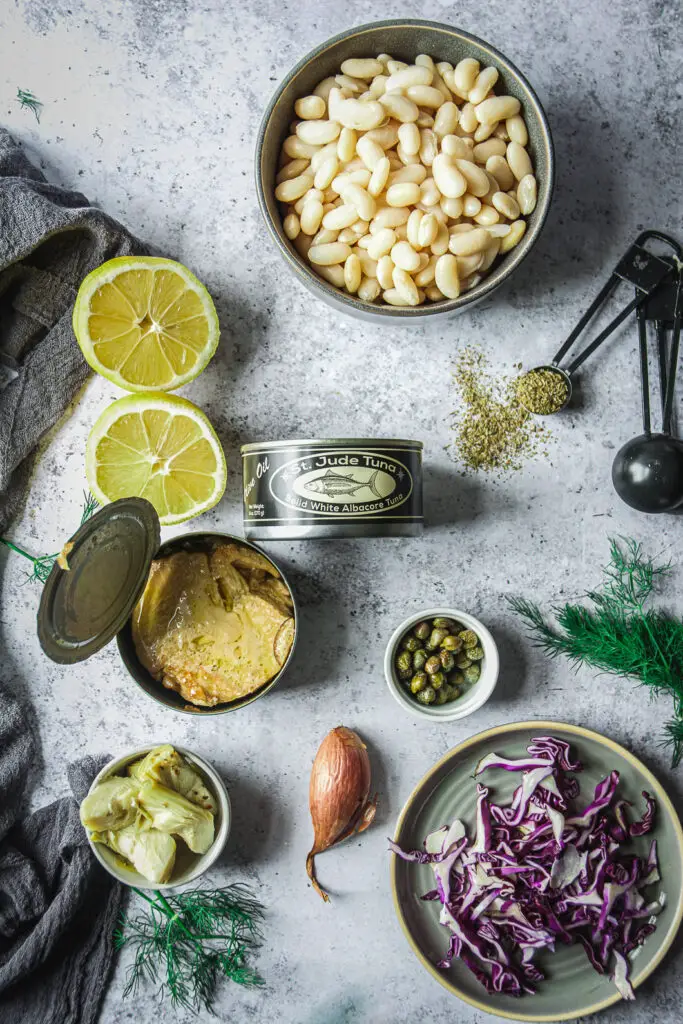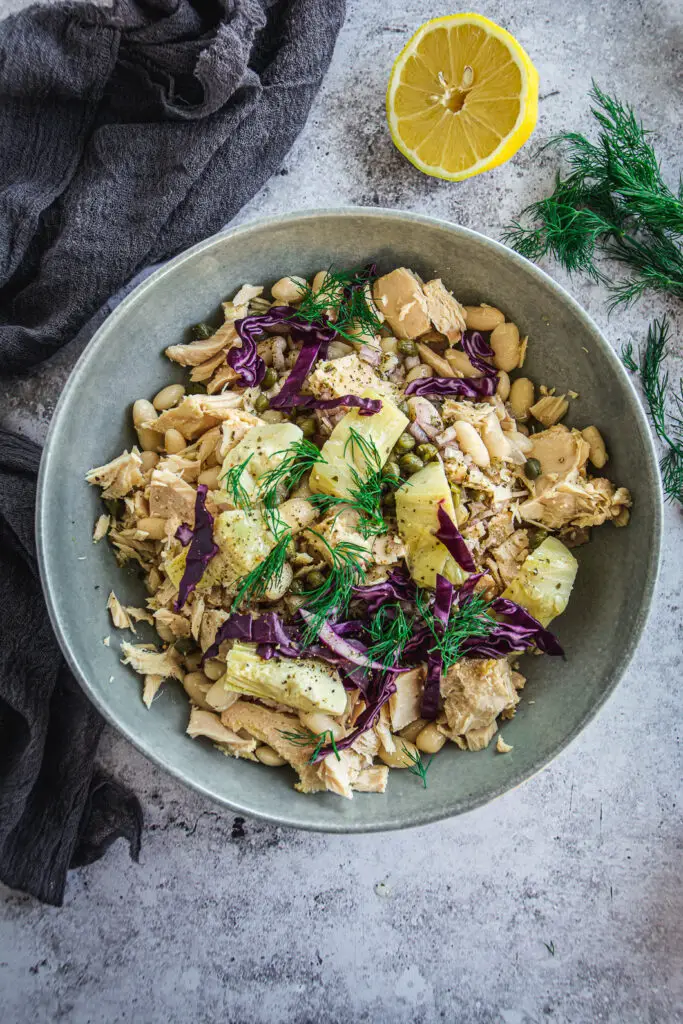 I look outside, I listen. I see nothing but blooms and green, I hear the symphony of birds, unburdened by our human troubles. Nature, being nature. A diversion most welcome. It's bitter-sweet really, this time of year...this time, this year. The time of year itself is nothing but rebirth, freshness, renewal, but the uncertainty of our seemingly predictable life, palpable.
Maneuvering through these days is a challenge, to say the least. There is a certain undoing and relearning taking place in all of us. Little did I know that something as basic as going to the market one, two, or more times a day would be something in the distant past. A luxury, which I can no longer afford without putting myself or others at risk.
We've had to adjust and recalibrate our actions because we care about one another, about people we've never met and will never meet. Perhaps that itself shows human strength. All of that is to say that we've had to simplify and reorient in order to make space for the discomfort.
And since making my own adjustments as a cook, I've had to rethink some recipes and plan ahead more than usual. This involves keeping things healthy but using more shelf-stable items and getting creative.
So for this recipe, I've teamed up once again with my all-time favorite canned tuna company, St. Jude Tuna! And today we're making a white bean tuna salad with artichoke hearts. Their tuna was the obvious choice for this delicious salad. St. Jude has been consistent in the quality they provide, their safe catch practices. They focus exclusively on tuna and all of their catch is from the North or South Pacific.
This White Bean Tuna Salad with Artichoke Hearts is:
Grain-free
Gluten-free
Dairy-free
Incredibly easy to make
Requires mostly pantry ingredients
Full of flavor
Ingredients Needed
The beauty of this recipe is that most of the ingredients are shelf-stable and those that are not can be substituted or left out entirely, depending on availability. So for this recipe we'll be using:
2 cups cannellini beans
Marinated artichoke hearts
Capers
Extra virgin olive oil
Rice wine vinegar
Fresh or dried dill
Lemon juice
Shallot
Red cabbage
FAQs + Substitutions
Should You Use Canned or Cooked Beans?
This is entirely up to you. If you're sensitive to legumes, I would recommend soaking dried beans overnight, cooking them for 45 minutes (or until desired softness) in fresh water and letting them cool. Otherwise, canned will work just fine.
Can You Use Different Beans?
Yes, if you don't have Cannellini beans, great northern beans work well, so do butter beans, red kidney beans or even navy beans.
Why Marinated Artichoke Hearts Make A Difference?
Marinated artichoke hearts add a nice tangy flavor to this white bean tuna salad, but if you can't find marinated, canned will work just as well. Or even fresh if you want to go the extra length.
Should You Use Fresh Or Dried Dill?
Fresh is always best for this salad but again, if you can't find any at your local market or ran out of fresh, using a little dried dill will add a nice flavor without overpowering.
Can You Use White Vinegar Instead?
If you don't have rice wine vinegar, you can substitute with white vinegar. Rice wine vinegar is milder and a little sweeter than white vinegar so add just slightly less than 1 tsp.
More Tuna Recipes you may like: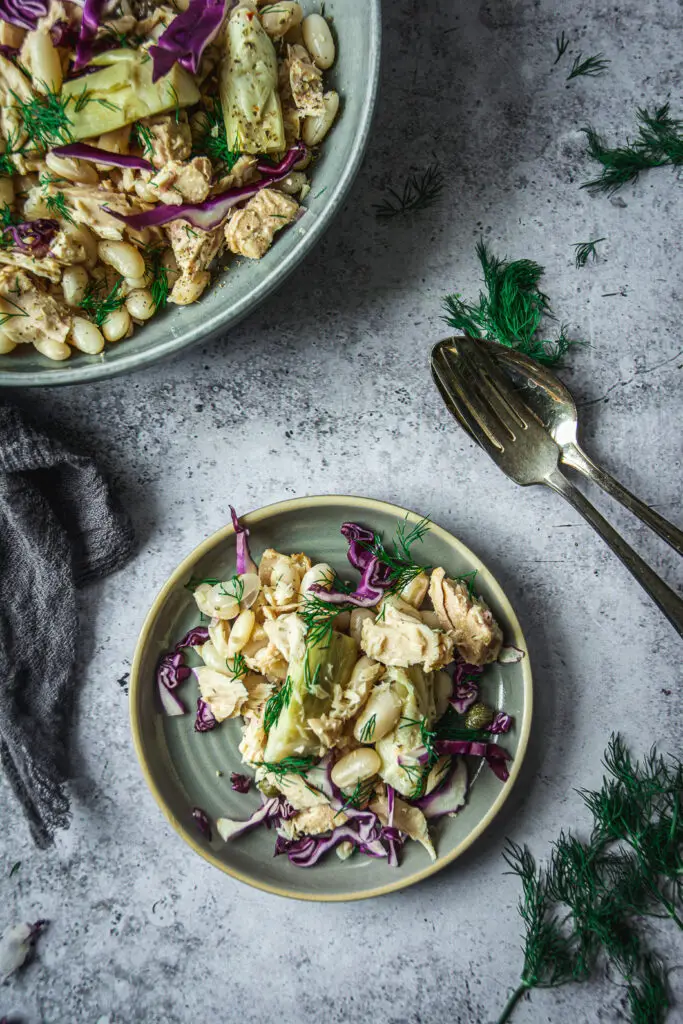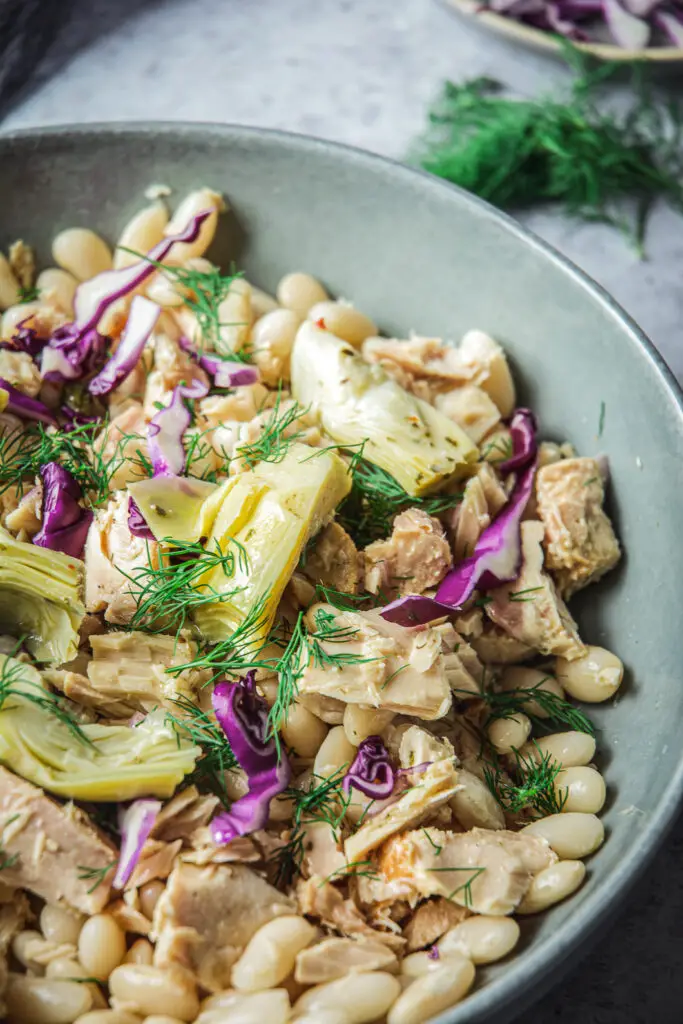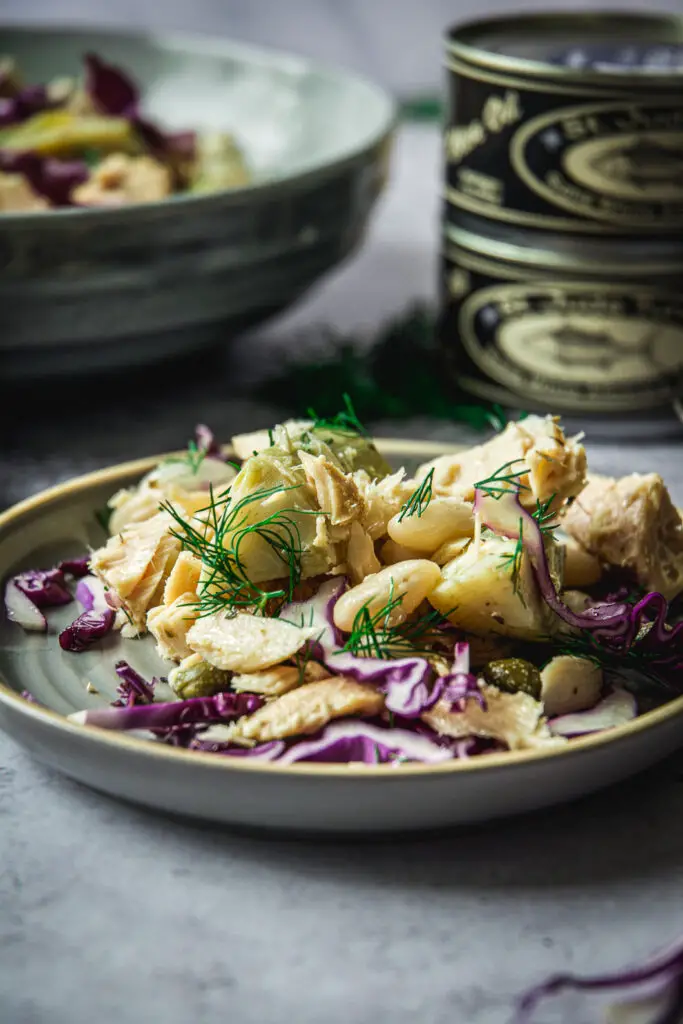 📖 Recipe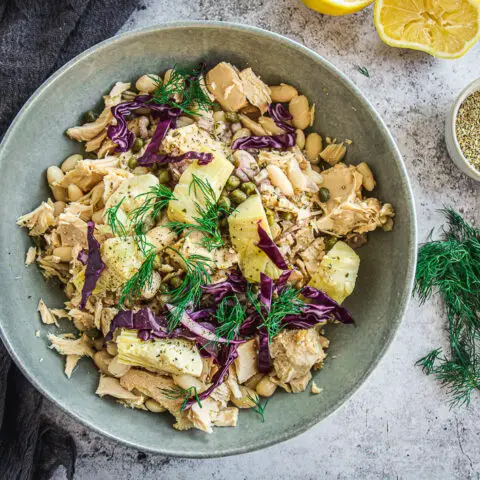 White Bean Tuna Salad with Artichoke Hearts
Here is an easy White Bean Tuna Salad with Artichoke Hearts recipe, that requires mostly pantry items. It's quick, delicious, nutritious and filling.
Ingredients
2 cans Olive Oil Mediterranean Tuna 
2 Cups Cannellini Beans
8-10 Marinated Artichoke Hearts
1 tablespoon Rice Wine Vinegar
1 tablespoon Chopped Shallot
1 tablespoon Fresh Dill or ½ teaspoon Dried
1 tablespoon Rinsed Capers
6 tablespoon Extra Virgin Olive Oil
1 tablespoon Lemon Juice 
1 teaspoon Dried Oregano
½ teaspoon Salt
¼ teaspoon Freshly Ground Pepper
¼ cup Sliced Red Cabbage
Instructions
In a small bowl combine shallot, with olive oil, lemon juice, rice wine vinegar, salt, pepper and oregano. Miss well and set aside.
In a large shallow serving bowl, add beans, break up tuna, add artichokes, capers and toss with dressing.
Top with sliced cabbage and chopped dill. Serve right away.
Refrigerate any leftovers for up to 3 days.
Notes
If you choose to cook your own beans, rinse 1 cup dried beans and cover with about 2 inches of water. Let sit overnight.
Next day, rinse beans and cover with fresh water. Again, about 2 inches above beans. Cook for 45 minutes and check for doneness. You can cook them a little longer for softer beans
Nutrition Information:
Yield:

4
Serving Size:

1
Amount Per Serving:
Calories:

394
Total Fat:

26g
Saturated Fat:

4g
Trans Fat:

0g
Unsaturated Fat:

22g
Cholesterol:

10mg
Sodium:

567mg
Carbohydrates:

26g
Fiber:

7g
Sugar:

1g
Protein:

16g