Here is a quick Garam Masala spice mix that takes 2 minutes to throw together and is much cheaper than storebought.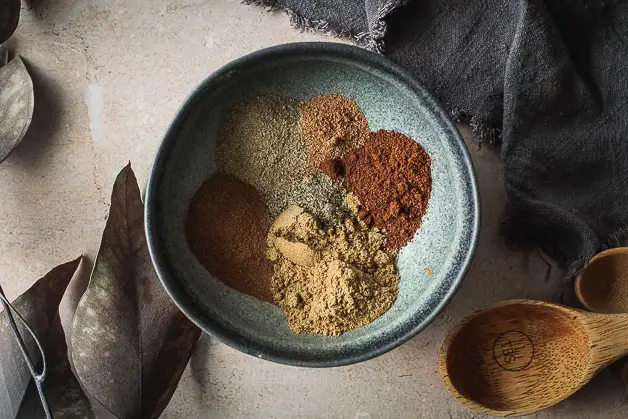 Jump To
This post is dedicated to all of the home cooks who find themselves without an essential ingredient while in the middle of preparing a meal. I feel your pain and that's why I'm writing this little post.
I can't tell you the countless times I'm ready to make a curry recipe (or really any recipe) that requires garam masala, only to end up staring at the empty spice jar. After scolding myself one too many times for my neglect to replace it, last year I finally decided just to make my own. This way I saved myself a trip to the store and the inevitable self-loathing.
Since I'm already a spice fanatic, I almost always have everything I need to throw this easy homemade garam masala spice mix together. And what's also wonderful about this spice mixture, is its anti-inflammatory and antioxidant super-power. Yes, spices really are nature's best medicine.
If you've never used garam masala before, you're in for a treat. As it is in my opinion, one of the loveliest spice mixtures I've ever used. But storebought garam masala powder can be quite pricey so making my own is also a much better alternative.
Now let's break down the spices and what you need.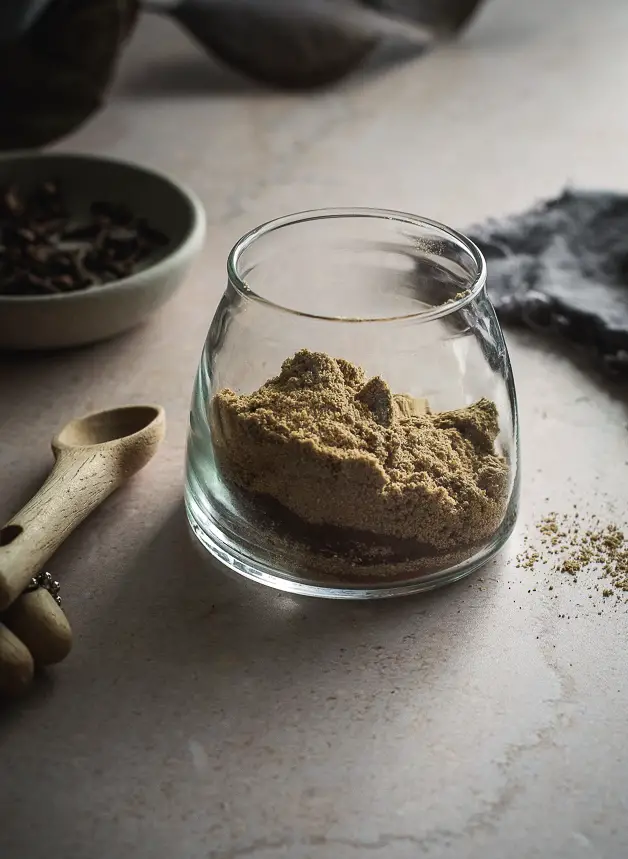 For Your Shopping List
Ground Nutmeg - You can certainly use a whole nutmeg pod and grind it, but ground nutmeg is much more economical and available everywhere. Nutmeg is said to have anti-inflammatory properties as well as antibacterial and it's good for improving mood (who doesn't need that?).
Ground cumin - My life wouldn't be the same without ground cumin. I use it in all different cuisines and am unapologetically liberal with it. Like most spices on this list, cumin also has anti-inflammatory properties, helps to regulate blood sugar, and is also beneficial for those suffering from symptoms of IBS.
Ground pepper - Believe it or not, our staple spice - good ol' black pepper is actually really good for you. One of the most impressive things that pepper does is actually assist in the absorption of other nutrients. It's also anti-inflammatory, good for your gut, and may be benefitting your brain.
Ground cinnamon - I don't think I could live without it. Cinnamon is simply the most perfect spice in my opinion. And it doesn't hurt that it's also (like the others) anti-inflammatory, good for your skin, anti-bacterial, anti-fungal, good for lowering cholesterol, and more.
Ground cardamom - Like cinnamon, cardamom is a beloved spice that works beautifully in sweet or savory recipes. Cardamom supports the liver and is detoxifying, it's also gut and heart-healthy.
Ground coriander - Ground coriander has a distinctively different flavor than fresh leaves, it's beneficial for lowering blood sugar, is detoxifying, and is a good source of vitamin K. And like all other spices, it is naturally anti-inflammatory.
Ground cloves - With a potent taste and smell, a little goes a long way when it comes to cloves. It's popular in sweet and savory dishes alike. Cloves naturally support a strong stomach lining and help to improve liver function.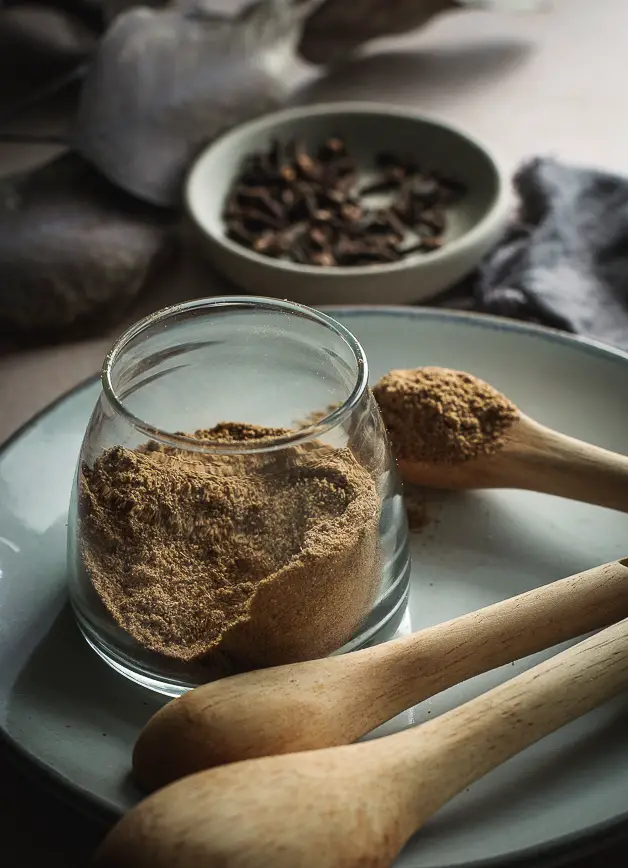 Let's Make It
Step 1. Combine all ingredients and store the garam masala spice mixture in an airtight container.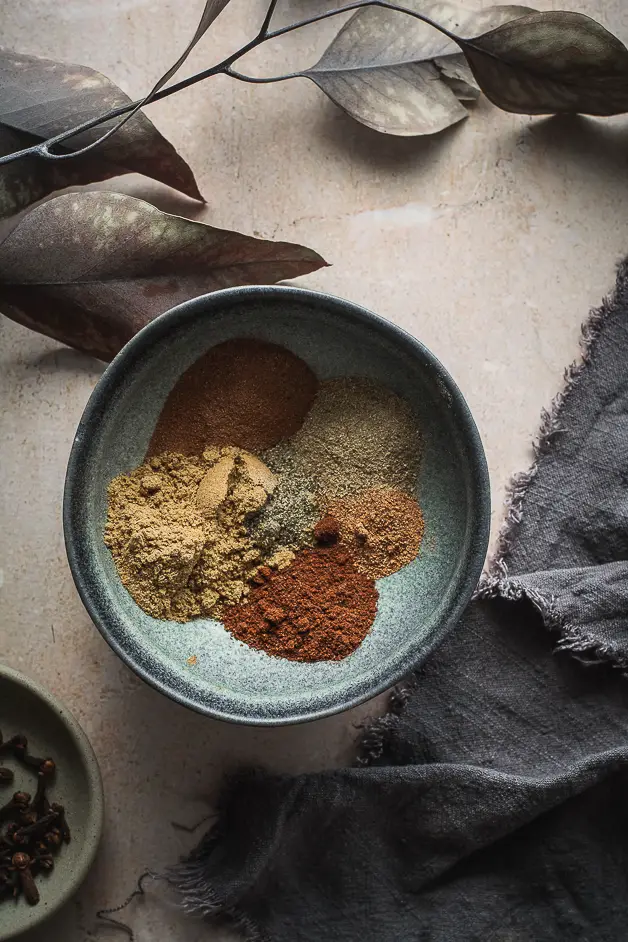 FAQs + Top Tips
What Container Should I Store Garam Masala Powder In?
If you don't want to go out and spend money on a new jar, just use an old spice jar, peel the label and make your own. And a great way to reuse your bottles. I do that for all my homemade spice mixes. You can find some here and here. Of course, if you wanted to buy a whole set of jars, you can find them here.
Is Garam Masala Spicy?
No garam masala seasoning mix is not spicy at all. It has a warm and mild taste.
What Does Garam Masala Taste Like?
What I typically detect in garam masala is always cinnamon, cloves, cardamom, and cumin. Those are the predominant flavors that stand out.
What Is The Difference Between Curry Powder And Garam Masala?
Curry powder is much stronger than garam masala as turmeric is the dominant ingredient. Unlike garam masala, curry powder doesn't have any cinnamon and some curry powders include garlic powder in the mix.
What Can I Use Instead Of Garam Masala?
And let's say you're missing some of the spices. No problem - to get a base taste, 2 teaspoon mix cumin with ¼ teaspoon cinnamon and ½ teaspoon allspice.
What Recipes Use Garam Masala?
Anti-Inflammatory Low-FODMAP Zucchini Carrot Soup (Vegan, Paleo)
Coconut Cilantro Vegan Sweet Potato Soup
Vegan Chickpea Curry With Sweet Potatoes
Easy and Healthy Vegan Cauliflower Mung Bean Curry
Easy and Hearty Paleo Chicken Tikka Masala Recipe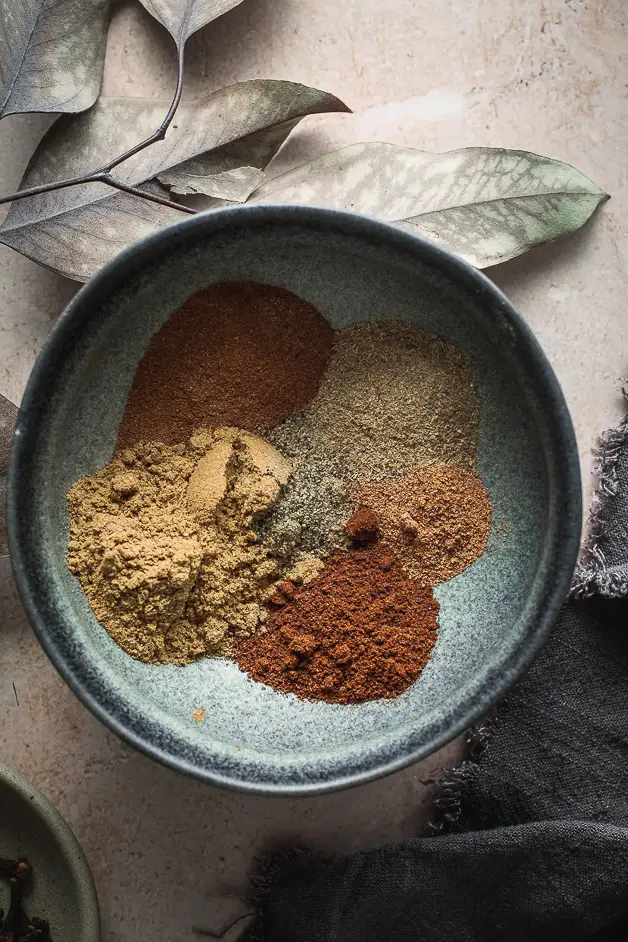 📖 Recipe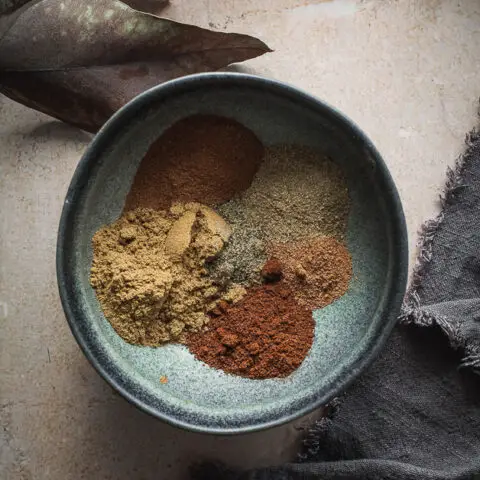 2 Minute Easy Homemade Garam Masala Spice Mix
Here is a quick Garam Masala spice mix that takes 2 minutes to throw together and is much cheaper than store-bought.
Ingredients
2 teaspoon ground nutmeg
2 teaspoon ground cumin
1 teaspoon ground pepper
2 teaspoon ground cinnamon
1 teaspoon ground cardamom
1 teaspoon ground cloves
4 teaspoon ground coriander
Instructions
1. Combine all ingredients and store the garam masala spice mixture in an airtight container.
2. Don't forget to shake it well.
Notes
1. Be sure to store the spice mixture in a glass jar with an air-tight lid.
2. Spice mixture will last for 6 months.
3. The fresher your spices the longer the mixture will last.