If you're looking for some variety in your keto-vegan lifestyle, here is a list of 40 easy keto-vegan recipes that are delicious and satisfying.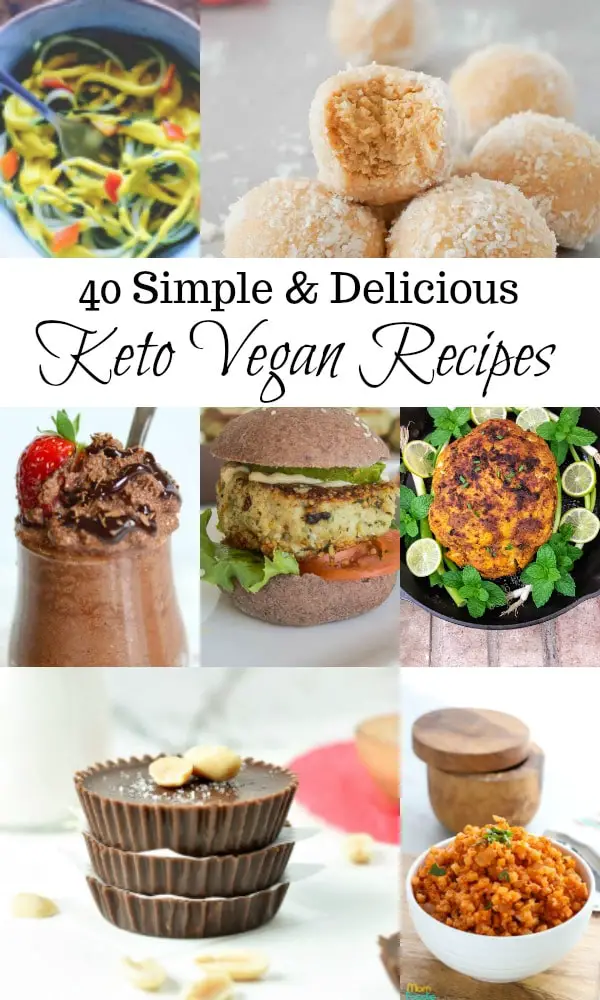 Following a Keto lifestyle has become increasingly popular in recent years with recipes exploding all over the internet. But following a Keto diet that does not include meat, dairy or eggs is a little more challenging as it does limit the types of foods you can eat.
Keto Vegan Lifestyle in a nutshell
Basically the keto vegan diet means following a low-carb, high fat, moderate protein lifestyle and limiting carbohydrate intake to below 50g per day in order to enter and stay in ketosis.
Following a high fat, low carb diet has numerous benefits including curbing hunger, weight loss, reduced blood sugar and insulin spikes.
The blueprint for a keto vegan diet is making sure your dominant macro nutrient is fat along with the other two.
Fat: 55–60%
Protein: 30–35%
Carbohydrates: 5–10%
Basics of the Keto Vegan Diet
Eliminate all meat, fish, dairy, eggs
Include low-carb vegetables and fruits
Keep carbohydrate intake to below 50g (according to Health Line)
Get protein from tofu, beans (in moderation)
Eat plant derived fats from avocado, nuts, coconut butter, healthy oils, nuts and seeds
Don't forget to supplement with vitamin B12, Omega 3 Fatty Acids, Zinc, Iron and Calcium
What foods can you not eat on a Keto Vegan Diet?
The Keto Vegan diet is much more restrictive than the regular Keto diet as it cuts out all meat, dairy and eggs. So knowing what to eat and not to eat is crucial to successfully sticking with this lifestyle. Here are some of the foods you want to avoid.
Meat
Seafood
Poultry
Dairy
Eggs
Grains like breads, pasta, crackers, cookies
Maple syrup, honey, or any other sugary sweeteners
Most fruit with high sugar content like bananas, mango, pineapple
Starchy vegetables like peas, potatoes, sweet potatoes and corn
Most legumes
What foods can you eat on a Keto Vegan Diet?
But it's not all bad news! There are plenty of good foods you can add to your diet that will keep you full, in ketosis, and your blood sugar steady. So here we go:
Non starcy vegetables:
Asparagus
Bell peppers
Bok Choi
Broccoli
Brussels sprouts
Cauliflower
Cabbage
Celery
Cucumber
Eggplant
Green beans
Kale
Lettuce
Mushrooms
Okra
Radishes
Rutabaga in moderation
Spinach
Zucchini
Fermented:
Homemade pickles (no sugar added)
Sauerkraut
If you add in other vegetables that have more starch, just be mindful of their carb content.
Protein sources:
Fruit:
Avocados
Coconut
Strawberries
Raspberries
Blueberries (sparingly)
Tomatoes
Lemons
Limes
Olives
Watermelon in moderation
Healthy fats:
Coconut, olive and almond, avocado, flax seed, hazelnut oils
Coconut butter
Almond butter
Peanut butter
Macadamia nut butter
Tahini
Sun butter
Pumpkin, chia, hemp, and sunflower seeds
Pantry staples:
Low carb canned vegetables
Baking soda and powder
Dark chocolate 85% and higher
Coconut aminos
And last but not least, let's get to the best part of the post - the collection of 40 Easy Keto Vegan Recipes!
40 Delicious Keto Vegan Recipes