*This post may contain affiliate links. The earnings go back to supporting the content created on this site.
Arugula and Strawberry Salad with Cayenne Lemon Vinaigrette is a sweet, refreshing salad, perfect for the warm summer months.
Do I really open a blog post by talking about the weather? How cliche. But I think we can all agree that weather affects mood. It certainly affects mine. This past week we've had some blazing hot days – quite unusual for May. I have no room to complain though, as winter was long here and lingered on. It felt good to be outside, laying in the grass, searching for four-leaf clovers, and almost expecting the chorus cicadas to begin their song. But it's too soon.
When it's impossibly hot and out of character for the time of year, I try to match my food to the weather. Simmering meatballs for 3 hours on a 94-degree day, not so good. A nice refreshing salad with lots of greens and fruit – a very good idea. I used whatever fruit I had on hand, a nice handful of arugula, and made a very simple dressing to go along with it. 
More than a salad
Once upon a time, a salad for me was defined by iceberg lettuce, ranch dressing, and an almost sickening amount of croutons. Sounds alright though and I really did enjoy it. It was more like bread and sour cream and some greens, but that's beside the point. As the years passed, I opened up to the idea of using ingredients that one wouldn't necessarily expect to show up in a salad, such as strawberries.
Strawberries in a salad?
With strawberry season quickly approaching, I decided to create a salad that uses plenty of them. After all, strawberries are most luscious, juicy, and flavorful when in season. In addition to strawberries, this salad is loaded with blueberries, mango, and avocado. A sprinkle of crunchy walnuts and a drizzle of cayenne lemon vinaigrette, over peppery arugula, is a warm day's companion. Don't get me wrong, you could absolutely eat this in the dead of winter, but there's something about matching a sticky hot day to a cooling salad. It's also a breeze to throw together, it's vegan, paleo and if you skip the honey, whole 30 as well. 
Tips and substitutions for Arugula and Strawberry Salad
Arugula
Arugula is definitely an acquired taste as it has a peppery bite to it. If you're not a fan of arugula, you can easily substitute a milder green like spinach or mixed greens of your choice. They all work in this salad.
Strawberries 
If possible, look for locally grown organic strawberries, as those are going to be the sweetest and give you the most flavor in this salad. And if you don't like strawberries or are allergic to them, you could leave them out. 
Mango and blueberries 
Because I like the combination of the bright fruit in here, I decided to add them in as well, but if you want to keep it strictly to arugula and strawberry, you can forgo these two or add blackberries or mix and match as you see fit. 
Walnuts 
I've tried this arugula salad with toasted as well as raw walnuts and they both work. But the truth is, toasted walnuts add that nice deep flavor and crunch so if you can, lightly toast your walnuts for 5-10 minutes in a 350-degree oven, given them a shake halfway. 
Lemon Cayenne Dressing 
If spice is your thing, feel free to double up on the cayenne pepper. But if it's not, keep it to just 1/8 tsp. I find it to be the perfect amount of heat for me. If heat is not your thing, skip the cayenne entirely and keep the dressing mild. It will be just as lovely as a lemon honey dressing. 
More Salad Recipes you might like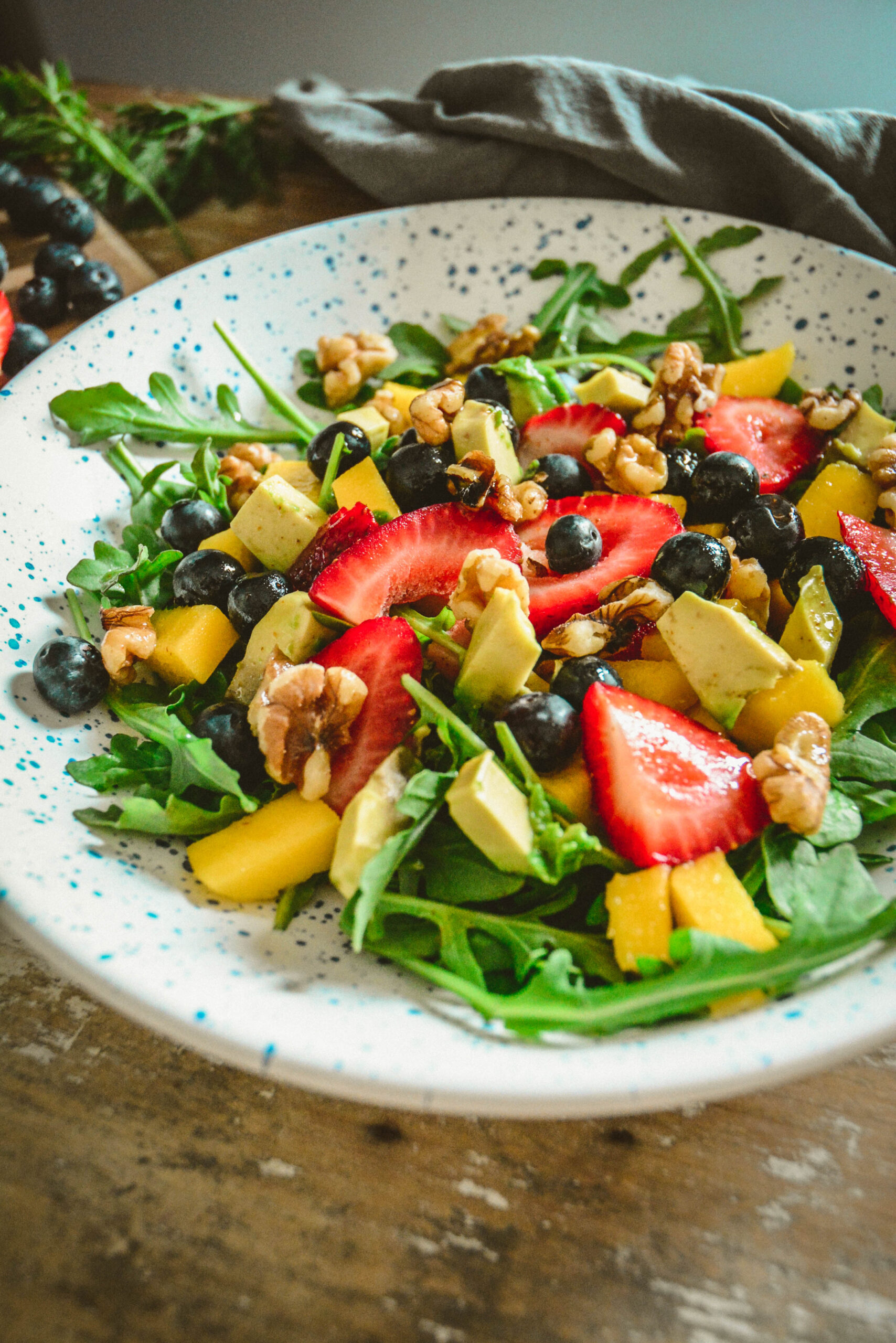 Yield: 2
Arugula and Strawberry Salad with Cayenne Lemon Vinagirette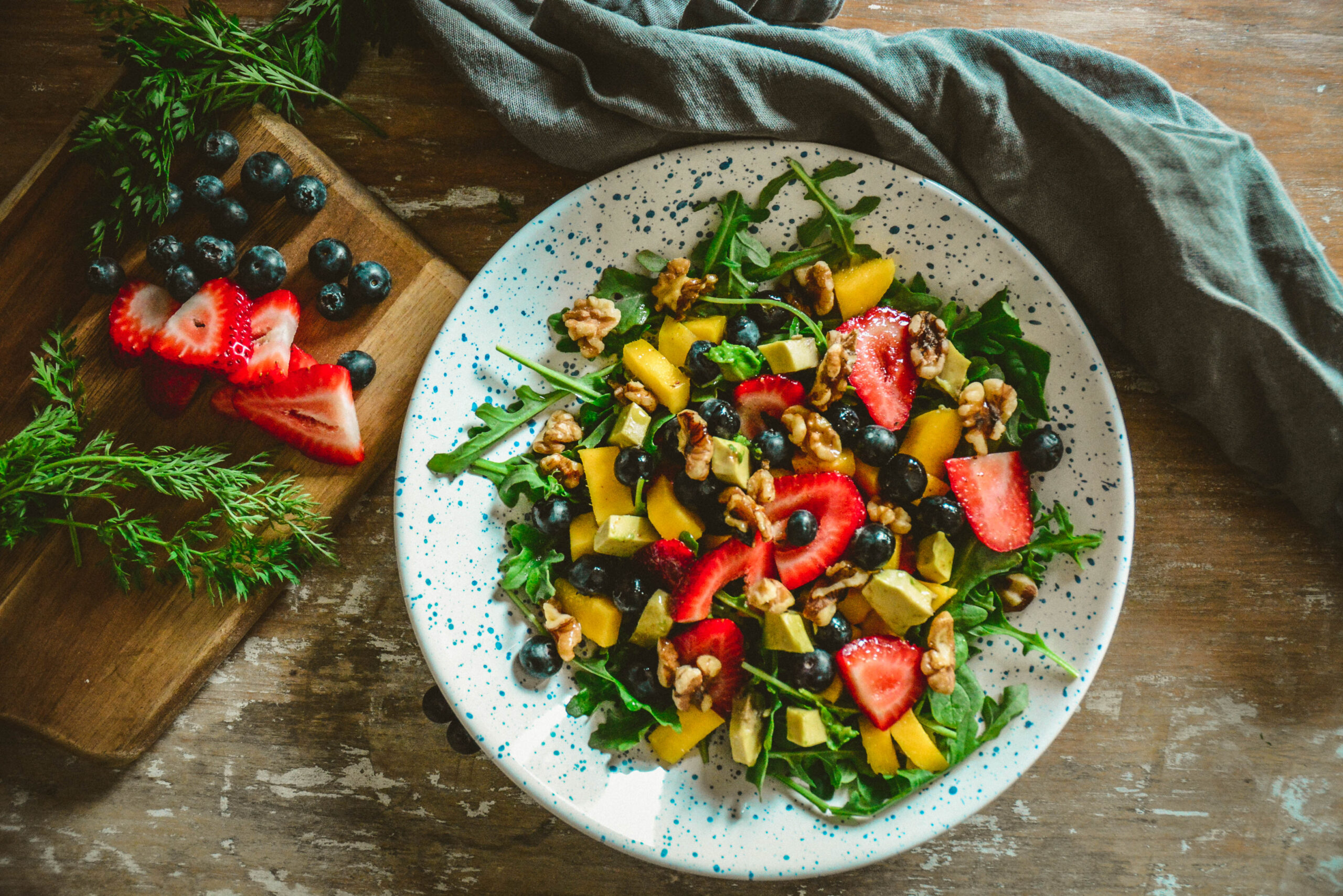 Arugula and Strawberry Salad with Cayenne Lemon Vinaigrette is a sweet, refreshing salad, perfect for the warm summer months.
Ingredients
2 cups arugula, spinach or the greens of your choice
1/4 cup blueberries 
2 tbsp cubed mango
3-4 sliced strawberries
1/2 avocado cubed
2 tbsp toasted or raw walnuts
2 tbsp extra virgin olive oil
pinch of salt
freshly ground black pepper to taste
1/4 tsp honey
1/8 tsp cayenne pepper (or more if you like it spicy)
2 tsp lemon juice
Instructions
In a small mixing bowl, whisk together the olive oil, lemon juice, honey, cayenne pepper, salt, and pepper and set aside.

Next, assemble the remaining ingredients on plates, top with walnuts, and drizzle with cayenne lemon dressing.