This post is a paid partnership with Naturacentric. All opinions expressed are my own.
This 5 Ingredient Paleo Chocolate Fudge is decadent, tasty, and refined sugar-free and takes just minutes to make.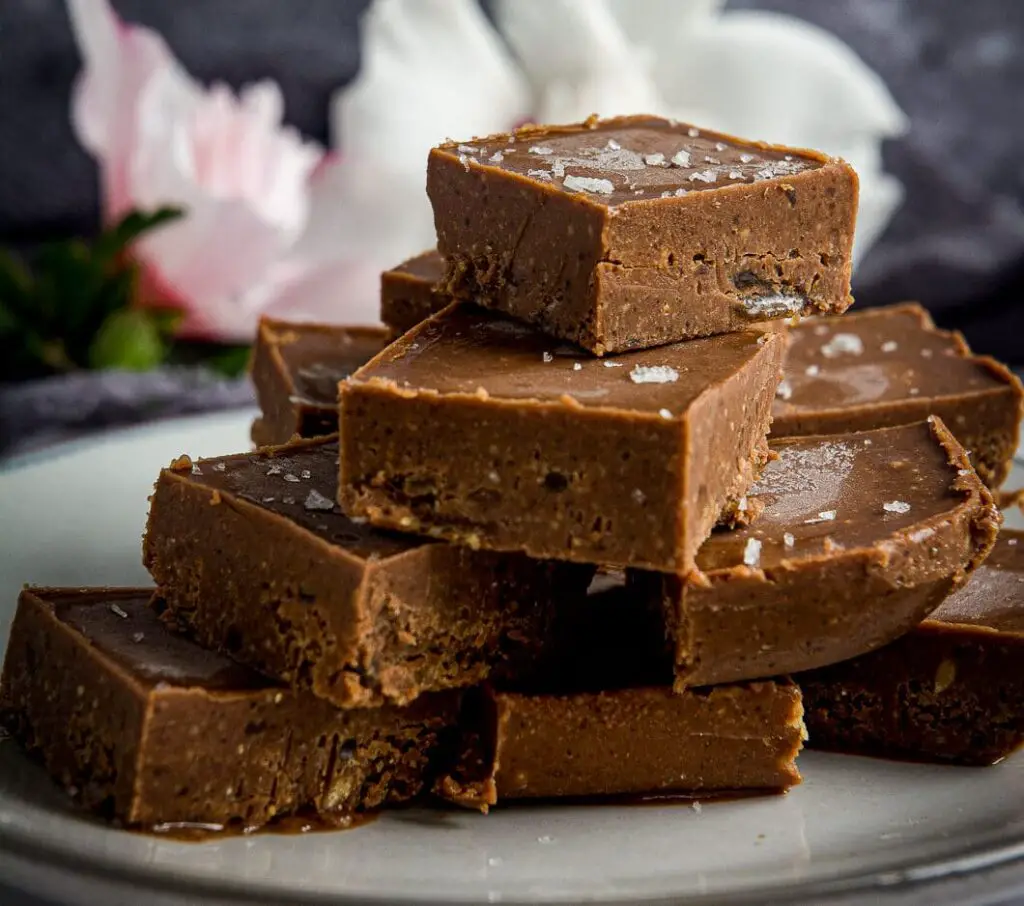 Jump To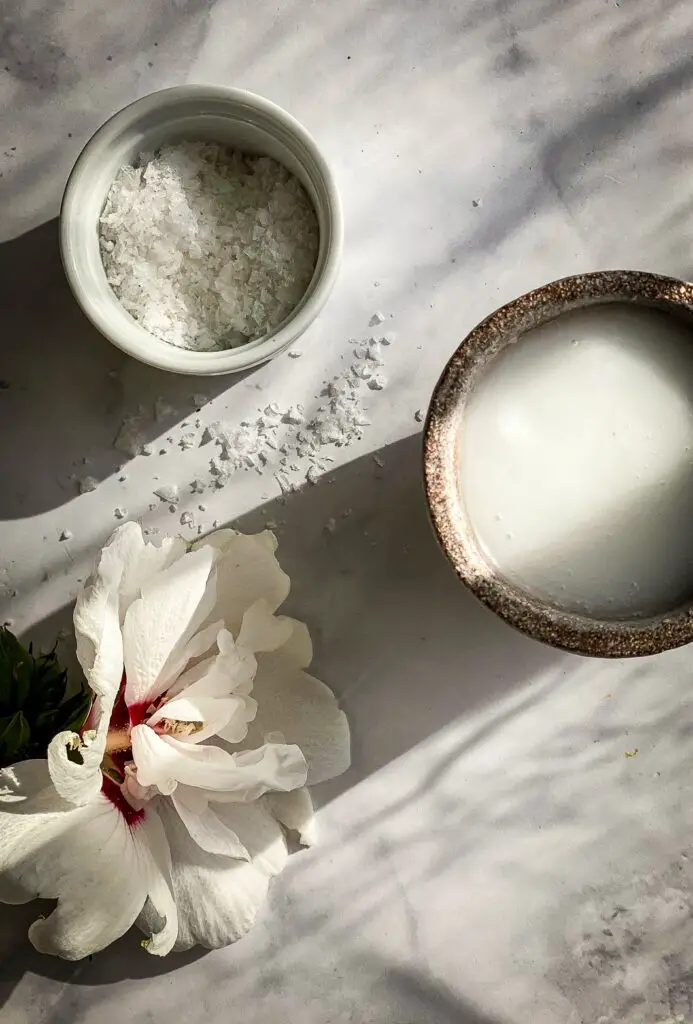 It's been a bit since I published a chocolate dessert and felt overdue. And as is the case most of the time, my desserts are created on a whim while in desperate need of chocolate.
Luckily what I always have is cacao! And a fresh jar of decadent Mission Fig Infused Honey, that I'd just received in the mail. This honey is infused with tiny bits of deliciously sweet, succulent and chewy fig. And so, an easy vegan chocolate fudge was born. While on its own the honey is spectacular, it works especially well in this simple no-bake dessert that requires only 5 ingredients (salt being one of them).
For this paleo chocolate fudge, I've once again teamed up with my favorite, creative and delicious honey company - Naturacentric, using their Mission Fig Infused Honey.
I honestly can't explain just how satisfying and surprising each tiny bit of fig can be once it hits your tongue. The combination of the creamy cashew butter with the cacao and coconut oil add a creamy base. The honey provides a floral sweetness and all flavors are balanced by flaky sea salt.
The combination of silky smoothness with the chewy bits and hints of salt, are a real treat for the tastebuds. And the best part? Did I mention just 5 ingredients? Oh right, I did. Well thought I'd reiterate it just in case you didn't catch it the first time.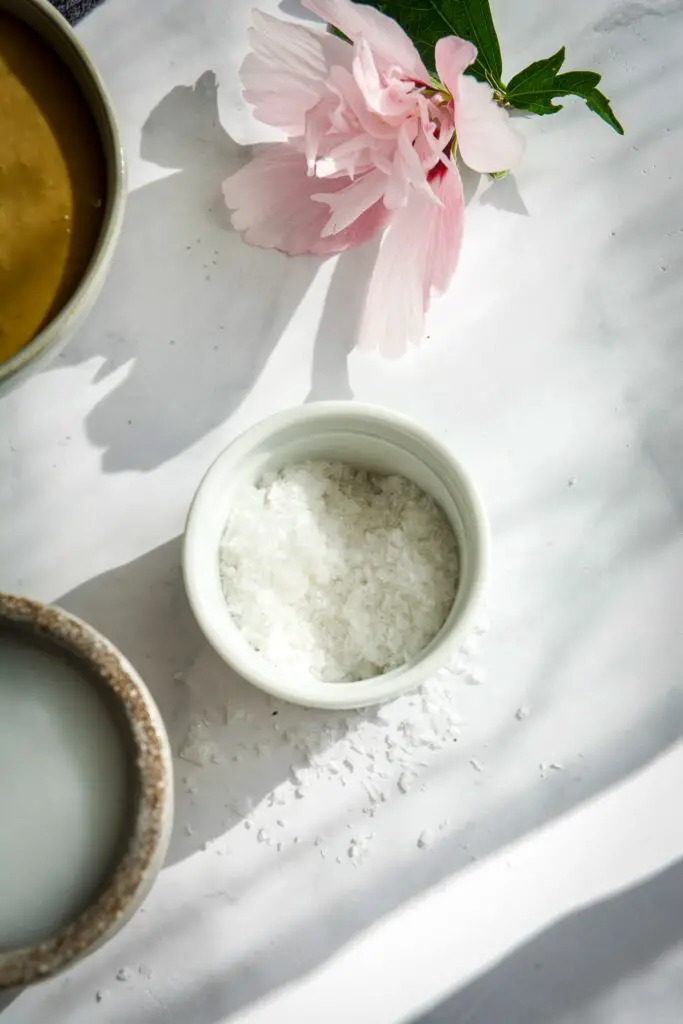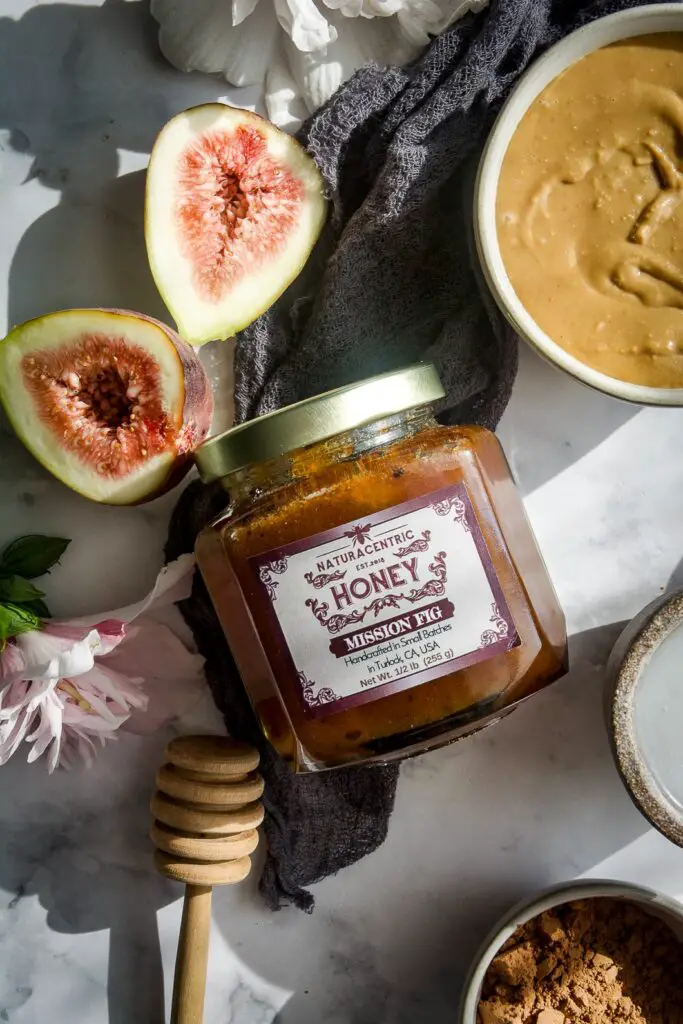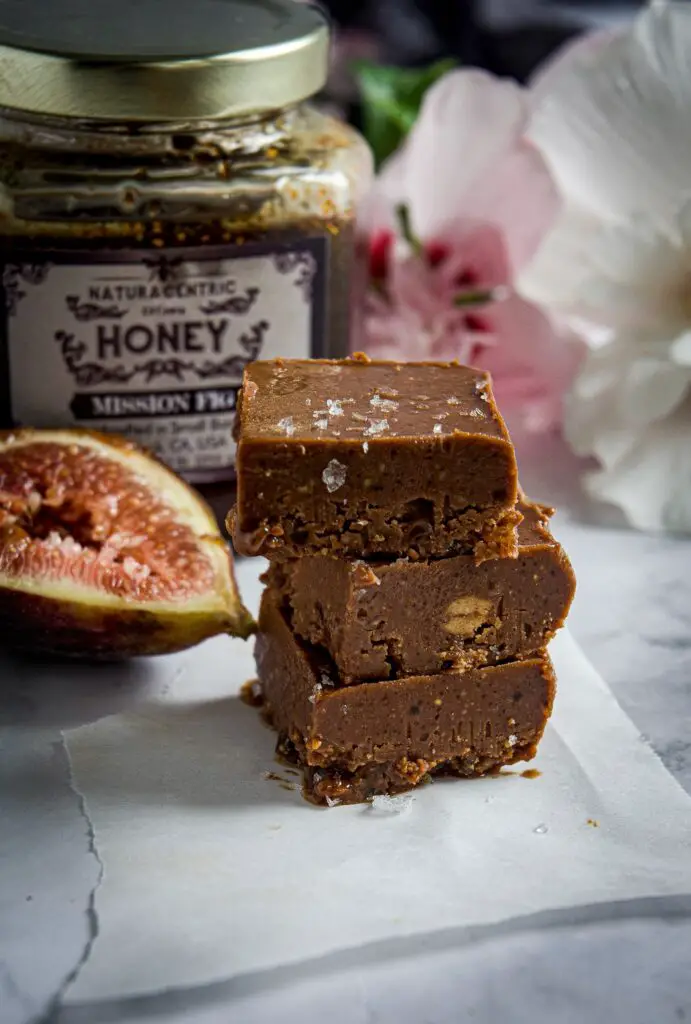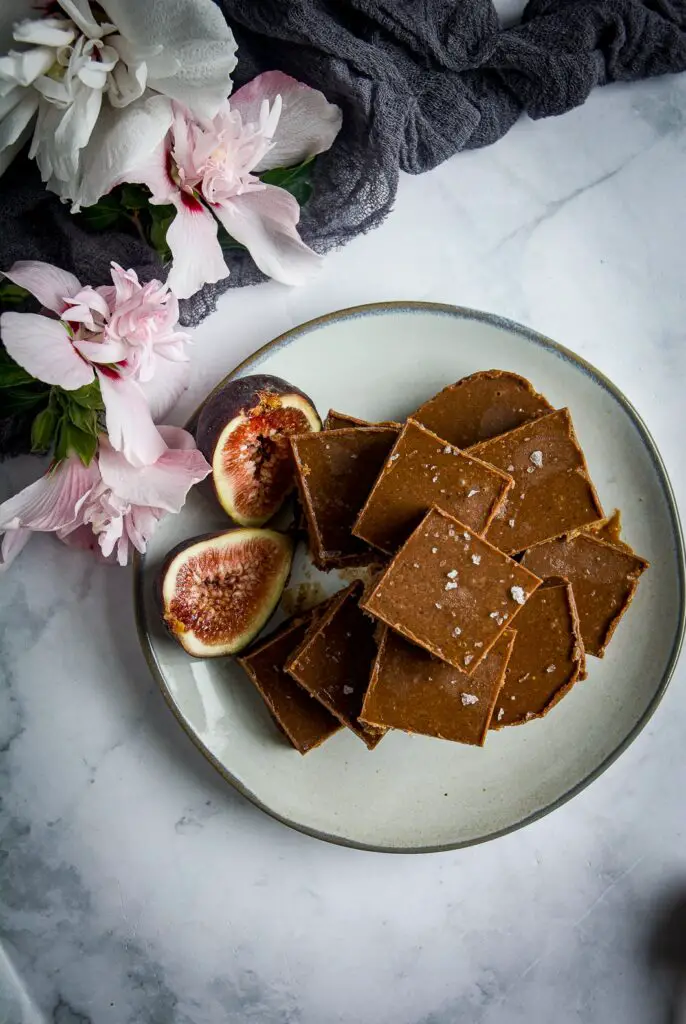 Why is this Paleo Chocolate Fudge so good?
It's dairy-free
Paleo
Gluten and Grain-free
Requires just 5 ingredients
A healthier alternative to fudge
Refined sugar free
Absolutely delicious
Ingredients for Paleo Chocolate Fudge?
Mission Fig Infused Honey
Every time I work with one of Naturacentric's honeys, I'm blown away by the creativity and taste. It really is in a league all of its own. This Fig Infused Honey is no exception. The tiny bits of fig with the floral honey are just what I wanted to sweeten this vegan chocolate fudge.
Cashew Butter
Cashew butter works perfectly in this fudge as it's mild, creamy and has a unique and wonderful taste. Look for the kind that needs stirring as you want the consistency to be smooth and creamy. No-stir will not work as well as it will make the mixture too dense and hard to work.
Cacao
Cacao is what gives the fudge is deep chocolate taste and color. Cacao is sometimes hard to find in the grocery stores so most of the time I get mine online.
Coconut Oil
I use loads of coconut oil and my advice for this fudge is to use a quality brand. Sometimes generics can taste a little off but if you already have a coconut oil you use on a regular basis, go for that.
Flaked Salt
Flaked salt brings the taste of chocolate fudge nicely together and adds a balance that's absolutely necessary. I like it because you get a little tiny crunch of salt in every bite. But if you don't have flaked salt, regular sea salt will work just as well.
Equipment Needed for Paleo Chocolate Fudge
Medium Bowl
Parchment paper
Spatula
Loaf pan
Making Paleo Chocolate Fudge
Step 1. Melt coconut oil in a small microwave safe dish until completely clear but not hot. About 20-30 seconds.
Step 2. Combine all Ingredients in a medium bowl and mix well with a spatula until fully incorporated. Don't stress if there are any lumps. It will just be a little surprise bite of cashew butter in your fudge.
Step 3. Pour mixture into parchment paper lined loaf pan and sprinkle with additional salt and freeze for at least 2 hours.
Step 4. Remove from pan with parchment paper, pull down sides and remove fudge. Cut it into pieces and store in freezer safe and air-tight container.
Make it Vegan
If you're strict vegan and want an alternative to honey, maple syrup is a good alternative in this case. Simply replace the honey with maple syrup.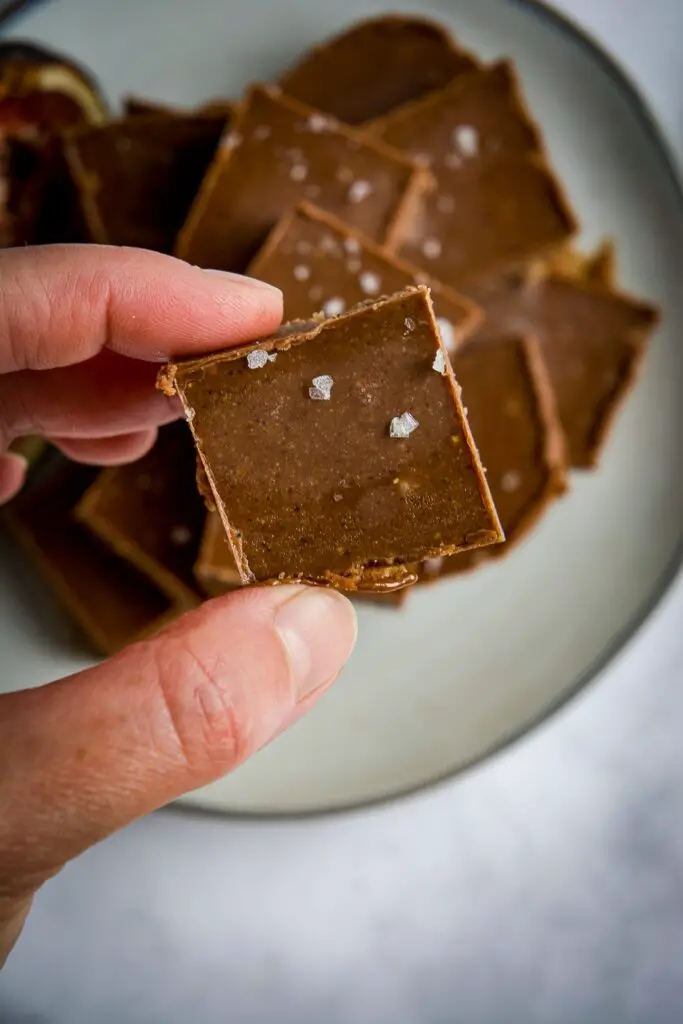 Tips & Substitutions for Paleo Chocolate Fudge
If you don't have cashew butter, you can try smooth, runny peanut butter. If you're strictly paleo, almond butter is also a good option.
Cacao is nutrient dense and antioxidant rich but if you don't have any, cocoa powder will work as well.
Flaked salt will give you a nice bit of salt in each bite of fudge but if you don't have any flaked salt, regular salt is a good substitution.
While Mission Fig Honey works perfectly of this recipe, Naturacentric offers a wide range of honey if you want to experiment with other flavors.
Other No-Bake Desserts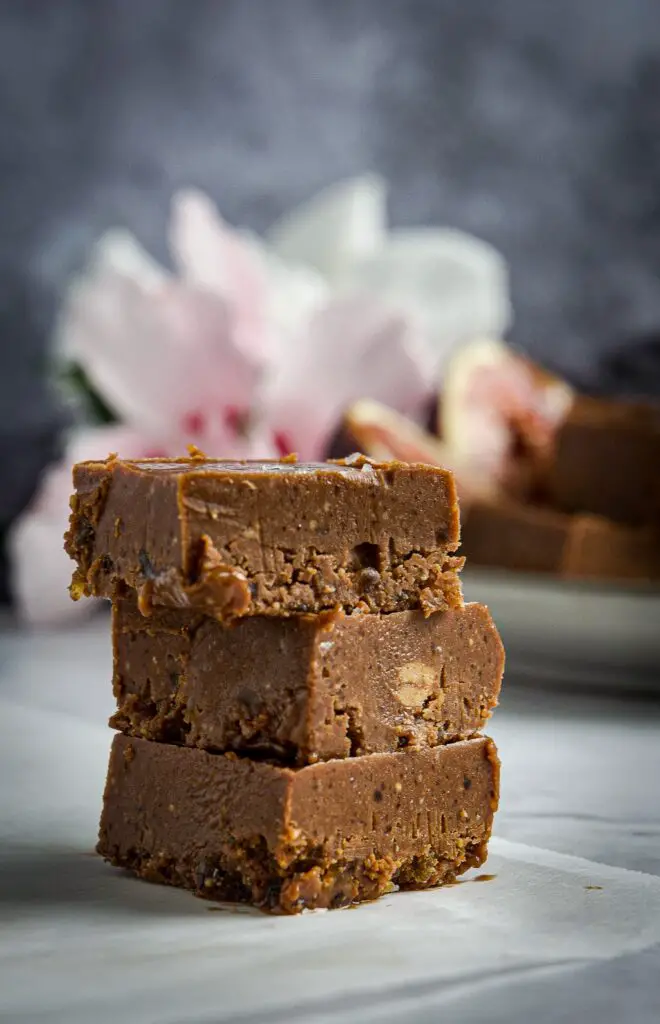 📖 Recipe
Paleo Chocolate Fudge
Total Time:
2 hours
5 minutes
This paleo chocolate fudge requires just 5 ingredients, refined sugar free and takes just minutes to make.
Ingredients
Instructions
Combine all ingredients in a medium bowl and mix until smooth.
Line loaf pan with parchment paper by overlapping two layers.
Pour mixture into loaf pan and sprinkle with extra flaked salt.
Freeze for at least 1-2 hours.
Remove chocolate fudge from freezer loaf pan by holding it by the parchment paper and slowly pull down the sides.
Cut into 18 piececs or desired sizes.
Store fudge in an airtight container in the freezer.
Notes
* To Receive 20% off this or any Naturacentric honey, use the code CALMEATS and checkout
Recommended Products
As an Amazon Associate and member of other affiliate programs, I earn from qualifying purchases.
Nutrition Information:
Yield:

18
Serving Size:

1
Amount Per Serving:
Calories:

112
Total Fat:

9g
Saturated Fat:

3g
Trans Fat:

0g
Unsaturated Fat:

6g
Cholesterol:

0mg
Sodium:

74mg
Carbohydrates:

7g
Fiber:

1g
Sugar:

3g
Protein:

2g