Whether you're looking for an allergy-friendly recipe, follow a paleo lifestyle, or are simply looking for a delicious salad, this list of 18 Paleo Salads has you covered.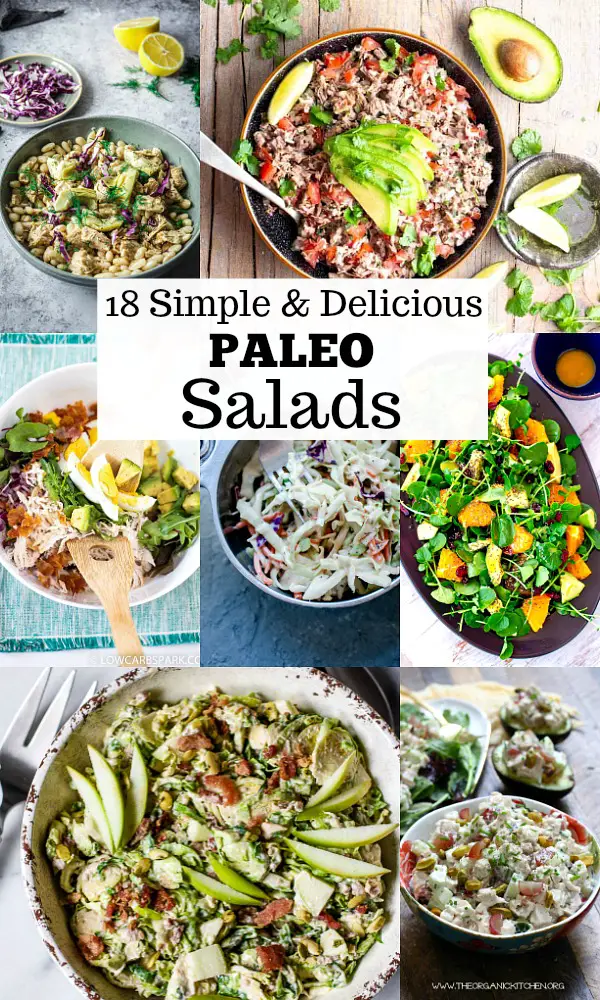 Paleo is a baffling term, isn't it? It can conjure up confusing imagery. And I know this because it did for me too. I couldn't help but picture a caveman with a large piece of meat every time I heard the word being tossed around. But honestly, it's a lot simpler than most imagine. It's a way of eating that helps reduce inflammation, aids in weight loss, improves gut health, stabilizes mood and more. If you want more details on the benefits of a paleo diet, check out this post.
So if you're wondering what kind of foods you can eat while following a paleo lifestyle, let's jump right into it.
What foods can you eat on a paleo diet?
Meat, poultry, seafood
Vegetables (fresh and frozen without additives), excluding white potatoes
Fruit (fresh and frozen without additives)
Dried fruit (no sugar added)
Nuts, seeds, nut butters and seed butters
Eggs
Almond, coconut, tapioca, cassava flours
Honey, coconut sugar, maple syrup
Dark chocolate without additives
Avocado, olive, grape-seed, sesame and walnut oil
Coconut, almond, cashew, walnut, macadamia milk
Dry wine, kombucha, gin, vodka, unsweetened coffee and tea
And I'd also recommend opting for organic fruits and vegetables whenever possible and grass fed meats.
And now let's cover some of the foods that are not allowed on the paleo diet as they can increase inflammation and cause gut issues.
What foods should you avoid on a paleo diet?
Grains - oats, wheat, barley, rye
Quinoa - though this is a grey area as it's technically a seed, but still not allowed
Dairy - milk, yogurt, cream etc.
Most processed food - crackers, cookies, bread, bagels, pretzels, pastas
White potatoes
Legumes
Peanuts and peanut butter
Soy and soy products - edamame, tofu
Artificial sweeteners
Soy sauce
Soda - regular and diet
Beer, rye or barley based liquor
White sugar
Vegetables oils - canola, soybean, peanut
So if you're following a paleo lifestyle and are looking for some fantastic lunch or dinner salad ideas, this list of 18 Paleo Salads has you covered.
18 Delicious Paleo Salads
Other Salad Recipes you might like: