Sweet potato toast is easy to make, delicious, and versatile. Top it with avocado and egg and you have a perfect open sandwich.
Jump To
It's not hard to see that I have a bit of an obsession with sweet potatoes as I like to use sweet potatoes in chili, baked with paleo chili, with kale and caramelized onions, sweet potato curry, roasted with spices, as a sweet potato breakfast hash, soup and so much more!
If you follow a grain-free diet and are not a fan of using gluten-free flour or bread, using sweet potato as toast is a perfect way to make a nutrient-dense base for your favorite toppings. If you've ever wondered how to make sweet potato toast, wonder no more as this easy recipe will show you just how easy it is to use sweet potato as toast.
You simply need a sharp knife, a microwave, a toaster, large sweet potatoes, eggs, and avocado to make this delicious sweet potato toast that's perfect for lunch or dinner. You can also make sweet potato toast in the oven, which is super simple!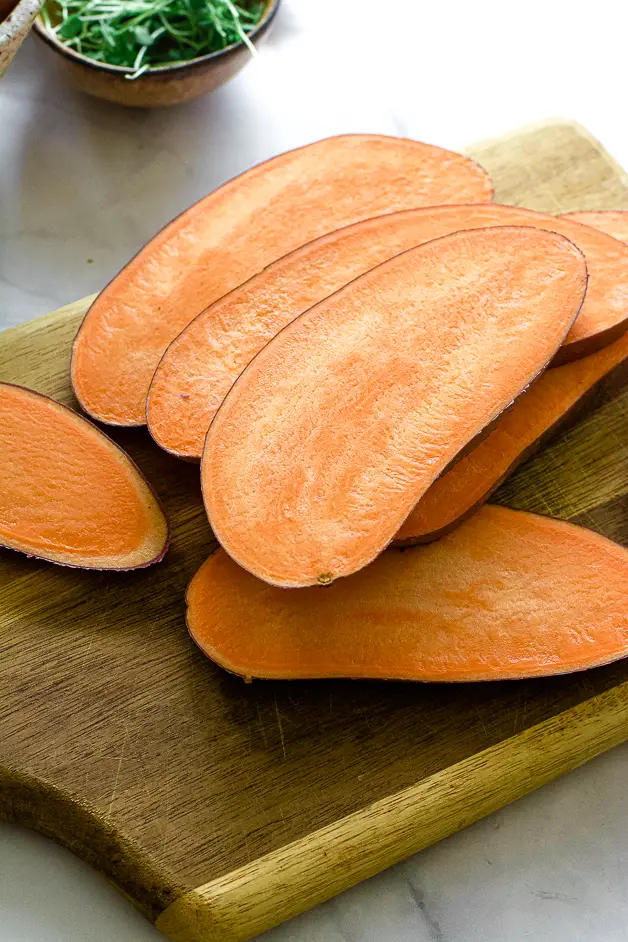 Why You'll Love This Recipe
It's paleo, whole 30, low in carbs, vegetarian
Takes minutes to make
Is perfect for breakfast or lunch
Sweet potato toast is a healthy alternative to bread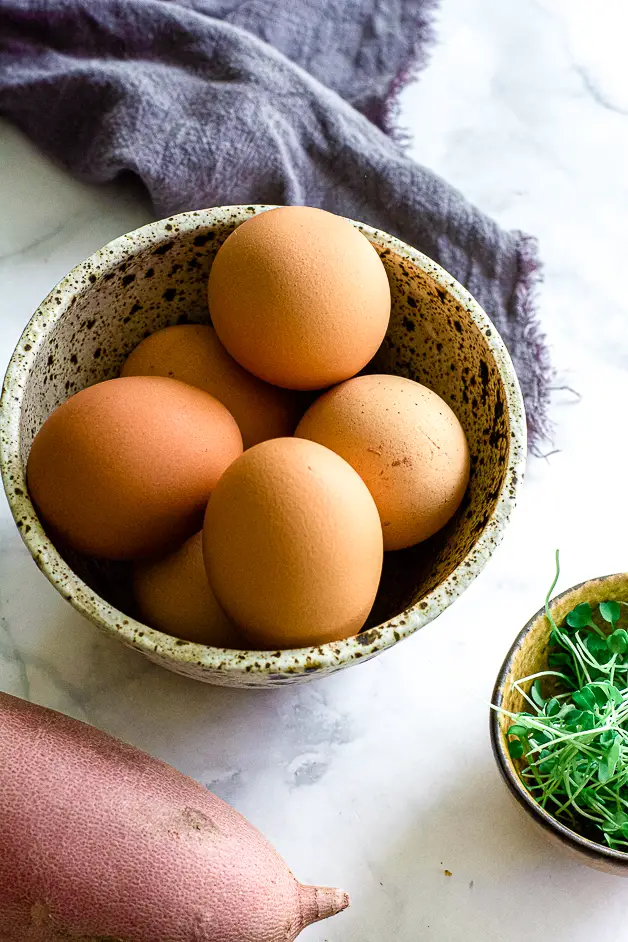 For Your Shopping List
Sweet potato
Eggs
Extra virgin olive oil
Avocado
Salt + Pepper
Optional: Sprouts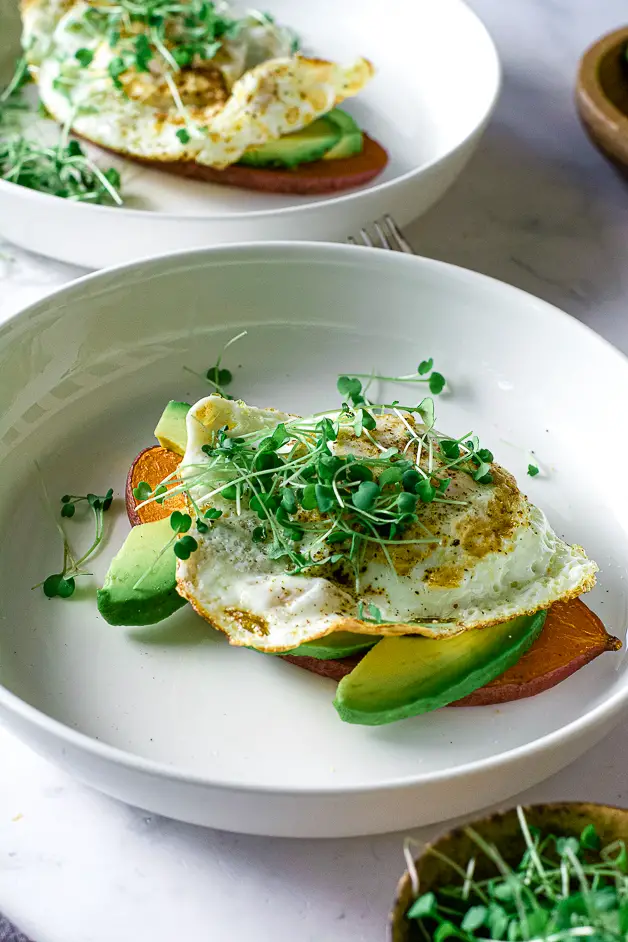 How To Make Sweet Potato Toast
Simply wash and dry your sweet potato but do not peel it. Slice it into thin slices (as many as you like).
Brush both sides with olive oil and place them in the microwave or oven and cook until soft.
Toast as you would bread.
Slice your avocado or mash it and top it with a fried egg or soft-boiled egg.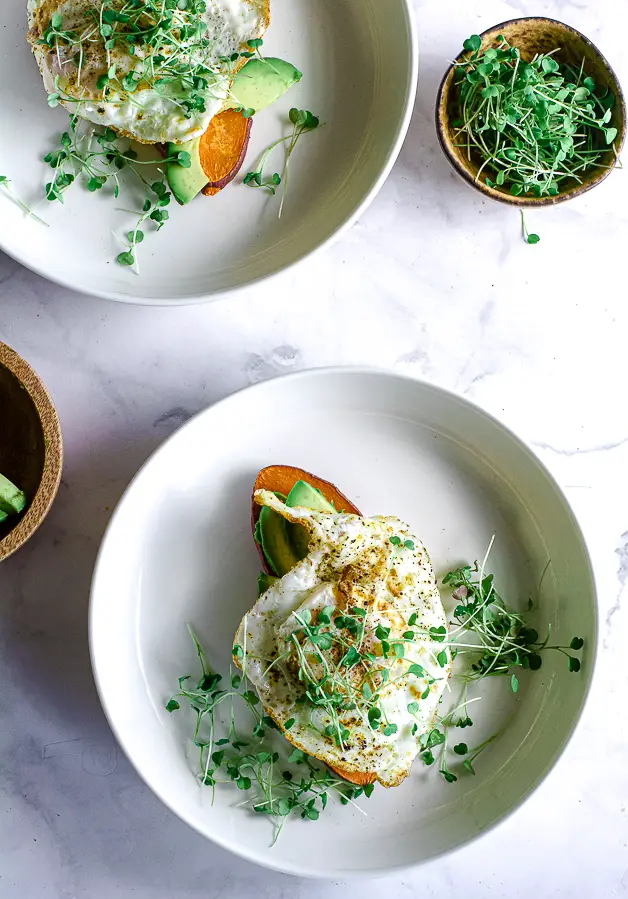 Top Tips + Substitutions
Can You Make Sweet Potato Toast In The Oven?
You sure can. Instead of using the microwave, feel free to place the sliced sweet potatoes in the oven at 400 degrees and roast until fork-tender - about 20-25 minutes. Flip once halfway through cooking.
What Are The Best Sweet Potatoes For Sweet Potato Toast?
The best sweet potatoes will be ones that are fairly oval with smooth, thin, skins. Red garnet and Jewel cook beautifully but you can use whatever you find. Also, look for sweet potatoes that don't have a lot of dents and holes.
Are Yams And Sweet Potatoes The Same Thing?
No, Yams have rough, dark brown skins and are white inside. They're also starchier and are not as sweet.
Can You Store Sweet Potato Toast?
You can store sweet potato toast in the fridge for up to 5 days or in the freezer for several months. Just reheat them as. you need.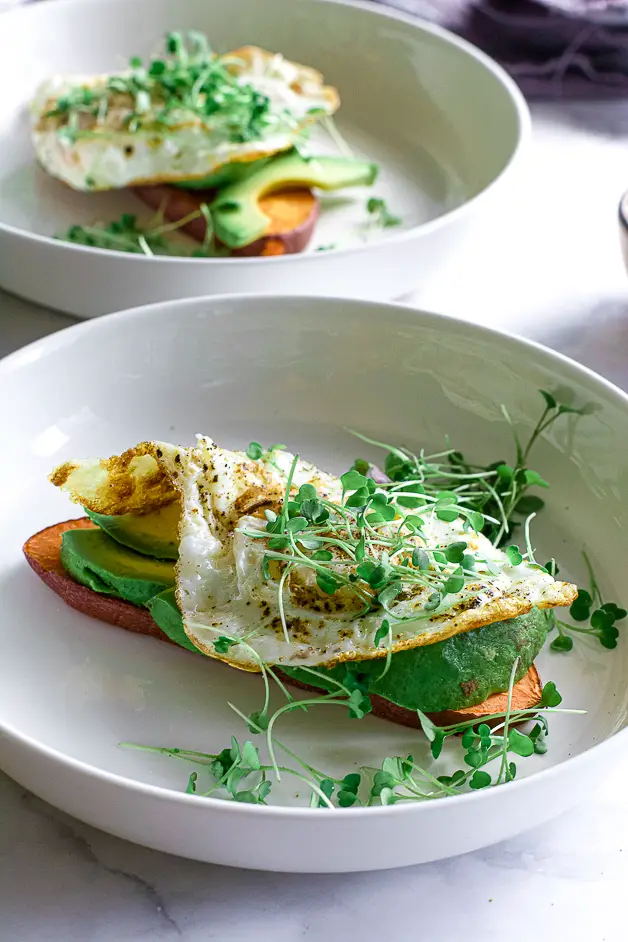 More Recipes You Might Like
Easy Zoodles Recipe with Avocado Walnut Pesto and Egg
Keto Omelette With Avocado And Greens
Sweet Potato Toast Three Ways
📖 Recipe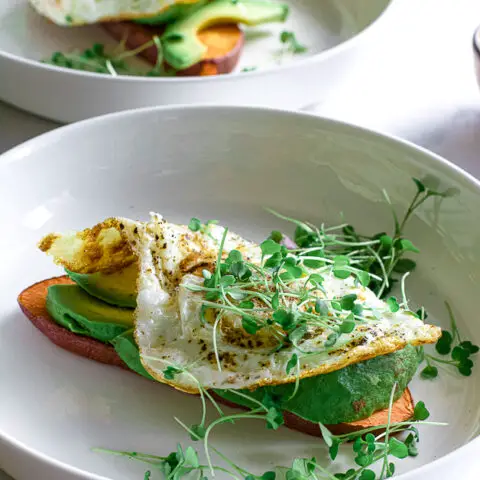 How To Make Sweet Potato Toast with Egg and Avocado
Sweet potato toast is easy to make, delicious, and versatile. Top it with avocado and egg and you have a perfect open sandwich.
Ingredients
1 large sweet potato
1 tablespoon extra virgin olive oil + 1 tsp
4 organic eggs
1 avocado sliced
salt and pepper to taste
optional: sprouts
Instructions
Cut the sweet potato into thin large slices lengthwise. Brush each slice with olive oil and lay them on a plate, and microwave on high for 1.5 minutes per side. Carefully remove the slices and place them in the toaster, and toast twice on the highest setting until fully cooked and slightly crispy.
Meanwhile, add the oil to the pan and fry your eggs to desired consistency.
To plate, add avocado to sweet potato toast, layer egg on top, and finish with salt, pepper, veggie powder, and sprouts. Enjoy!