Non starchy vegetables are a family of vegetables that are low in starch, sugar, and carbohydrates but highly nutritious. Non starchy vegetables also help to keep blood sugar levels steady.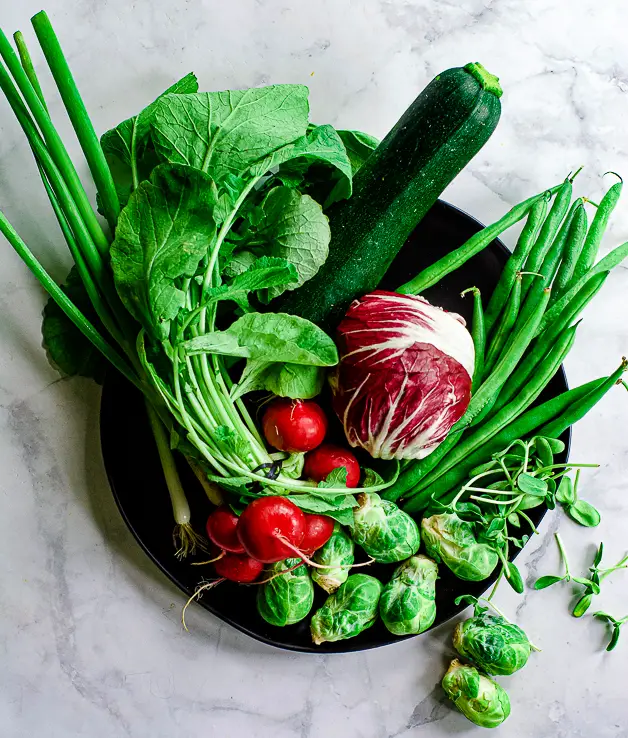 Non starchy vegetables are a group of vegetables that are usually defined as being lower in sugar and higher in fiber than starchy vegetables. They're also low on the glycemic index.
Non starchy vegetables are considered to be some of the healthiest foods as they provide the body with important nutrients and fiber while keeping blood sugar steady. These vegetables are particularly good for people following a low-carb lifestyle, a keto lifestyle, or a low glycemic index diet.
You can check out some of my favorite low-starch vegetable recipes such as meal-prep vegetables, grilled vegetables, easy-fermented vegetables, creamy zucchini dip, and anti-inflammatory LOW-FODMAP zucchini carrot kale soup.
Jump To
List Of Non Starchy Vegetables
These are going to be all the non starchy vegetables you can include in your diet. There's no going wrong when it comes to these vegetables. So here we go:
Arugula
Artichoke
Asparagus
Bamboo shoots
Bean sprouts
Beets (while low in starch, the sugar, and carbohydrates add up, so use moderation)
Beet greens
Broccoli
Brussels Sprouts
Cabbage
Carrots (although the sugar in carrots adds up)
Chinese Spinach
Cauliflower
Celery
Chayote
Collard greens
Crookneck
Cucumber
Cushaw
Daikon radish
Eggplant
Endive
Escarole
Garlic
Hearts of palm
Jicama
Kohlrabi
Kale
Leeks
Mushrooms
Mustard greens
Okra
Onions
Pea pods
Peppers of all kinds
Radishes
Raddichio
Romaine lettuce
Rutabaga
Spaghetti Squash
Spinach
Sprouts
Sugar snap peas (though careful with the sugar in these)
Summer squash
Swiss chard
Tomato
Turnips (while low starch, the sugar will add up, use moderation)
Turnip greens
Water chestnuts
Watercress
Yard-long beans
Zucchini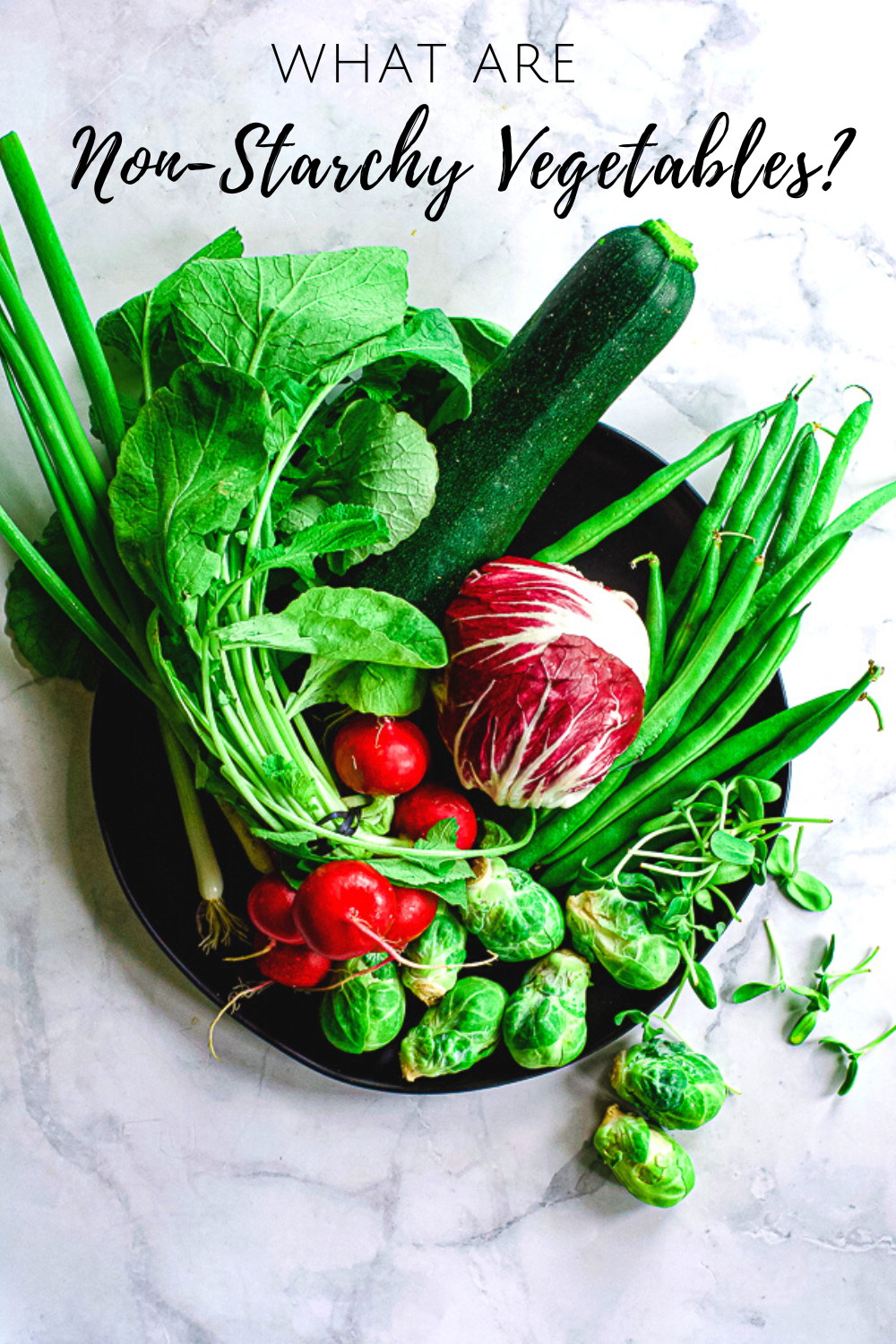 Vegetables You Can Eat In Unlimited Amounts
In this case, all leafy greens, low-sugar vegetables, and low-carbohydrate vegetables are great options. These are going to be high in antioxidants and are great for reducing inflammation as well as bloating.
Leafy green vegetables
Kale, spinach, escarole, micro greens, collard greens, spinach, cabbage, beet greens, romaine lettuce, watercress, arugula, Swiss chard, bok choi, endives, turnip greens, mustard greens.
Sprouts
Alfalfa sprouts, mung bean sprouts, broccoli sprouts, wasabi sprouts, wheatgrass, sunflower sprouts, bean sprouts, and green bean sprouts.
Cruciferous vegetables
Broccoli, kale, cabbage, cauliflower, Chinese cabbage, Napa cabbage, Brussels sprouts, radishes, Daikon radish, bok choi, watercress, rapini, kohlrabi, Romanesco broccoli, horseradish, choi sum, Chinese broccoli, broccolini, broccoli rabe.
Other Vegetables To Include
Tomatoes, asparagus, zucchini, summer squash, green beans, green bell peppers, mushrooms, eggplant, cucumbers, radicchio, and celery.
Non Starchy Vegetables With Moderate Sugar and Carbohydrates
These are still amazing to eat every day but if you're following a diabetic diet or low-sugar diet, you want to be mindful of quantity.
Spaghetti squash, carrots, onions, garlic, beets, red, yellow, and orange bell peppers, sugar snap peas, turnips, rutabaga, okra, and artichokes.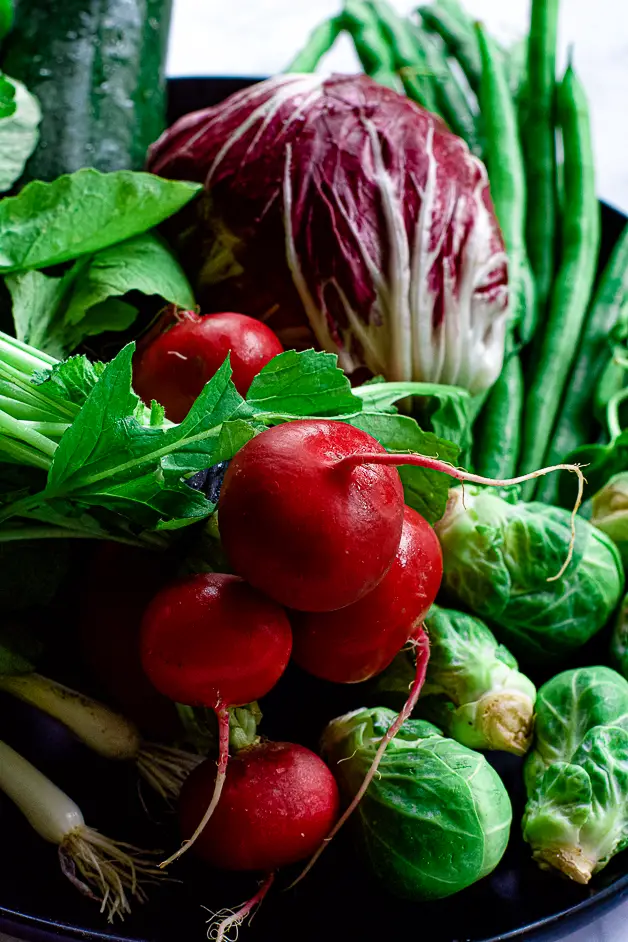 Health Benefits Of Low-Starch Vegetables
Low-starch vegetables truly are the world's healthiest foods as they do amazing things to our bodies and brains.
They help with weight loss
Non starchy vegetables are anti-inflammatory
Amazing for heart health
Eating non starchy vegetables reduces the risk of cancer
Your digestion is guaranteed to improve
You'll have more energy
Stronger immune system
How To Incorporate More Non Starchy Vegetables Into Your Diet
Add vegetables to every meal
Add vegetables to your smoothies
Snack on vegetables
Juice vegetables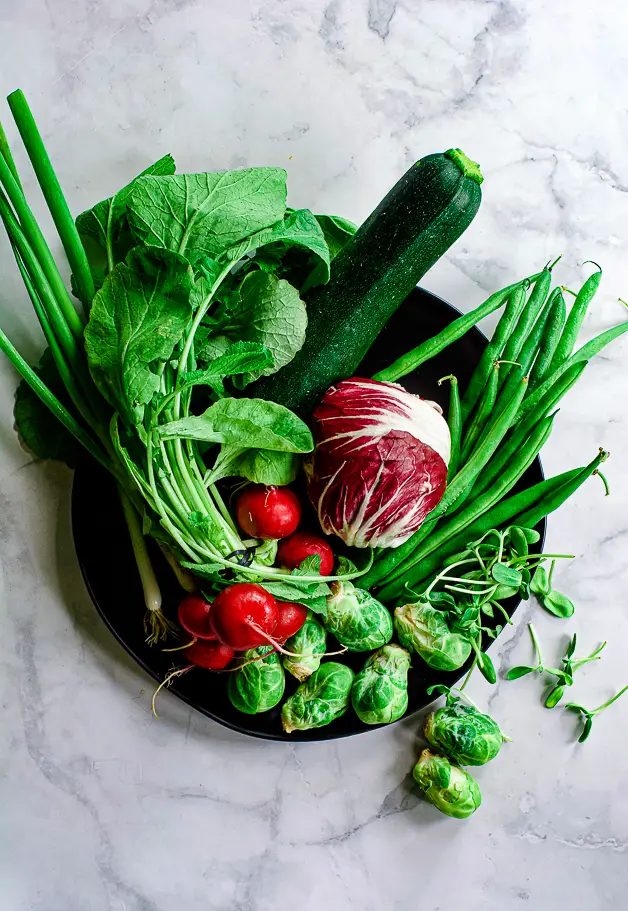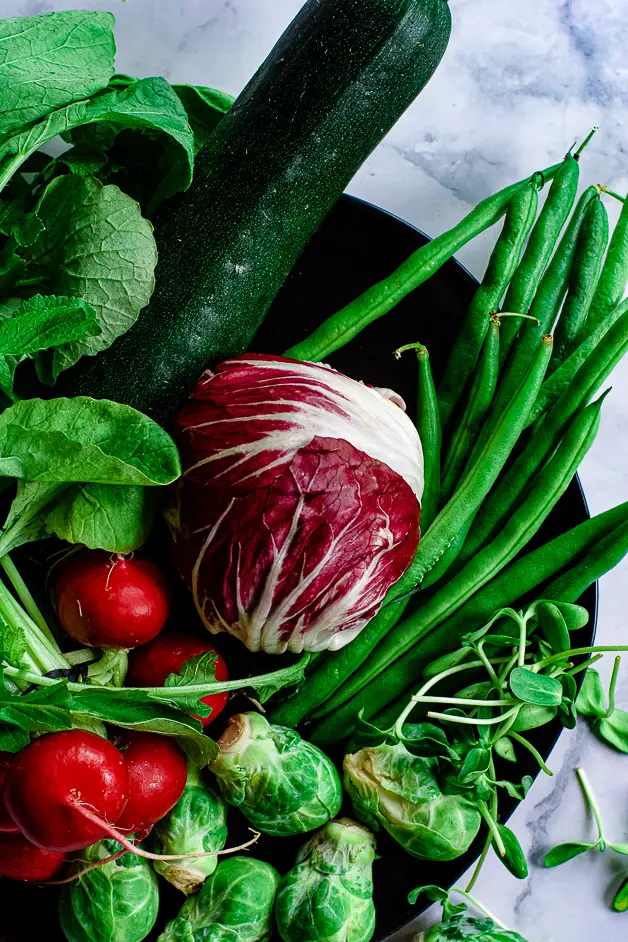 Additional Tips
Choose a variety of colors. Different colors of vegetables contain different nutrients, so it's important to eat a variety of colors. Try something new at the farmers market or grocery store.
Cook vegetables in different ways. You can eat vegetables raw, cooked, steamed, roasted, or stir-fried.
Add non starchy vegetables to your favorite dishes. You can add vegetables to soups, stews, pasta dishes, and rice dishes.
Get creative as there are many ways to enjoy vegetables. You can make vegetable smoothies, vegetable chips, or vegetable burgers.
Don't forget to meal prep.
Non-Starch Vegetable Recipes
Looking for recipes you might like? Try these: