A collection of 12 Easy and Healthy Gluten and Dairy-Free Winter Recipes to keep you cozy and warm.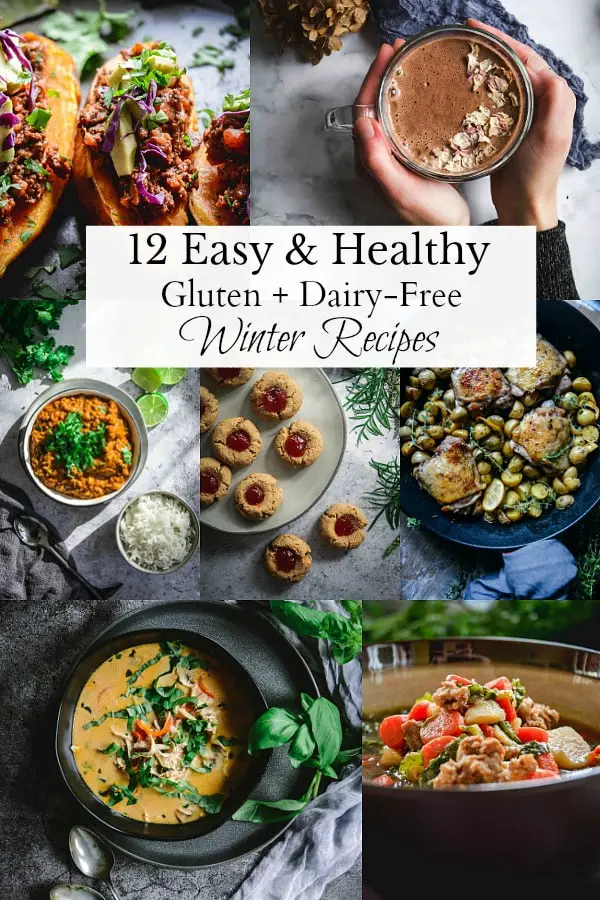 Until the last of the turkey has been cleared off my plate, I generally can't get in winter mode. I've attempted this post weeks ago and something in me just didn't feel right. Just like I never enjoyed seeing Halloween decorations in July, I feel much the same about pushing things too early. I had to let Fall be Fall but now that we're close to December I can finally dive into some of my favorite winter recipes.
This season typically robs us of heat and most definitely of sunlight, but there is something quiet and still about, which invites rest. I don't feel like I'm missing out on anything (well, particularly not now, given this year) and feel even more inclined to spend time, hovering around the stove.
There is something wonderful about the balance warm food offers, especially during the cold winter months. Sure, I've cooked the occasional hamburger on the grill in 20 some degree weather with a flashlight. But it is undeniable that soups, stews, roasted vegetables, and warm drinks are just what's needed on a cold winter day.
So without further ado, let's dive into these dishes! What you'll find in this list of 12 gluten and dairy-free winter recipes, including vegan, paleo, whole 30, and keto options as well. I will list each out for you so you know exactly what you're getting into!
Paleo, Vegan, Keto And Whole 30 Options
Easy and Healthy Vegan Cauliflower Mung Bean Curry - Vegan
Low-Carb Thai Coconut Chicken Soup with Lemongrass - Paleo, Whole 30, Keto
Hormone Balancing Hot Chocolate with Maca and Cinnamon - Vegan, Paleo, Whole 30, Keto
Tuscan Sausage And Kale Soup - Paleo, Whole 30
One Pan Greek Lemon Chicken with Baby Potatoes - Whole 30
Golden Cauliflower Soup with Bacon - Vegan Option, Whole 30
Almond Flour Cardamom Peanut Butter Thumbprint Cookies - Paleo Option
Crispy Roasted Chickpeas - Vegan
Simple Winter Salad with Apple and Pomegranate - Vegan, Paleo, Whole 30
Cardamom Carrot Muffins - Paleo
Citrus Salad with Cashew Cheese and Toasted Pistachios - Vegan, Paleo, Whole 30
Chili Stuffed Sweet Potatoes - Paleo, Whole 30
12 Easy Gluten and Dairy-Free Winter Recipes