Just in time for a new season, here is a collection of 12 Healthy and Light Gluten and Dairy Free Spring Inspired Recipes.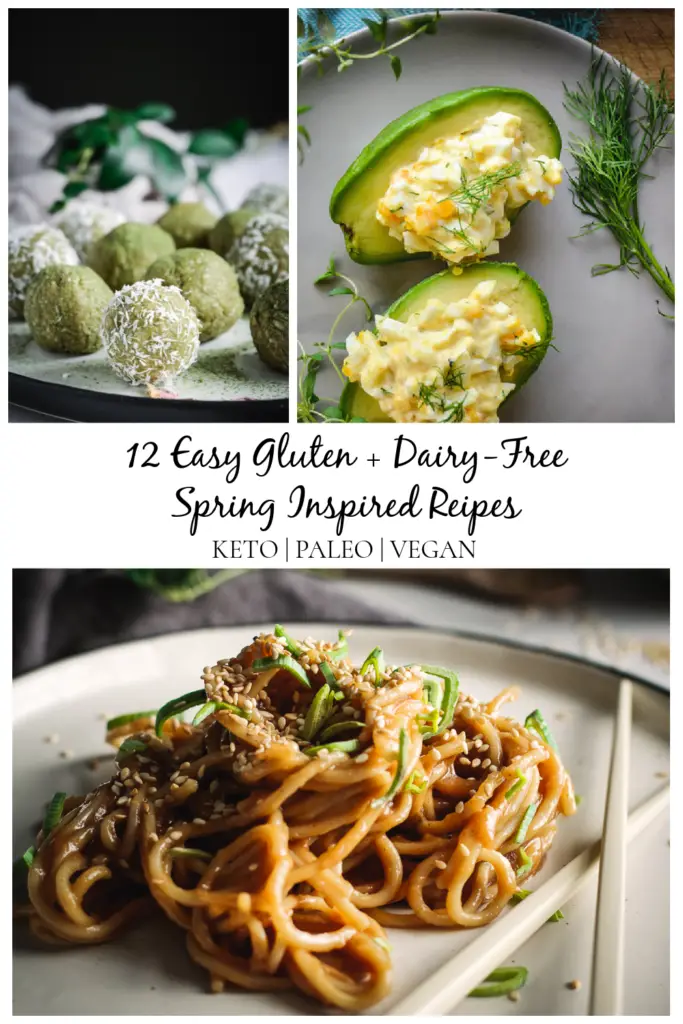 March feels like hope, it feels fresh, it feels new. You can hear it in bird songs and see it in early sunrises. Winter finally may feel like it's on the way out. This one was particularly rough. And if you're reading this in 2021 you know all too well why.
So I'm feeling all things spring, green, vibrant, lively. And to celebrate this little springy feeling, I've put together 12 Healthy Gluten and Dairy Free Spring Recipes to help you get in the spring mood. I'm celebrating lighter food. Not entirely of course, but after a lot of soups and stews, I'm ready for a little something different.
If you're with me, here is what you can expect - easy dinner recipes, simple sweet treats, prep-ahead breakfast, and easy lunches. And of course, if you want to branch out and explore more, you can head over to the Recipe Index where you'll find loads of inspiration.
All recipes are as always gluten and dairy-free, the majority are also paleo, keto, and vegan. To make your life easier, I've broken them down for you by dietary need. So here we go!
Paleo, Vegan, Keto And Whole 30 Options
Grain-Free Cardamom Pancakes with Orange Blossom Water - Paleo, Vegetarian, Keto option
Calming Cardamom Moon Milk - Vegan, Paleo, Keto, Whole 30
Super Green Parsley and Cilantro Smoothie - Vegan, Paleo, Keto, Whole 30
Egg Salad Avocado Boats - Keto, Paleo, Whole 30, Vegetarian
Easy and Healthy Homemade Guacamole - Keto, Paleo, Whole 30, Vegan
Air Fryer Shrimp Fajita Bowl (Stovetop Option) - Keto, Paleo, Whole 30
Sesame Peanut Noodles - Vegan
15 Minute Salmon Cakes - Paleo, Keto, Whole 30
Lemon Shrimp with Asparagus and Cauliflower Rice - Keto, Paleo, Whole 30
Moroccan Chickpea Tagine with Preserved Lemons - Vegan
Easy Thai Peanut Lentil Curry - Vegan
Coconut Cashew Matcha Energy Bites - Paleo
12 Healthy and Light Gluten and Dairy Free Spring Recipes