This carrot noodle recipe with almond sauce takes just 5 minutes to cook and is ready anytime you need a snack or a light and nutritious meal
Jump To
If you've been checking out any of my recipes you may have noticed I love using vegetables as a substitute for noodles. I use them in everything from chicken tetrazzini, to paleo "peanut" noodles, rutabaga cashew crunch noodles, zoodles with avocado cream, Thai peanut zoodles to, paleo Thai zoodles, and chicken meatballs in carrot noodles.
Carrot noodles are probably one thing I make more often than any other. In my household, everyone else eats well, but they still have pasta and cheese and I quite often find myself making meals that split a bit.
For example, if I'm making a pasta dish with sausage and broccoli, I will be using carrot noodles to add the sauce instead of pasta. I find it to be a delicious alternative to even gluten-free or grain-free pasta. It all depends on what I'm in the mood for that day.
And this carrot noddle with almond sauce is a paleo recipe I created during a time when I was eating strictly paleo and there were no grains or peanuts involved. So for anyone out there that's eating a paleo diet, rest assured these carrot noodles are paleo and easy on the digestive system.
Why You'll Love These Carrot Noodles With Almond Sauce
They're paleo, whole 30, gut-friendly
Easy to make and nutritious
Ready in 5 minutes
Are a perfect lunch
For Your Shopping List
Carrots
Almond butter
Coconut aminos
Toasted sesame oil
Ground ginger
Garlic powder
Fish sauce (skip if vegan)
Coconut oil or sesame oil
Toasted sesame seeds
Lime
Water
Scallions
How To Make It
Use either a spiralizer or a peeler to cut the carrots into long strips.
Combine all the ingredients except carrots sesame oil or coconut oil, sesame seeds, and scallions in a medium bowl.
Sautee the noodles until soft and add to the bowl of sauce.
Serve with chopped scallions and sesame seeds.
Tips And Substitutions
You can easily substitute peanut butter for almond butter.
Double the recipe if you want to make it for more people.
Feel free to cook the scallions with the carrot noodles if you're sensitive to onions. You can also skip the scallion entirely.
You can also omit the fish oil if you're vegan.
You can add more sesame oil if you like a more intense flavor.
More Recipes You Might Like
Easy Polenta with Mushrooms, Kale, and Dijon Roasted Carrots
Sesame Peanut Noodles (Gluten-Free, Vegan)
Anti-Inflammatory Low-FODMAP Zucchini Carrot Soup (Vegan, Paleo)
Cumin Roasted Carrots with Avocado and Tahini Dressing
📖 Recipe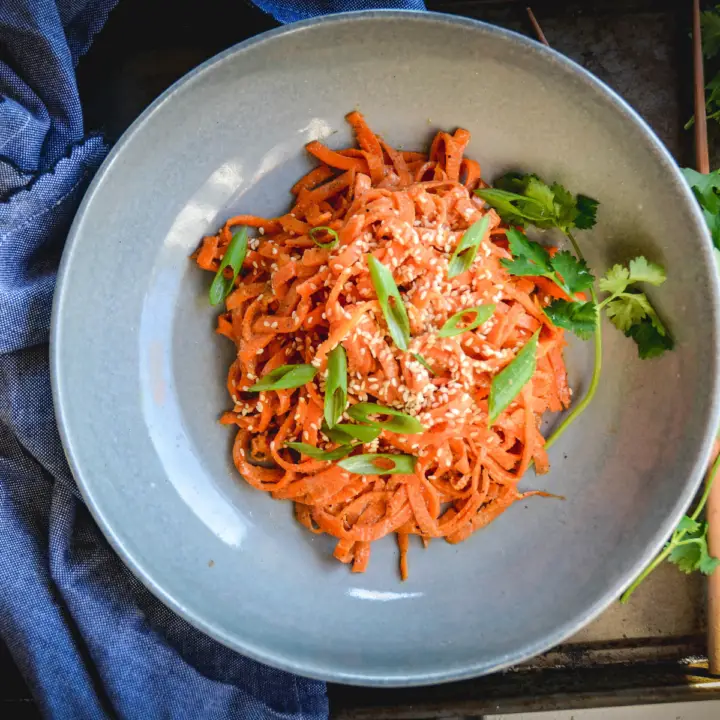 5 Minute Carrot Noodles With Almond Sesame Sauce
This carrot noodle recipe with almond sauce takes just 5 minutes to cook and is ready anytime you need a snack or a light and nutritious meal.
Ingredients
¼ teaspoon ground ginger
1 teaspoon coconut aminos
¼ cup almond butter
1 teaspoon lime juice
5 tablespoon water
pinch salt
tiny pinch of garlic powder
¼ teaspoon toasted sesame oil
¼ teaspoon fish sauce (skip if vegan)
4-5 large carrots spiralized
1 teaspoon coconut oil or sesame oil
1 teaspoon toasted sesame seeds
optional: scallions for topping
Instructions
In a small mixing bowl combine the first 8 ingredients and stir well. Set aside. 
Preheat the pan to medium heat. Add coconut oil along with spiralized carrots and a pinch of salt. Cook for 5 minutes stirring frequently until carrots have softened a little. Remove from heat and add sauce. Mix well.
Add the carrot noodles with sauce to the plate and top with sesame seeds and scallions. 
Notes
1. Feel free to use peanut butter if you don't have almond butter.
2. You can use a peeler if you don't have a spiralizer.
3. Feel free to add more water if you want the sauce to be a little thinner.