Coming up with new dinner ideas can be challenging with you're gluten and dairy-free but this list has you covered! Check out these 30 Easy Gluten Free and Dairy Free Weeknight Dinners.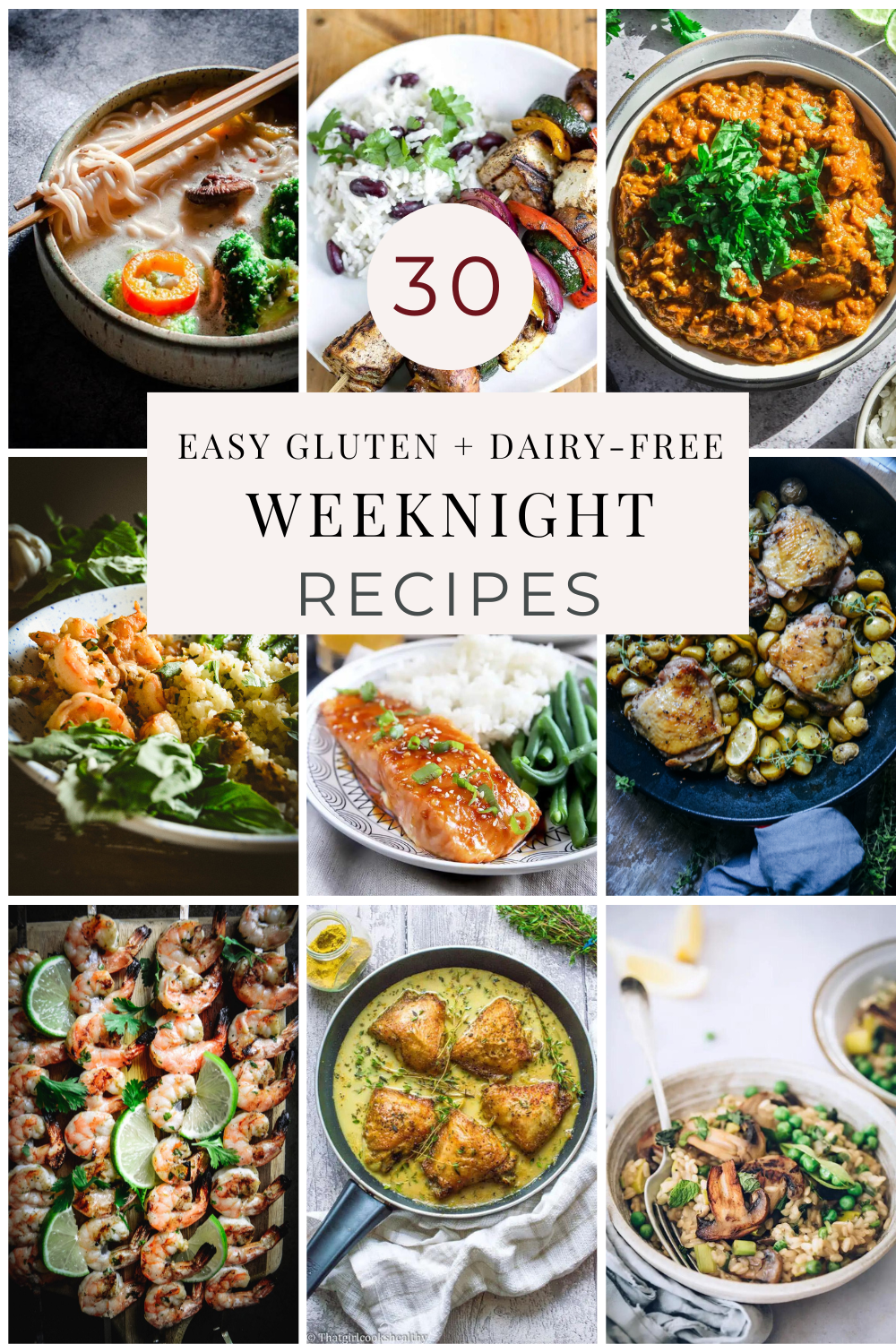 If you're just starting out with a gluten and dairy-free lifestyle or have been gluten and dairy-free for years, from time to time, our recipe repertoire gets a little stale. It's challenging to continuously come up with new ideas and keep things fresh in the kitchen. I know I fall into this trap quite often. Gluten free dinner ideas seem to be little challenging on their own so I know that if you're omitting gluten and dairy, that can add another layer.
But this list of 30 gluten free and dairy free weeknight dinners is loaded with delicious, easy to make recipes you can whip up anytime! You'll find plenty of vegan recipes, paleo recipes, and whole 30 recipes as well.
But before that, let's
What foods can you not eat on a gluten and dairy-free diet?
When you transition to a gluten and dairy-free lifestyle, it's challenging to know what to eat because many foods contain hidden ingredients. Here are the most common foods that contain gluten:
pasta
bread
soy sauce
certain salad dressings
crackers
couscous
semolina
farro
rye
barley
imitation crab
oats that are not certified gluten-free
soba noodles that are not made from 100% buckwheat
cheese
butter
ice cream
certain processed meats
yogurt
ghee (if you're lactose intolerant, okay if you're casein sensitive only)
cake mixes
malted milk
certain vegan meats
If you want a comprehensive list of foods you can check out this guide for going gluten and dairy-free.
What are the best foods to eat when following a gluten and dairy-free lifestyle?
fruits
vegetables
beans
legumes
corn
rice
soy
shellfish
nuts
seeds
nut butter
fish
eggs
certified gluten-free oats
chicken
beef
pork
cassava
quinoa
sorghum
buckwheat
millet
amaranth
Additional Gluten and Dairy Free Resources you may like:
So without further ado, let's get to these 30 amazing gluten and dairy-free dinners!
30 Gluten and Dairy Free Weeknight Dinners
Here are 30 delicious gluten and dairy-free weeknight dinners, when you're looking for inspiration.